Engaging Employees
Engaging Employees
Union Pacific's dedicated employees are passionate about their role building America. We strive to provide them fulfilling careers and professional development opportunities, helping us serve customers with excellence.
Employee Benefits
Union Pacific draws thriving talent, energizes current employees and develops them to carry out our mission while leading the transportation industry into the future. Key engagement initiatives revolve around our culture, workplace relationships, employee rewards, job responsibilities and personal growth opportunities.
Center-based and in-home child care.
Pet care.
Tutoring and homework help.
Elderly care.
Housekeeping.
Labor Agreements
Union Pacific works with 14 major rail unions representing approximately 85 percent of roughly 42,000 full-time employees.
National labor agreements became subject to modification most recently on Jan. 1, 2015. In the last quarter of 2017 and through May 2018, Union Pacific reached tentative agreements with the following major unions, which have ratified them:
Brotherhood of Locomotive Engineers and Trainmen.
Brotherhood of Railroad Signalmen.
Brotherhood Railway Carmen.
International Association of Sheet Metal, Air, Rail and Transportation Workers – Transportation Division including Yardmasters.
National Conference of Firemen and Oilers.
Transportation Communications International Union.
International Brotherhood of Electrical Workers and International Brotherhood of Boilermakers
The Brotherhood of Maintenance of Way Employes
International Association of Sheet Metal, Air, Rail and Transportation Workers - Mechanical
These agreements were ratified by a wide margin of employees, on average by nearly 80 percent of members.
Following final and binding arbitration in May 2018, The Brotherhood of Maintenance of Way Employes and International Association of Sheet Metal, Air, Rail and Transportation Workers - Mechanical also are under an Arbitrated Agreement that follows the industry pattern agreement, bringing 95 percent of Union Pacific agreement professionals under new agreements.
The International Association of Machinists and Aerospace Workers is the sole union without an agreement, and negotiations with that union remain under the jurisdiction of the National Mediation Board.
Auxiliary Work And Training Status (AWTS)
Shifts in business demand resulted in temporary reductions to train and yard service causing employee furloughs. Approximately 75 percent of all Train Engine and Yard (TE&Y) employees were eligible to be covered under AWTS agreements providing limited benefits, which must also be approved by local unions.
AWTS agreements provide up to eight work or training days per month, and continue full health care benefits and service months contributing to Railroad Retirement. Employees continue training to sharpen their skills and prepare for full-time employment when customer demands increase.
| Population (Total Company) | Approximately 42,000 |
| --- | --- |
| Traditionalists (born before 1946) | <1% |
| Baby Boomers (born 1946-1964) | 24% |
| Generation X (born 1965-1981) | 52% |
| Millennial (born 1982-1997) | 24% |
| Generation Z (born after 1998) | <1% |
Senior Management
Female
21%
Male
79%
Asian
2.5%
Black
7.5%
Caucasian
82.5%
Hispanic
6.5%
Native American
1%
Union Pacific Recognizes 50-Year Employees
From the turbulent 1960s, to the railroad industry's increased competition and regulation in the '70s, to the 21st-century railroad renaissance, Union Pacific's 50-year employees have experienced it all during their half-century on the railroad.
Employees recognized were:
Larry Benoit, locomotive engineer, Houston Service Unit
Palmer Hewlett, locomotive engineer, Los Angeles Service Unit
Joseph "JJ" Keigley, conductor, Metra Jack Lovell, analyst systems and methods-Information Technologies
Larry Picker, locomotive engineer, Portland Service Unit
Philip Ricchiazzi, locomotive engineer, Los Angeles Service Unit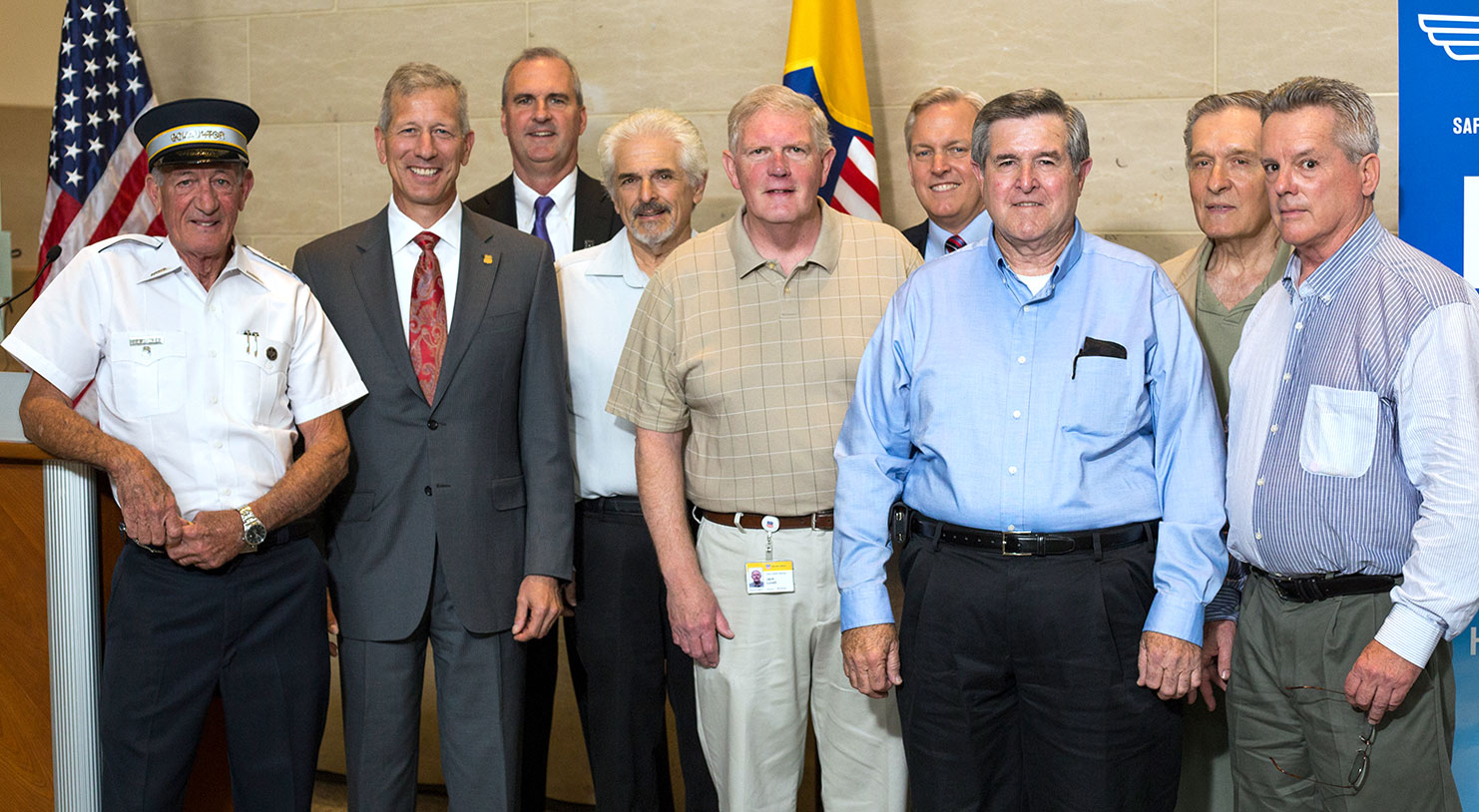 A May 2017 ceremony at Union Pacifc Center recognized the 50-year employees for their years of service.
Developing Employees
The work of building, maintaining and operating a railroad is challenging. Union Pacific's commitment to employee training and development is vital for cultivating the high-quality workforce we need. It also plays a critical role keeping our employees safe and ensuring we operate ethically.
| 2017 Training | Nonagreement | Agreement |
| --- | --- | --- |
| Total Hours | 334,433 | 2,770,414 |
| Number Employees | 6,059 | 38,317 |
| Avg Hrs/Employee | 55.2 | 72.3 |
| 2017 Retention Rate | Operations Management Trainee | Field Management Trainee |
| --- | --- | --- |
| 2013 | 44% | 67% |
| 2014 | 44% | 72% |
| 2015 | 44% | 61% |
| 2016 | 60% | 73% |
| 2017 | 93% | 87% |
Developing Skills
Training and development focus on setting goals and achieving great results. Union Pacific believes how employees accomplish their work is equally important as what they accomplish. Our core competencies foster a culture of performance and growth supporting our vision, mission and values. In addition to work-related skills, we develop employees' capabilities in eight core competencies:
Building relationships and influencing others.
Handling adversity.
Confronting problems with courage.
Leading teams.
Embracing change.
Making effective decisions.
Acting strategically.
Focusing on customers.
We offer skill development opportunities for employees at all levels. These include:
New Employee Onboarding Program – Courses on communication and industry-specific training through an interactive, instructor-led learning experience.
Skill Development – Technical, communication, safety and environmental courses.
Managerial and Leadership Development – Management and leadership courses helping employees grow and develop.
Transitioning Managers – Courses helping newly promoted managers lead teams.
Transportation Operations Training – Operational excellence courses strengthening employee skills and training for superior service.
Field Management and Operations Management Training Programs – Programs preparing employees for frontline management positions within the Operating Department.
Emerging Leaders – Leadership programs maintaining a strong pipeline of future leaders, ranging from day-long training courses to 10-month programs. Ongoing, self-led learning tools fostering employee development also are available.
Embedding an Ethical Approach
Union Pacific's brand and business stem from employees' character, people with whom we choose to do business and the decisions we make. Providing the training and tools needed to help employees make the right decisions is a priority.
Our policy on Ethics and Business Conduct, The How Matters, explains our expectation of ethical conduct, prohibiting offensive remarks and sexual harassment, among other violations. We have a zero tolerance policy on inappropriate behavior involving Equal Employment Opportunity (EEO) and retaliation matters, and encourage employees who witness behavior they believe violates EEO policy to report the incident. Union Pacific employees operate under the following high ethical standards:
Honesty – Being truthful when dealing with customers, suppliers, shareholders and fellow employees.
Fairness – Treating everyone fairly.
Integrity – Voicing concerns when we believe our company or colleagues are not acting ethically or complying with the law.
Respect – Maintaining a foundation of trust and respect with colleagues, customers, regulators, suppliers and other stakeholders.
Loyalty – Ensuring no employee is, or appears to be, subject to influences, interests or relationships that conflict with the company's best interests.
Accountability – Holding ourselves, peers and customers to the company's high ethical standards.
Adherence to the law – Complying with all laws.
Compliance with policies – Complying with the letter and spirit of company policies.
Employee Spotlight: New Tool A Measure Of Success
A new measurement tool designed to improve accuracy and reduce slips, trips and falls is available systemwide thanks to the hard work of an Illinois Signal Maintainer. Brian Czerwinski was performing annual shunt testing when he came up with the idea. Shunt testing ensures a railroad crossing's computer is properly calibrated to lower crossing arms when an oncoming train is at a predetermined location. Czerwinski worked with his local Total Safety Culture (TSC) Facilitator, Kevin Crady, to research and develop the concept. It took several iterations before the duo found a successful solution. The new wheel allows employees to have better situational awareness because they don't have to focus on keeping the wheel from falling off the track.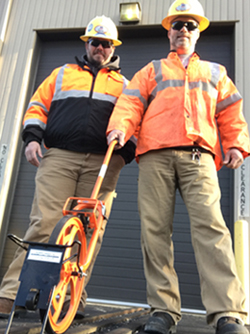 From left, TSC Facilitator Kevin Crady and Signal Maintainer Brian Czerwinski with the new measuring wheel.
Ethics Awareness
Union Pacific educates employees about ethics and our high ethical conduct expectations throughout the year. We focus on The How Matters and the premise that how we do our jobs is as important as what we accomplish. Published articles on our employee news website, periodic ethics bulletins and mandatory training modules remind employees of Union Pacific's high ethical standards.
We held our fourth annual Ethics Awareness Week, a companywide initiative focusing on our values and business conduct required of all employees. Throughout the week, we published ethics and compliance articles on our employee news website. Topics included guidance on when and how an employee should use the UP Values Line, a 24/7 source to confidentially report business conduct issues, as well as our new Information Governance Policy and training reminders. We also distributed The How Matters badge cards for employees to attach to their Union Pacific ID. The cards include a list of employee resources, such as the UP Values Line, Safety Hotline and Employee Assistance Program Helpline phone numbers.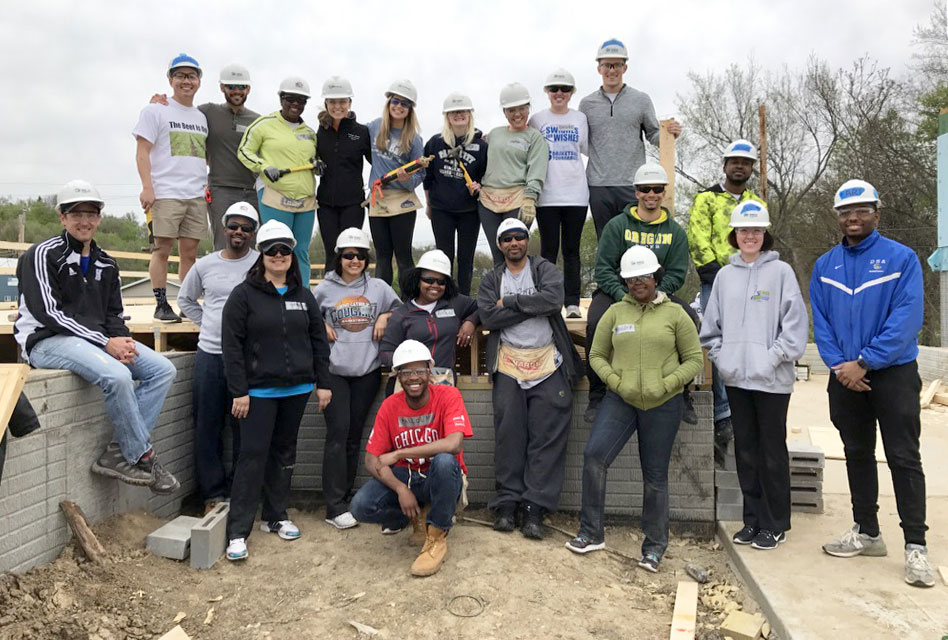 Omaha-area Market Development and Sales Center employees spend an afternoon volunteering for Habitat for Humanity, building a home with products our customers ship daily on Union Pacifc trains.
Embracing a Diverse and Inclusive Workplace
Union Pacific recruits talented individuals dedicated to our mission of service and passionate about performing to the best of their abilities. We are committed to diversity; we recognize and value that people come from all backgrounds and walks of life, and embrace those with cognitive diversity.
Attracting, acquiring and maintaining a diverse workforce provides access to the skills and character we need to foster innovative ideas and drive optimal business growth. Drawing on different experiences and expertise is critical for strategic decision making, problem-solving, leadership development and creativity.
Union Pacific makes great efforts to increase diversity through talent acquisition and helping employees from all groups launch and grow their careers within the company. Our eight Employee Resource Groups (ERGs) are critical to supporting the company's diversity and inclusion strategy by raising awareness and providing an environment where all employees can realize their potential.
We still have work to do. We are committed to improving and strengthening performance to further build an inclusive workforce reflecting the diverse markets and communities we serve.
Our Diversity Policy
Union Pacific employees have the fundamental right to fair treatment within a discrimination-free workplace. We create a work environment that respects and values differences, which is essential for employees to reach their fullest potential.
We are committed to a work environment free of offensive behavior regarding a person's race, color, national origin, religion, gender, sexual orientation, age, gender identity, veteran status or disability. This includes offensive behavior directed at employees, customers, visitors to company facilities and others who employees may contact during the normal course of work.
Innovation Station
Diversity of thought is critical to our success. At Union Pacific, we believe innovation is any change that makes us better. It can be a big idea leading to large-scale improvement or something smaller that impacts an employee's day-to-day operations. In 2017, we launched Innovation Station – an idea pipeline. The mobile-friendly platform is open to all employees and can be used on any company computer, smartphone or personal device. It's designed to crowdsource ideas and solutions. The best ideas move forward and receive funding for testing and potential implementation.
Just as important as embedding innovative thinking into our culture is understanding that not all ideas are going to be successful. We know some concepts take more time to find the right solution.
In its first year, Innovation Station hosted four campaigns asking employees for their feedback on specific initiatives ranging from safety to track maintenance. More than 250 employees submitted ideas for the safety campaign alone. Of those, 16 made it to the next round for testing and potential implementation.
Employee Resource Groups
Union Pacific's Employee Resource Groups (ERGs) are nurturing networks promoting a diverse workplace where everyone does their best work. Each ERG has an executive sponsor directing the leadership team's attention to concerning issues. ERGs support their members, educate other employees and embrace the communities we serve.
More than 2,500 employees are involved in one or more ERGs, which include:
Asian Employee Resource Organization (AERO).
Latino Employee Network (LEN).
A Women's Initiative – Lead, Educate, Achieve and Develop (LEAD).
Black Employee Network (BEN).
LGBT Employee Network (BRIDGES).
Emerging Professionals Network (UP Ties).
Council of Native American Heritage (CONAH).
Union Pacific Veterans Network (UPVETS).
People, Purpose, Passion
Several Union Pacific ERGs held conferences in 2017, creating an environment for passionate employees to network, hear from senior executives, participate in community service and share ideas.
LEN held its seventh annual conference in Denver. Attendees' enthusiasm for progress and dedication to bridging cultural differences were evident as they discussed ways to eliminate stereotypes and help flourish the creative teamwork Union Pacific's vibrant Latino culture encapsulates.
At the BEN conference in Houston, Texas, speakers encouraged employees to focus on bettering one another at work and in their communities through innovation and engagement.
LEAD participants learned what it means to build up one another professionally and personally at their Omaha, Nebraska, conference.
AERO members also met in Omaha, focusing on the power of employee engagement and how each person has a role building an engaged team at Union Pacific.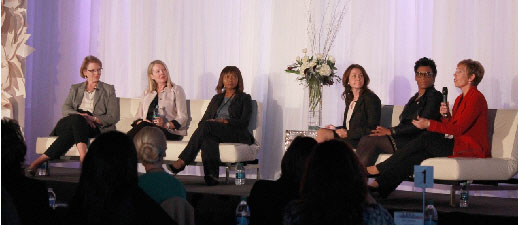 Union Pacifc leaders describe their career paths during a LEAD panel discussion.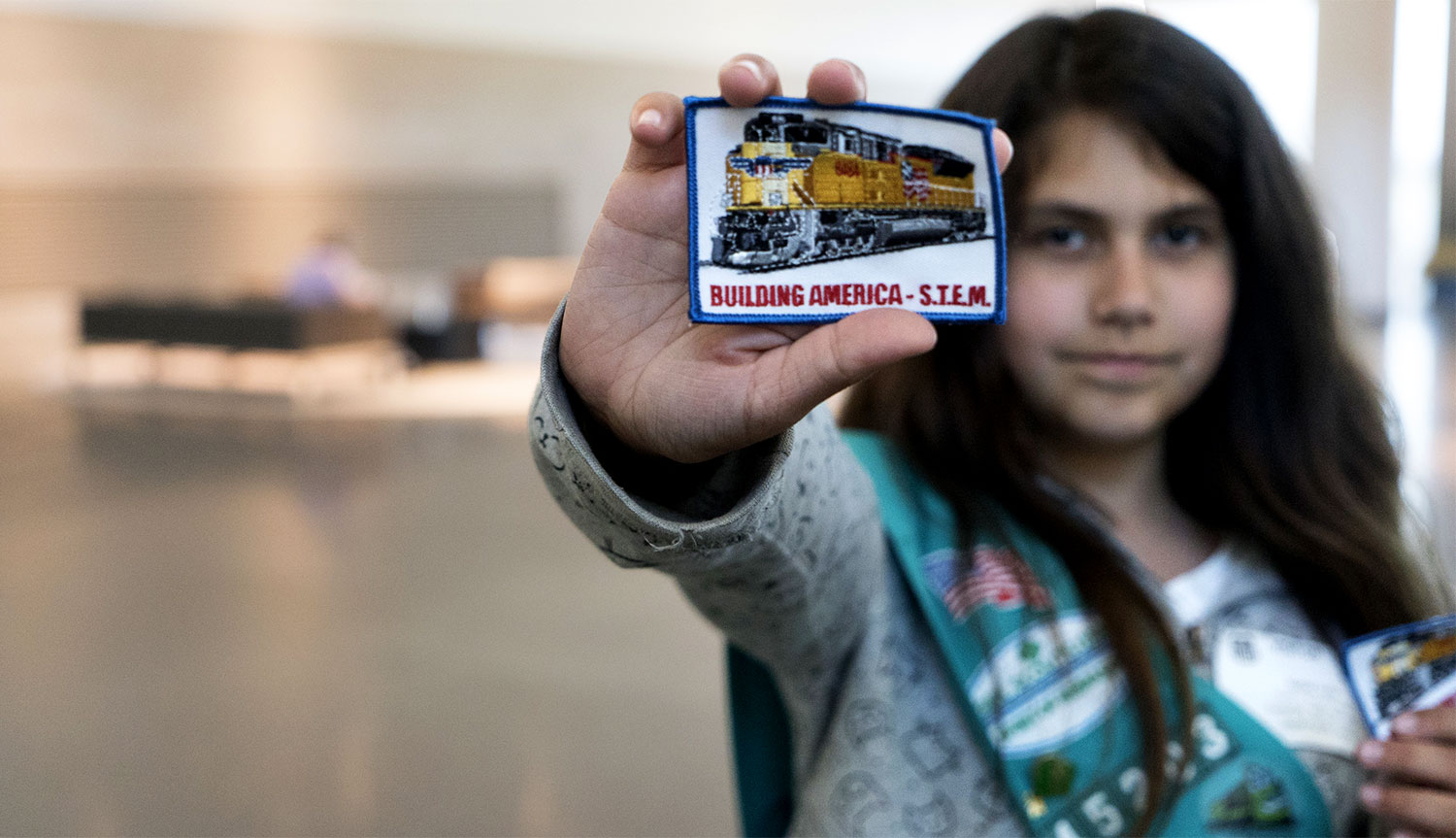 Isabel Vela receives her Building America patch after completing a day as a "Girl of Steel."
Girls Of Steel Earn Railroad Scouting Patch
Omaha, Nebraska,-area Girl Scouts earned their Building America patches after spending a day with Union Pacific as "Girls of Steel." Union Pacific hosted the one-day event in partnership with LEAD as part of the Girl Scouts' "Build Your Future: Full STEAM (Science, Technology, Engineering, Arts, Math) Ahead" annual theme.
Girls spent the day coding emojis, animating their names and building miniature bridges, as well as visiting Union Pacific's Harriman Dispatching Center and Council Bluffs, Iowa, train yard. LEAD members enjoyed the opportunity to connect with Girl Scouts and discuss potential career paths the railroad offers.
Encouraging Women To See Themselves At Union Pacific
Women make up approximately 5.5 percent of Union Pacific's total workforce and represent one of the company's biggest diversity opportunities. At the same time, businesses such as ours face a growing shortfall of skilled trade workers due to fewer men and women choosing to learn a trade.
Union Pacific hired more than 10 percent more women into our Operating Management Trainee program, 27 percent versus 16.7 percent in 2016. We continue recruiting and encouraging women to see themselves succeeding at Union Pacific. Union Pacific's careers website featured stories of women working in Transportation, Engineering, Mechanical and Technical teams. We partnered with women's skilled trade organizations, women's veterans groups, technical and trade schools, and women's affinity groups at 28 universities. Union Pacific shared opportunities with women who possess skilled trade experience.
Balancing Career And Family
Railroading is in Tami Johnsen's blood. The third generation railroader began her Union Pacific career at age 20 as a train dispatcher before moving into Operations. Fast forward 20 years, and Johnsen is once again working in Omaha's Harriman Dispatching Center; this time, as general superintendent managing dispatchers who coordinate train movement across Union Pacific's 12,000-mile Northern Region. She is the second female to hold the role in our 155-year history.
Johnsen describes herself as driven and focused on learning something from every experience. The mother of three says despite a demanding career, she makes time for family. One of their favorite pastimes is railroad trivia on car trips, quizzing her children on anything from "What kind of train is that?" to "How long does it take a train to stop?"
Many Union Pacific employees consider Johnsen a role model. She enjoys talking to co-workers and finding solutions to challenges they may face. To read more, visit up.com.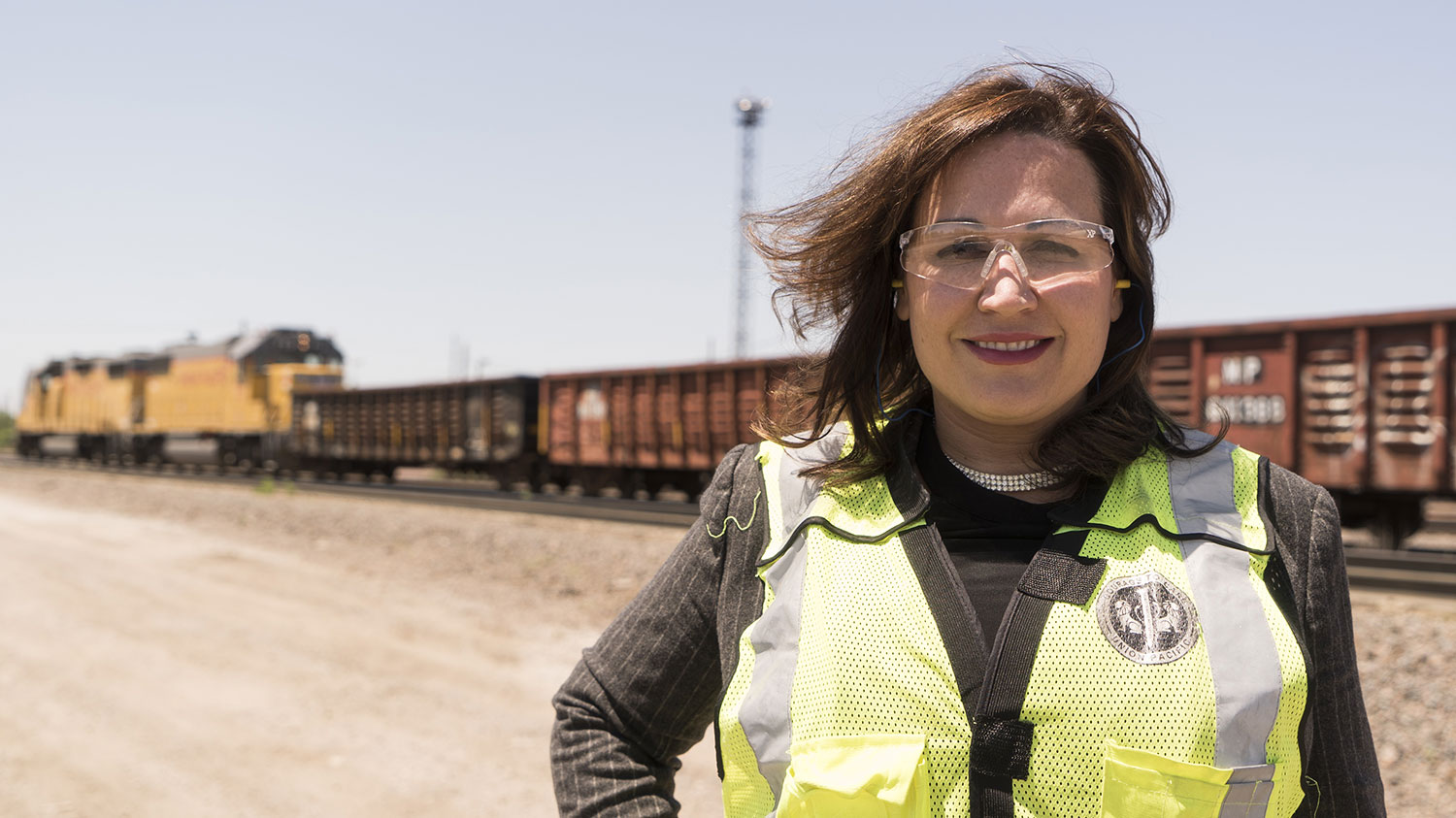 20-year railroad veteran and General Superintendent Tami Johnsen in the Council Bluffs, Iowa, train yard where she has held several positions.
Keeping Employees Healthy, Happy and Well
We are determined to help employees stay healthy. Our wellness program helps employees take charge of their well-being with tools to manage physical and mental health. Available resources include coaching, access to fitness centers, health education programs and screenings, and flu shots.
The System Health Injury Protocol program assists employees who may be at risk for injury because of low fitness levels. It provides access to personal training and nutrition consultations, helping employees achieve their fitness goals. When employees sustain injuries, Union Pacific's Return to Work program offers meaningful work within their physical capabilities. We also provide education and assistance to help with substance abuse, staying alert and stress-related conditions.
Other employee wellness programs include:
Personalized health coaching, helping employees and their spouses manage stress, depression, smoking, diabetes.
Employee Assistance Program, offering all employees and their families counseling and referral services for personal or work-related problems.
System health facility program, giving employees access to more than 5,000 gyms located near Union Pacific work sites, including gyms from industry leaders such as Lifetime Fitness, Anytime Fitness and Gold's Gym.
Incentives encouraging annual wellness assessments and physicals for non-union employees.
Wellness Challenge Spotlight
Launched in 2013, the Worksite Wellness Challenge recognizes Union Pacific locations adopting world-class wellness programs. All sites are evaluated and scored on wellness and safety education objectives. Points are awarded based on employee engagement levels. Approximately 67 percent of Transportation and Mechanical work units achieved platinum or gold status during the 2017 challenge.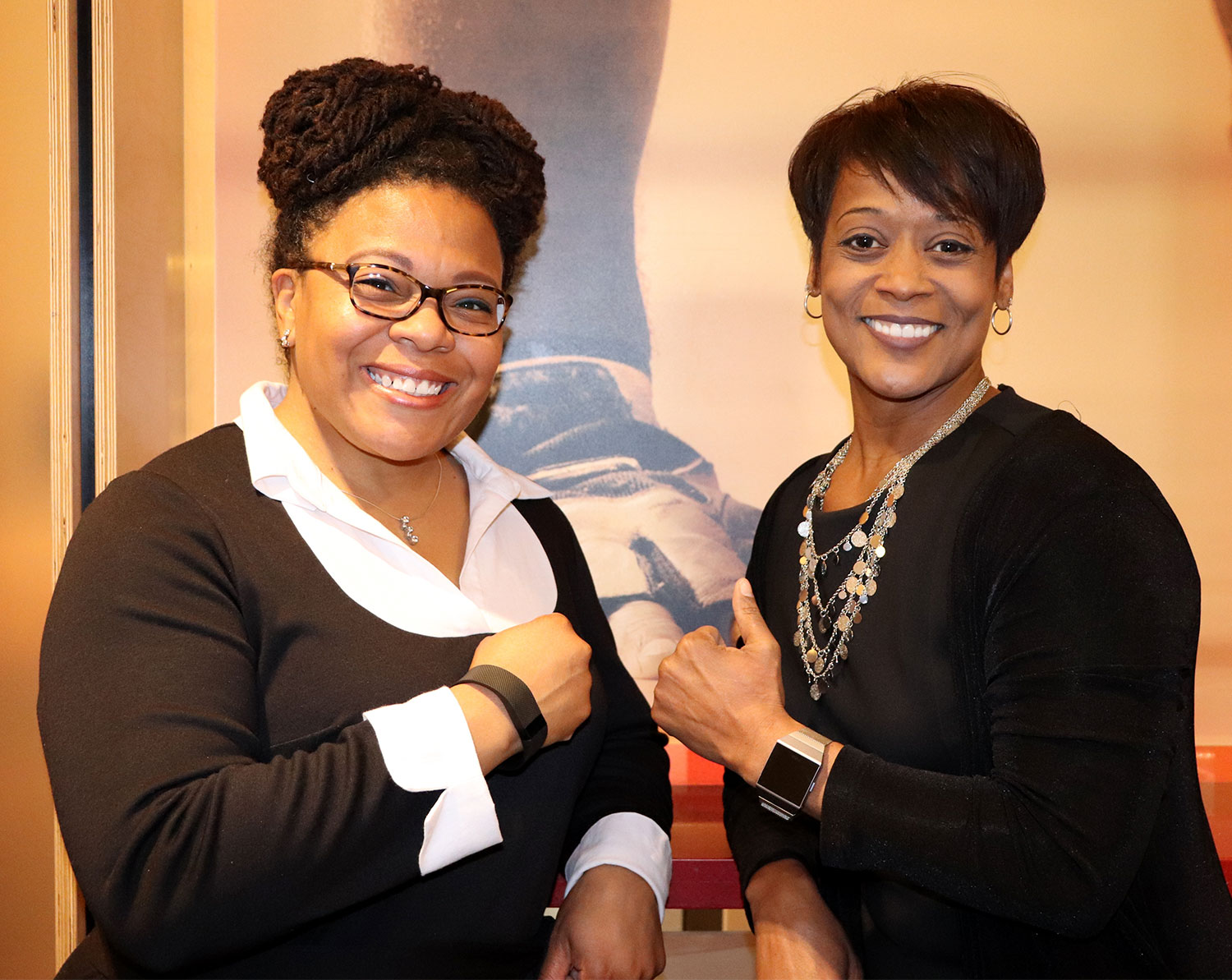 Black Employee Network health and wellness committee co-chairs Stacey Rhodes and LaVersia Spencer display their ftness trackers.
Railroaders Step Toward A Healthy Future
Six ERGs challenged their members to get active, resulting in employees taking more than 8 million steps in November. The challenge helped participants discover various methods to achieve their fitness goals, such as taking the stairs, a lap around the office, parking further away, stretching or enjoying a lunchtime walk.
Spreading Best Practice On Peer Support
A central role in Union Pacific's approach to well-being is played by peer support networks, with trained employees offering confidential advice and guidance to their colleagues. This strengthens bonds between our people and builds a sense of community within Union Pacific, providing support from those with an inherent understanding of the rail industry.
Peer support leadership conferences in California, Missouri and Texas enabled networking, sharing best practices and building momentum for a vital part of our well-being support structure. Union Pacific brought together 350 volunteers from regional peer support programs to provide invaluable support to those facing crises at home or work.
Employee Assistance Program
We operate a 24/7 Employee Assistance Program helpline, providing access to trained employee volunteers. These volunteers are equipped to help colleagues work through the emotional impacts of life-changing events. Support is entirely confidential and can provide a bridge to professional support services, where needed.
Employees Actively Serving
Union Pacific's Support our Troops initiative encourages employees to send messages to our railroad's uniformed soldiers on active duty around the world. We sent an American flag, messages and care packages to our 63 employees stationed overseas on Memorial Day. This marked the 14th year we supported troops in this way.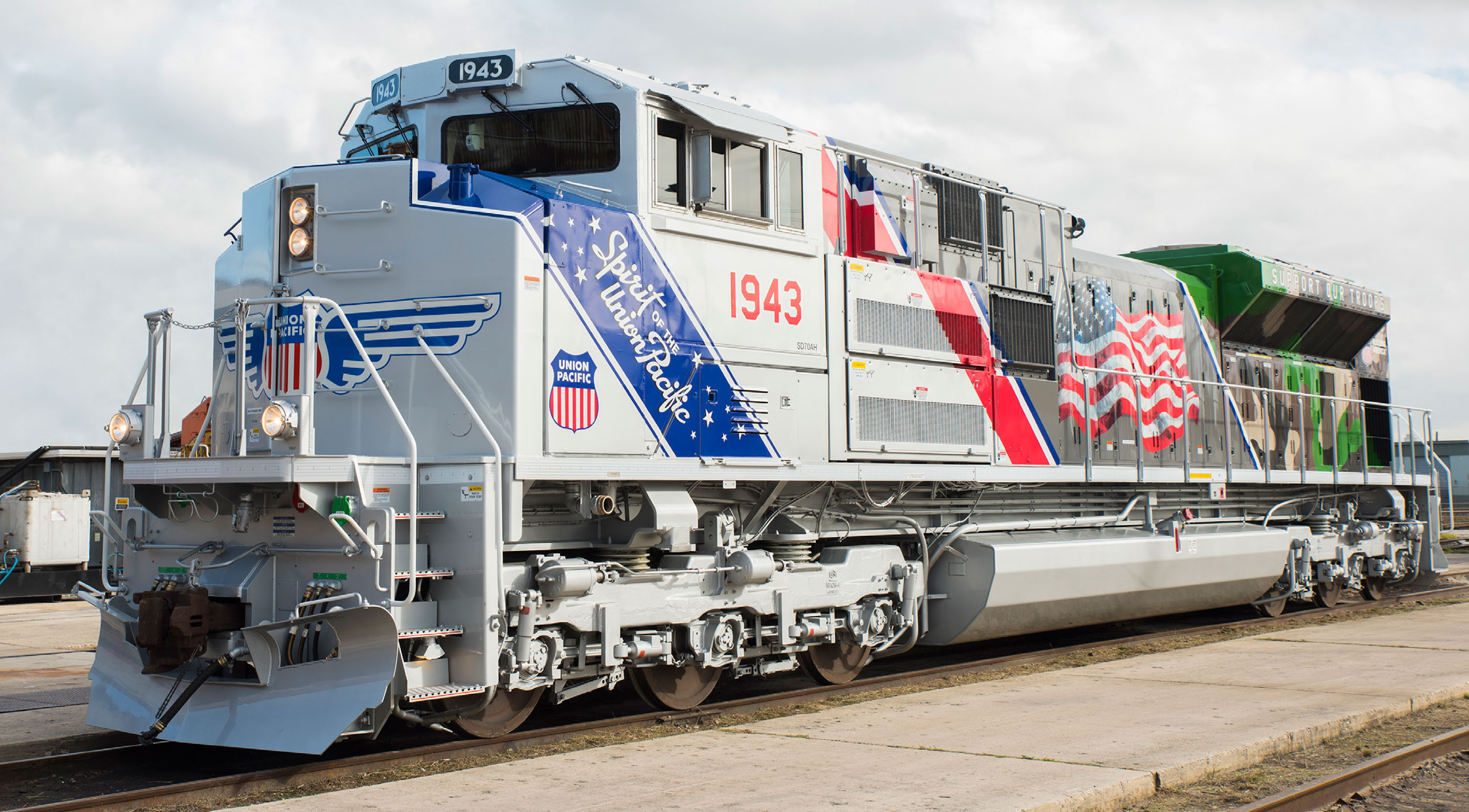 UP No. 1943 at its Texas unveiling ceremony in San Antonio, Texas.
UP No. 1943 The Spirit Locomotive Salutes Veterans
Union Pacific unveiled its 16th commemorative locomotive in our 155-year history – UP No. 1943 The Spirit. The locomotive honors the United States' armed forces, and the men and women filling their ranks. Created in collaboration with Union Pacific's veterans, the locomotive illustrates the railroad's connection to the thousands of veterans who helped build America through the centuries.
The locomotive was unveiled in San Antonio, Texas, and proceeded on a Salute to the Military tour, which included stops in Arkansas, Louisiana, Kansas, Nebraska, Wyoming, Nevada and California.
Read more about No. 1943 and its design's symbolism at up.com.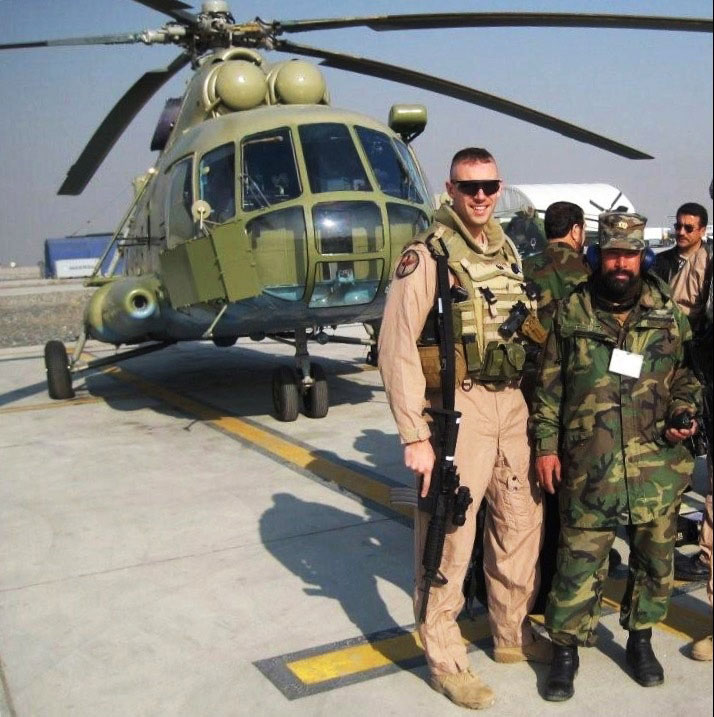 Lt. Col. Kevin Mantovani, left, with an Afghan Air Force member and a Mi-17 helicopter during a tour of duty in Afghanistan.
Doing Our Part For A More Innovative Military
Union Pacific hosted Lt. Col. Kevin Mantovani as part of an exclusive Secretary of Defense Executive Fellows Program (SDEF). Over the course of several months, Mantovani absorbed a comprehensive overview of our company culture and effective ways to apply what he learned to his overseas assignment with the U.S. Air Force.
He spent time with employees working in Transportation, Information Technologies, Engineering, and Marketing and Sales. At the conclusion of his Union Pacific experience, Mantovani provided feedback to Pentagon senior leadership about our innovative approaches using big data analytics, artificial intelligence and machine learning. However, Mantovani said what impressed him most is the way our employees build safety and efficiency into their daily lives.
Union Pacific was one of 15 Fortune 500 companies to host a SDEF participant.