Operating Safely
Operating Safely
Safety is Union Pacific's No. 1 priority. As a company, we continuously look for innovative approaches to enhance the safety of our employees, our communities and the customers we serve. We invest significant resources in training, research and development, and public education – all with the goal of increasing rail safety awareness and improving safety.
Rail Safety Maintenance
Rigorously maintaining quality rail infrastructure is foundational to our ability to operate safely. It helps prevent derailments, provides a safe path for train crews and avoids shipment delays for customers.
Union Pacific continuously inspects railroad tracks, locomotives and other equipment. Our track inspection program customizes schedules and techniques to examine each rail line, mile by mile. We inspected 5 million track miles in 2017, enough to cover our 32,000. mile network more than 156 times.
Efforts to strengthen our rail infrastructure contributed to a 14 percent improvement in track-caused Federal Railroad Administration (FRA) reportable derailments from 2016 to 2017. Track safety is a major focus for Union Pacific, and we continue working toward our goal of operating in an incident-free environment.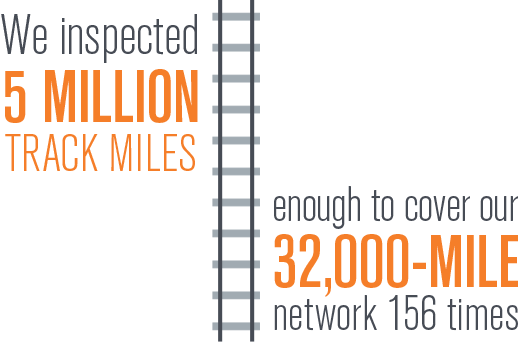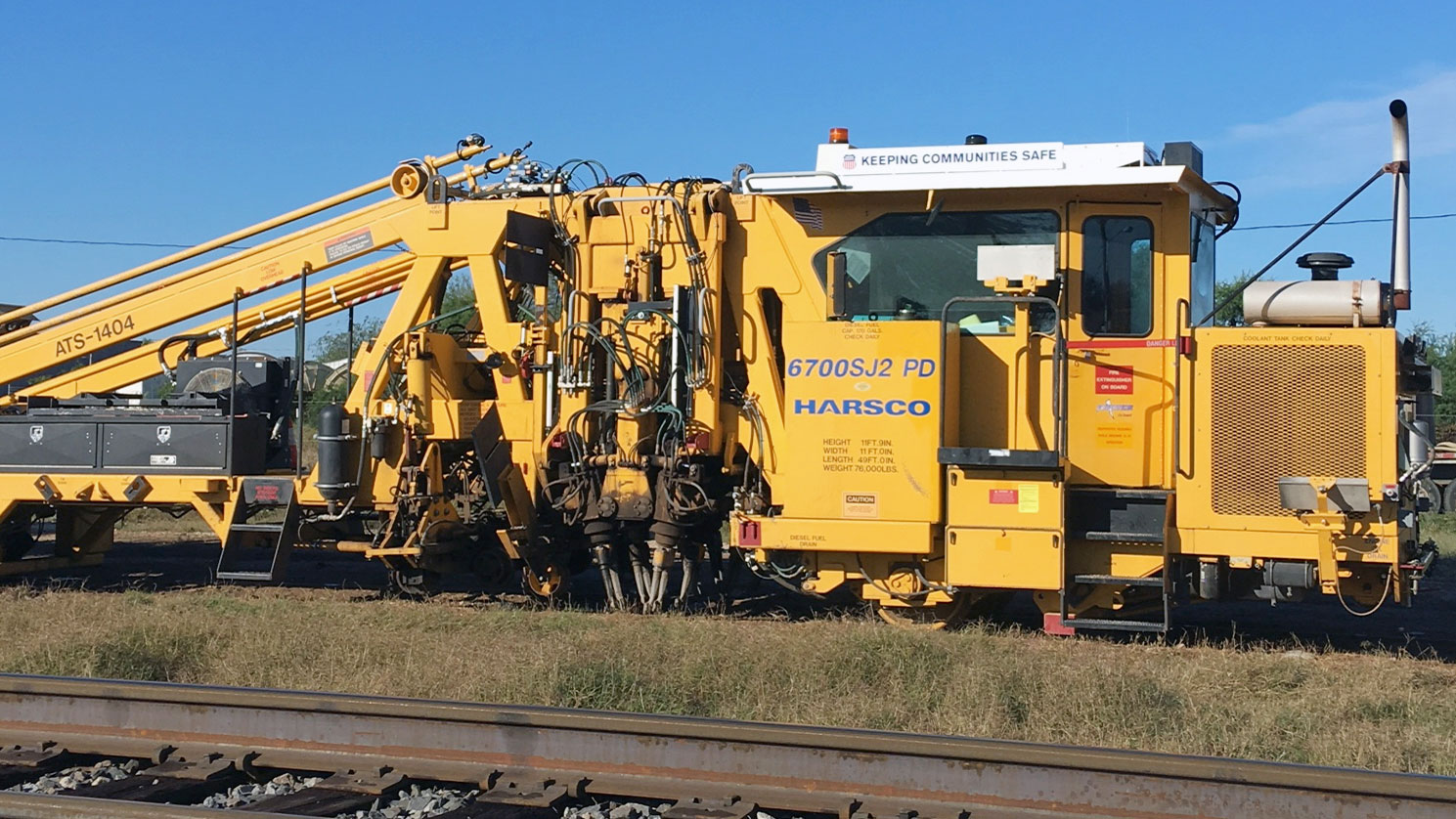 Union Pacific's Maintenance of Way equipment has "Keeping Communities Safe" signage, emphasizing safety is our top priority.
Safety Inspection Fleet
We use state-of-the-art equipment to regularly inspect rail lines. Geometry cars use an optical gauge measuring system consisting of lasers and cameras under the rail car to produce real-time track geometry images. The system evaluates track structure wear and tests for defects to help prevent derailments, maintain track health and increase track longevity. Union Pacific has two evaluation cars, featuring military-grade navigation, covering a combined 70,000.80,000 track miles per year – enough to annually cover our mainlines at least twice.
We have four Gauge Restraint Measurement System (GRMS) vehicles positioned across our system to identify signs of wear or potentially weak spots in the rail. Each is capable of testing up to 60 miles of track daily, specifically focusing on curved sections. To simulate the force generated by a locomotive, the GRMS vehicle applies 9,000-10,000 pounds of lateral forces to the track. Its operator verifies any potential defect and immediately remediates. In 2017, we used GRMS vehicles to aid inspection of more than 31,000 track miles.
Currently in pilot testing, our Unmanned Geometry Box Car is equipped with an axle-mounted generator instead of a fuel tank. It tests track systemwide for geometry defects in regular train service, communicating in near-real time the type, severity and location of track defects to a data facility for verification and remediation.
More information regarding Union Pacific's track inspection fleet is available in our Track Inspection Media Kit at up.com.
Drone Inspections
Unmanned Aerial Systems (UAS), or drones, are part of Union Pacific's safety tool kit, collecting valuable information at derailment sites and natural disaster incidents, allowing us to assess our infrastructure and respond while keeping employees out of harm's way.
Union Pacific employees with a Federal Aviation Administration (FAA) Part 107 certificate, a government requirement to commercially operate drones, are stationed in all 16 service units across our network. Through 2017, 90 drones were in use and 100 employees received training specific to FAA regulations and Union Pacific policies. We plan to continue training employees in 2018. Field management is active in developing the program based on evolving technology, business need and feedback.
Current applications of drone technology are:
Routine inspection of buildings, bridges, tracks and telecommunication equipment.
Weather-related and/or operating incident assessment.
Hydrography – Providing 3-D imaging of rivers and coastal areas for flood mitigation planning.
Photography – Providing employee familiarization of yards, facilities and structures.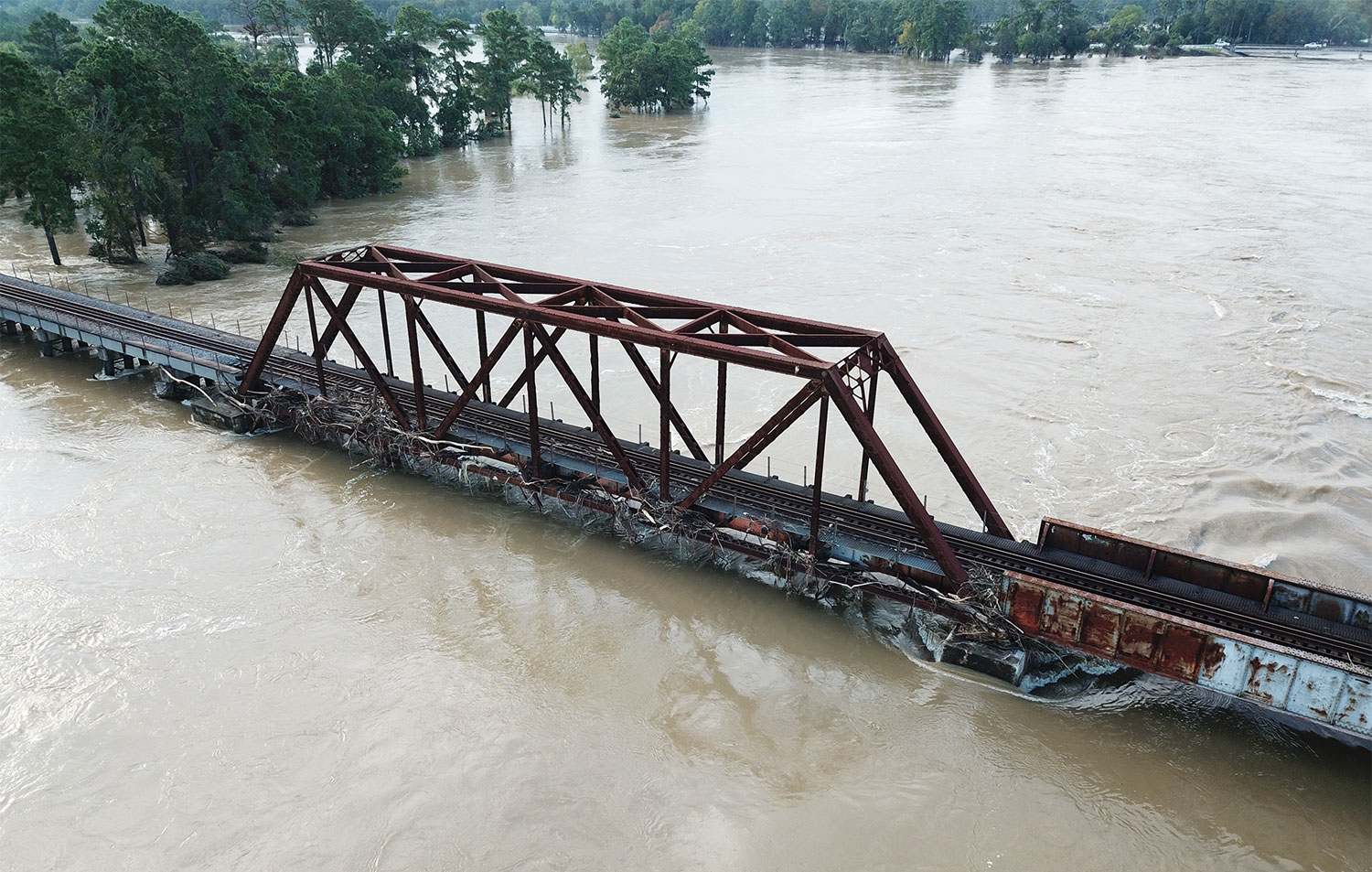 This photo of flood damage in the wake of Hurricane Harvey was taken by a drone flying over the San Jacinto River in Houston, Texas.

America's Top Railroad Learns To Fly
Railroads have used UAS technology for rail structure inspections and incident assessment since 2014. Union Pacific is pioneering autonomous drone infrastructure inspection technology with help from a California startup. It's possible thanks to a program called Perceptive Navigation Technology, enabling us to fly drones in places without GPS coverage, such as within or under a large metal bridge or into deep culverts. Soon, our army of nearly 600 bridge inspectors will be able to inspect the railroad's more than 18,000 bridges while their steel-toed boots remain safely planted on the ground.
Watch Union Pacific's autonomous drones at work at up.com.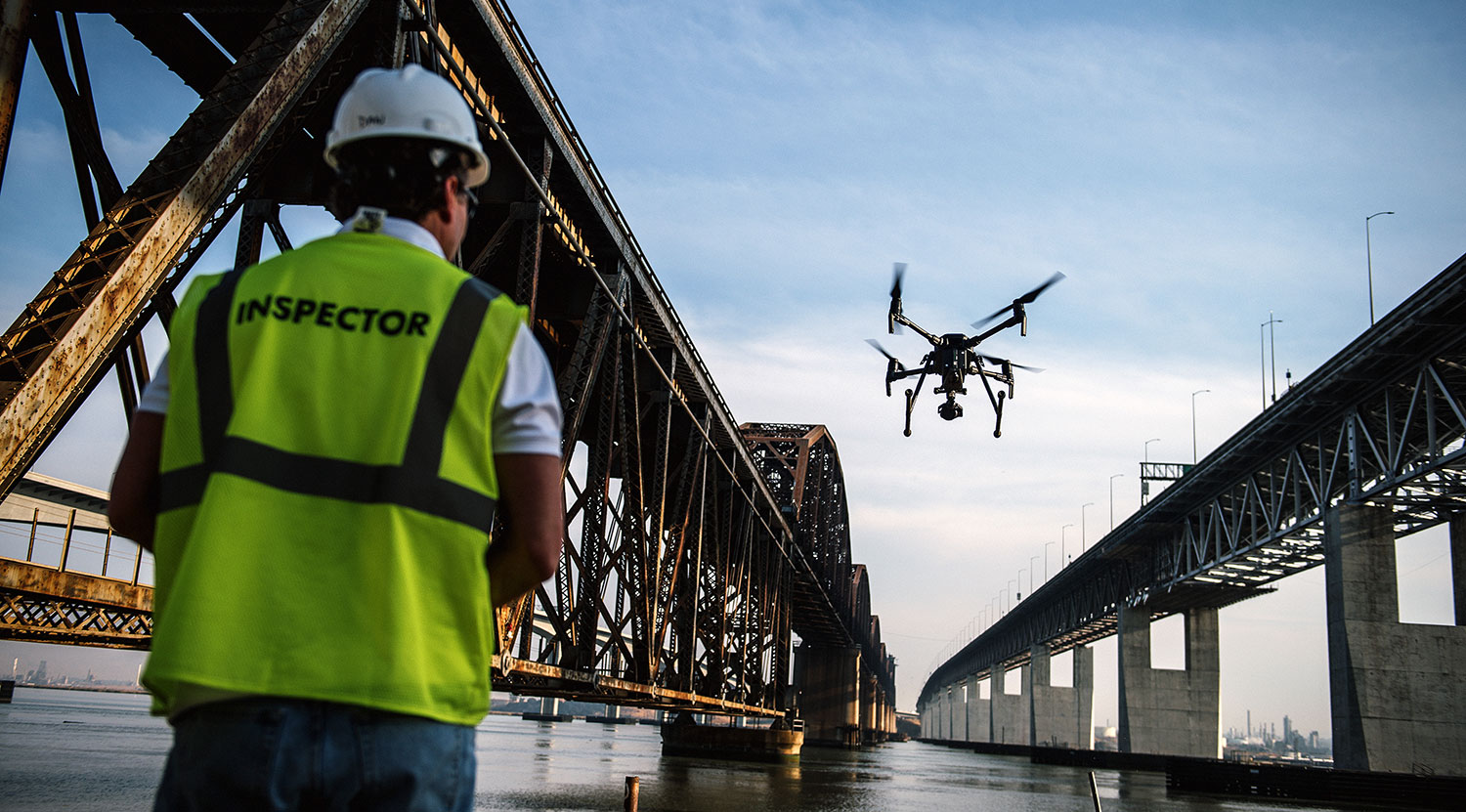 Autonomous drones are tested on the railroad bridge adjacent to the Benicia-Martinez Bridge in California.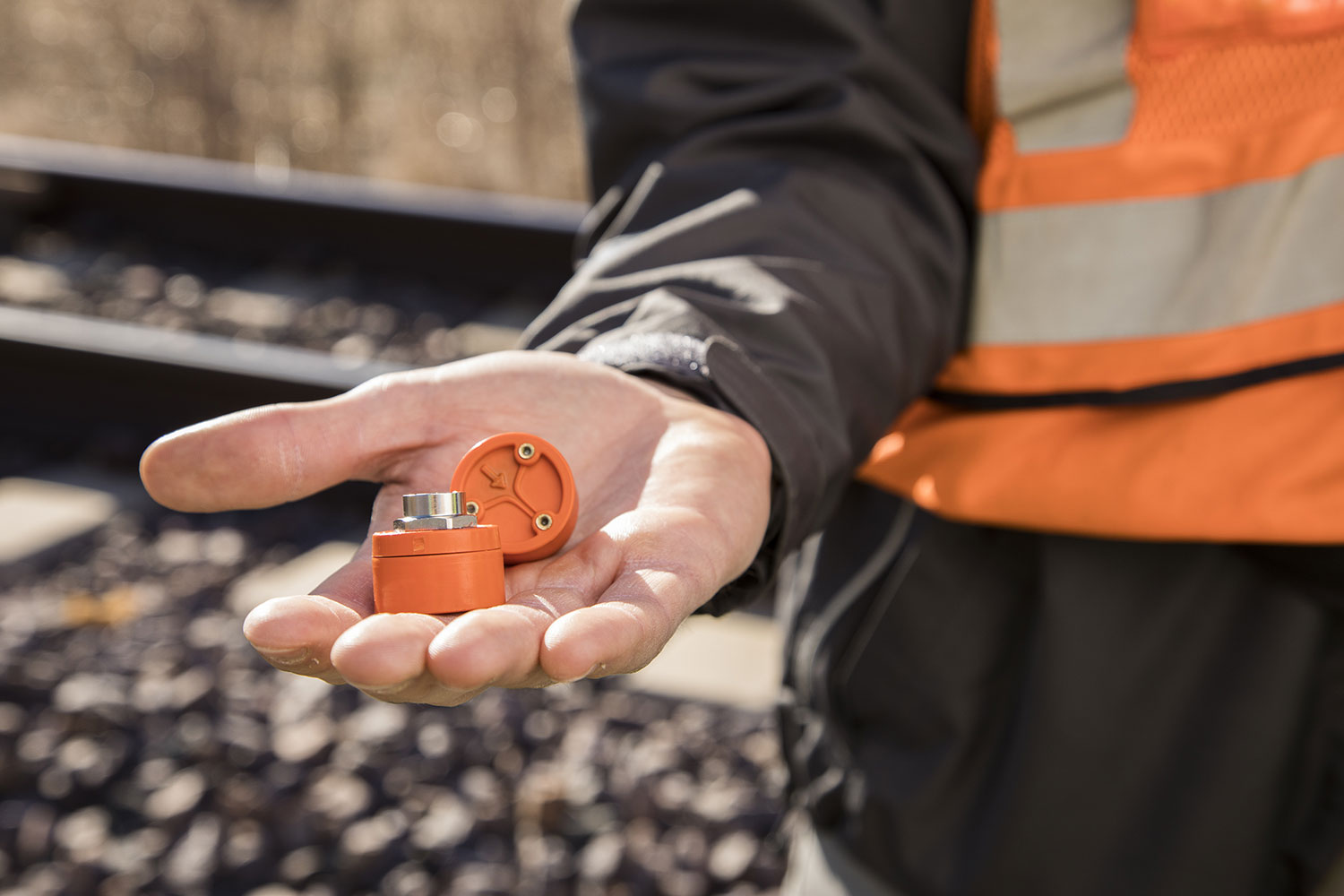 SensorX fits in the palm of the installer's hand but delivers big results.
One Sensor, Endless Solutions
Broken wheels are one of Union Pacific's biggest safety concerns. Trackside technology is used to detect wheel health and determine if a passing car is steering straight down the rail. While effective, these wheel impact load detectors (WILD) sites examine wheels once every thousand miles.
In an effort to find a more cost- and maintenance-effective solution, we developed a "mini" WILD, of sorts, called SensorX. It's a smart sensor that measures vibration and rail movement, collecting roughly 40,000 measurements a second. Its data is collected and stored for further analysis. If necessary, train crews will be alerted to potential defects.
Designed as a technology platform, other components were added. For example, a scale measures car weight, determining empty versus loaded cars and whether they're properly loaded. This is a valuable tool as we continue improving the customer experience with real-time analytics.
Real-Time Customer Response Tool
Union Pacific completed implementation of Mobile Work Order across our 23-state system in 2017. The automated reporting system increases customer satisfaction while improving Operating employees' lives, eliminating extra time spent reporting data at the end of their shifts.
Using a modified mobile phone, employees report freight car movements in real-time, providing our customers tracking capabilities while eliminating emails and phone calls. The technology allows Union Pacific to anticipate customer needs and quickly respond, ultimately helping our customers serve their own clientele. It also sets the stage for our next initiative, Local Service Notification, which uses GPS to send automated alerts to customers that crews are coming. This will help customers more effectively plan their work.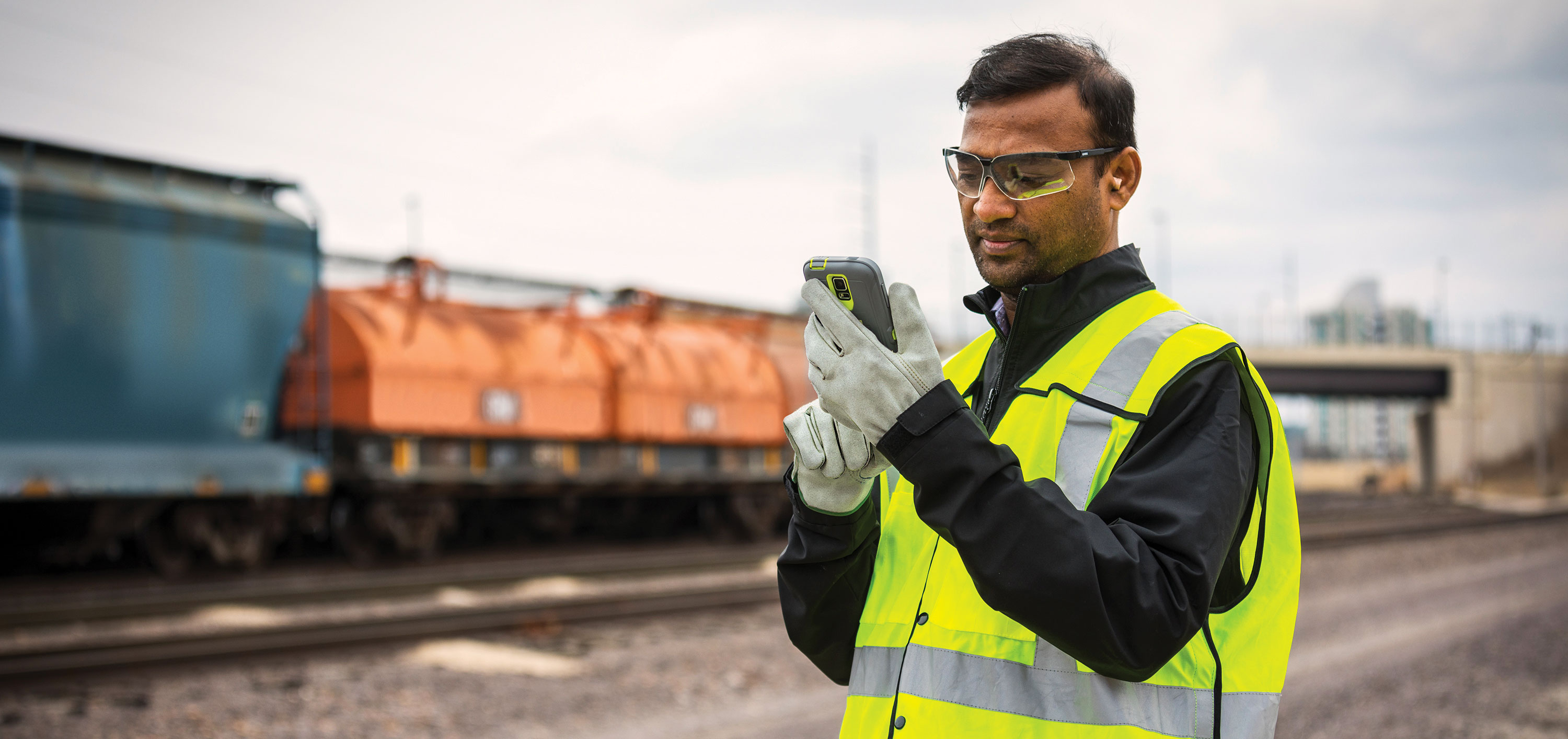 The Mobile Work Order system in use in Union Pacific's Council Bluffs, Iowa, yard.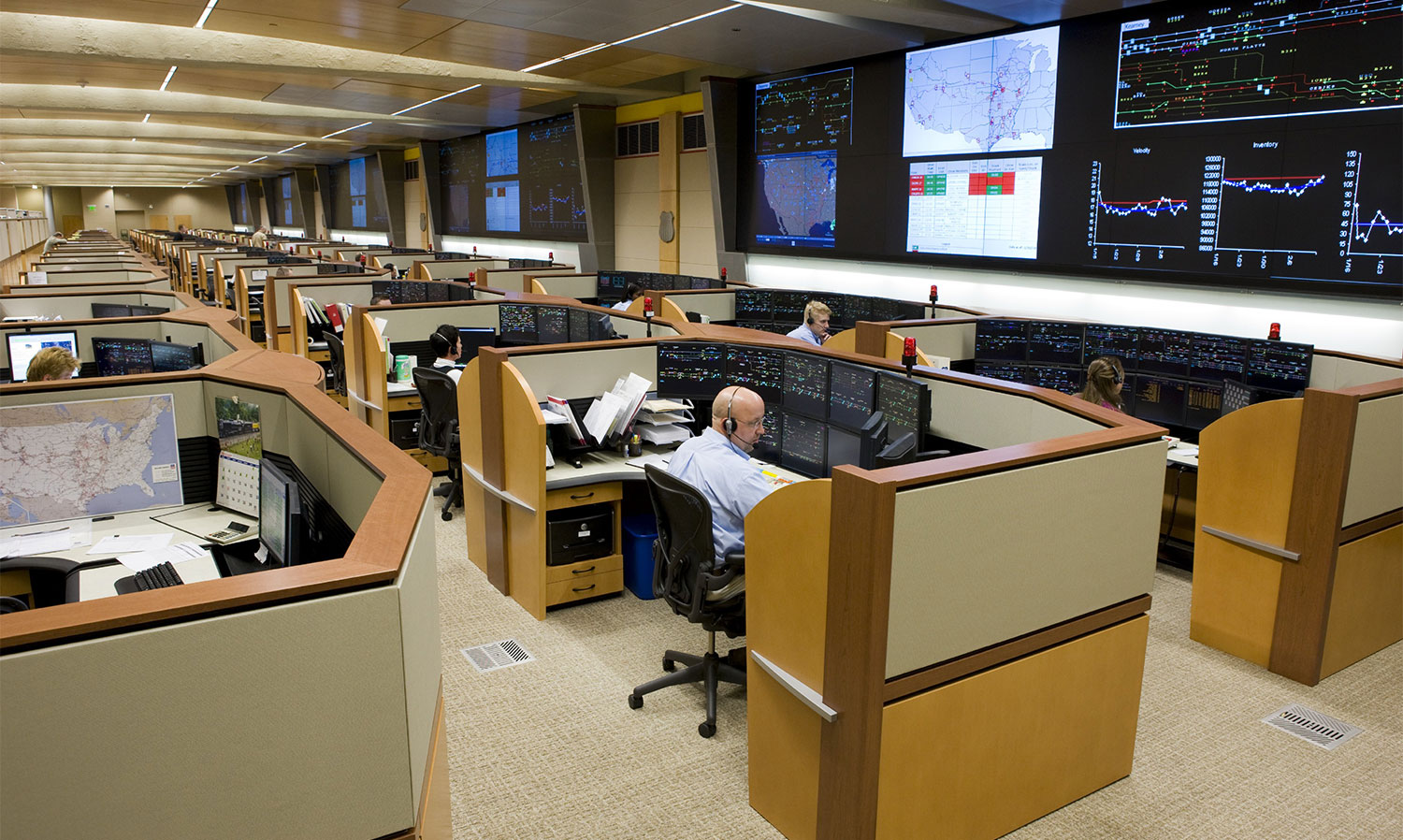 Dispatchers at Harriman Dispatching Center in Omaha, Nebraska, had their safest year on record, thanks, in part, to Remote Restriction technology.
Online Requests Reduce Radio Traffic
Innovation is helping Union Pacific Engineering employees, train crews and dispatchers improve safety and productivity. In March 2017, we implemented Remote Restriction (RR) technology systemwide. It allows Engineering personnel to electronically request temporary track restrictions in real time via laptop, rather than using a hand-held radio to talk to dispatchers. The application includes user-friendly forms that reduce typos and communication errors. Reduced radio traffic also benefits employees engaged in safety-sensitive conversations and job briefings.
At the end of 2017, approximately 1,200 employees were trained on the technology, and 60 percent of all restrictions received were through RR.
Positive Train Control
Union Pacific continues to make strides toward implementing Positive Train Control, an advanced system designed to automatically stop a train before certain accidents occur. Our PTC footprint is the largest of all North American railroads, encompassing more than 17,000 route miles, roughly 55 percent more miles than the next largest railroad.
Key Milestones Reached In 2017 Include:
Through December 31, 2017, Union Pacific:
Installed 99.7 percent, or over 17,000 miles, of required route miles with PTC signal hardware.
Partially installed PTC hardware on over 98 percent of its 5,515 locomotives earmarked for the technology.
Equipped and commissioned 4,220 locomotives with PTC hardware and software.
Installed over 100 percent of the wayside antennas needed to support PTC along the company's right of way.
Union Pacific plans to spend about $160 million on PTC in 2018 toward the current total estimated $2.9 billion cost.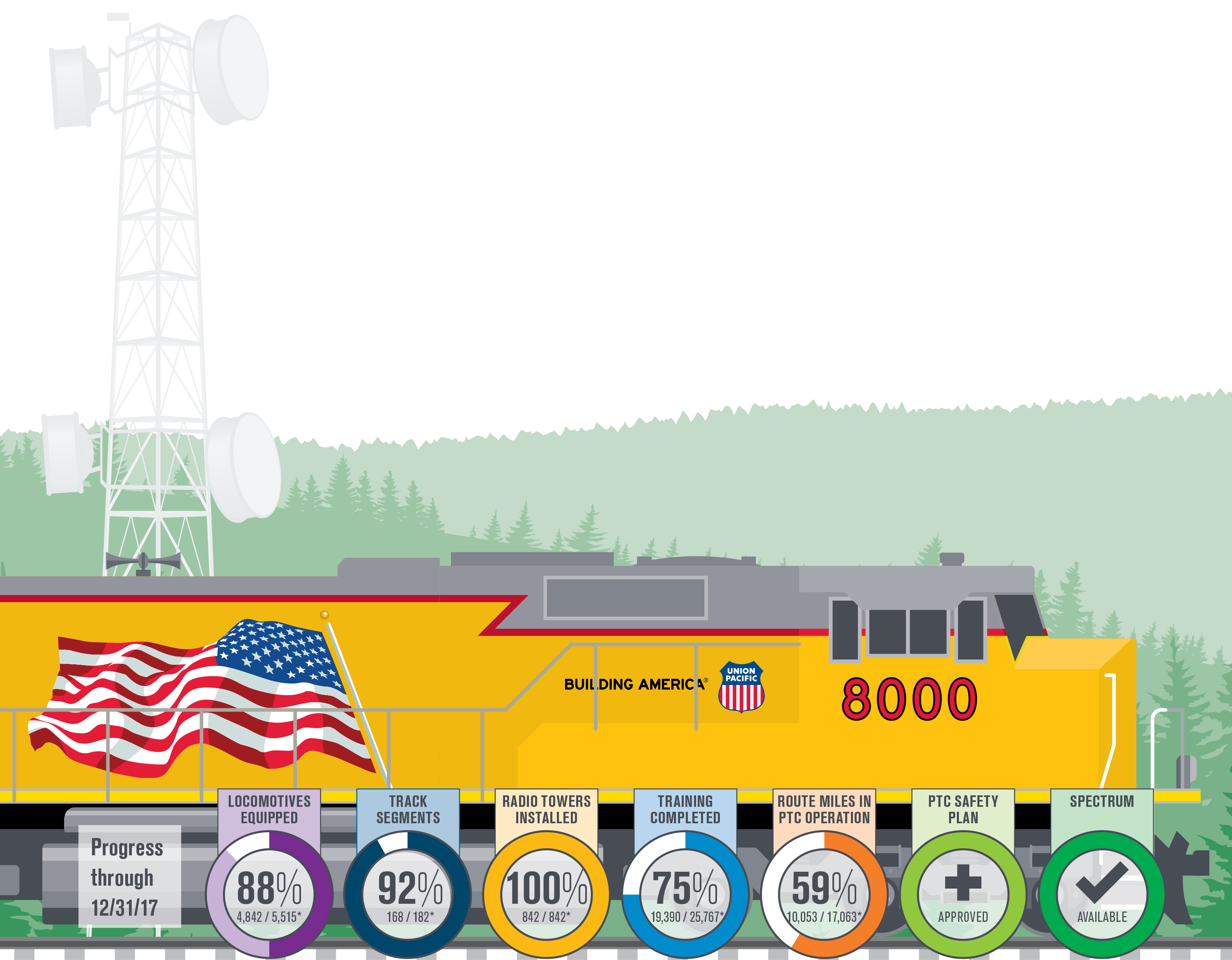 Locomotives Equipped
While the FRA notes only 2,849 (50%) UP locomotives are PTC equipped, nearly 4,850 are fully PTC equipped with the exception of a single component: the PTC-compatible, crash-hardened memory ("black box"). We made significant locomotive installation progress in 2017 as the supplier-related black box issue resolved. We expect this progress to continue in 2018.
Route Miles in PTC Operations
With the FRA's conditional approval of our PTC safety plan, Union Pacific is running PTC operations on over 10,000 route miles in Arkansas, California, Colorado, Idaho, Illinois, Iowa, Louisiana, Minnesota, Missouri, Nebraska, Nevada, Oregon, Texas, Utah, Washington, Wisconsin and Wyoming.
*Union Pacific submitted to the FRA a request to amend its PTC Implementation Plan. This request modifies the total requirement counts for each of these metrics. The numbers shown here reflect these updates and may vary from the FRA's quarterly industry status reports.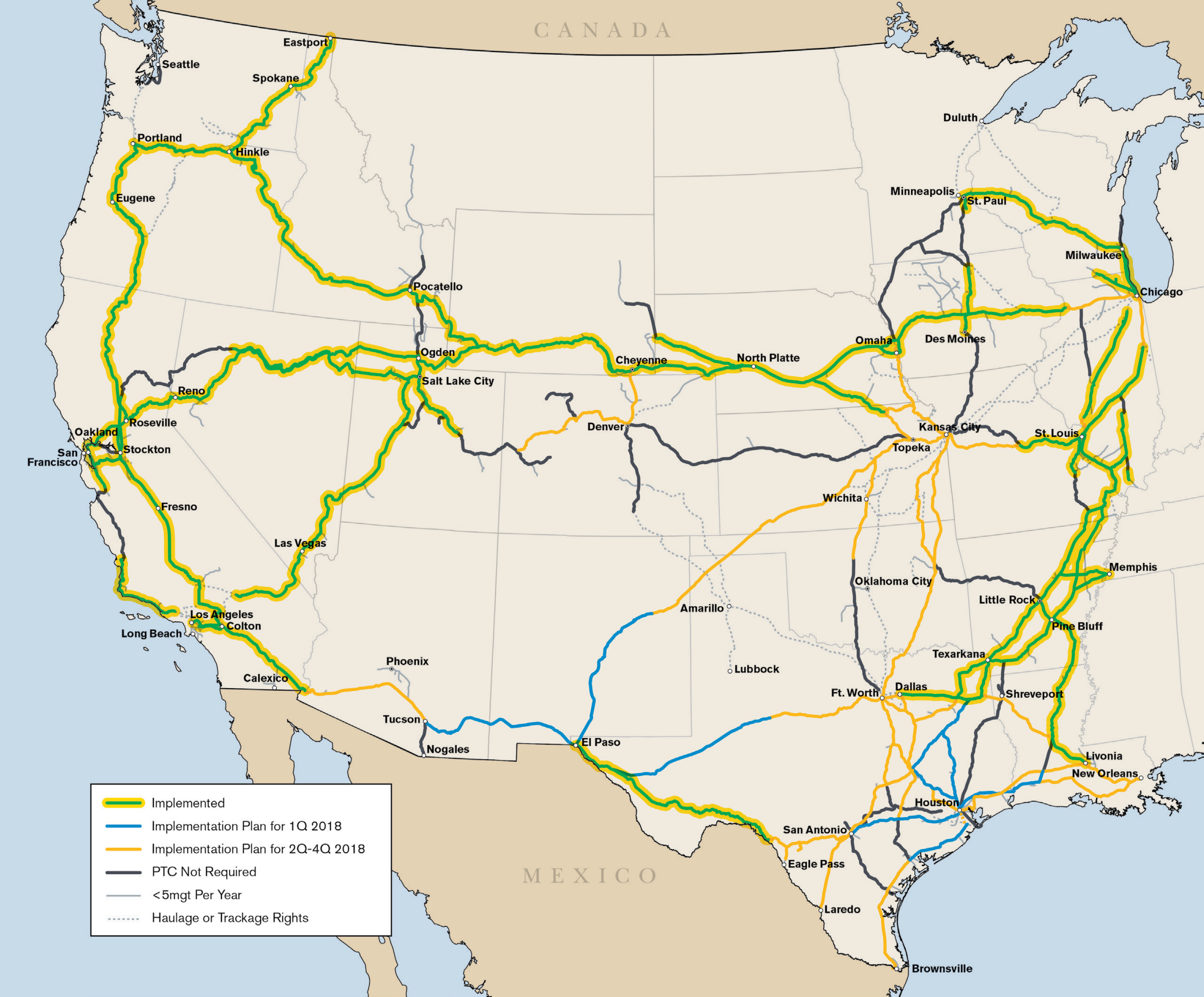 What PTC Does:
Automatically stops a train before certain accidents caused by human error occur, including train-to-train collisions, derailments caused by excessive train speed, unauthorized train entry into work zones or movements through misaligned track switches.
What PTC Does Not Do:
Will not prevent vehicle-train accidents at railroad crossings, stop trains when pedestrians are on the tracks, or prevent incidents due to track or equipment malfunctions.
Handling Hazardous Materials Safely
Union Pacific is obligated to transport hazardous materials by federal law, while trucks are not. Our commitment to safely haul this material is reflected in our 99.99 percent success rate delivering without incident.
Union Pacific focuses on accident prevention, preparedness, response and recovery. Our Hazardous Materials Management group consists of highly trained experts in hazardous material transportation safety who work with customers and inspect their tank cars, ensuring products are properly secured.
Prevention
Through our prevention efforts, Union Pacific partners with customers, employees, regulators and other stakeholders to conduct hazardous materials shipment inspections, sponsor training opportunities and actively participate in numerous industry initiatives focused on continuous improvement of hazardous materials shipments.
Preparedness
While we work to prevent incidents involving hazardous materials, Union Pacific's Hazardous Materials Management group regularly prepares for such an event. We do this through building strong relationships with first responders and other stakeholders throughout the communities where we operate.
Union Pacific provides fire departments and other emergency responders along our routes with comprehensive training on minimizing derailment-related impacts. We provided classroom and hands-on training to roughly 7,200 local, state and federal first-response agencies.
We also sponsored 60 emergency responders from 15 states to attend a rail-specific hazmat training in Pueblo, Colorado. The five-day tank car safety training course focused on tank car assessments and repairs, and safely controlling hazardous material spills. Training also included a large-scale simulation of a hazardous material incident providing emergency responders with hands-on experience responding to accidents.
Over the last 10 years, Union Pacific trained over 50,000 emergency responders throughout our network. Union Pacific is a charter member of TRANSCAER® – a voluntary national outreach effort focused on assisting communities to prepare for and respond to a possible hazardous materials transportation incident. Union Pacific is a 12-time winner of the TRANSCAER® National Achievement Award.
We partner with stakeholders at the local, state, tribal and federal levels to establish geographic response plans. Conducting drills and exercises is another vital tool in preparedness. We regularly exercise our emergency response plans within our facilities, as well as with local, state, federal and tribal agencies.
Using our unique training tank cars and training box cars, we reach first responders on our system and provide various coaching opportunities and drills.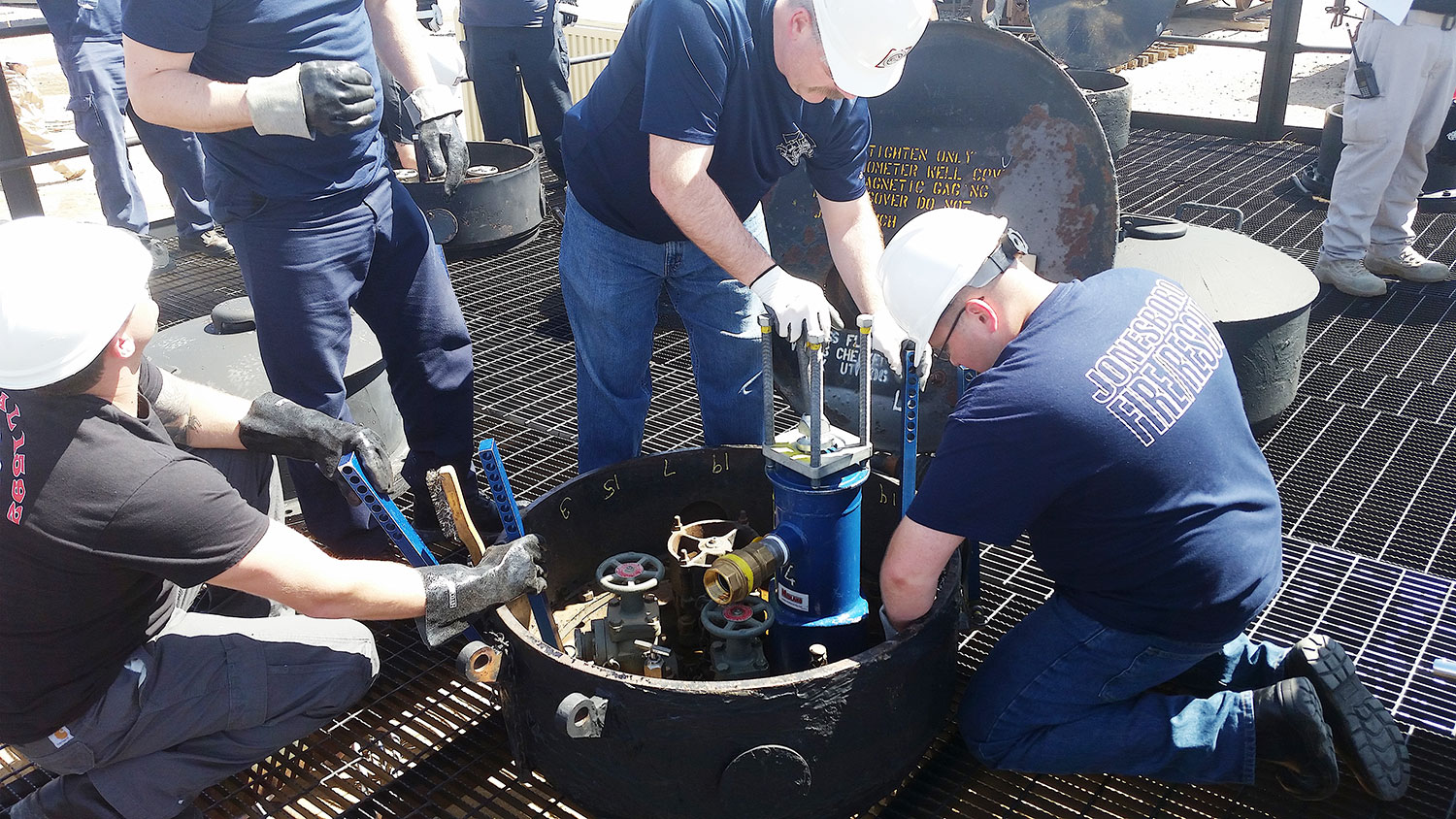 Emergency responders learn railroad hazmat response techniques in Pueblo, Colorado.
Response
In the unlikely event of an incident involving hazardous materials, Union Pacific's Hazardous Materials Management group responds to safely and quickly mitigate the hazards to public health, environment and property. We do this by working with emergency response agencies, and our network of specialized contractors, and by utilizing our internal resources, such as firefighting trailers and waterway spill containment systems.
All of our hazardous materials professionals are trained thoroughly in hazardous materials response and understand the National Incident Management System. This allows for safe and effective response operations, while working together with our public partners.
Recovery
Once an incident is under control, our hazardous materials professionals continue ensuring the communities, environment, and Union Pacific's network have properly recovered. We do this through environmental remediation and proper product handling practices. Union Pacific is capable of removing product from damaged containers and placing it into non-damaged containers. We accomplish this with our state-of-the-art transfer trucks and equipment, as well as numerous smaller transfer trailers that can be utilized to safely and effectively remove liquid products. This creates a safer and more effective option for communities and reduces costs for our customers.
Safety Through Security
The Union Pacific Police Department is a team of highly trained special agents dedicated to maintaining the railroad's security and integrity. The department holds accreditation from the Commission on Accreditation for Law Enforcement Agencies (CALEA), which is considered the gold standard in law enforcement accreditation and recognizes agencies meeting the highest law enforcement standards.
The Police Department uses security monitoring technology to protect critical infrastructure from intruders around the clock. It coordinates its operation with CBP, the U.S. Coast Guard, the Federal Bureau of Intelligence, the Department of Homeland Security, the Transportation Security Administration, and state and local law enforcement. Union Pacific was the first U.S. railroad named a partner in CBP's Customs-Trade Partnership Against Terrorism.
Special Agent Raymundo Velarde, Jr. takes his partner, a Belgian Malinois dog named Bizi, on patrol in San Antonio, Texas.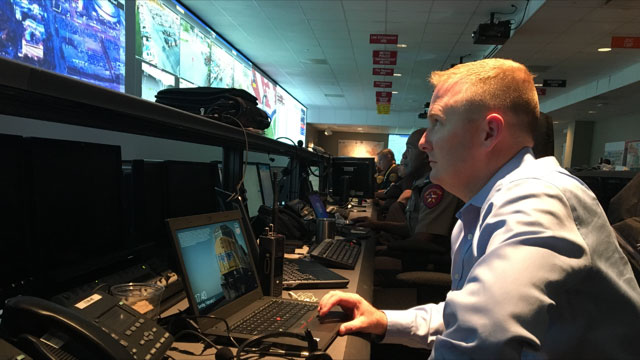 Special Agent Nicholas Hammond inside the City of Houston Emergency Operations Center.
UP Special Agents Huddle for Security
Reliant Stadium in Houston, Texas, hosted the 2017 Super Bowl. Union Pacific has a main line near the stadium, providing us an opportunity to discuss train safety and actively participate in security in conjunction with the big game.
While numerous special agents patrolled the tracks and Union Pacific facilities, Special Agent Nicholas Hammond had a unique vantage point. He was positioned inside the City of Houston Emergency Operations Center, serving as the central contact between Union Pacific and other local, state and federal agencies. With thousands of visitors flocking to the area, our involvement was essential in monitoring public safety near railroad operations.
Safest U.S. Railroad for Third Straight Year
Union Pacific was the top-performing U.S. Class 1 railroad in employee safety for the third consecutive year. Despite this designation, we still have work to do. The employee reportable injury rate, measured by the number of injuries for every 200,000 employee-hours worked, increased slightly to 0.79, 5 percent off the all-time record of 0.75 in 2016.
Two of our employees did not return home. We honor their memory by working toward an injury-free railroad. Union Pacific continues improving technology, enhancing processes and fostering a culture focused on operating safely.
Omaha, Nebraska, Human Resources employees, from left, Shawna Smith, Stephanie Gier, Ann Nakamura, Kemy Bayemekessa, Tommy Kerr and Sarah Schindler celebrate the railroad's safety record with the traveling E.H. Harriman Safety Gold Medal trophy. The trophy travels to service units while Union Pacific remains the safest railroad.
Courage To Care And Safety Stand Downs
Our employees are our eyes and ears when it comes to embedding safe behaviors. They identify risks, initiate action to mitigate those risks and work to keep each other safe.
Courage to Care, a voluntary commitment made by Union Pacific employees since 2012, empowers each person to look out for their peers and "stop the line" on any operation that could result in an incident. The company also pauses systemwide operations twice annually for safety stand downs, giving employees an opportunity to have candid safety discussions and share experiences to learn from each other.
Safety Spotlight
Karen Sepanski, a systems engineer in Proviso, Illinois, received Union Pacific's highest safety honor, the J.C. Kenefick Safety Award.
Sepanski is responsible for creating Total Safety Culture (TSC) processes and building a safety culture among employees at the Dolton Locomotive Shop and, later, Proviso Mechanical Shop. When she became TSC facilitator at Dolton in 2010, the shop's employee injury reportable rate was the system's worst. The team set a goal of zero injuries. Sepanski encouraged employees to speak up; handed out stickers and other materials to reinforce the goal; and created a recognition system. The Dolton team met its goal in 2012 and 2013. Sepanski said building trust among the team is critical to success.
In Sepanski's current role, she works with the Mechanical Department reviewing Standard Work processes for safety initiatives implemented systemwide. She also is responsible for ensuring facility inspections completed by contractors meet compliance standards.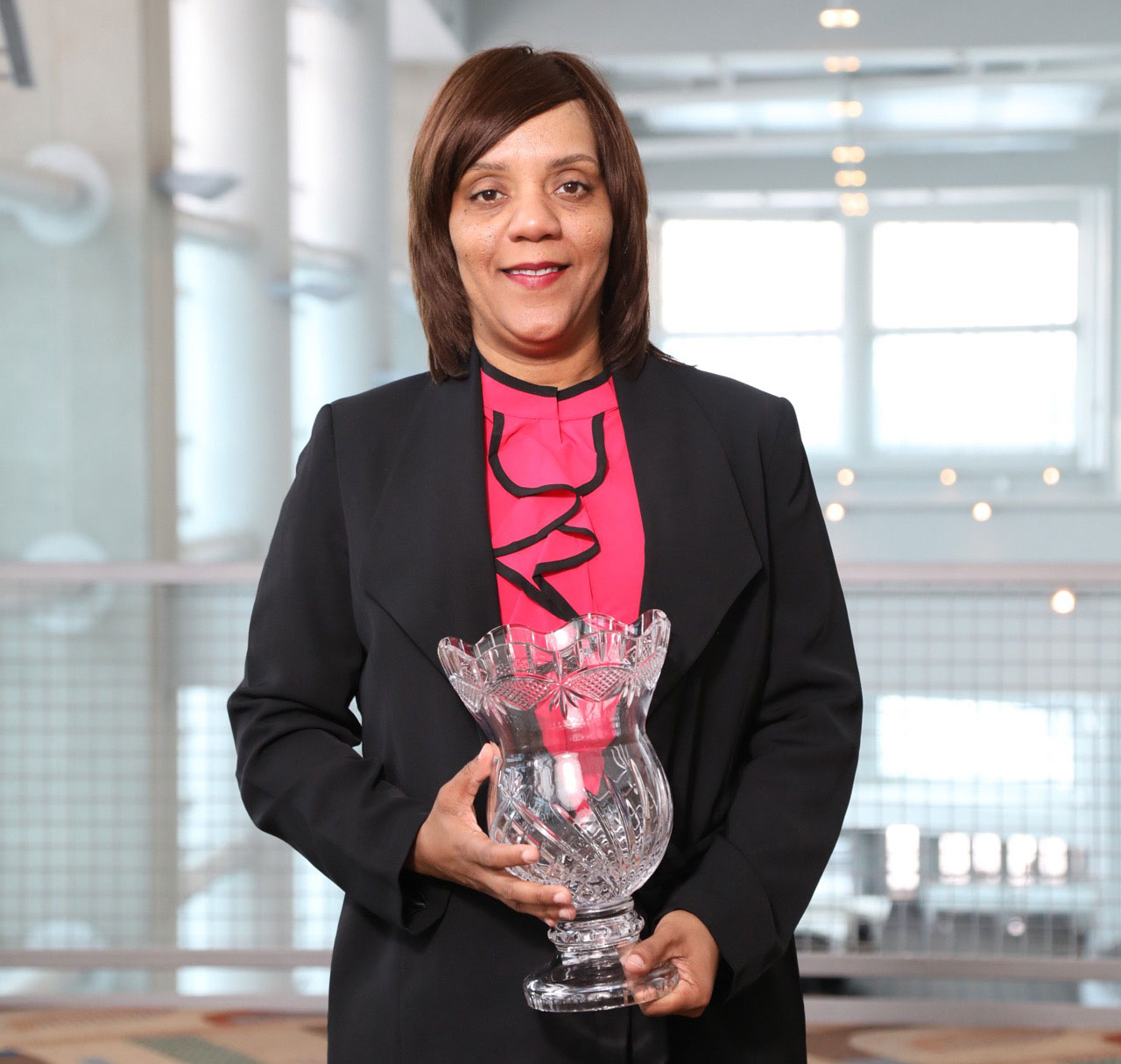 Since its inception in 1986, the J.C. Kenefick Safety Award annually recognizes a union employee who demonstrates outstanding job safety achievements. The award is named after our former Vice Chairman, CEO and President, John Kenefick, who guided the company into the era of deregulation after the passage of the Staggers Act in 1980. Under his leadership, Union Pacific more than doubled its size with acquistions and gained access to the coal-rich Powder River Basin in Wyoming.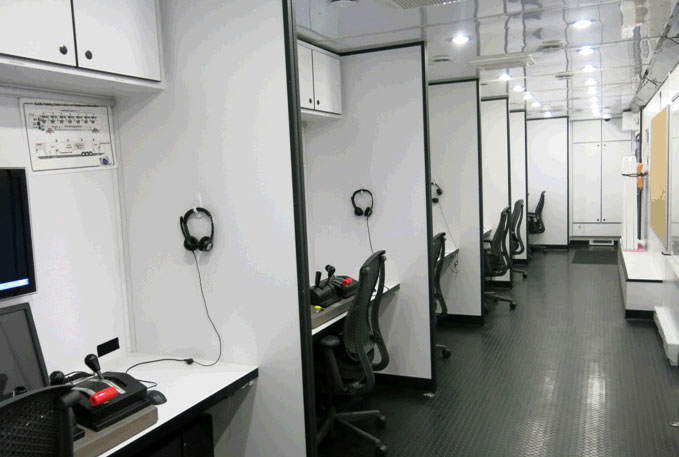 Mobile training trailers like this one are used to support PTC implementation across the Union Pacific system.
Enhancing Simulator Training
Union Pacific uses nearly 39 full-size locomotive simulators to replicate the experience of operating a locomotive along our tracks. Locomotive engineers spent about 20,000 hours training on these simulators in 2017, up from 19,000 hours in 2016. We expanded real-time remote training, increasing simulator training accessibility.
We have five mobile training trailers, each equipped with seven work station simulators and 25 laptop simulators. This equipment is currently used to support PTC implementation. We trained 5,350 locomotive engineers and managers in 2017, up from the 1,200 trained in 2016.
Union Pacific uses more than 200 Remote-Controlled Locomotive (RCL) simulators to provide hands-on training for licensed remote operators. In their daily work, operators use a small computer console to direct locomotives in rail yards. Remote control operators spent more than 7,000 hours training on RCL simulators in 2017, up from 4,000 hours in 2016. We anticipate an increase in training hours in 2018 due to increased demand for new hire, conductor and RCL classes.
Monitoring Performance And Embedding Safer Behavior
Union Pacific uses video technology across our locomotives and vehicles to ensure safety, security and situational awareness, as well as enhance locomotive engineers' and drivers' performance. On the vast majority of occasions, this proactive performance sampling validates and confirms our employees' professionalism. It also increases our in-depth understanding of how our people respond to different situations, enabling us to improve coaching and embed safer behaviors.
In 2017, we installed in-cab cameras inside 1,250 locomotives, increasing the total number of such cameras to more than 4,650. The in-cab cameras complement external-facing cameras, providing a complete view of incidents. We also integrate event recorder data, such as train speed, throttle position, brake settings and horn use.
By year's end, we installed approximately 2,700 DriveCams across our vehicle fleet with 6,000 more installations scheduled by the end of 2018. DriveCams are positioned below rearview mirrors and record 12-second video clips triggered by driving events, such as hard braking, swerving or excessive speed. DriveCam captures images from eight seconds before an incident occurs and four seconds afterward, enabling trained, third-party personnel to analyze the causes of such incidents.
Public Safety
Keeping our communities safe involves proactive outreach to raise awareness and prevent risk-taking behavior near our tracks. We made significant progress in both areas through our UP CARES program.
Raising Awareness Across Communities And Media Platforms
Union Pacific's rail safety campaign addressed the sobering consequences of risky behavior near railroad tracks, reaching more than 34 million social media users. We also reached out to schools, cities and professional driving companies. These organizations recognize train safety is a community concern and are a big part of the rail safety campaign's success.
Cross or Don't Cross – You Decide
You're running late to a high-stakes job interview or curfew when a train approaches a railroad crossing along your route. Do you hit the gas, beating the train across the tracks, or stop to let it pass? Union Pacific gave Facebook, YouTube and Hulu users the chance to decide in a series of online videos. Depending on which option users clicked – cross or don't cross – a specially tailored message appeared, reminding users their life is worth the wait to spend a few minutes letting trains pass.
According to the Federal Railroad Administration (FRA), 94 percent of train-vehicle collisions can be attributed to driver behavior or poor judgment. These incidents are preventable. We encouraged social media users to share the Cross/Don't Cross videos with their friends and family.
Watch the videos and make your choice at up.com.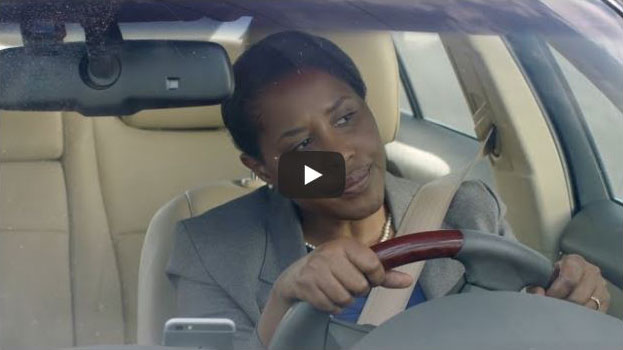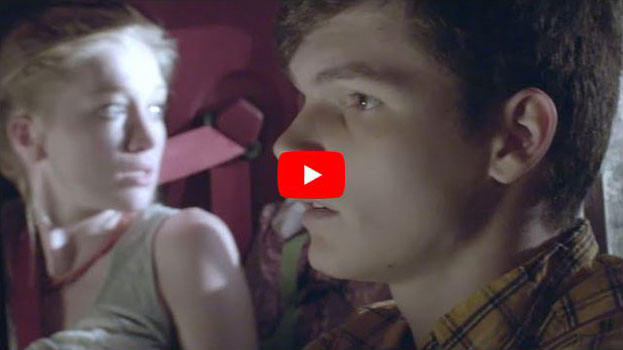 Photos Off the Tracks
In a second set of videos, Union Pacific used animation to address pedestrian safety and the dangers of taking photos on railroad tracks. The videos make it clear a young man and woman wouldn't take their photo in the middle of a busy highway, and then asks the question, "Why would you take your picture here?" A loud approaching train communicates taking pictures in both locations is a bad idea resulting in similar outcomes.
Two additional videos focus on selfies. While there are many unique and safe places to take selfies, railroad tracks are not among them.
Videos are available on up.com.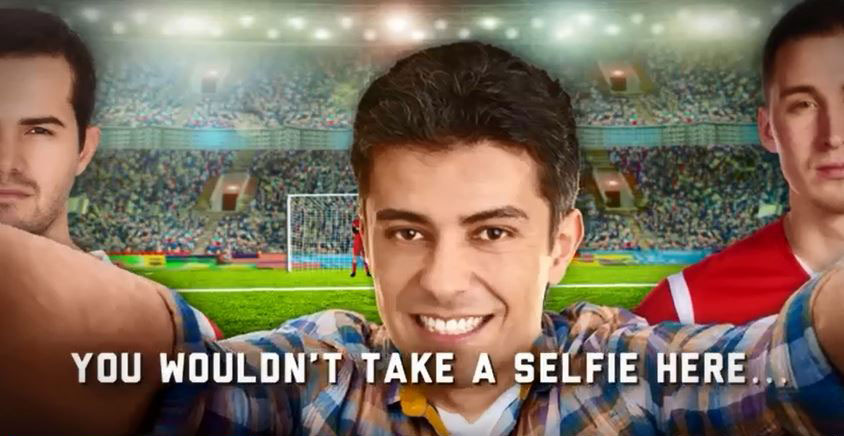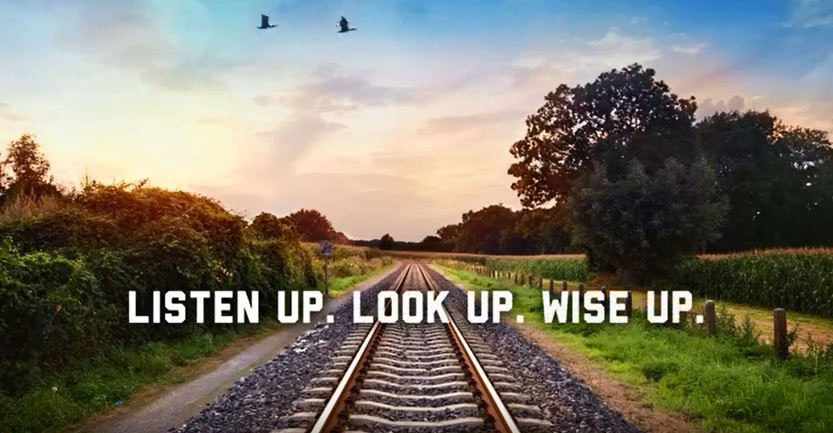 Think You'll Hear a Train? Think Again.
An animated video helps dispel the myth that loud, enormous roaring trains warn people to move before they're hit. It compares soft, natural outdoor sounds to the sound of an approaching train. The video ends by explaining most of the noise is behind the lead locomotive – people may not hear it until it's too late.
Listen on YouTube.
An Award-Winning Campaign
Union Pacific's video safety campaign urging drivers to stop for trains at railroad crossings was awarded bronze at the 2017 Telly Awards, which recognize outstanding online and cable TV commercials. We launched the campaign in 2016 encouraging drivers never to race around the gates – their lives are worth the wait. This is the second consecutive year Union Pacific's safety campaign received Telly Award recognition.
Proactively Engaging Communities Through UP Cares
Our UP CARES program recognizes the most compelling arguments for staying safe around railroad tracks are often those delivered face-to-face. During 2017, our employee volunteers delivered more than 380 rail safety presentations to more than 21,500 pedestrians, motorists and professional truck drivers across our 23-state network.
UP CARES also addresses risky driver behavior around railroad tracks. Union Pacific special agents partner with local and state police departments to observe driver behavior at railroad crossings. Officers stop drivers who risk their own safety and the lives of others. We carried out nearly 300 UP CARES operations of this kind, stopping and educating more than 4,100 drivers.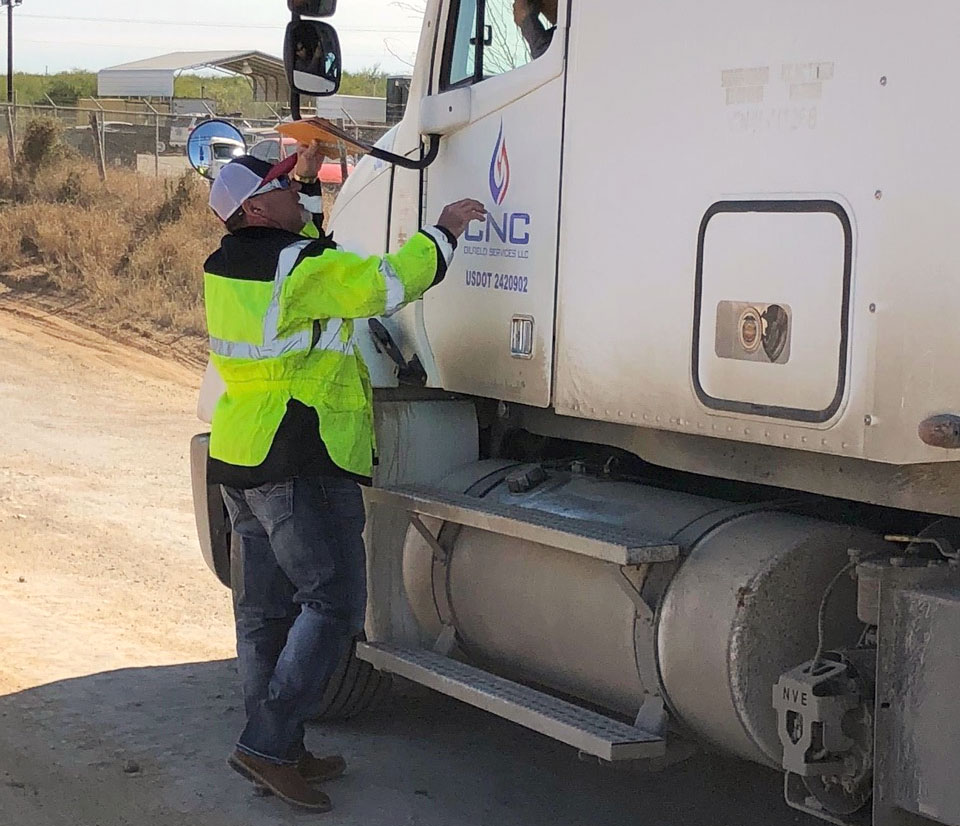 Locomotive Engineer Autry Climer discusses crossing safety with motorists at a UP CARES event near the Laredo Subdivision in Texas.
Safety Spotlight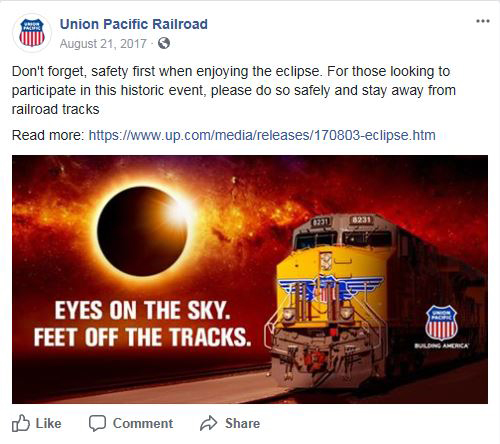 We use our social media channels to join the conversation surrounding large-scale events, such as the 2017 solar eclipse. Union Pacific reminded its Facebook and Instagram followers to safely enjoy the historic event, but to do so away from railroad tracks. The message reached more than 63,000 people.
While many paused to catch a glimpse of the eclipse, we never stopped our work Building America. To watch a video of the eclipse over Union Pacific's North Platte, Nebraska, Bailey Yard, visit https://youtu.be/jWrMIohuIXU.
Celebrating First-Ever National Rail Safety Week
Union Pacific celebrated U.S. Rail Safety Week in September, the first national observance week designated by the U.S. Department of Transportation and Operation Lifesaver – a nonprofit rail safety education organization. As part of our ongoing commitment to rail safety education, we hosted UP CARES events with law enforcement officers monitoring driver behavior at railroad crossings from inside a locomotive.
Union Pacific's Community Ties Giving Program provided financial support to the Illinois Association of Chiefs of Police Foundation for its rail safety week. Illinois continues to be among the top five states with the highest number of rail trespassing-related deaths. Funding was used to educate the public and increase awareness at railroad tracks.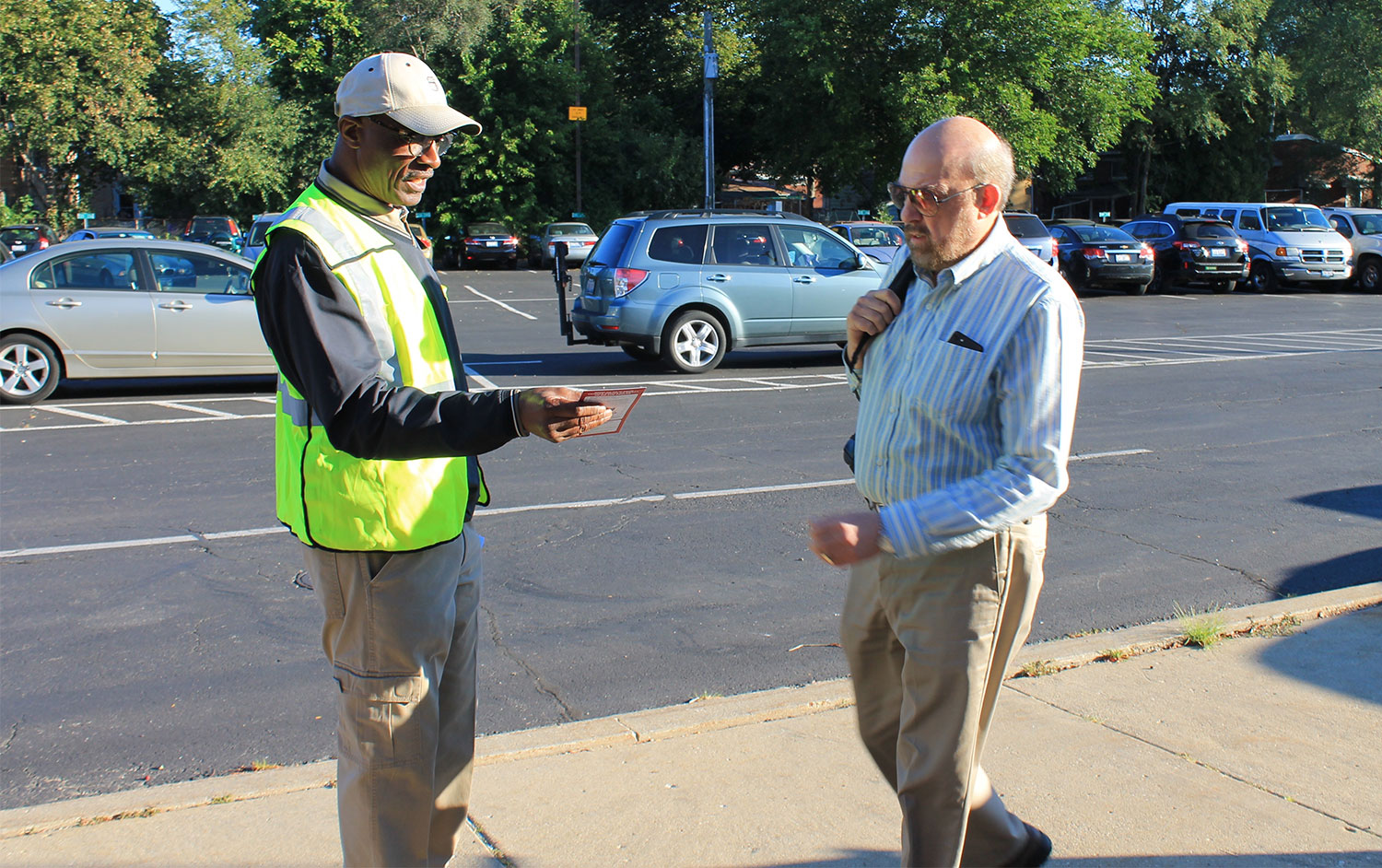 Mechanical Maintenance Manager Albert Saffold distributes Rail Safety Week literature to Villa Park, Illinois, commuters.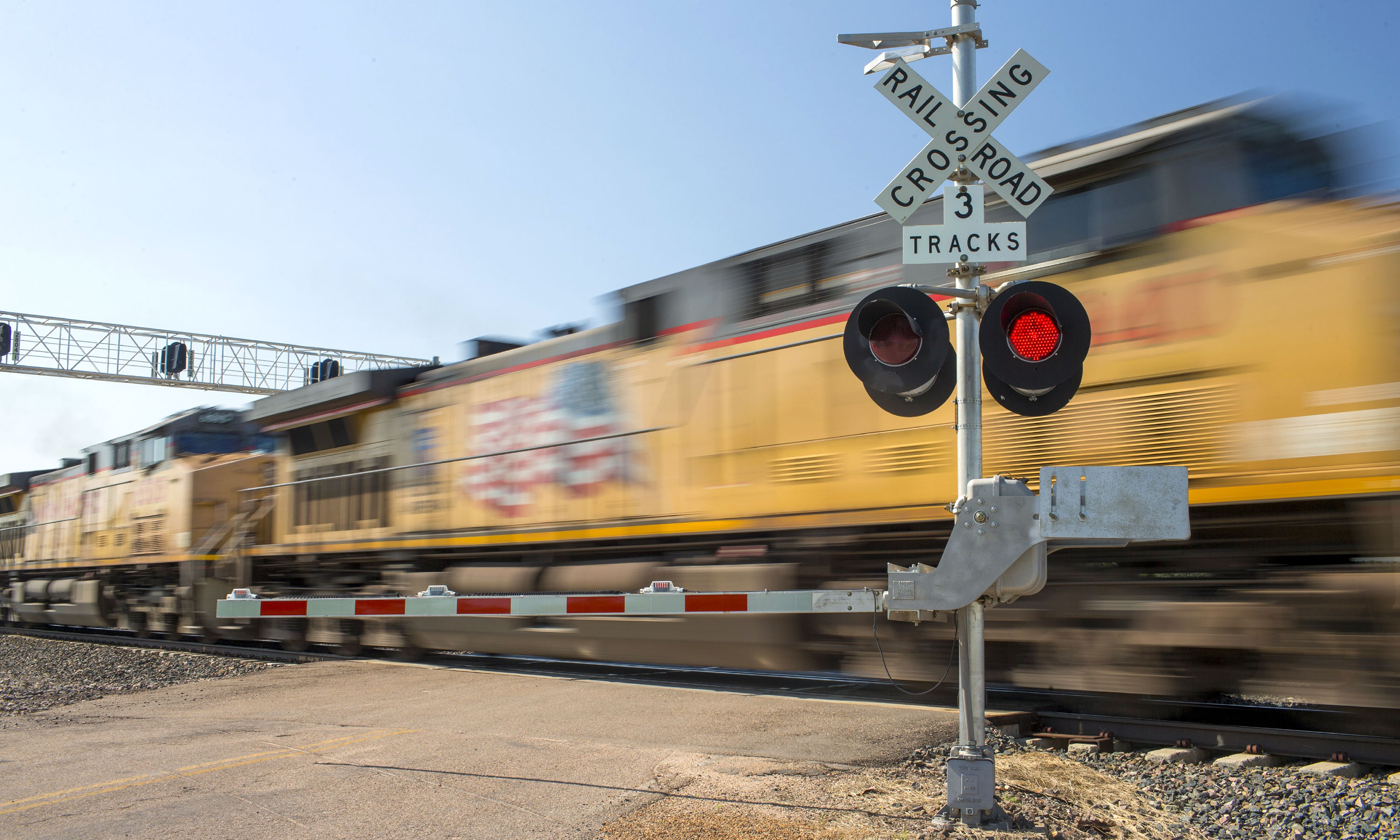 UP CARES operations promote public safety in our communities.
Analyzing Patterns To Keep Crossings Safe
A small number of railroad crossings are responsible for many of the crossing-related accidents reported across Union Pacific's system. By analyzing these crossings' characteristics, Union Pacific can make tailored railroad crossing recommendations to help motorists and enhance safety.
Launched in 2015, our Crossing Assessment Process (CAP) delivers significant gains by leveraging this insight. For example, a Fairfield, California, railroad crossing had 25 reported incidents between 2010 and 2016. This included vehicles on the track, and motorists turning between or onto the tracks and improperly crossing. With the cooperation of local officials to implement CAP-recommended safety enhancements, no collisions occurred in 2017 and reported incidents were nearly zero.
Responding To Incident Reports
Union Pacific's Response Management Communications Center (RMCC) processes emergency and non-emergency calls from communities across our 23-state network. The RMCC team operates 24/7, responding to emergencies, reports of vehicles stuck on railroad tracks, criminal activity and other concerns. Drivers and pedestrians can contact the RMCC through the phone number posted near railroad crossings, 888-UPRR-COP (877-7267).
In 2016, CALEA awarded our RMCC team its second distinguished accreditation, recognizing an advanced standard of compliance across policy and procedures, administration, operations and support services. We are in a four-year cycle of accreditation maintenance and will qualify for our third distinguished accreditation in 2020. RMCC is one of 91 public safety communications centers recognized for emergency response and professional excellence in this way.