Engaging Employees
Union Pacific's dedicated employees are passionate about their role building America. We believe the work that every employee does matters, and how the work is accomplished is just as important as producing results and achieving goals. Every employee's career path is unique, from an office setting to working on or with trains. At Union Pacific, we help employees develop skill sets enabling them to grow and move into positions across the company or become experts in their role, providing fulfilling careers.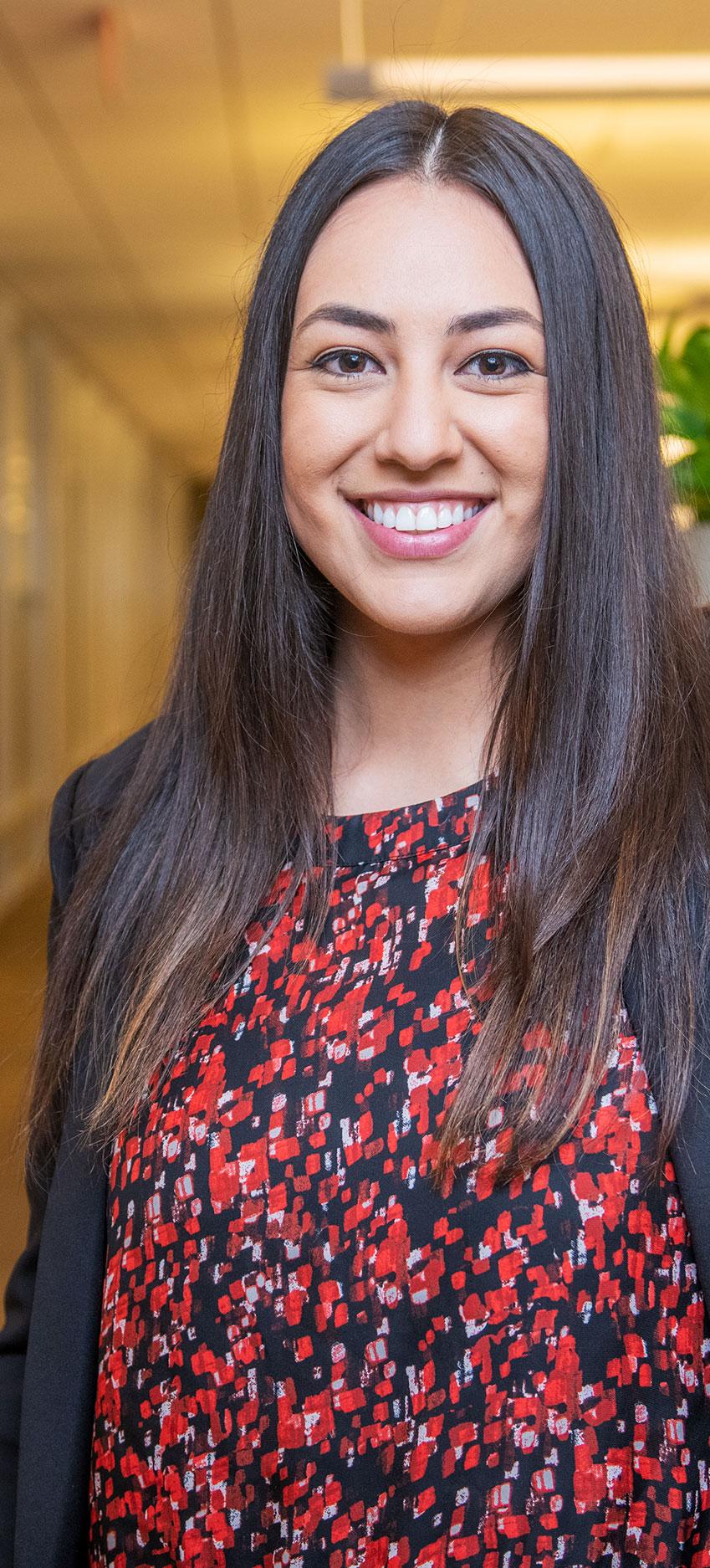 Embracing Employee Needs
Union Pacific is a company that is always moving, advancing and building. In 2018, we made a number of organizational changes that position us to tackle the challenges and opportunities of today and into the future. We are dedicated to engaging employees, motivating them to unlock new levels of passion and dedication while leveraging their diverse talents.
We consolidated our Operating department from three regions to two – the Northern Region and Southern Region. We also eliminated five service units and combined the work into our remaining 12 service units. These changes were made in an effort to streamline decision-making by removing unnecessary or redundant processes.
We experienced heavy demand in the second and third quarters. We recruited new employees and, in some cases, offered hiring incentives for train crew and hard-to-fill electrician positions. As we reported in our second quarter earnings release, our train, engine and yard (TE&Y) workforce, the people responsible for moving trains, grew significantly with approximately 900 employees in the training pipeline. Roughly 750 additional TE&Y employees graduated from training in July, August and September.
Our network experienced severe congestion, and we launched Unified Plan 2020 to streamline operations. We stored locomotives and rail cars, and eliminated work not directly supporting our Operating objectives. This resulted in reducing general and administrative jobs as well as craft professional jobs. We indicated these were the first of what likely will be additional workforce reduction initiatives through 2020. Although difficult, these changes are critical to ensuring Union Pacific remains a strong and competitive company.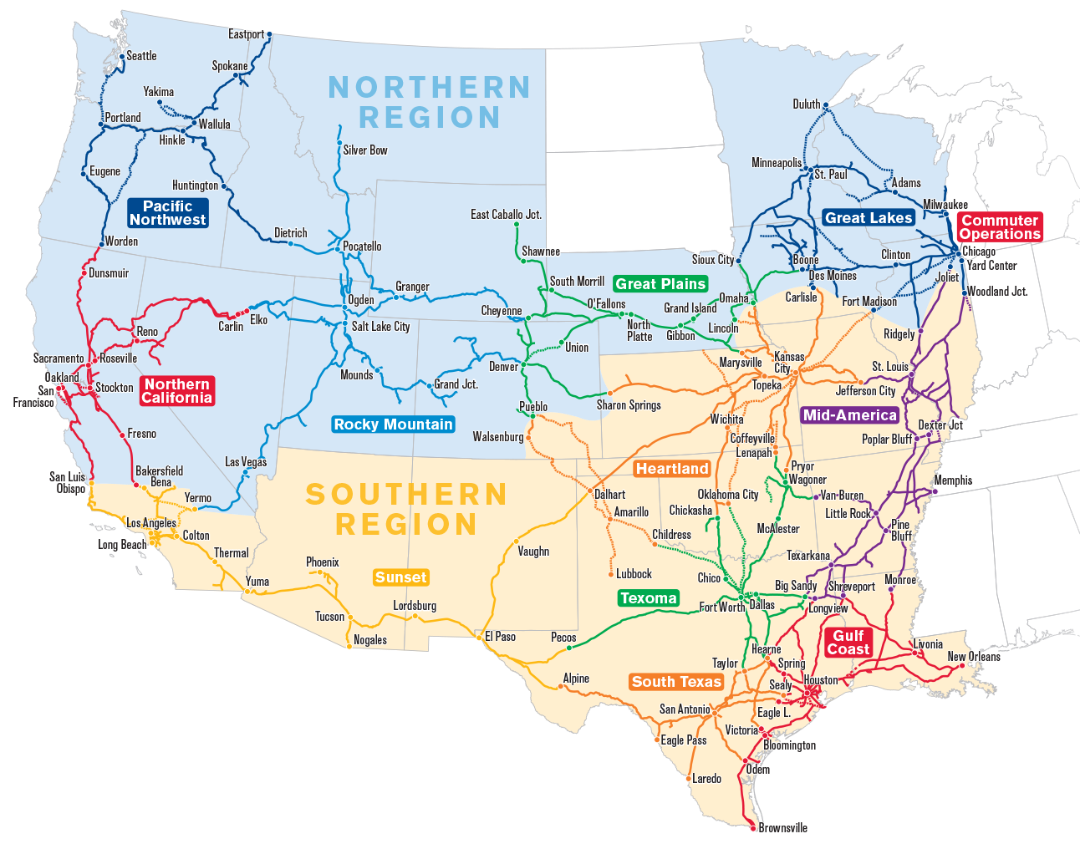 Building Employee Engagement
When employees are empowered and respected, they feel connected to the company. Union Pacific believes every employee needs to be engaged in making his or her work safer, more productive and with a better outcome.
We asked employees to participate in our second companywide Engagement Survey. Approximately 30 percent of agreement and 76 percent of nonagreement employees participated in the 32-question survey, up slightly from participation in our first survey in 2016. Responses were grouped into three indexes: Employee Engagement, Performance Enablement and Manager Effectiveness, and results were shared with employees.
We have room for improvement, yet there are already areas where the company excels. For example, employees have a strong sense of pride in their work and the role Union Pacific plays in our economy. We asked teams to celebrate these wins together and put together an action plan for improvement areas. From local managers to our executive management team, we are committed to engaging our employees.
Providing Meaningful Benefits
We offer a comprehensive benefits program including medical insurance, educational assistance and a 401(k). Benefits vary based on the applicable collective bargaining agreement or an employee's non-union status.
As our company and workforce continue to evolve, so must our practices and policies. In 2018, we made significant benefit changes for our nonagreement workforce. Employees with less than five years of service were granted three weeks of vacation, instead of two weeks.
We understand it can be difficult to balance family responsibilities with similar work demands. With that in mind, Union Pacific updated its paid parental leave and sick leave practices. Paid parental leave provides nonagreement employees not qualifying for short-term disability up to two weeks bonding time after the birth of the employee's child, or the placement of a child with a nonagreement employee in connection with adoption or foster care. Maternity leave benefits still exist as in the past for employees qualifying for short-term disability associated with childbirth. We also provide nonagreement employees paid time away to care for a sick child or parent.
We are proud of these new benefits; however, work schedules required to operate our railroad's 24/7 operations can be challenging, and employees often need extra support caring for loved ones. The Bright Horizons Care Advantage database refers employees to supportive care providers and services, such as:
Center-based and in-home child care.
Elder care.
Pet care.
Housekeeping.
Tutoring and homework help.
Labor Agreements
Union Pacific works with 14 major rail unions representing approximately 85 percent of roughly 42,000 full-time employees.
National labor agreements became subject to modification most recently on Jan. 1, 2015. Beginning in the last quarter of 2017 and through 2018, Union Pacific reached voluntary agreements with the following unions, which ratified them, including:
Brotherhood of Locomotive Engineers and Trainmen.
Brotherhood of Railroad Signalmen.
Brotherhood of Railway Carmen.
International Association of Sheet Metal, Air, Rail and Transportation Workers - Transportation Division including Yardmasters.
National Conference of Firemen and Oilers.
Transportation Communications International Union, and International Association of Machinists and Aerospace Workers.
Agreements were reached with the following unions through arbitration:
International Brotherhood of Electrical Workers.
International Association of Sheet Metal, Air, Rail and Transportation Workers - Mechanical.
Brotherhood of Maintenance of Way Employees.
Union Pacific reached agreement terms for wages, health and welfare with each union. We will commence the next round of negotiations in November 2019.
Auxiliary Work And Training Status (AWTS)
Shifts in business demand resulted in temporary reductions to train and yard service, causing employee furloughs. A furloughed employee is placed on an inactive board and not subject to call unless the union agreement they work under has specific stipulations. Approximately 75 percent of all TE&Y employees were eligible to be covered under AWTS agreements providing limited benefits, which must also be approved by local unions.
AWTS agreements provide up to eight work or training days per month, and continue full health care benefits and service months contributing to Railroad Retirement. Employees continue training to sharpen their skills and prepare for full-time employment when customer demands increase.
Population (Total Company)
Approximately
42,000
Traditionalists (born before 1946)
<1%
Baby Boomers (born 1946-1964)
21%
Generation X (born 1965-1981)
52%
Millennial (born 1982-1997)
26%
Generation Z (born after 1998)
<1%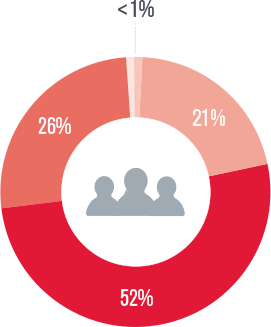 Senior Management
Female
21%

Male
79%

Asian
2%

Black
5%

Caucasian
87%

Hispanic
6%

Native American
0%
Union Pacific Recognizes 50-Year Employees
1968 was a busy year – Apollo 8 astronauts spent Christmas orbiting the moon, the U.S. launched emergency 911 telephone service and, not to be outdone, the Big Mac made its nationwide debut. It also marks when Union Pacific's 50-year employees started work on the railroad.
Three hundred years of collective service distinguish our 2018 honorees, recognized at Omaha's Union Pacific Center. Employees recognized were:
Theodore Dominguez, locomotive foreman, Mechanical
Stephen Johnstun, conductor, Northern California Service Unit
Lewis Jake Mallett Jr., yardman, Alton & Southern
Barry Norman, yardman, Alton & Southern
Alan Ratcliffe, pricing coordinator, Marketing & Sales
James Smith, locomotive engineer, Mid-America Service Unit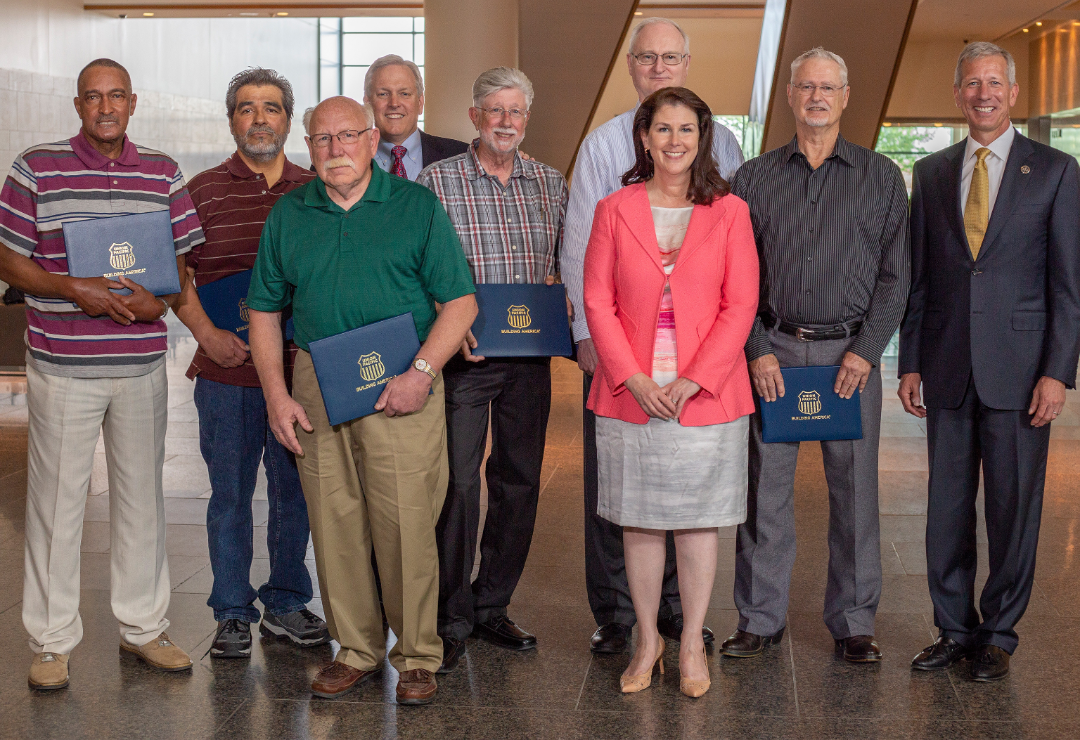 From left: Lewis Jake Mallett Jr.; Theodore Dominguez; Barry Norman; retired Executive Vice President and Chief Operating Officer Cameron Scott; James G. Smith; Alan Ratcliffe; Executive Vice President and Chief Human Resource Officer Beth Whited; Stephen Johnstun; and Chairman Lance Fritz.
Developing Employees
The work of building, maintaining and operating a railroad is challenging. Union Pacific's commitment to employee training and development is vital for cultivating the high-quality workforce we need. It also plays a critical role in keeping our employees safe and ensuring we operate ethically.
Employee Retention*
Operations Management Trainee
2014
41%

2015
36%

2016
45%

2017
65%

2018
92%
Field Management Trainee
2014
71%

2015
59%

2016
68%

2017
81%

2018
95%
*These charts reflect end-of-year retention numbers. As employees leave the company over time, statistics for previous years are updated.
Developing Skills
Training and development focus on setting goals and achieving great results. Our core competencies foster a culture of performance and growth supporting our vision, mission and values. In addition to work-related skills, we develop employees' capabilities in eight core competencies:
Building relationships and influencing others.
Handling adversity.
Confronting problems with courage.
Leading teams.
Embracing change.
Making effective decisions.
Acting strategically.
Focusing on customers.
We offer skill development opportunities for employees at all levels. These include:
New Employee Onboarding Program – Courses on communication and industry-specific training through interactive experiences.
Skill Development – Technical, communication, safety and environmental courses.
Managerial and Leadership Development – Management and leadership courses helping employees grow and develop.
Transitioning Managers – Courses helping newly promoted managers lead teams.
Transportation Operations Training – Operational excellence courses strengthening employee skills and training for superior service.
Field Management and Operations Management Training Programs – Programs preparing employees for frontline management positions within the Operating Department.
Emerging Leaders – Leadership programs maintaining a strong pipeline of future leaders, ranging from day-long training courses to multi-month programs. Ongoing, self-led learning tools fostering employee development also are available.
Embedding an Ethical Approach
Union Pacific's reputation and business stem from our employees' character, people with whom we choose to do business and the decisions we make. Providing the training and tools needed to help employees make the right decisions is a priority.
Our policy on Ethics and Business Conduct, The How Matters, explains our expectation of ethical conduct, prohibiting offensive remarks and sexual harassment, among other violations. We have a zero tolerance policy on inappropriate behavior involving Equal Employment Opportunity (EEO) and retaliation, encouraging employees who witness behavior they believe violates EEO policy to report the incident.
Union Pacific employees operate under the following high ethical standards:
Honesty – Being truthful when dealing with customers, suppliers, shareholders and fellow employees.
Fairness – Treating everyone fairly.
Integrity – Voicing concerns when we believe our company or colleagues are not acting ethically or complying with the law.
Respect – Maintaining a foundation of trust and respect with colleagues, customers, regulators, suppliers and other stakeholders.
Loyalty – Ensuring no employee is, or appears to be, subject to influences, interests or relationships that conflict with the company's best interests.
Accountability – Holding ourselves, peers and customers to the company's high ethical standards.
Adherence to the law – Complying with all laws.
Compliance with policies – Adhering with the letter and spirit of company policies.
Ethics Awareness
Union Pacific educates employees about ethics and our expectation of high ethical conduct throughout the year. We focus on The How Matters and the premise that how we do our jobs is as important as what we accomplish. Published articles on our employee news website, regular ethics bulletins and mandatory training modules remind employees of Union Pacific's high ethical standards.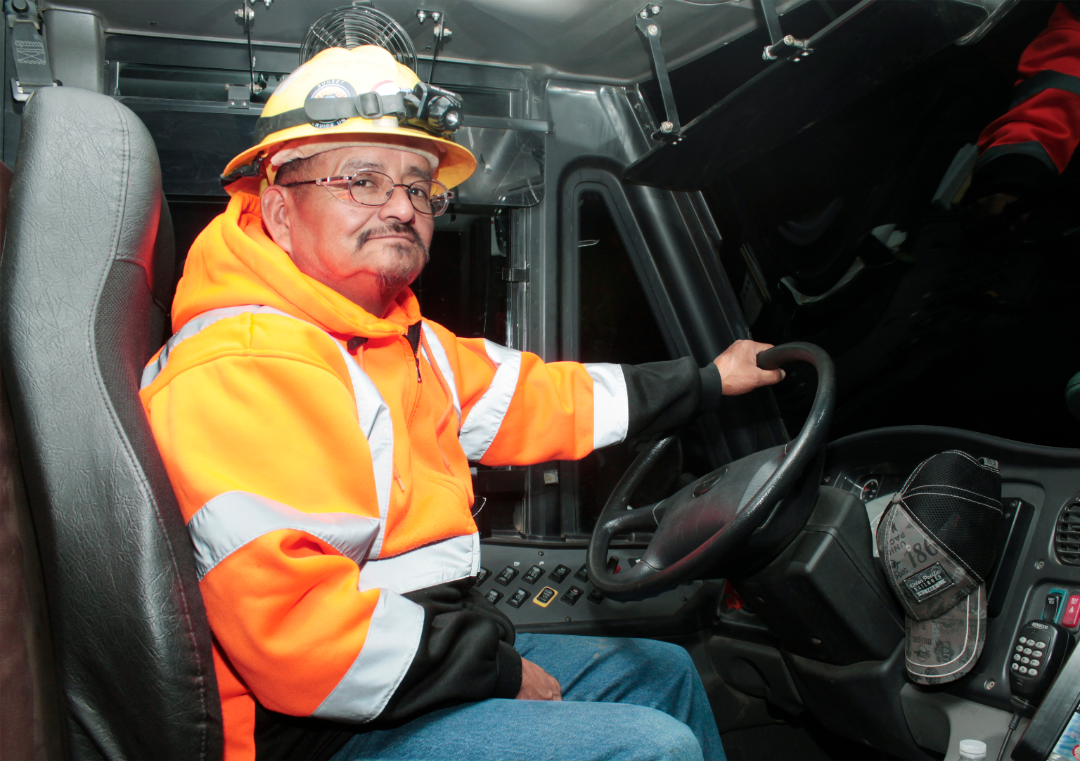 Gang 8567 Bus Driver Gary Bennett is a 27-year Union Pacific employee who says his Native American culture taught him right from wrong, shaping him into the employee he is today.
Continuous Improvement the UP Way
The UP Way engages all employees to continuously improve safety, service and efficiency by providing methods, tools and processes to standardize work, eliminate variability and waste, and solve problems at the root cause. We use the following primary UP Way tools to achieve continuous improvement (CI):
Standard Work – Operations are performed in a consistent manner, and are regularly enhanced by employees doing the work, improving engagement and reducing variability.
Leader Standard Work – The audit function of the UP Way suite of tools; utilized to ensure improvement is sustained by engaging and developing employees.
5S (Sort, Straighten, Shine, Standardize and Sustain) – The workplace is cleaned and organized in a systematic process, improving our work areas and increasing efficiency.
Value Stream Mapping – A map-like illustration that shows the flow of the process, information, materials and cycle times, allowing us to process constraints and eliminate waste.
Problem Solving – A process for analyzing problems to determine the root-causes in order to solve the problem for the last time.
Visual Management – Work cues that indicate process performance for all employees, providing opportunities to improve and understand processes.

Employees who have a passion for improvement may apply for our UP Way Certification Program. This nine-month program pairs an employee with a mentor while they are trained in CI and enables them to use their skills to complete improvement projects within their department. To date, more than 275 employees have earned a UP Way certification through the program.
Process Improvement Takes Off In Kansas City
Innovation and continuous improvement go hand-in-hand. Both are about not being satisfied with current results and thinking outside of the box. Michelle Collins, a material handler in Kansas City, Missouri, found a small change that is making a big impact.
Using the visual management UP Way tool, Collins devised an idea to modify pallet racks with handles and wheels. The pallets store more than 10 sets of gloves the team wears based on the craft and job. The modified pallets are easy to roll and don't require another person to help move them, allowing the team to optimize space and expedite the retrieval process for safety gear. It also provides a visual cue when the supply is running low and ensures safety gear is put away in the appropriate location. The approach complements the shops computerized ordering system, which automatically reorders once inventory hits a certain level. Having a safe, organized environment allows the team to focus on their daily tasks.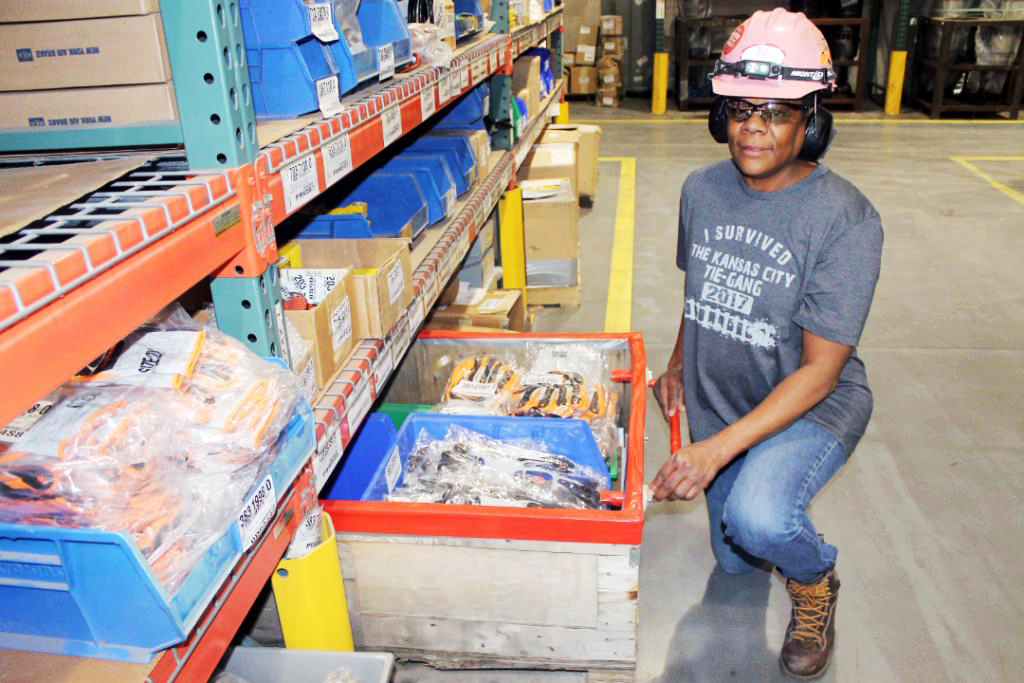 Material Handler Michelle Collins created a new process to make pallet racks easier to access.
Renewed Focus on Diversity and Inclusion
Union Pacific is committed to improving and strengthening performance to further build an inclusive workforce that reflects the diverse markets and communities we serve. Recognizing we still have work to do, we reinvigorated our diversity and inclusion efforts, specifically focusing on an inclusive culture, and a talented workforce and marketplace. We launched a diversity council, chaired by our Chairman, President and CEO, that provides frontline insight and reports quarterly to senior management. We also created an Employee Resource Group (ERG) Steering Committee that oversees our eight existing ERGs. These groups are critical to supporting the company's diversity and inclusion strategy by raising awareness and providing an environment where all employees can realize their potential.
Attracting, acquiring and maintaining a diverse workforce provides access to the skills and character we need to foster innovative ideas and drive optimal business growth. Drawing on different experiences and expertise is critical for strategic decision making, problem-solving, leadership development and creativity.
We recruit talented individuals dedicated to our mission of service and passionate about performing to the best of their abilities while working as one team. We recognize and value that people come from all backgrounds and walks of life, and embrace those with cognitive diversity. Union Pacific wants employees from all groups to launch and grow their career within the company.
Fostering Equality
Union Pacific employees have the fundamental right to fair treatment within a discrimination-free workplace. We create a work environment that respects and values differences, which is essential for employees to reach their fullest potential.
We are committed to a work environment free of offensive behavior regarding a person's race, color, national origin, religion, gender, sexual orientation, age, gender identity, veteran status or disability. This includes offensive behavior directed at employees, customers, visitors to company facilities and others who employees may contact during the normal course of work.
We consolidated our Equal Employment Opportunity, Affirmative Action and Complaint Resolution teams. Our diversity and inclusion group has oversight of this combined team, allowing us to better understand cultural indicators and the extent to which we are truly embracing diversity. Our goal is delivering a thoughtful approach to fostering inclusion and equality, and building an attractive workplace where employees want to be and the best talent resides.
In fall 2018, Union Pacific launched the first phase of its inclusive leadership training. Senior executives and Workforce Resources leadership learned about unconscious bias and a skill-based methodology to respond. The final phase of this program will be deployed in 2019.
Employee Resource Groups
Union Pacific's ERGs are nurturing networks promoting a diverse workplace where everyone does their best work. Each ERG has an executive sponsor directing the leadership team's attention to concerning issues. ERGs support their members, educate other employees and embrace the communities we serve.
More than 2,100 employees across Union Pacific are involved in one or more ERGs, which include:
Asian Employee Resource Organization (AERO).
Black Employee Network (BEN).
LGBT Employee Network (BRIDGES).
Council of Native American Heritage (CONAH).
Latino Employee Network (LEN).
A Women's Initiative - Lead, Educate, Achieve and Develop (LEAD).
Emerging Professionals Network (UP Ties).
Union Pacific Veterans Network (UPVETS).
ERGs Join Forces To Showcase The Value Of Diversity And Inclusion
Union Pacific's ERGs came together to host one conference – Forging Forward: Many Tracks, One Network. The conference celebrated our company's diversity in the office and the field. It featured nationally recognized speakers, an executive leadership roundtable and panel discussions, exhibits and networking opportunities. Breakout sessions focused on leadership best practices, career progression advice, benefits and Railroad Retirement, diversity and inclusion, and more. Additionally, each ERG hosted its own half-day event, supplementing the formal agenda.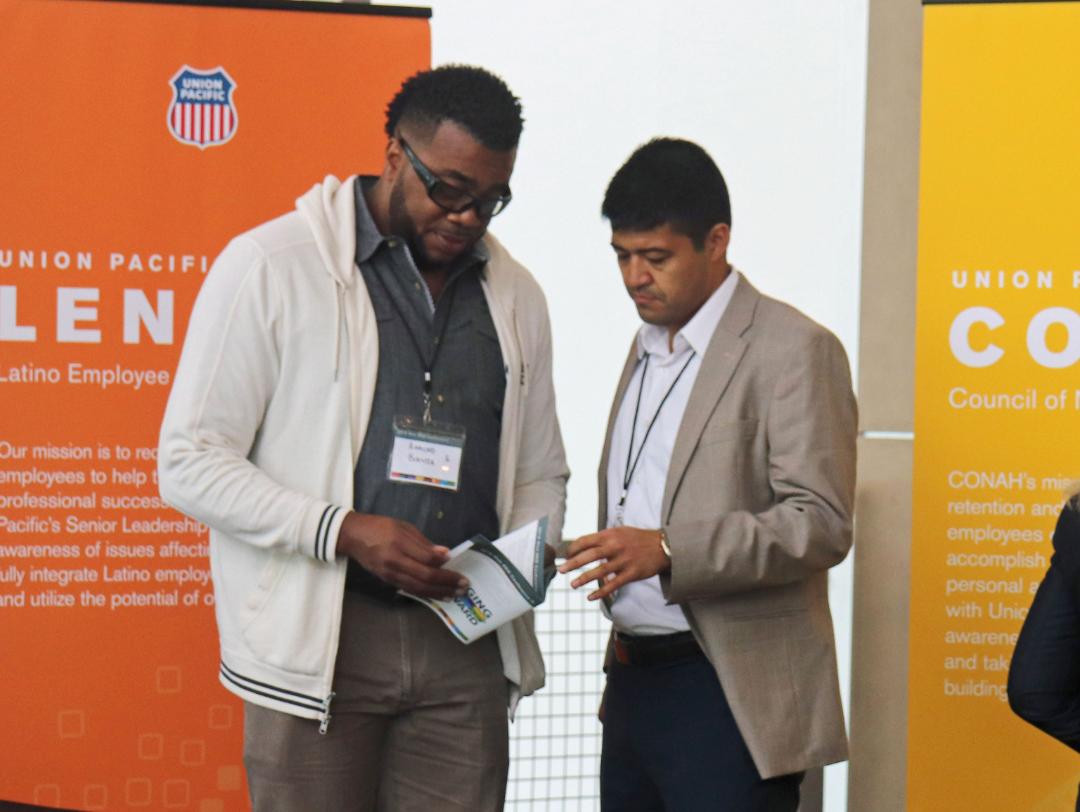 The ERGs had displays and activities outside the conference, encouraging attendee interaction.
CEO Action For Diversity & Inclusion
A growing body of research reveals that stronger business outcomes directly correlate with diverse teams and inclusive workplace environments. We believe this is true at Union Pacific, too.
The CEO Action for Diversity & Inclusion is the largest CEO-driven business commitment to advance diversity and inclusion in the workplace. Recognizing change starts at the top, our Chairman, President and CEO Lance Fritz is among more than 550 CEOs from the world's leading businesses pledging to take action. This group is dedicated to cultivating workplaces that support open dialogue on complex, and sometimes difficult, conversations about diversity and inclusion, and implement and expand education on topics such as unconscious bias.
Union Pacific is proud to be among these world leaders who are taking positive steps to improve this important societal issue. To learn more about the CEO Action for Diversity & Inclusion, visit ceoaction.com.
Business Roundtable CEOs Take Action
Union Pacific is committed to promoting diversity and inclusion in the workplace. For Chairman, President and CEO Lance Fritz, this is more than a goal – it is a responsibility. Fritz joined more than 120 Business Roundtable CEOs to take action. We submitted a report highlighting programs and activities which help us cultivate an inclusive workplace. To learn more, visit businessroundtable.org.
Code I Commitment To Opportunity, Diversity And Equity
We've called Omaha, Nebraska, home for more than 155 years. Working to ensure our hometown remains vibrant includes efforts to improve diversity. We are the proud signatory for the Greater Omaha Chamber's CODE, which focuses on engaging the business community to advance diversity and inclusion in the workplace. All signatories are committed to implementing comprehensive diversity and inclusion strategies, appointing a full-time diversity and inclusion leader and measuring success through assessment. The coalition is focused on providing resources, as well as networking and educational opportunities for its members. To learn more, visit omahachamber.org.
Encouraging Women To See Themselves At Union Pacific
Women comprise approximately 5 percent of Union Pacific's total workforce and represent one of the company's biggest diversity opportunities. At the same time, businesses such as ours face a growing shortfall of skilled trade workers due to fewer men and women choosing to learn a trade.
We continue recruiting and encouraging women to see themselves succeeding at Union Pacific. Our careers website features stories of women working in Transportation, Engineering, Mechanical and Technical teams. We partner with skilled trade organizations, veterans groups, technical and trade schools, and affinity groups at multiple universities, sharing opportunities with hard-working women interested in pursuing a fulfilling career.
General Chairman Henderson Takes Office
Yardmaster Carla Henderson looks forward to new challenges, and after nearly 30 years of mastering her trade in Roseville Yard, California, she's stepped into a new role – general chairman. With her election to this senior union role, Henderson became one of the first female yardmaster general chairmen in Union Pacific's history.
Henderson is one of two officials representing all Union Pacific yardmasters: she is general chairman of Western Railway Supervisors Association-Transportation Communication Union (WRSA-TCU), while Robby Robelot, yardmaster, North Little Rock, represents the United Transportation Union-Yardmasters (UTUY). Both yardmasters unions are united under the United Supervisors Council of America.
As a union officer, Henderson has authority to negotiate and enter into agreements with our Labor Relations Department on behalf of all yardmasters. Other duties include attending meetings and special events with superintendents and yardmasters.
She is one of only 15 women currently qualified as a Union Pacific yardmaster.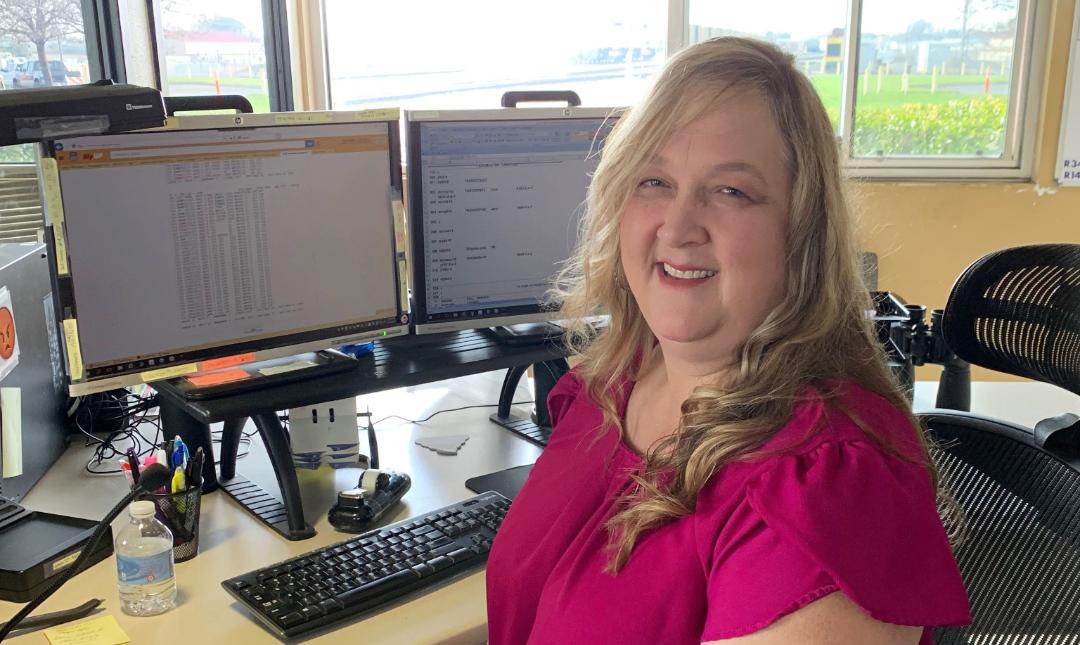 Yardmaster and General Chairman Carla Henderson in her Roseville Yard office.
Keeping Employees Healthy, Happy and Well
We are determined to help employees stay healthy. Our wellness programs help employees take charge of their well-being with tools to manage physical and mental health. Available resources include coaching, access to fitness centers, health education programs and screenings, and flu shots.
The System Health Injury Protocol program assists employees who may be at risk for injury because of low fitness levels. It provides access to personal training and nutrition consultations, helping employees achieve their fitness goals. When employees sustain injuries, Union Pacific's Return to Work program offers meaningful work within their physical capabilities. We also provide education and assistance to help with substance abuse, staying alert and stress-related conditions.
Other employee wellness programs include:
Personalized health coaching, helping employees and their spouses manage stress, depression, smoking, diabetes, nutrition education and weight management.
Employee Assistance Program, offering all employees and their families counseling and referral services for personal or work-related problems.
System health facility program, giving employees access to more than 5,000 gyms located near Union Pacific work sites.
Incentives encouraging annual wellness assessments and physicals for nonunion employees.
Spreading Best Practice On Peer Support
A central role in Union Pacific's approach to well-being is played by peer support networks, with trained employees offering confidential advice and guidance to their colleagues. This strengthens bonds and builds a sense of community within Union Pacific, providing support from those with an inherent understanding of the rail industry.
Peer support leadership conferences in California, Colorado and Texas enabled networking, sharing best practices and building momentum for a vital part of our well-being support structure. Union Pacific brought together 500 volunteers from regional peer support programs to provide invaluable support to those facing crises at home or work.
Employee Assistance Program
We operate a 24/7 Employee Assistance Program helpline, providing access to trained employee volunteers. These volunteers are equipped to help colleagues work through the emotional impacts of life-changing events. Support is entirely confidential and can provide a bridge to professional support services, where needed.
Fighting Breast Cancer On-The-Go
Union Pacific's ERG Lead, Educate, Achieve and Develop (LEAD) played a part in the fight against breast cancer by providing a mobile mammography van stationed outside Omaha, Nebraska's Harriman Dispatching Center. Employees scheduled short, 15-minute appointments around their busy work schedules.
"Opportunities like this remind people to take care of their bodies and ownership of their lives," said Jeanne Stromgren, senior analyst-Central Train Dispatch.
According to a national American Cancer Society study, 29 percent of women with insurance don't receive breast cancer screenings. The van gave employees the opportunity to help lower the number.
The railroad does its part keeping employees and their families healthy by providing preventive benefits through its medical plans.
Senior Analyst Jeanne Stromgren took advantage of the convenience the mobile mammography van provided.
Employees Actively Serving
Some of Union Pacific's first employees were Civil War veterans, and throughout our more than 155-year history, we've consistently supported the military – whether by moving troops and supplies, or by providing good jobs for veterans and active-duty soldiers. We recognize that members of the U.S. military are dedicated individuals who bring unique experience and skills to Union Pacific. More than 17 percent of employees have military experience, with some still active in the National Guard or Reserves. In the last five years, 24 percent of new hires were veterans.
Union Pacific complies with the Uniformed Services and Reemployment Rights Act (USERRA), which provides leave and reemployment rights for veterans, reservists, National Guard members and others serving in the armed forces. Every month, between 52-57 agreement and 7-10 nonagreement employees are deployed. We have a military liaison who serves as a point of contact for employees and their families during deployments, answering questions and handling any concerns.
Union Pacific's Support our Troops initiative encourages employees to send messages to our railroad's uniformed soldiers on active duty around the world. We sent an American flag, messages and care packages to our employees stationed overseas on Memorial Day. This marked the 15th year we supported troops in this way.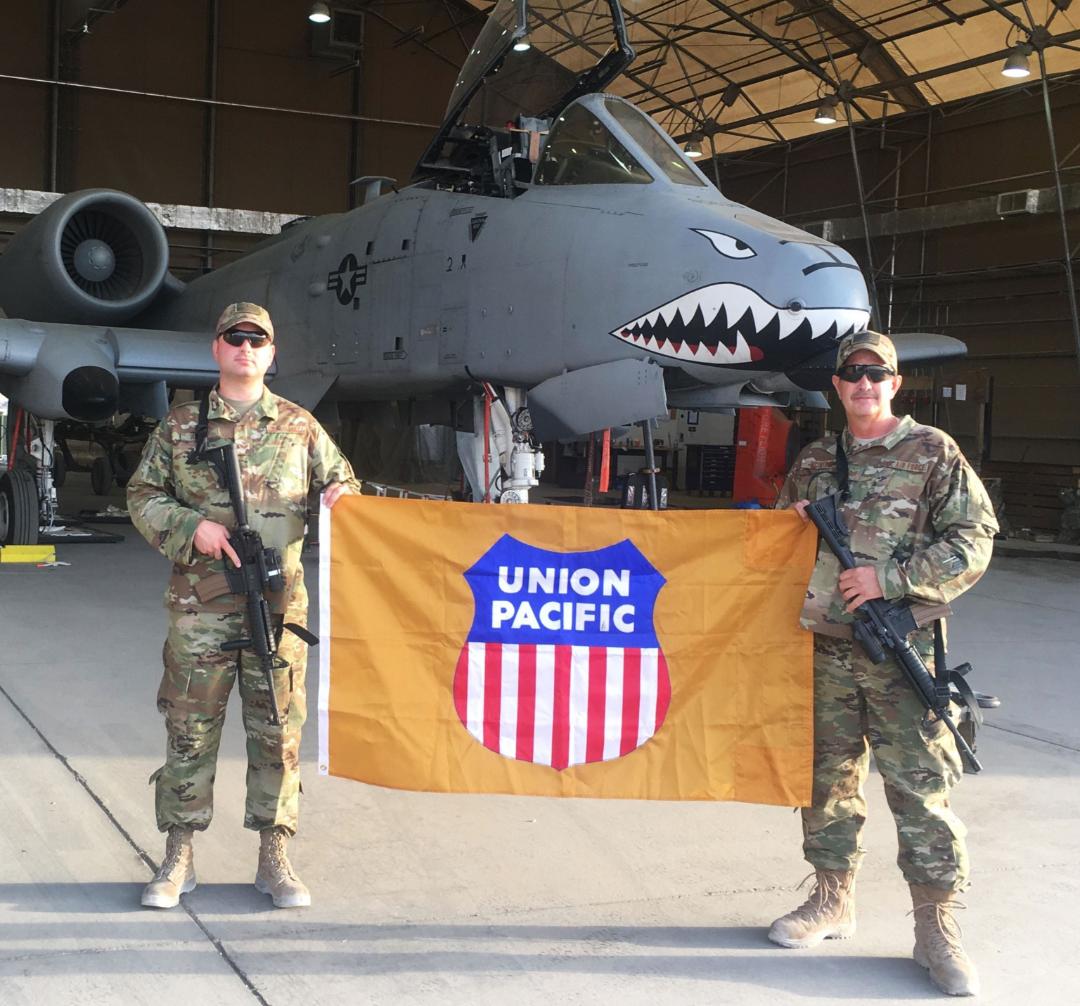 From right, Carman Welder Robley McIntosh, Dupo, Illinois, and a fellow Air National Guardsman holding a Union Pacific flag while deployed in Afghanistan.
Honoring Our Heroes
Each year, Union Pacific pauses on Veterans Day to honor the men and women who have served or who are currently serving our nation in the armed forces. This year's ceremony at Union Pacific Center included remarks from Chairman, President and CEO Lance Fritz, a local high school ROTC drill team and a special check presentation - $110,000 to the Wounded Warrior Project.
Union Pacific participates in the Vow to Hire Heroes Act tax credit program, receiving a federal tax credit for hiring veterans. In recognition of the veterans who served our nation in an effort to help others, we donate one-half of the net value of any credit received to the Wounded Warrior Project.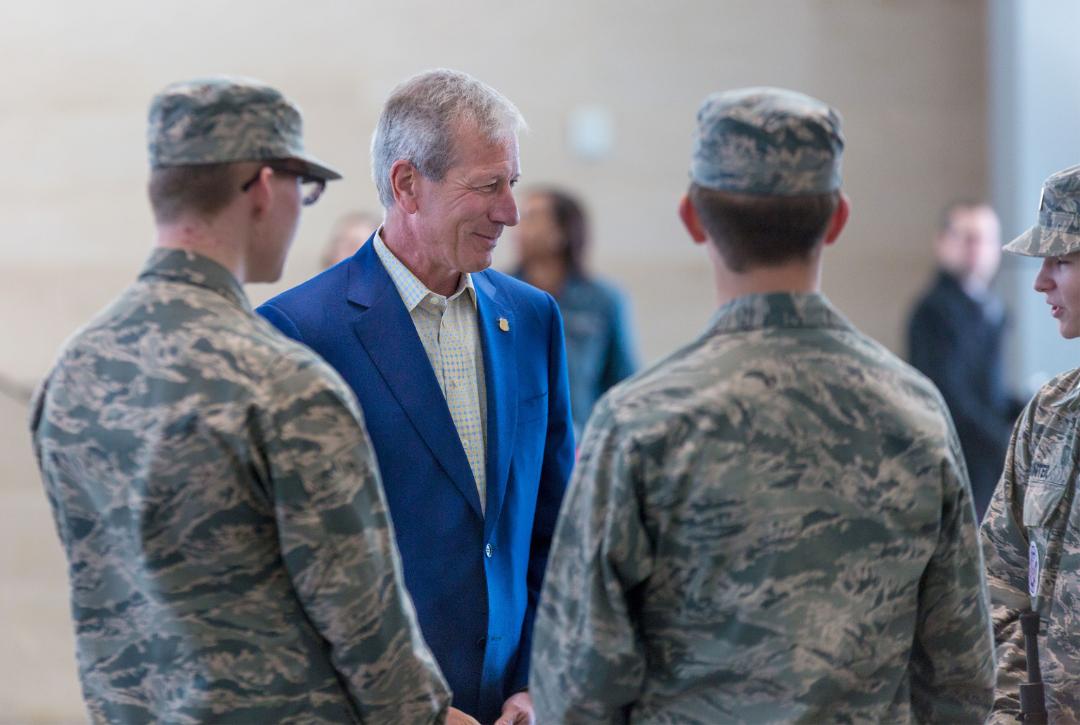 Chairman, President and CEO Lance Fritz meets members of the Bellevue East High School ROTC drill team, from Bellevue, Nebraska, who performed during the special Veterans Day event.
What's Ahead
An engaged workforce is critical to our success, and we will continue working with employees to understand what's important to them. We plan to deploy quarterly engagement surveys, as well as smaller, pulse surveys to help gauge our progress. One area we are focused on is building manager effectiveness. Employee focus groups will be held, helping us identify the best ways to improve effectiveness as a direct result of employee feedback.