Delivering an Excellent Customer Experience
Union Pacific moves the goods American families and businesses use every day, including the food we eat, the cars we drive, the chemicals to clean our water, and the steel and lumber to build our communities. We have roughly 10,000 customers, large and small, and we work to deliver their products in a safe, reliable, fuel-efficient and environmentally responsible manner.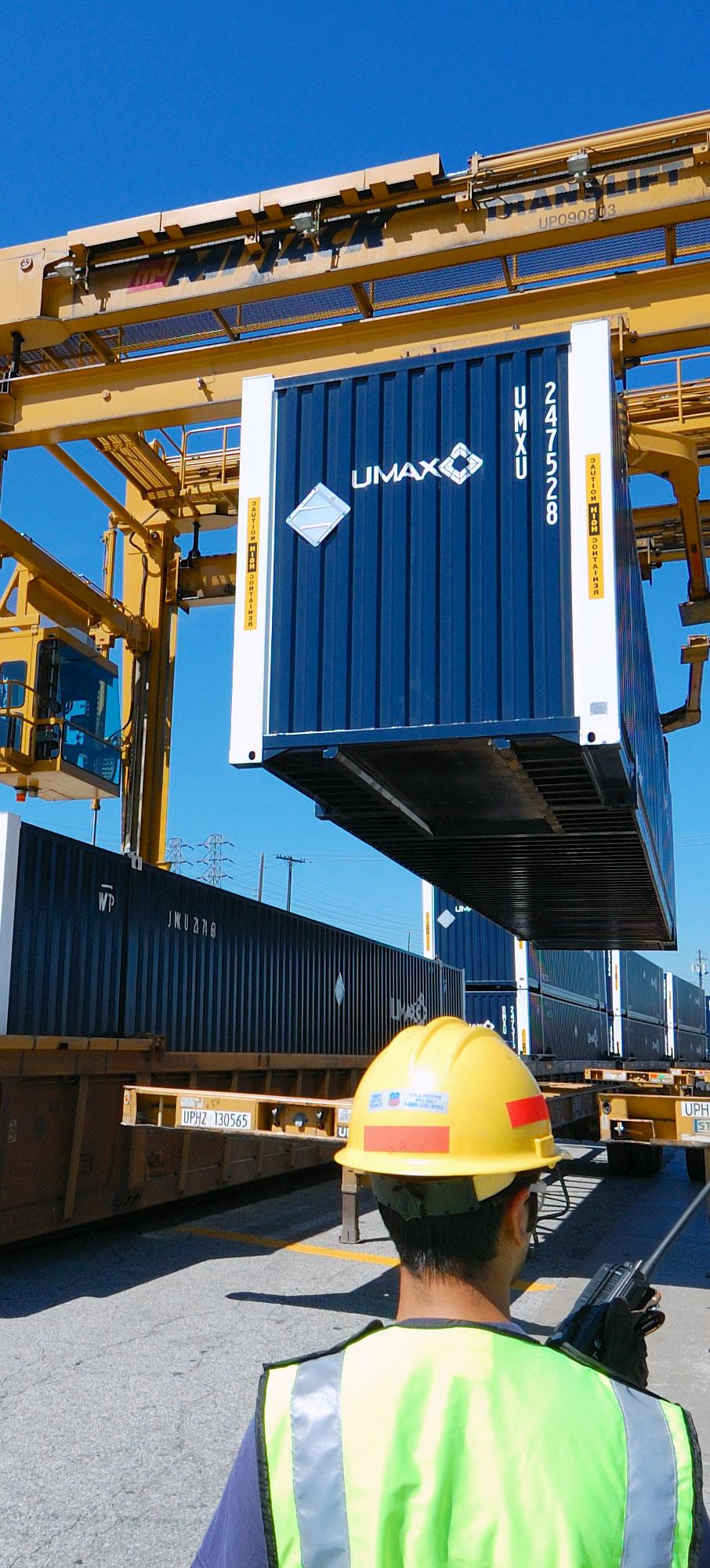 What We Carry

Our railroad directly serves many of the fastest growing cities in the United States and connects the country's global supply chain at all major West Coast and Gulf Coast ports to Canada, Mexico and the country's eastern gateways. In 2018, approximately 40 percent of our freight originated or terminated outside of the U.S.
As announced in 2017, we began the year by consolidating our six major business units into four: Agricultural Products, Energy, Industrial and Premium. The change allows us to better meet customer needs with streamlined service. We also refocused our customer service center and consolidated four subsidiaries into one – Loup Logistics Company – to better serve our customers. Loup combines the strengths of Union Pacific Distribution Services (UPDS), Streamline, ShipCarsNow and Insight Network Logistics (INL) to provide innovative transportation logistics services that help connect shippers to rail.
Our Diversified Commodity Mix
Agricultural Products
If it's on your table, chances are it traveled by train to get there. Beer, flour, tomato paste, potatoes, cheese – we transport the food that feeds the nation and many other parts of the world.
Energy
We transport the energy products that power homes, schools and businesses – coal, LPG, petroleum products, renewable energy products, wind turbines and sand for drilling.
Industrial
We carry a variety of raw materials and finished goods, including the lumber, steel, cement, pipe and plastics used to construct cities and build roads.
Premium
Our wide range of multi-modal transportation solutions offer truck-competitive rates and service schedules for domestic and international intermodal shippers, moving products such as electronics, toys, furniture and clothing. We also deliver finished vehicles and automotive parts.
Mexico Markets
We are the leading freight transportation services provider between the United States and Mexico, and the only railroad serving all six major Mexico gateways. Cross-border traffic with Mexico comprised about 11 percent of Union Pacific's total 2018 volume.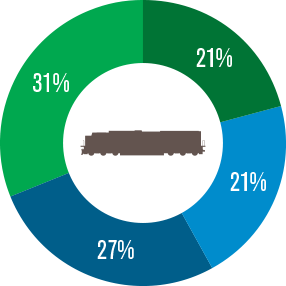 Freight Revenue
| | |
| --- | --- |
| Agricultural Products | 21% |
| Energy | 21% |
| Industrial | 27% |
| Premium | 31% |
Unified Plan 2020's Customer Impact
Union Pacific faced significant service challenges, including network congestion and slower train speeds, in the first part of the year. We believe Unified Plan 2020 will help us avoid these challenges and provide our customers more reliable, efficient service. It was important that we worked with customers, alerting them to changes prior to them taking effect. Our commercial team continues diligently engaging customers, educating them on ways to better manage their railcar inventories and grow their businesses.
Unified Plan 2020 allows us to uphold our promise to customers – delivering an excellent customer experience. Key metrics we follow to understand the effectiveness of Unified Plan 2020 include service reliability (car trip plan compliance), how fast cars are moving (velocity), the amount of time cars spend in yards (dwell) and how many cars are on our network (operating inventory). We saw improvements in all of these areas.
Unified Plan 2020: Mississippi Lime Edition
The idea of taking a clean-sheet approach to our service inspired Senior Director of Transportation Services Jason Teel. He took the concept to Mississippi Lime Company in St. Louis. A change in the way Union Pacific organizes Mississippi Lime's cars significantly reduced dwell time, resulting in cars arriving at their destination up to three days sooner.
"We improved their service, and then we took it a step further by asking, 'What else can we do?'" Teel said.
The Union Pacific and Mississippi Lime teams sat down for their own whiteboard session, calling it Unified Plan 2020: Mississippi Lime edition. The joint team analyzed how trains are built at Mississippi Lime's facilities and discovered that while some cars must be held for chemical analysis, not all have to wait. By moving cars that don't require analysis, 24 hours of dwell time per car can be eliminated.
"One of Mississippi Lime's core values is operational excellence, and this really speaks to that," said Ron Wood, production planning manager, Mississippi Lime. "We started out with a mindset that nothing is off the table; as we put ideas down and added details, the plan came together easier than you might expect."
Customer Collaboration Frees Up Terminal Space, Improves Car Velocity
Every team knows the path toward success starts with a thoughtful and thorough game plan. It's the pre-planning, or in this case pre-blocking, that led to a win in the Great Plains Service Unit. A daily local train runs between Cargill's Blair, Nebraska, plant and Union Pacific's Council Bluffs, Iowa, yard where a portion of the cars are switched and built into blocks for pickup by the Iowa Interstate Railroad. The switching process causes these cars to dwell in our yard for at least a day.
Cargill has its own yard and third-party switcher, so it made sense for them to build a block based on destination. The change required collaboration between multiple Union Pacific teams, Cargill and its third-party switcher, Rail Serve. Now, our local train picks up the block and sets it out upon arrival in Council Bluffs, eliminating 24-36 hours of switching time – meaning Cargill's goods are moving more efficiently to their destinations.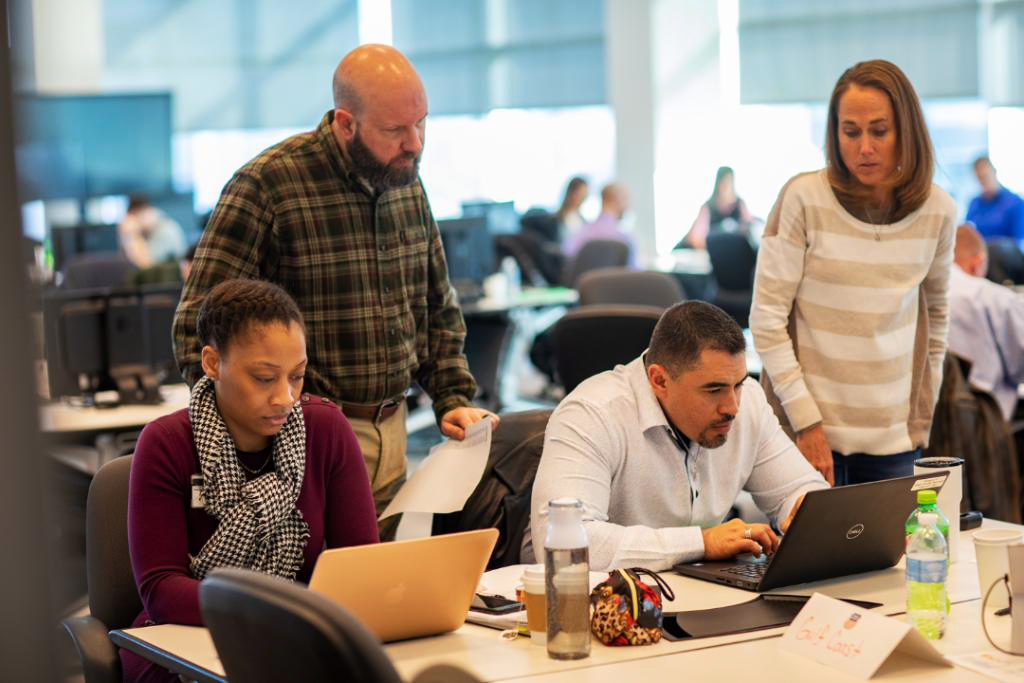 Incorporating field expertise from those who interact directly with customers is an important part of Unified Plan 2020 implementation. From left, Yvette Lawson, manager-Transportation Planning; David Berry, manager-Resource Planning; Jaime Martinez, senior director-Transportation Services, Gulf Coast Service Unit; and Tara Hogan, senior director-Quality Assurance; participate in Unified Plan 2020 planning.
Leveraging Technology to Support Customers
Part of offering a more reliable service product is improving our communication with customers, so they know what to expect and when. We've made some excellent progress enhancing our technology to provide proactive notifications that allow customers to plan better and improve their shipping experience. These included:
"Local Service Scheduled Today" notifications let customers know when they will receive service at their facility.
"Bad Order Notifications" indicate when repaired rail cars will return to service.
"You Are Next" notifications provide guidance on timing of local service.
SmartETA implementation improved estimated time of train arrival accuracy. So far, we have seen a roughly 20 percent improvement in train arrival times. As the technology continues to get "smarter," we anticipate these improvements will continue.
When it comes to moving intermodal shipments, saving time and faster turn times for drayage is key to enhancing the customer experience. Our UPGo smartphone app is gaining popularity from its pilot program, first launched in Nov. 2017. The free app is similar to pre-check for airlines. It allows truckers to update their parking spot, confirm the waybill, which contains shipment instructions, has been received and the container accepted, expediting their entry and exit from intermodal facilities. UPGo is used at 18 of our 33 intermodal terminals, helping drivers increase efficiency and improve the ease of doing business with Union Pacific.
Building Customer Relationships
In the modern world, supporting customers with the latest technology is an essential part of providing an excellent customer experience. Just as important are the relationships we build. Our International Intermodal team excels in this area, providing learning opportunities for our global ocean carrier partners. We hosted a forum, attended by 16 customers from around the world including Taipei, Taiwan; Seoul, Korea; Tokyo and Osaka, Japan; and Beijing, China. In addition to classroom presentations, we took our guests on tours of the Harriman Dispatching Center in Omaha, Nebraska, to learn how we manage train movement, our new transload facility in Dallas, Texas, and into a train yard. The forum was one way we showed customers how important it is to invest in fostering relationships with Union Pacific.
What's Ahead
As we implement Unified Plan 2020, a critical part of delivering more reliable service is ensuring we provide customers an excellent experience with every interaction. We continue listening to our customers to better understand what's important and develop solutions that make doing business with us easier. By leveraging new technology, we are rolling out several customer experience improvements, such as a new online freight claim filing system and automated, proactive shipment notifications. The result will be increased self-service opportunities, better communication and faster response times.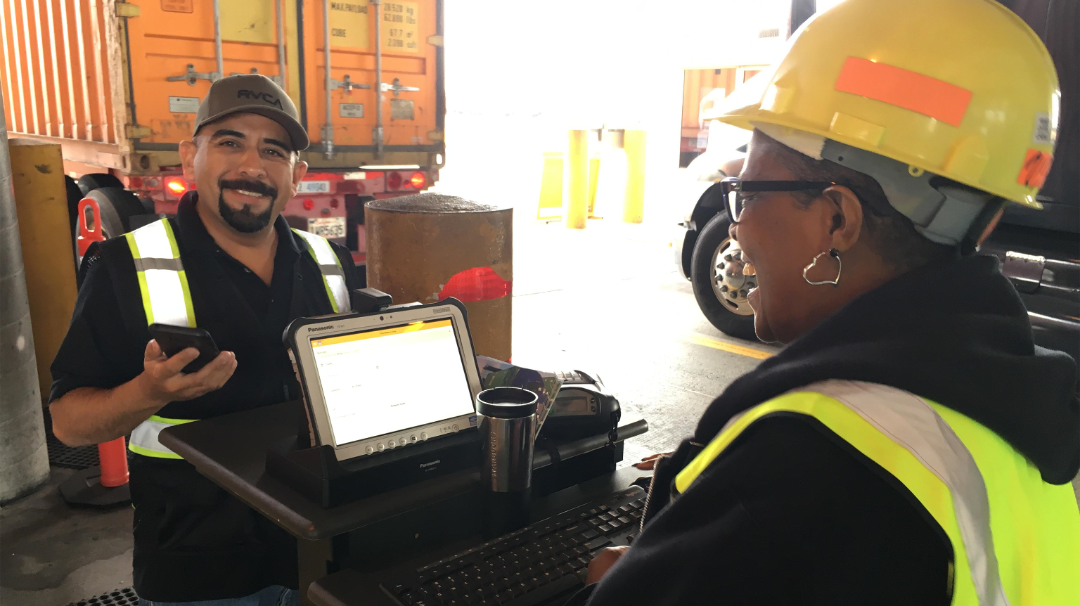 Gate Clerk Vernadine Johns, right, assists a driver with check-in at the ICTF intermodal facility in Long Beach, California.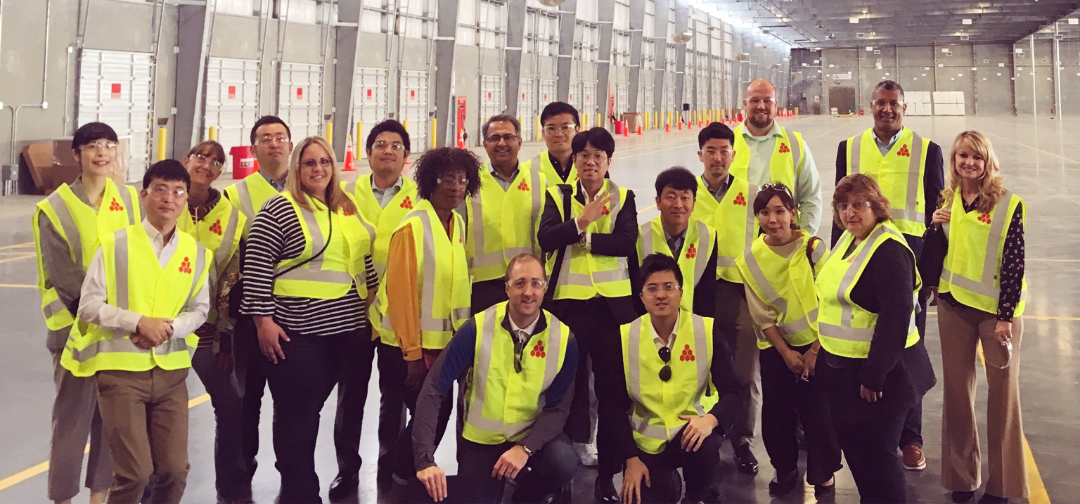 The International Intermodal Forum attendees visited Dallas, Texas, to see the new packaging facility where plastic pellets are loaded into intermodal containers and shipped overseas.