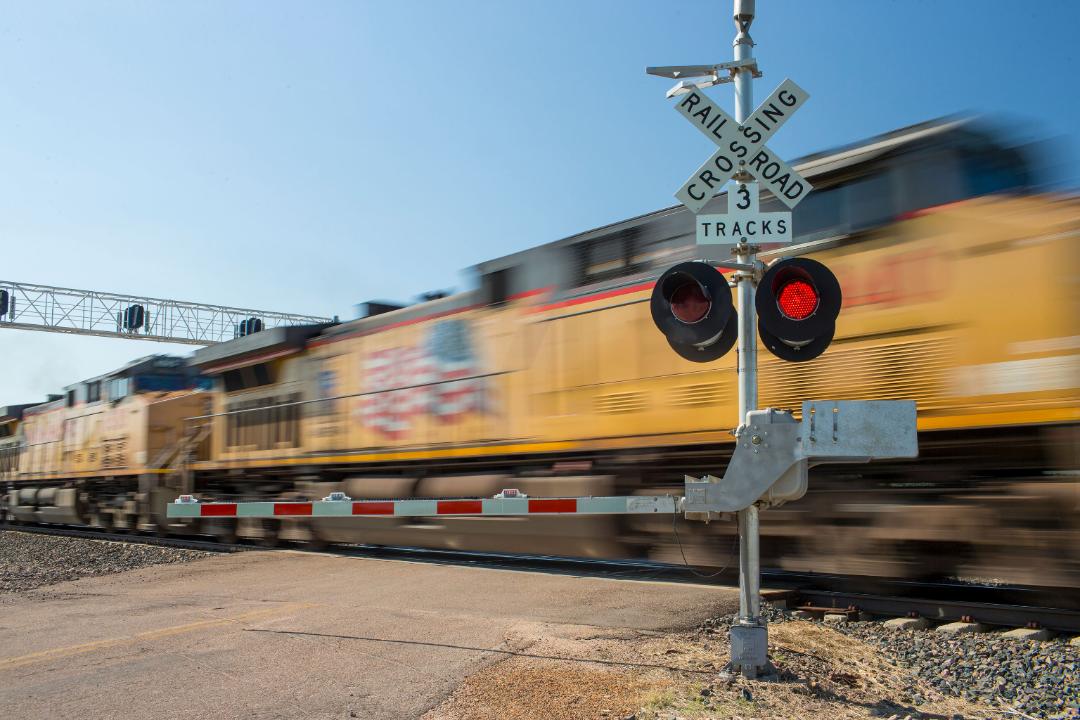 Union Pacific
2018
Building America
Report
A report to communities on our social, environmental and economic sustainability progress.
Union Pacific's mission of service defines us and drives our commitment to safely transport products across the country. In doing so, we strive to serve our customers, enhance shareholder value, invest in our communities and provide promising careers, while operating in an ethical manner.
This report details our progress in key areas supporting social, economic and environmental sustainability pillars: delivering an excellent customer experience, operating safely, strengthening communities, engaging employees and protecting the environment. It also summarizes our 2018 financial performance.
We used the Global Reporting Initiative's global sustainability reporting standards as a framework to report our most material social responsibility issues. This publication focuses on initiatives and accomplishments from the 2018 calendar year and includes 2018 data, unless otherwise noted.
Letter to Stakeholders
The past year for Union Pacific can be summed up in two words – dramatic change. Employees, customers, communities and shareholders experienced change in 2018. Our transformation is necessary to build the railroad for the future, one that is stronger, more reliable, and safer. The fact that these changes were necessary didn't alter the fact that they were difficult and challenging.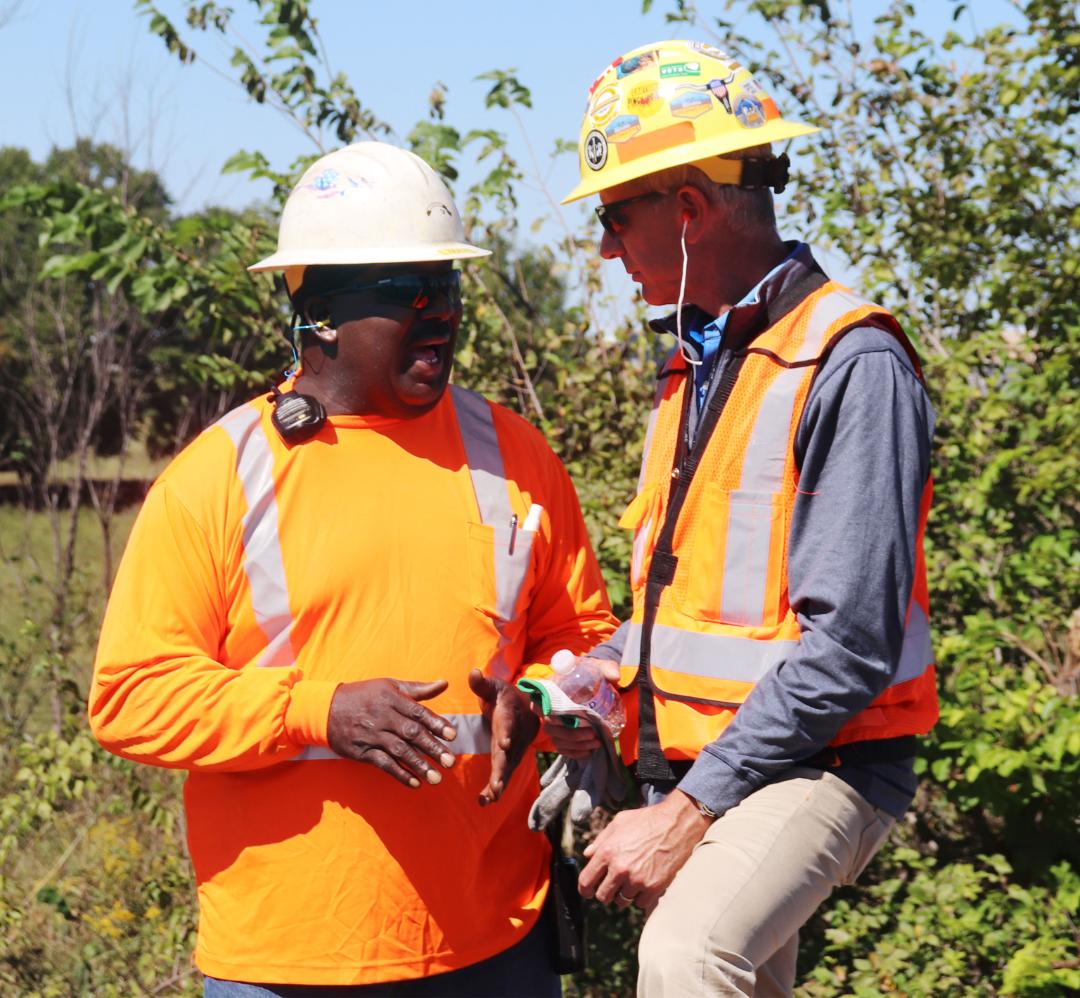 Chairman Lance Fritz visits with Gang 9075 System Laborer Chuck Fields at a leadership field visit in Clinton, Iowa.
We launched a new operating plan called Unified Plan 2020 that implements Precision Scheduled Railroading principles, coupled with our own best practices. We started by asking those closest to the work to design a plan focused on moving rail cars faster and more efficiently. The changes we implemented had a measurable impact in a short time. Between September and December 2018, on-time car delivery increased 5 percent, car velocity grew 9 percent and dwell, the time a car waits to move, dropped 15 percent. Our industry-best employees made this happen, and these wins enabled us to implement Unified Plan 2020 at a faster pace than originally anticipated.
When we look at our system from a car level and work our way up to train level, it's exciting to identify new opportunities – but we aren't doing it alone. We're partnering with our customers, looking for ways to increase efficiency. For example, a large industrial customer requires a third-party safety inspection on cars before they enter its facility. This inspection historically took place on our main line, causing a daily delay averaging more than seven hours each week. Now, the inspection is performed at the facility, allowing us to fluidly move through the area. This is one of many examples you will read about in this report.
Change doesn't happen easily or without making difficult decisions. As we streamlined operations, we consolidated operating regions from three to two, and service units from 17 to 12. We removed more than 1,200 locomotives and approximately 30,000 freight cars from our network since Aug. 1. Focusing on work that adds direct value to our customers, and eliminating work that doesn't, resulted in reducing general and administrative jobs as well as craft professional jobs. More change will occur in 2019 and future years as we continue Unified Plan 2020 implementation. It's vital to ensure Union Pacific remains a strong, competitive company supporting our customers with world-class safety, and best-in-class service, reliability and efficiency.
Through this transformation, we remain constant in our commitment to operate responsibly as we deliver the goods Americans use every day. This report is part of our ongoing conversation with stakeholders. Each section describes key initiatives and reflects on 2018's performance. We identified these materiality pillars by listening to our stakeholders to understand what's important to them, and why.
Economic Impact illustrates how Union Pacific drives economic growth in the 23 states where we operate through employment, capital investments and in-state sourcing efforts.
Delivering an Excellent Customer Experience reflects our commitment to provide the level of service our customers expect. In a world where orders are completed by a swipe and deliveries within hours or days, we're leveraging technology to provide real-time solutions.
Operating Safely details our relentless efforts to maintain a safe railroad for our employees and the communities we traverse.
Strengthening Communities demonstrates our commitment to act for a greater good, giving back our time, money and expertise. Through these efforts, we can better connect with each other and make a positive difference for future generations.
Engaging Employees outlines our promise to create fulfilling careers with advancement opportunities, as well as promote healthy lifestyles.
Protecting the Environment highlights efforts to increase fuel efficiency, reduce carbon emissions, and build partnerships with communities and government agencies, protecting ecosystems across our network.
Each stakeholder is important, as is ongoing engagement. We are undergoing a preliminary materiality assessment to strengthen our relationships. We want to build on our understanding of stakeholder perspectives related to corporate social responsibility issues and how they impact our business. I look forward to sharing those results with you in our 2019 Building America Report.
In closing, I want to pause and reflect on the great honor our company had in December. We helped thousands of Texans, and the entire country, pay their respects to former President George H.W. Bush by transporting his body from Spring, Texas, to College Station, Texas, on a special funeral train. It was pulled by UP 4141, a locomotive unveiled in October 2005 for a transportation summit at the Bush Presidential Library. The trip was the culmination of years of planning and flawless execution among many departments, as well as the Department of Defense, Texas A&M University and the communities along the route. It is impossible for me to adequately express how proud I am of Union Pacific.
We made great strides in 2018, and I'm hopeful for our future, as we continue driving toward our ultimate goal – being the best in our industry at delivering safe, reliable and efficient service.

Lance Fritz
Chairman, President and CEO
Appendix
Feedback
For questions on this report or to provide feedback, contact Union Pacific via email at sustainability@up.com.
Additional Resources
For ongoing updates on our citizenship and sustainability efforts, visit www.up.com.
Cautionary Information
Our 2018 Building America Report provides additional explanatory information regarding Union Pacific that may not be available, included or directly derived from information in the companys Annual Report.
This report includes statements and information regarding future expectations or results of the company that are not historical facts. These statements and information are, or will be forward looking as defined by federal securities laws. Forward-looking statements and information can be identified by use of forward-looking terminology (and derivations thereof), such as believes, expects, may, should, will, would, intends, plans, estimates, anticipates, projects and other words or phrases of similar intent. Forward-looking statements and information generally include the following: the companys expectations or forecasts with respect to general economic conditions in the United States and the world; the companys financial and operational performance; increases of the companys earnings; demand for the companys rail service; improving customer service; enhancing profitability; volume and revenue growth; efficiency improvements and increasing returns; and improving asset utilization. Statements also include the effectiveness or growth of new and newer services; management of network volumes; increasing shareholder value; total amount of capital investments; completion and effectiveness of capacity expansion and other capital investments, and other investments in infrastructure improvements; returns on capital investments; improvements regarding safety of our operations and equipment; improving efficiencies in fuel consumption; preserving the environment and communities where the company operates; and effectiveness of plans, programs and initiatives to reduce costs and other efficiency improvements. Forward-looking statements and information should not be read as a guarantee of future performance or results and will not necessarily be accurate indications of the times that, or by which, such performance or results will be achieved. Forward-looking statements and information are subject to risks and uncertainties that could cause actual performance or results to differ materially from those expressed in the statements. Forward-looking statements and information reflect the good faith consideration by management of currently available information and may be based on underlying assumptions believed to be reasonable under the circumstances. However, such information and assumptions (and, therefore, such forward-looking statements and information) are or may be subject to variables or unknown or unforeseeable events or circumstances over which management has little or no influence or control.
The risk factors in Item 1A of the companys Annual Form 10-K, filed Feb. 8, 2019, could affect our future results and could cause those results or other outcomes to differ materially from those expressed or implied in the forward-looking statements and information. This report should be read in consideration of these risk factors. To the extent circumstances require or the company deems it otherwise necessary, the company will update or amend these risk factors in subsequent Annual Reports, periodic reports on Form 10-Q or current reports on Form 8-K.
Forward-looking statements speak only as of the date the statement was made. We assume no obligation to update forward-looking information to reflect actual results, changes in assumptions or changes in other factors affecting forward-looking information. If we do update one or more forward-looking statements, no inference should be drawn that we will make additional updates with respect thereto or with respect to other forward-looking statements.