2018 Building America Report
Menu
Operating Safely
Safety is Union Pacific's No. 1 priority. As a company, we continuously look for innovative approaches to enhance the safety of our employees, our communities and the customers we serve. We invest in training, research and development, and public education – all with the goal of increasing rail safety awareness and improving safety.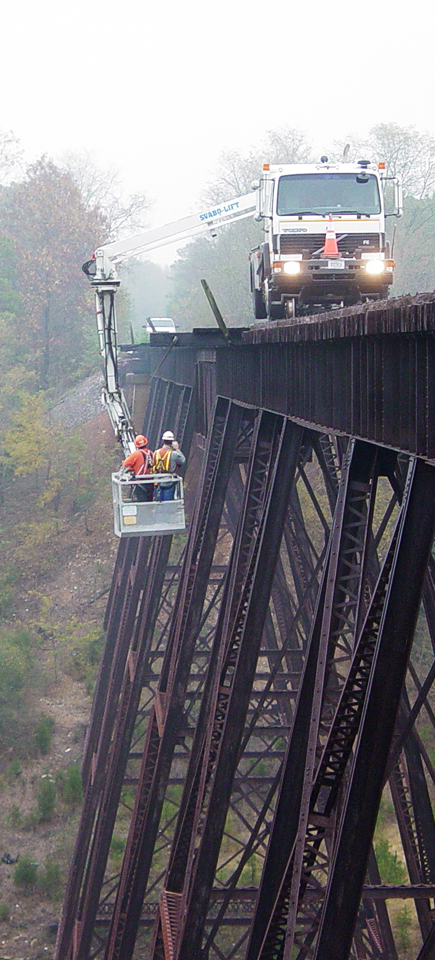 Rail Safety Maintenance
Rigorously maintaining quality rail infrastructure is foundational to our ability to operate safely. It helps prevent derailments, provides a safe path for train crews and avoids shipment delays for customers.
Union Pacific continuously inspects railroad tracks, locomotives and other equipment. Our track inspection program customizes schedules and techniques to examine each rail line, mile by mile. We inspected more than 4.8 million track miles in 2018, enough to cover our 32,000-mile network more than 149 times.
Despite efforts to strengthen our rail infrastructure, operational changes increased variability. Federal Railroad Administration (FRA) reportable derailments worsened 8 percent from 335 in 2017 to 363 in 2018. We are committed to working toward our goal of operating in an incident-free environment, this includes providing increased training opportunities and employee communication.
Big Data Tech Helps Predict Rail Failure
The goal: take the data collected across more than 32,000 track miles, plug it into a computer and accurately predict which track section will break next. Broken rails are among the most common causes of train derailments in the U.S. With all this data, our decision analytics, engineering and safety teams are creating a predictive analytics model to generate a list of the most at-risk track sections.
We collect data from past incidents, ongoing track maintenance, road bed conditions, track materials and physical wear. Using a tool called a logistic regression model – a highly sophisticated probability method – we're assembling and testing the data elements to predict what will happen, based on what's already happened.
The model will not replace human senses and the vast knowledge base residing in our dedicated employees; however, when it's fully developed, it could preemptively identify up to one-third of track-related failures in the top 10 percent of Union Pacific's riskiest track miles.
Safety Inspection Fleet
We use state-of-the-art equipment to regularly inspect rail lines. Geometry cars use an optical gauge measuring system consisting of lasers and cameras under the rail car to produce real-time track geometry images. The system evaluates track structure wear and tests for defects to help prevent derailments, maintain track health and increase track longevity. Union Pacific's two evaluation cars, featuring military-grade navigation, cover a combined 70,000-80,000 track miles per year – enough to annually traverse our main lines at least twice.
We have four Gauge Restraint Measurement System (GRMS) vehicles positioned across our system to identify signs of wear or potentially weak spots in the track. Each vehicle is capable of testing up to 60 miles of track daily, specifically focusing on curved sections. To simulate the force generated by a locomotive, the GRMS vehicle applies 9,000-10,000 pounds of lateral forces to the track. Its operator verifies any potential defect and immediately remediates. In 2018, we used GRMS vehicles to aid inspection of more than 27,000 track miles.
Union Pacific has an Unmanned Geometry Measuring System, housed in a regular box car and powered by solar panels, rather than a fuel tank. Attached to a train hauling freight, it looks for track abnormalities, communicating in near-real time the type, severity and location to a data facility for verification and potential remediation. This system is capable of testing more than 30,000 miles per year.
Currently in pilot testing, our Locomotive Track Geometry System attaches to a regular locomotive hauling freight. Like the Unmanned Geometry Car, this system is capable of looking for track abnormalities, communicating in near-real time the type, severity and location to a data facility for verification and potential remediation. Using locomotives to test track geometry allows us to cover a larger footprint, while evaluating conditions with an actual train, rather than a track inspection vehicle. We believe this technology has the potential to cover about 250,000 track miles per year.
1 Source: Federal Railroad Administration
Say Hello to the PMV8
Union Pacific's Precision Measurement Vehicle (PMV) is among the newest and most advanced truck-based survey platforms. The PMV captures high-definition, 360-degree video and acquires data using optical distance measurement wheels, an advanced inertial navigation system and cameras mounted under vehicles. The data collected is integrated into employee training simulation models, helping familiarize train crews with territories. It also helps with system mapping, transmitting GPS locations of critical facilities, such as control points and road crossings, to Union Pacific's Positive Train Control system.
We have two PMVs – the PMV7 and PMV8 – that were built in-house by our Engineering and Information Technologies departments. Together, they measure more than 8,000 track miles per year and provide grade information for fuel efficiency. Whenever a GPS event is taken, the computer responds with a "Star Wars" movie sound effect, such as a recording of R2D2 or C-3PO.
A Deeper Look Into Railroad Ties
Inspectors are constantly appraising the state of the railroad and planning replacement schedules for rail ties, which hold the rail upright and keep it properly spaced. In the past, an inspector could visually evaluate 3-5 track miles per day. Now, technology allows us to examine an average of 50 track miles.
The Aurora system uses a combination of laser scanning and X-rays to quickly and consistently evaluate ties. Laser scanning provides a 3-D image, detecting defects such as large cracks, splits and plate cutting. Plate cutting is a mechanical wear condition caused when the rail and plate "eat" into the tie. These capabilities allow inspectors to see into a tie and determine its lifespan. They then create a plan, mapping out needed removals, also taking into account factors such as rail curvature and tonnage.
In 2018, we replaced more than 3.9 million wood ties.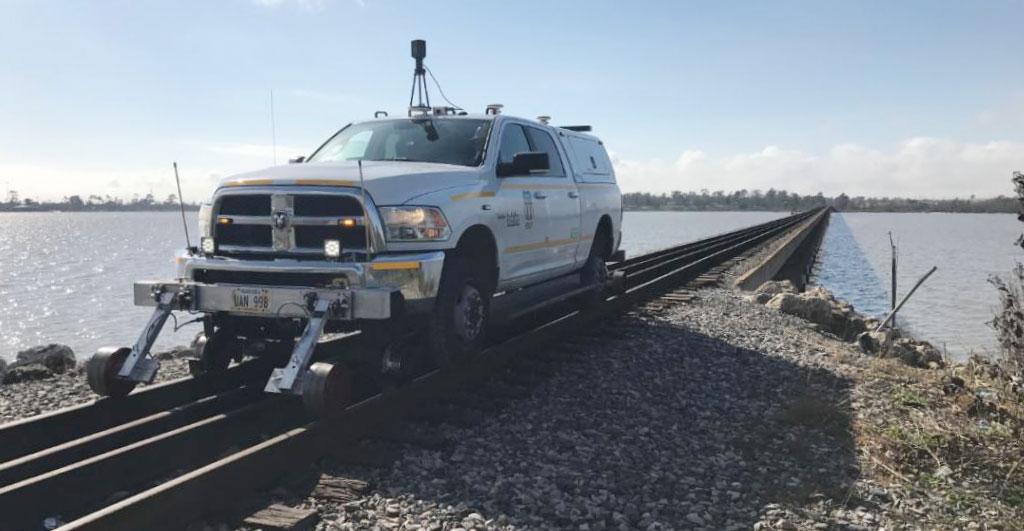 The PMV8 traveling near Highland, Texas.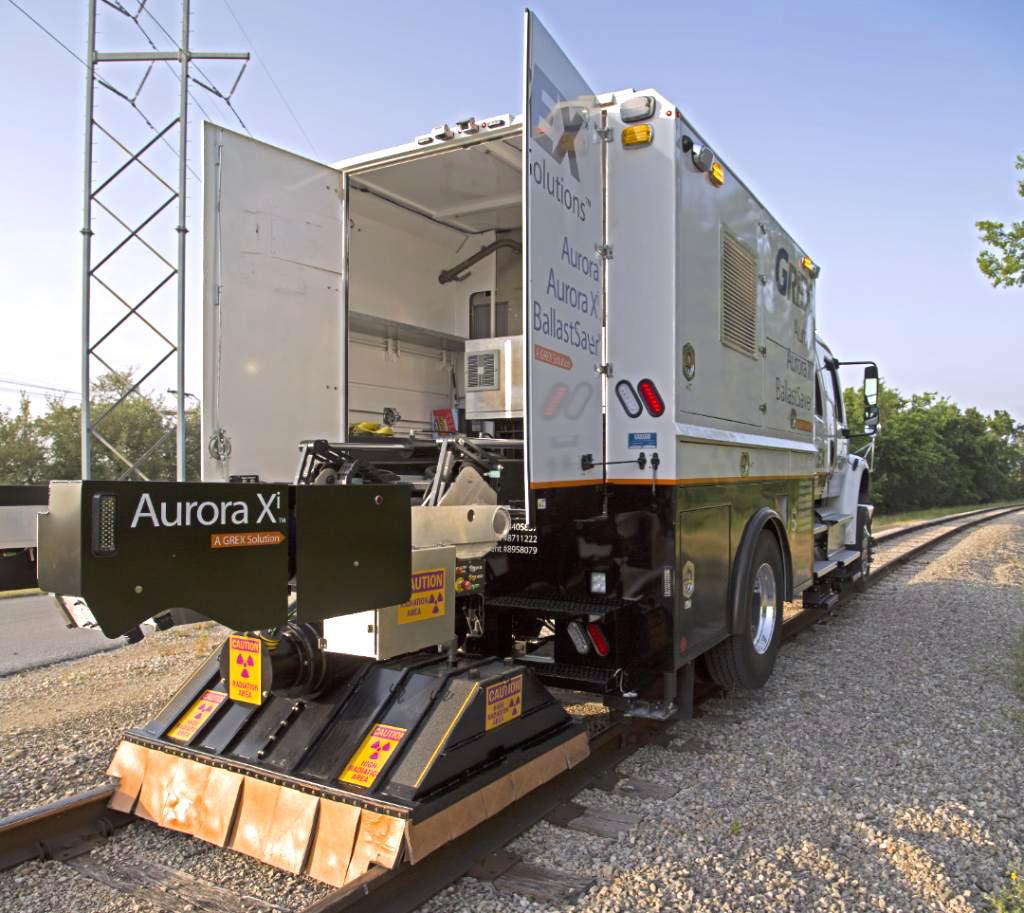 The Aurora system is used by track inspectors to examine rail tie quality.
Innovation at Work
At Union Pacific, we believe innovation is any change making us better. It can be a big idea leading to large-scale improvement or something smaller that impacts an employee's day-to-day operations. We leverage both high-tech and low-tech approaches. That can mean tweaking a process by leveraging continuous improvement tools or using an existing technology for a new purpose.
Just as important as embedding innovative thinking into our culture is understanding that not all ideas will be successful. We know some solutions take more time to develop and require multiple iterations.
Drone Inspections
Unmanned Aerial Systems (UAS), or drones, are part of Union Pacific's safety tool kit, collecting valuable information at derailment sites and natural disaster incidents. This allows us to assess our infrastructure and respond while keeping employees out of harm's way. While we use real-time and live feeds, we also use drone data to create 3-D images. This helps our team find an incident's root cause, and, ultimately, mitigate future issues.
Union Pacific employees with a Federal Aviation Administration (FAA) Part 107 certificate, a government requirement to commercially operate drones, are stationed in all 12 service units across our network. Through 2018, about 200 drones were in use and 200 employees received training specific to FAA regulations and Union Pacific policies.
Current drone technology applications include:
Routine inspection of buildings, bridges, tracks and telecommunication equipment.
Weather-related and/or operating incident assessment.
Hydrography – Providing 3-D imaging of rivers and coastal areas for flood mitigation planning.
Photography – Providing employee familiarization of yards, facilities and structures.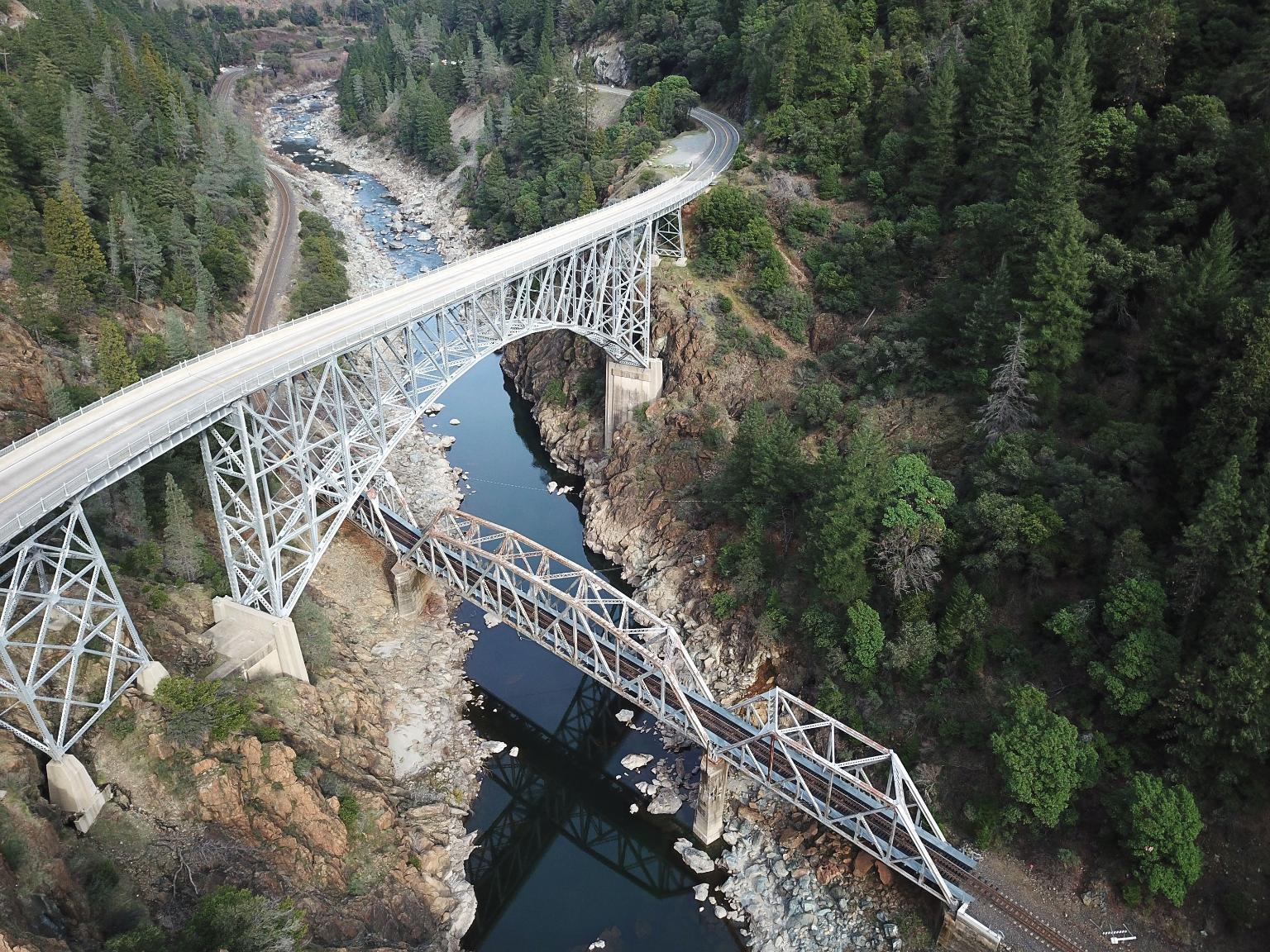 A Union Pacific drone captured this image during a culvert inspection demonstration in Pulga, California.
Bridge Project Rewrites Rail Industry Norm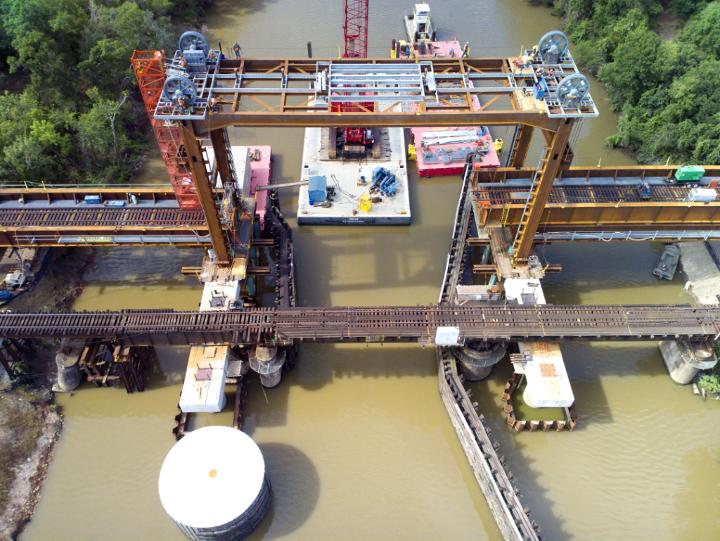 The movable lift span over the San Bernard River Bridge was slid into place in one outage, preventing nearly a dozen additional outages.
Union Pacific's Engineering team blazed new trails to expedite a unique rail bridge project near Sweeny, Texas. The 112-year-old San Bernard Bridge was due for replacement to handle heavier tonnage traffic. During replacement planning for the three-span structure, the team faced a dilemma: construct the movable bridge using conventional on-track methods at the cost of numerous track outages, or try something new – construct the entire bridge offline.
While not uncommon to build spans offline during bridge construction, the concept of sliding a complete, movable bridge 48 feet in one outage is unique. The track was out of service for the least amount of time, one three-day outage, minimizing customer impact. Within a few days, all remaining electrical, signal, communication and mechanical components were finished, allowing the bridge to open for river traffic.
A timelapse video showing the bridge replacement is available on YouTube.
Innovative Tech Ups Detection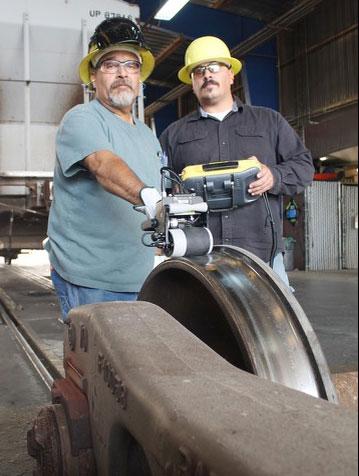 West Colton, California, Carman Welder John Moreno and Car Inspector Cesar Aguirre test a new wheel defect detector.
Some Union Pacific car shop employees have a new tool to help detect internal wheel defects, and it fits in the palm of their hands. West Colton, California, is one of seven locations testing the new handheld ultrasonic device, capable of determining a wheel's internal integrity – something undetectable to the human eye.
Employees used the handheld device to test load 286-ton rail cars and those carrying hazardous materials, which can cause additional wheel stress. The technology has proven successful, allowing employees to catch and address potential issues before a train reaches the line of road.
Positive Train Control
Positive Train Control (PTC) is installed on 100 percent of Union Pacific's required lines and implemented on required passenger train routes. Implementation efforts continue to ensure PTC interoperability with other freight and passenger railroads operating on our tracks by 2020, as allowed by federal law.
One of the most challenging parts of PTC implementation is ensuring system interoperability among all U.S. rail lines and locomotives. Given the various readiness levels of North American freight and passenger railroads, including publicly funded commuter lines and short lines, it is important that all railroads continue working together to maintain the health, safety, resiliency and fluidity of the rail network during PTC implementation.
With the FRA's conditional approval of our PTC safety plan on April 26, 2017, Union Pacific is running PTC operations on more than 13,000 miles in Arizona, Arkansas, California, Colorado, Idaho, Illinois, Iowa, Kansas, Louisiana, Minnesota, Missouri, Nebraska, Nevada, New Mexico, Oregon, Tennessee, Texas, Utah, Washington, Wisconsin and Wyoming. Union Pacific and freight and passenger railroads continue working together to safely implement PTC on the remaining 4,000 required route miles.
Union Pacific completed required employee training in 2018. Education is ongoing as we retrain some employees and introduce the system to new hires. Training materials are tailored to a variety of roles, including locomotive engineers, conductors, dispatchers, maintenance of way/engineering, mechanical, signal, telecom and information technologies.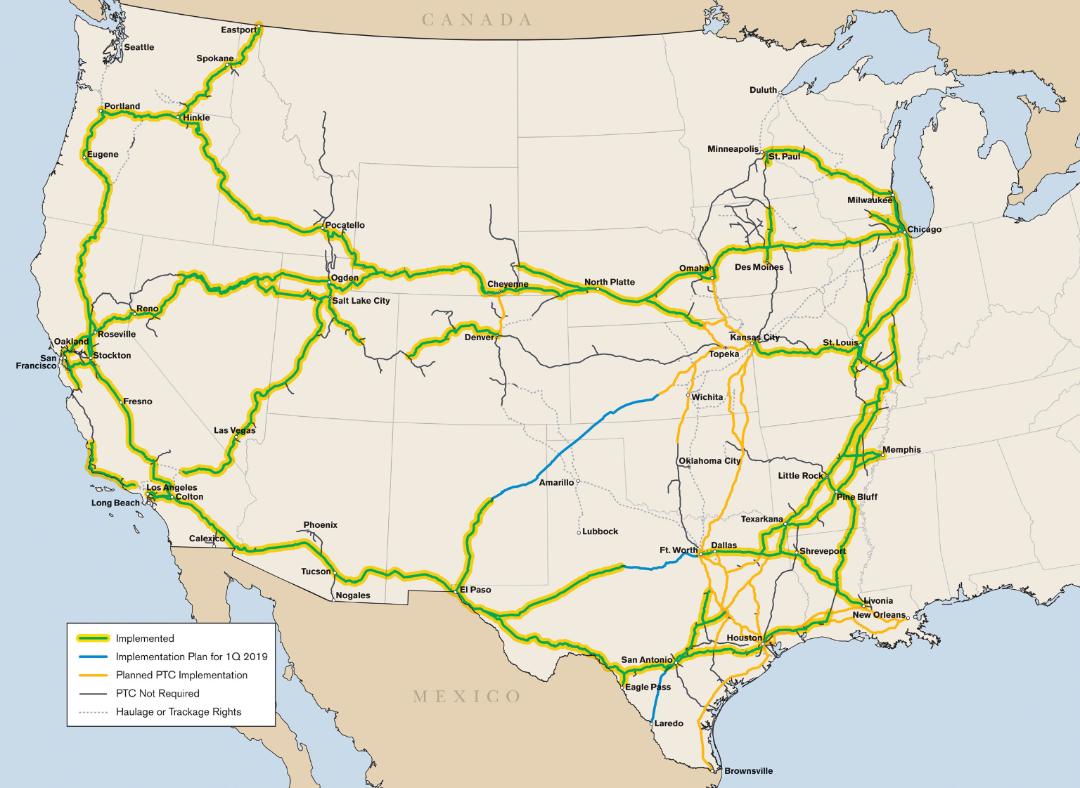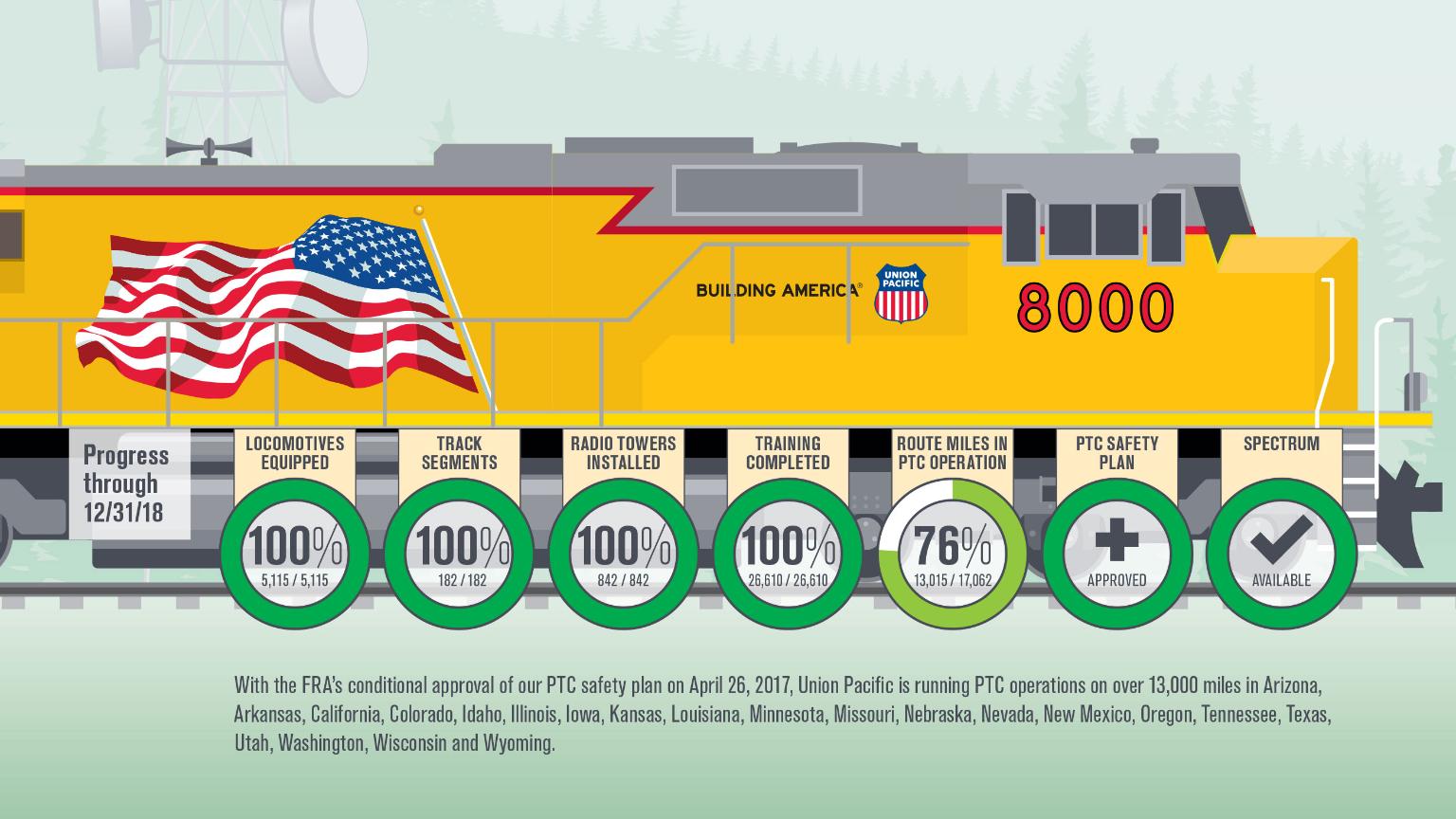 Safely Handling Hazardous Materials
Union Pacific is obligated to transport hazardous materials by federal law, while trucks are not. Our commitment to safely haul this material is reflected in our 99.99 percent success rate delivering without incident.
Union Pacific focuses on accident prevention, preparedness, response and recovery. Our Hazardous Materials Management group consists of highly trained experts in hazardous material transportation safety who work with customers and inspect tank cars, ensuring products are properly secured.
Prevention
Through our prevention efforts, Union Pacific partners with customers, regulators and other stakeholders to conduct hazardous materials shipment inspections, sponsor training opportunities and actively participate in numerous industry initiatives focused on continuous improvement of hazardous materials shipments.
Preparedness
While we work to prevent incidents, Union Pacific's Hazardous Materials Management group regularly prepares for such an event. We do this by building strong relationships with first responders and other stakeholders throughout the communities where we operate.
Union Pacific provides fire departments and other emergency responders along our routes with comprehensive training on minimizing derailment-related impacts. We provided classroom and hands-on training to roughly 5,870 local, state and federal first-response agencies.
We also sponsored 117 emergency responders from 14 states to attend a rail-specific hazmat training center in Pueblo, Colorado. The five-day tank car safety training course focused on tank car assessments and repairs, and safely controlling hazardous material spills. Training also included a large-scale simulation of a hazardous material incident, providing emergency responders hands-on experience.
Over the last 10 years, Union Pacific trained more than 50,000 emergency responders throughout our network. Union Pacific is a charter member of TRANSCAER® – a voluntary national outreach effort focused on assisting communities to prepare for and respond to a possible hazardous materials transportation incident. Union Pacific has won the TRANSCAER National Achievement Award for 11 consecutive years.
We partner with stakeholders at the local, state, tribal and federal level to establish geographic response plans. Conducting drills and exercises is another vital tool in preparedness. We regularly exercise our emergency response plans within our facilities, as well as with local, state, tribal and federal agencies.
Using our unique training tank cars and training box cars, we teach first responders on our system and provide various coaching opportunities and drills.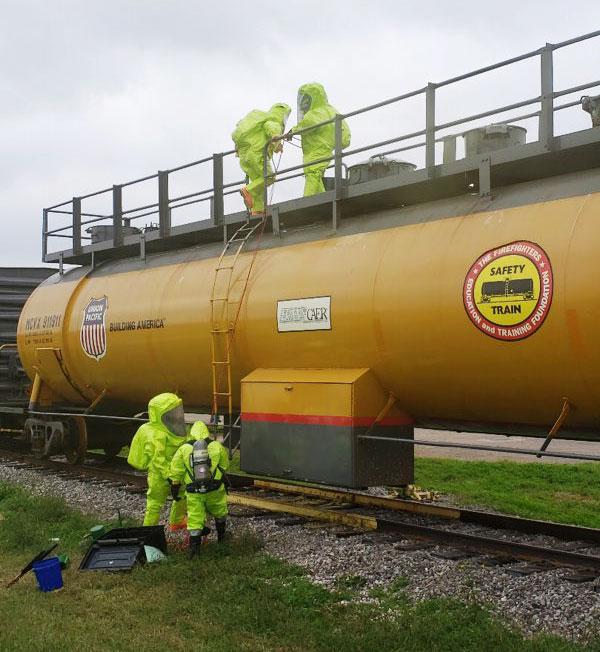 A training exercise tests first responders' readiness in Corpus Christi, Texas.
Response
If an incident involving hazardous materials occurs, Union Pacific's Hazardous Materials Management group responds to safely and quickly mitigate any potential hazards to public health, environment and property. We do this by working with emergency response agencies and our network of specialized contractors, and by using internal resources, such as firefighting trailers and waterway spill containment systems.
All hazardous materials professionals are trained thoroughly in hazardous materials response and in the National Incident Management System. This allows for safe and effective response operations while working together with our public partners.
Recovery
Once an incident is under control, our hazardous materials professionals continue ensuring the communities, environment and Union Pacific's network have properly recovered. We do this through environmental remediation and proper product handling practices. Union Pacific is capable of removing product from a damaged container and placing it into non-damaged containers. We accomplish this with our state-of-the-art transfer trucks and equipment, as well as numerous smaller transfer trailers that can safely and effectively remove liquid products. This creates a safer and more effective option for communities and reduces costs to our customers.
Safety through Security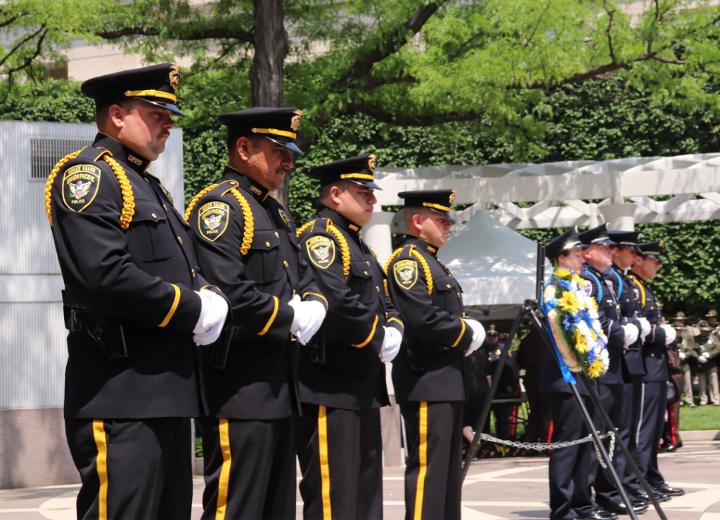 Union Pacific's Special Agent Honor Guard members stood watch at the National Law Enforcement Officers Memorial in Washington, D.C., as part of National Police Week.
The Union Pacific Railroad Police Department is a team of highly trained special agents dedicated to maintaining the railroad's security and integrity. The department holds accreditation from the Commission on Accreditation for Law Enforcement Agencies (CALEA), which is considered the gold standard in law enforcement accreditation and recognizes agencies meeting the highest law enforcement standards.
The police department uses security monitoring technology to protect critical infrastructure from intruders around the clock. It coordinates its operation with CBP, the U.S. Coast Guard, the Federal Bureau of Intelligence, the Department of Homeland Security, the Transportation Security Administration, and state and local law enforcement. Union Pacific was the first U.S. railroad named a partner in CBP's Customs-Trade Partnership Against Terrorism.
Learning Moment Turns Into Rail Safety Success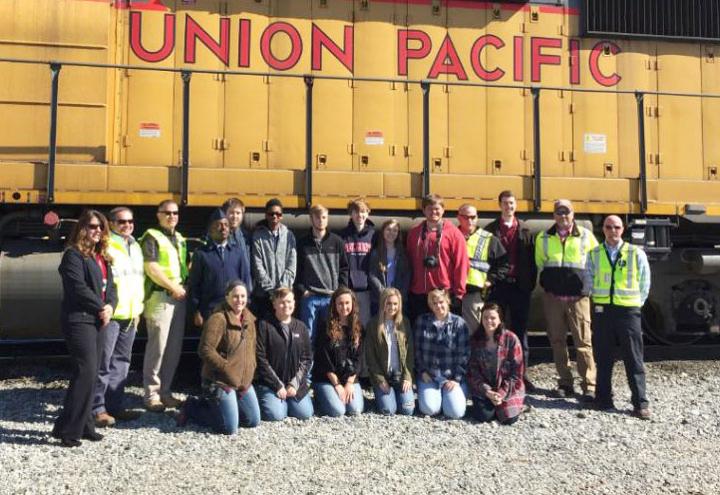 Texarkana, Arkansas, high school students learn about rail operations during a yard field trip.
Union Pacific Senior Special Agent Darin Archer found a mother and three high school students trespassing on the tracks near Texarkana, Arkansas, while taking prom photos. Instead of writing a ticket, he turned it into a learning moment, sparking a pilot program that continues to grow.
He asked the students to create an outreach program at an Arkansas High School. Teaming up with teachers and administrators, Archer shared our safety messaging with the photography class, including active members of the school's community service club, drama department students and the audio/visual club. The goal is for students to teach their peers about rail safety.
"I've learned that students can talk to each other better than old dudes like me," Archer said. "The kids visit our yard to experience it, and they become safety advocates and peer mentors."
The students are trained to answer questions and share their knowledge. They also produced safety messaging and collateral materials to distribute in the school and across social media. The program is now taking steps to expand to Arkansas' Genoa High School.
Cybersecurity At Union Pacific
We employ a vast array of technology across every aspect of our business, from traditional devices in our offices and yard facilities to locomotives using innovation to maximize safety, reliability and fuel efficiency.
Our Information Assurance team is responsible for the confidentiality, integrity and availability of Union Pacific's infrastructure and assets. The team has robust processes and redundancies in place to prevent, detect and respond to potential threats. We also perform regular vulnerability scanning and system penetration testing to validate our security controls and assess our infrastructure and software applications. Like many organizations our size, we are continuously probed by malicious computers around the world. In 2018, the Union Pacific network was probed 300 billion times. Extensive incident response, disaster recovery and business resumption plans are in place and tested annually, ensuring the computing environment can withstand a wide range of scenarios.
Following the Sept. 11, 2001, terrorist attacks, the rail industry developed a security plan that includes a comprehensive blueprint for security enhancement and risk mitigation actions. It applies a unified, risk-based and intelligence-driven approach to rail security. In coordination with our industry partners, we regularly exercise and enhance cybersecurity prevention and incident response plans.
The Railway Alert Network is the industry's intelligence and security information center. Each day, its staff reviews intelligence and related security information to produce analyses of terrorist tactics, malicious cyber activity, rail-related threats and incidents, and suspicious activity. Union Pacific uses these materials for threat hunting and in our security training and awareness programs.
Union Pacific employees are required to attend security awareness training, which provides information on data security policies and procedures. The Information Assurance team works with employees to identify best practices for securing their workspace and creating strong passwords. Employees are regularly coached on how to identify phishing attacks, and how to avoid being victimized.
Union Pacific is committed to protecting the security and confidentiality of our data and that of our customers, employees and contractors. Although the U.S. has not enacted widespread regulation, such as The General Data Protection Regulation in the European Union, there is a patchwork of state laws and regulations governing personal data collection and use. Union Pacific is developing a program to comply with the new California Privacy Act, the most comprehensive, which takes effect Jan. 1, 2020. Specifically, Union Pacific is working to increase transparency around our data collection and use procedures, that enhance our ability to respond to inquiries and requests regarding a person's data.
Keeping Employees Safe
Safest U.S. Railroad For The Fourth Straight Year, But Work Remains
Union Pacific was the top-performing U.S. Class 1 railroad in employee safety for the fourth consecutive year. Despite this designation, we still have work to do. The employee reportable injury rate, measured by the number of injuries for every 200,000 employee-hours worked, worsened 4 percent from 0.79 in 2017 to 0.82 in 2018.
Three of our employees did not return home. We honor their memory by working toward an injury-free railroad. Union Pacific continues improving technology, enhancing processes and fostering a culture focused on operating safely.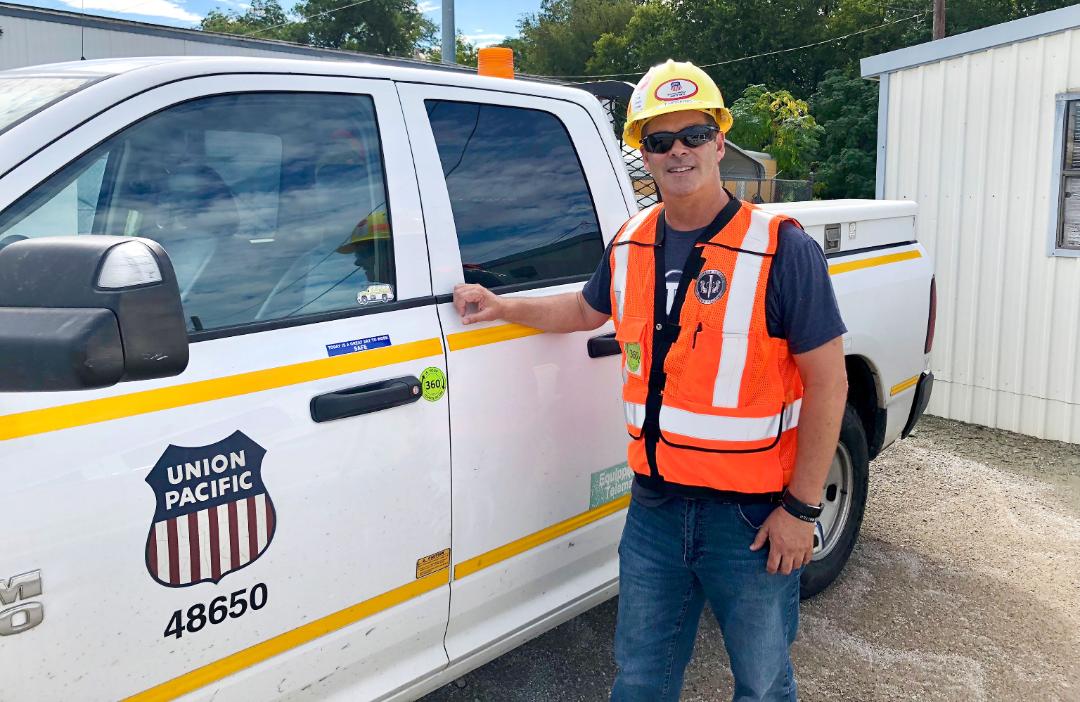 Total Safety Culture Facilitator Todd Hosking created stickers for work vehicles, encouraging employees to complete a 360-degree visual inspection prior to leaving the parking lot.
Courage To Care And Total Safety Culture
Our employees are our eyes and ears – they identify risks, initiate action to mitigate those risks and work to keep each other safe.
Courage to Care, a voluntary commitment made by Union Pacific employees since 2012, empowers each person to look out for their peers and "stop the line" on any operation that could result in an incident. The company also pauses systemwide operations twice annually for safety stand downs, giving employees an opportunity to have candid safety discussions and share experiences to learn from each other.
Total Safety Culture complements these efforts. The employee-owned, voluntary process includes training, observations and feedback. Employees compliment each other on safe behaviors, while intervening in a positive way to address at-risk actions.
Enhancing Simulator Training
Union Pacific uses 39 full-size locomotive simulators to replicate the experience of operating a locomotive along our tracks. Locomotive engineers spent about 20,600 hours training on these simulators in 2018, up from roughly 20,000 hours in 2017.
We have five mobile training trailers, each equipped with seven workstation simulators and 25 laptop simulators. This equipment supports PTC implementation. We trained 2,559 locomotive engineers and managers in 2018. Training began in 2015 with more than 9,000 honing their skills on the simulators.
Union Pacific uses Remote-Controlled Locomotive (RCL) simulators to provide hands-on training for licensed remote operators. In their daily work, operators use a small computer console to direct locomotives in rail yards. Remote control operators spent more than 9,500 hours training on RCL simulators in 2018, up from more than 7,000 hours in 2017. We plan to continue using simulators for new hire conductor and RCL classes.
Monitoring Performance And Embedding Safer Behavior
Union Pacific uses video technology across our locomotives and vehicles to monitor engineers' and drivers' performances, ensuring safety, security and situational awareness. On the vast majority of occasions, this proactive performance sampling validates and confirms our employees' professionalism. It also increases our in-depth understanding of people's response to different situations, enabling us to improve coaching and embed safer behaviors.
Most of our locomotives are equipped with in-cab cameras. In 2018, we installed in-cab cameras inside 713 locomotives, increasing the total number of equipped locomotives to more than 5,355. These complement external-facing cameras, providing a complete view of incidents. We also integrate event recorder data, such as train speed, throttle position, brake settings and horn use.
Many Union Pacific vehicles are equipped with DriveCams, positioned below rearview mirrors to record 12-second video clips triggered by driving events, such as hard braking, swerving or excessive speed. DriveCam captures images from eight seconds before an incident occurs to four seconds afterward, enabling trained, third-party personnel to analyze root cause.
Public Safety
Keeping our communities safe involves proactive outreach to raise awareness and prevent risky behavior near railroad tracks, but we can't do it alone. We rely on law enforcement partners, as well as our employees, to be ambassadors in the communities where they live and work.
According to the FRA, 94 percent of all rail-related fatalities and injuries occur at railroad crossings or as a result of trespassing. Nearly all are preventable.
Engaging Communities Through UP CARES
Risky behavior near railroad tracks has sobering consequences, and the devastating outcome is something no one should witness. Our UP CARES program recognizes the most compelling arguments for staying safe are often those delivered face-to-face. Our employee volunteers deliver rail safety presentations to pedestrians, motorists and professional truck drivers across our 23-state network. To request a safety presentation, visit up.com.
UP CARES also addresses risky driver and pedestrian behavior around the tracks. In 2018, 80 percent of crossing incidents occurred while warning devices were activated. Investigations reveal risky or distracted driving was the cause.
Union Pacific special agents partner with local and state police departments to observe driver behavior. Our goal is not to write tickets, but to have meaningful conversations that change behavior.
National Rail Safety Week
In celebration of the second annual National Rail Safety Week, Union Pacific partnered with several law enforcement agencies and communities to host UP CARES operations across our 23-state network. In Houston, special agents hosted media in the cab of a locomotive, providing them a first-hand view of dangerous motorist behavior. The Houston Chronicle captured video of numerous vehicles reversing after breaching crossing arms, and other vehicles stopping on the tracks – including a large tractor-trailer that nearly caused an emergency train stop. During the two-hour event, Houston Police discussed safe driving habits with more than 60 drivers.
We worked with Safe Kids Worldwide, a key partner in our Community Ties Giving Program. Together, we participated in TV, radio and newspaper interviews in several cities. We shared important safety reminders across our social media channels, engaging more than 317,000 people who liked, shared or commented on posts.
In Chicago, our Commuter Operations employees targeted all three of Union Pacific's commuter lines, connecting with more than 3,000 riders. It was an opportunity to educate those who rely on rail as their primary mode of transportation across Chicagoland. Signs discouraging trespassing were installed at various stations.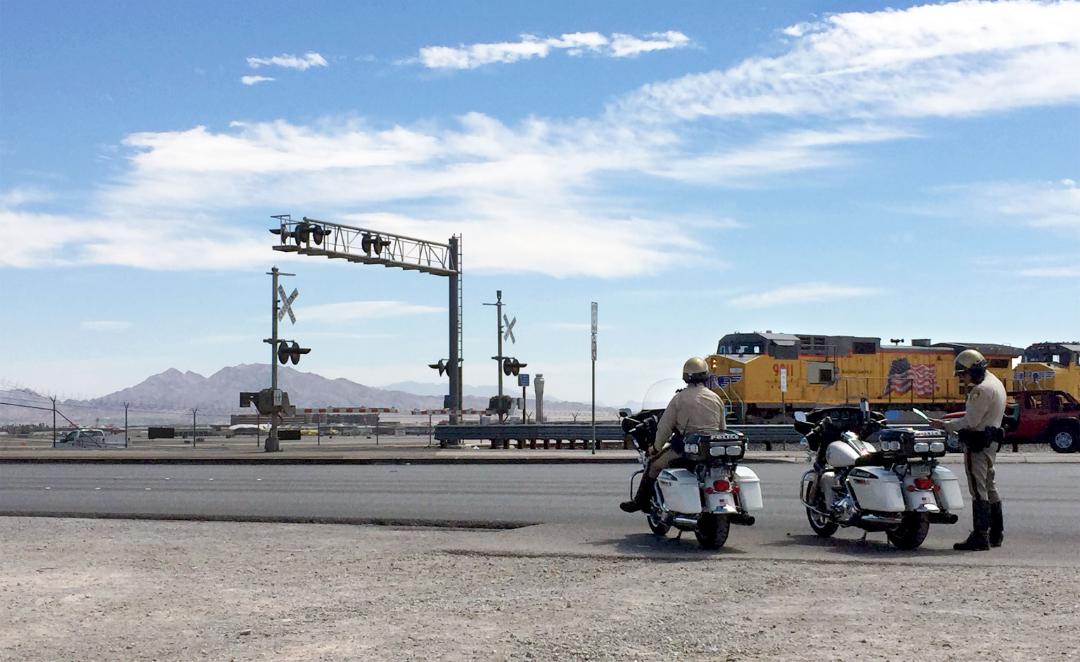 This Las Vegas, Nevada, UP CARES operation was a success thanks to our law enforcement partners.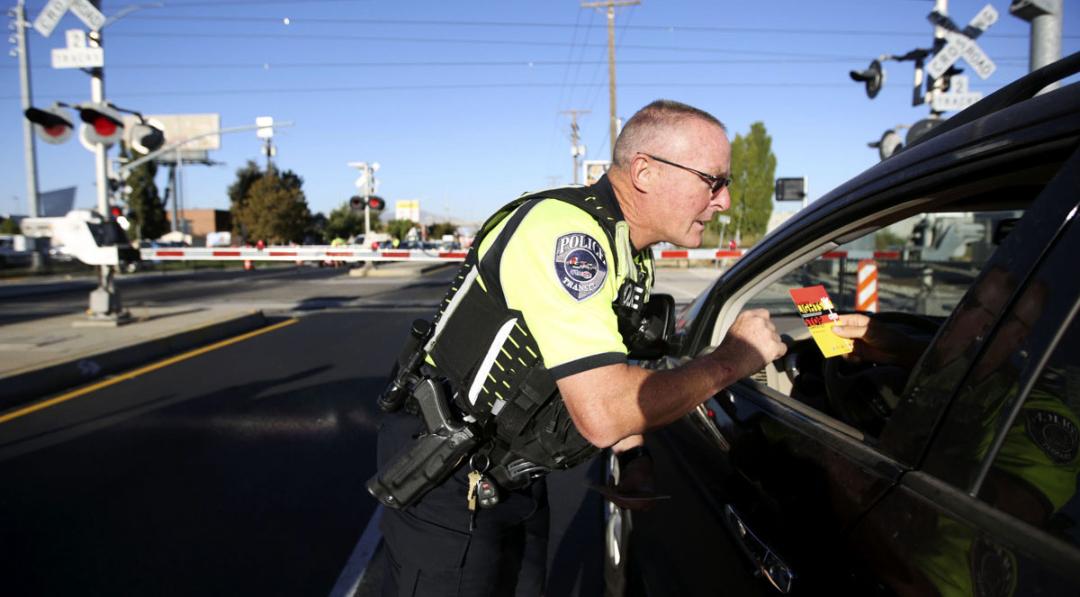 Utah Transit Authority Officer Andy Campbell talks to a driver about railroad safety during "Operation Clear Track" in Salt Lake City, Utah.
UP And American Sugar Cane League: A Sweet Safety Partnership
The American Sugar Cane League represents 20 percent of America's domestic sugar production, and most of the 1.8 million tons produced in Louisiana is shipped via rail to destinations nationwide. During the harvest season, railroad crossings become heavily used as 18-wheelers loaded with sugar cane transport the product from field to mill.
"Even though sugar cane season is short-lived, it's very active," said Union Pacific Locomotive Engineer and Public Safety Coordinator Billy Fuller. "These vehicles run 24 hours a day. It's important we work with the American Sugar Cane League wherever possible to reduce the likelihood of potential incidents."
During our 13-year relationship with the league, new opportunities to share important rail safety reminders have emerged, such as newsletter advertisements and public presentations. The league also shares field locations and harvesting times with Union Pacific, allowing us to notify train crews operating in the area.
Responding To Incident Reports
Union Pacific's Response Management Communications Center (RMCC) processes emergency and non-emergency calls from communities across our 23-state network. The RMCC team operates 24/7, responding to emergencies, reports of vehicles stuck on railroad tracks, criminal activity and other concerns. Drivers and pedestrians can contact the RMCC through the phone number posted near railroad crossings, 888-UPRR-COP (877-7267).
In 2016, the Commission on Accreditation for Law Enforcement Agencies (CALEA) awarded our RMCC team its second distinguished accreditation, recognizing an advanced standard of compliance across policy and procedures, administration, operations and support services. We are in a four-year cycle of accreditation maintenance and will qualify for our third distinguished accreditation in 2020. RMCC is one of 104 public safety communications centers worldwide recognized for emergency response and professional excellence in this way.
What's Ahead
We will continue leveraging technology as we work toward our ultimate goal – operating in an incident-free environment. We plan to train an additional 100 employees to operate drones in 2019. Field management is active in developing the program based on evolving technology, business need and feedback.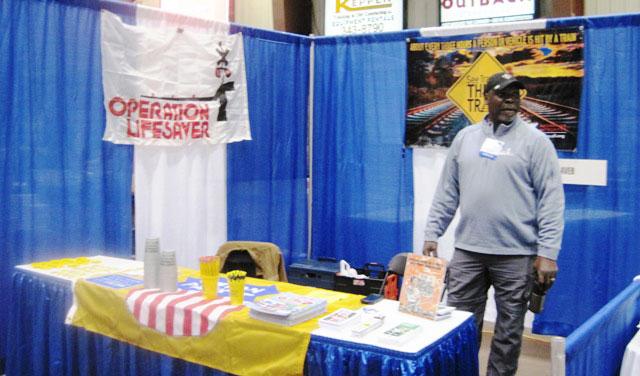 Locomotive Engineer JT Fenceroy discusses rail safety at the 2018 Louisiana Agricultural Expo in Shreveport, Louisiana, with sugar cane farmers and sugar industry members.