Our Company
Union Pacific Railroad Company is the principal operating company of Union Pacific Corporation (NYSE: UNP). We are one of America's most recognized companies, with a heritage of building the country and a vision to keep doing so.
Our rail network connects 23 states in the western two-thirds of the country, providing a critical link in the global supply chain. Over the last 10 years, from 2009 to 2018, Union Pacific invested $34 billion in our network and operations, supporting America's transportation infrastructure and enabling economic growth.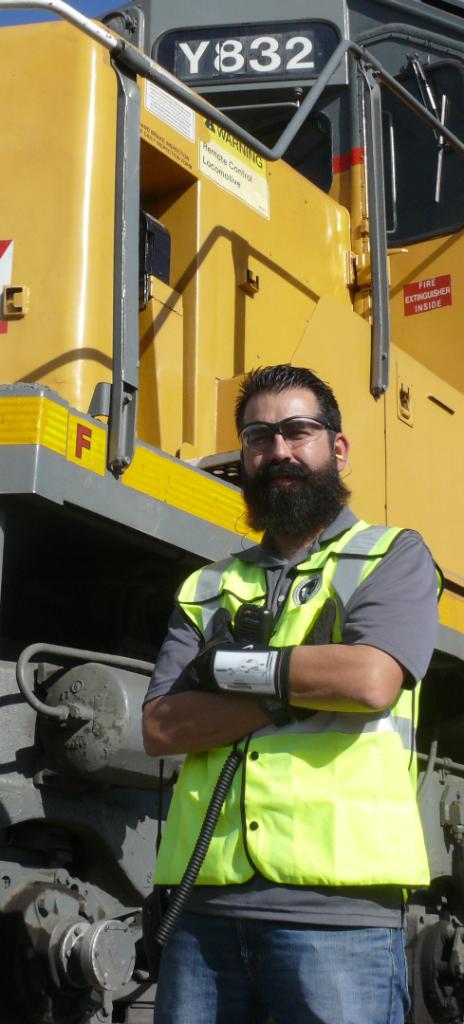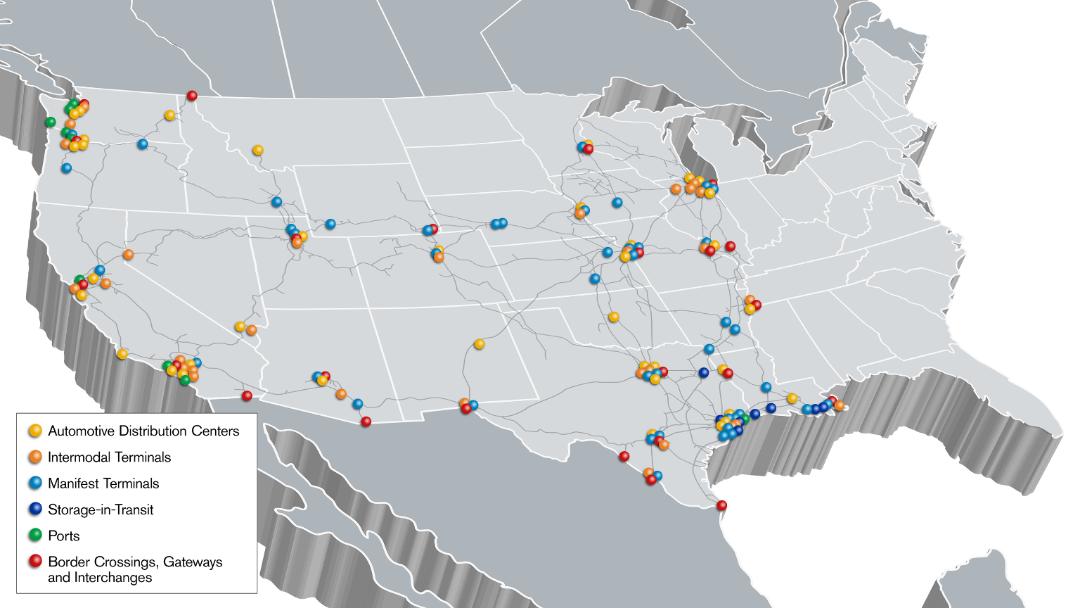 Vision
Building America
Our vision symbolizes the Union Pacific experience for all the people whose lives we touch. It connects the importance of our rail transportation to America's economy, honors the generations that preceded us and is the promise to the generations that will follow.
Mission
Dedicated to Serve
Union Pacific works for the good of our customers, shareholders, communities and one another. Our commitment defines us and drives the economic strength of our company and country.
Values
Performance
Our passion, concentration and determination will drive our safety, customer satisfaction and quality results.
High Ethics
Our reputation will always be a source of pride for our employees and a bond with our customers, shareholders and communities.
Teamwork
We are all part of the same team, and working together to reach our common goals is one of our strengths. Communication and respect are the foundation of great teamwork.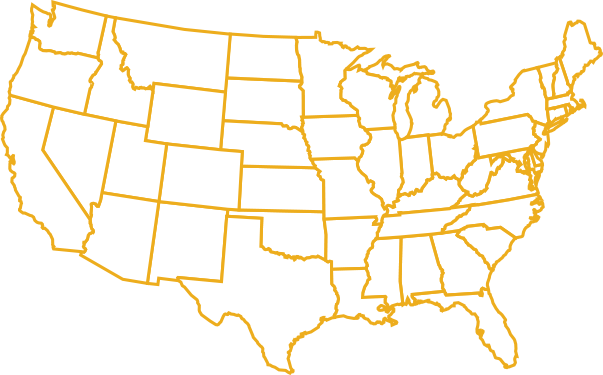 8,300 Locomotives




Corporate Strategy
Union Pacific's goal is clear: Be the best freight railroad in North America. This means we're the safest, the most reliable and the most efficient.
The "how" also is evident. Operational excellence and an engaged workforce with deep market knowledge and strong customer relationships will result in best-in-class safety, customer experience and shareholder returns.
In 2018, we revised our strategy and will focus on its rollout and implementation in 2019. The six value tracks used in our previous strategy live on in our strategy wheel, providing employees a clearer picture of the railroad's strategic intent. The individual strategic elements work together to turn the wheel, driving Union Pacific forward:
Safest and Most Reliable Freight Rail Products and Services. Everything we do must be done safely, or we don't do it – that's our promise to each other. We also must be reliable, so customers trust we'll deliver on our promises. Unified Plan 2020, our new operating plan, accomplishes this by creating an achievable transportation plan customers can count on.
Highly Efficient Operations. Driving down cost and removing waste helps us to be more competitive, enabling us to enter new markets. The faster we turn our assets – whether it's a locomotive or a freight car – the more we can do with our investment.
Industry-Leading Customer Experience. Continuously improving the customer journey provides higher levels of service and better transparency into customers' transportation supply chains, helping them win in their markets.
Secure Appropriate Business. Selling products that fit our business model versus developing boutique services builds a consistent, balanced network. We will continue finding solutions customers value, but they also must optimize our network.
Best-in-Industry Cash Returns. Each employee plays a role, from getting price on a contract to finding efficiencies in everyday work. This gives shareholders confidence in our ability to create financial returns, allowing us to invest in and grow our business.
Optimal Investment. Every dollar spent must drive safe, reliable and efficient results. We invest in areas customers are willing to pay for, whether it's improving car cycle time, updating track infrastructure on vital corridors or developing digital tools that help them plan their business.
Proud and Engaged Workforce. The wheel turns when our employees work toward the same goals. It takes the best employees in the industry to become the best freight railroad in North America – we have that, and there is nothing stopping us from achieving our vision.
As we transform our railroad into the best version of itself, our values will continue guiding us: Our passion for performance will help us win; our high ethical standards will ensure we don't win at the expense of any one stakeholder; and teamwork will guarantee we win as a team.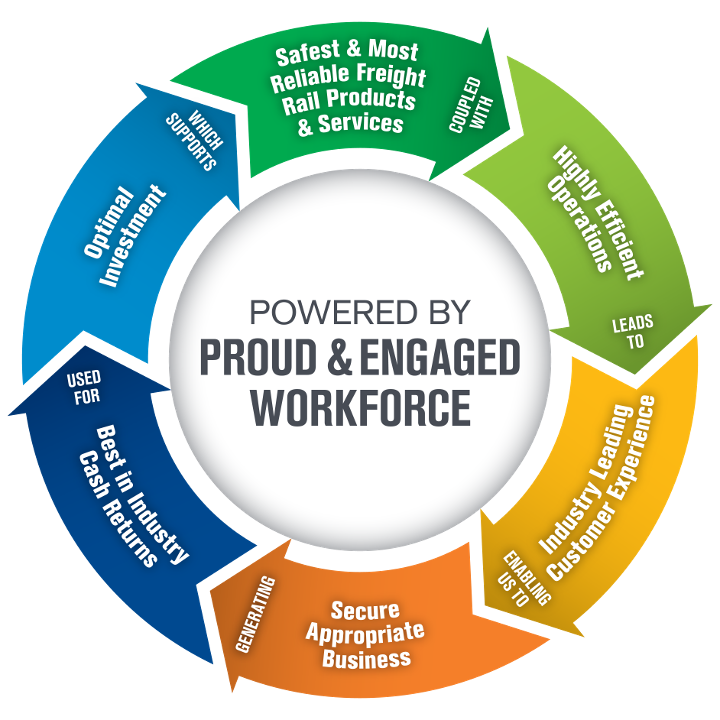 Unified Plan 2020
Union Pacific launched its new operating plan called Unified Plan 2020 Oct. 1. The plan implements Precision Scheduled Railroading (PSR) principles and is an important part of our objective to operate a safe, reliable and efficient railroad.
Unified Plan 2020 was first implemented on our Mid-America corridor, creating more streamlined operations between Wisconsin and Texas. About 50 percent of our daily carloads touch this corridor. We saw meaningful gains in on-time performance, productivity and financial results. Following these early wins, we accelerated implementation.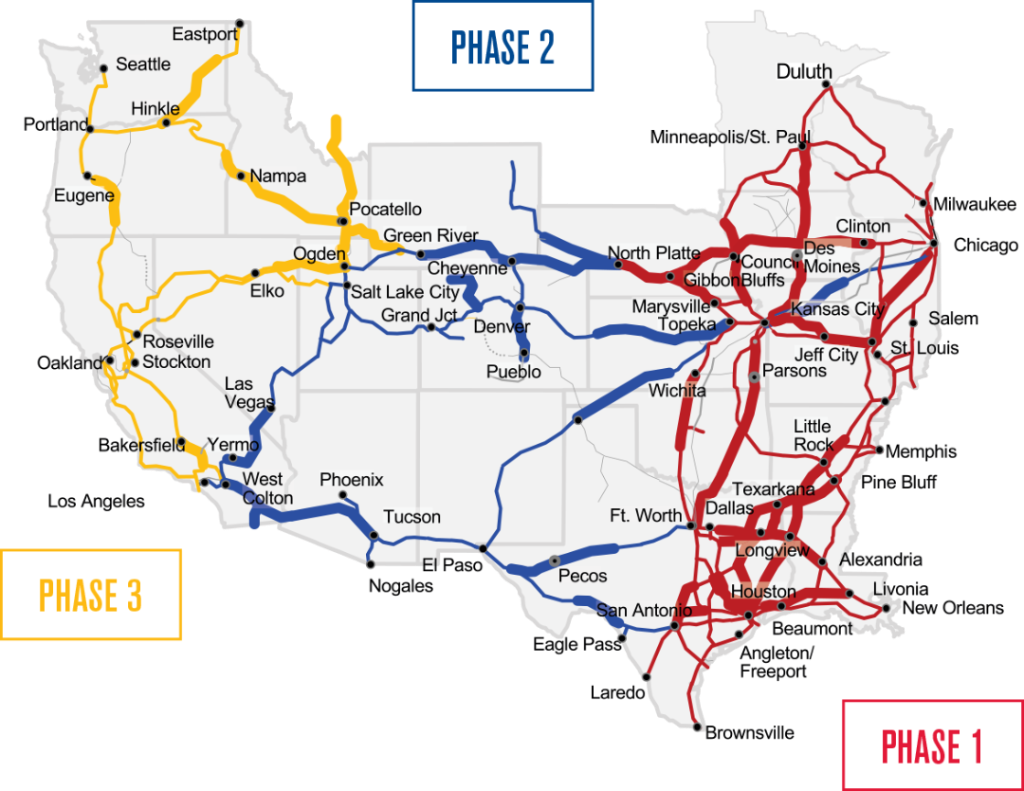 While PSR has been implemented at other North American railroads, we took a clean-sheet approach to develop our plan. We incorporated the experience and expertise of employees closest to the work, including those in the field. Unified Plan 2020 encompasses the following principles:
Shifting the focus of operations from moving trains to moving cars.
Utilizing general-purpose trains by blending existing train services.
Minimizing car dwell, car classification events and locomotive power requirements.
Balancing train movements to improve the utilization of crews and rail assets.
Our goal is moving cars faster. To achieve this, we are removing unnecessary cars, improving the entire network's fluidity. For example, clearing 100 cars from Union Pacific's system frees up 1 track mile. Between August and year's end, we removed more than 30,000 freight cars, freeing up the equivalent of 300 track miles, helping us better serve customers.
Our company has a storied history as the railroad industry leader. Making these changes will help us achieve our goals. Our employees' dedication to teamwork is critical, allowing them to focus on high-value work and eliminate tasks that do not directly support Unified Plan 2020.
We are pleased with the momentum gained in the fourth quarter. The company saw steady improvement in the Key Performance Indicators we use to gauge progress. From September to December, we reduced overall operating inventory by 11 percent and car velocity, how fast a car moves, improved 7 percent. We also cut cars' wait time or dwell by 13 percent. All of these metrics mean we are moving our customers' freight faster, and our service is becoming more reliable. We will continue pursuing initiatives to make further gains in safety, service and productivity.
Financial Performance
Freight railroads are the backbone of the U.S. economy, supporting the livelihoods of employees in most sectors. Union Pacific's diversified portfolio generates operating income and shareholder returns, further stimulating the economy.
In 2018, we reported net income of $6 billion or $7.91 per diluted share, compared to $4.6 billion or $5.79 per diluted share* in 2017, after adjusting for the impact of corporate tax reform, 29 and 37 percent increases, respectively, when compared to 2017. Our operating revenue was $22.8 billion compared to $21.2 billion in 2017, a 7 percent increase, and our operating income was $8.5 billion compared to $7.9 billion*, an 8 percent increase.
Freight revenues increased 8 percent year-over-year to $21.4 billion, driven by 4 percent volume growth, higher fuel surcharge revenue and core pricing gains. This was partially offset by negative traffic mix. Growth in international and domestic intermodal, petroleum products, metals, rock, plastics and industrial chemical shipments more than offset declines in coal, grain and frac sand shipments.
* Non-GAAP results, adjusted to exclude the impact of Corporate Tax Reform. See Union Pacific's website, under Investors, for a reconciliation to GAAP.
Risk Oversight Approach
We operate a dynamic enterprise risk management process with continuous monitoring to identify and address potential concerns, including those arising in the ever-changing economic, political and legal environments in which Union Pacific operates.
Management identifies and prioritizes enterprise risks and regularly presents them to our board of directors for review and consideration. Our chief compliance officer reports to the board on risk mitigation strategies, supported by senior executives responsible for implementing risk mitigation. We also report risk factors in our Annual Report Form 10-K.
The board's audit committee oversees internal audits of the company's enterprise risks. Internal auditors present their findings on mitigating controls and processes to the committee, which, in turn, reports to the board.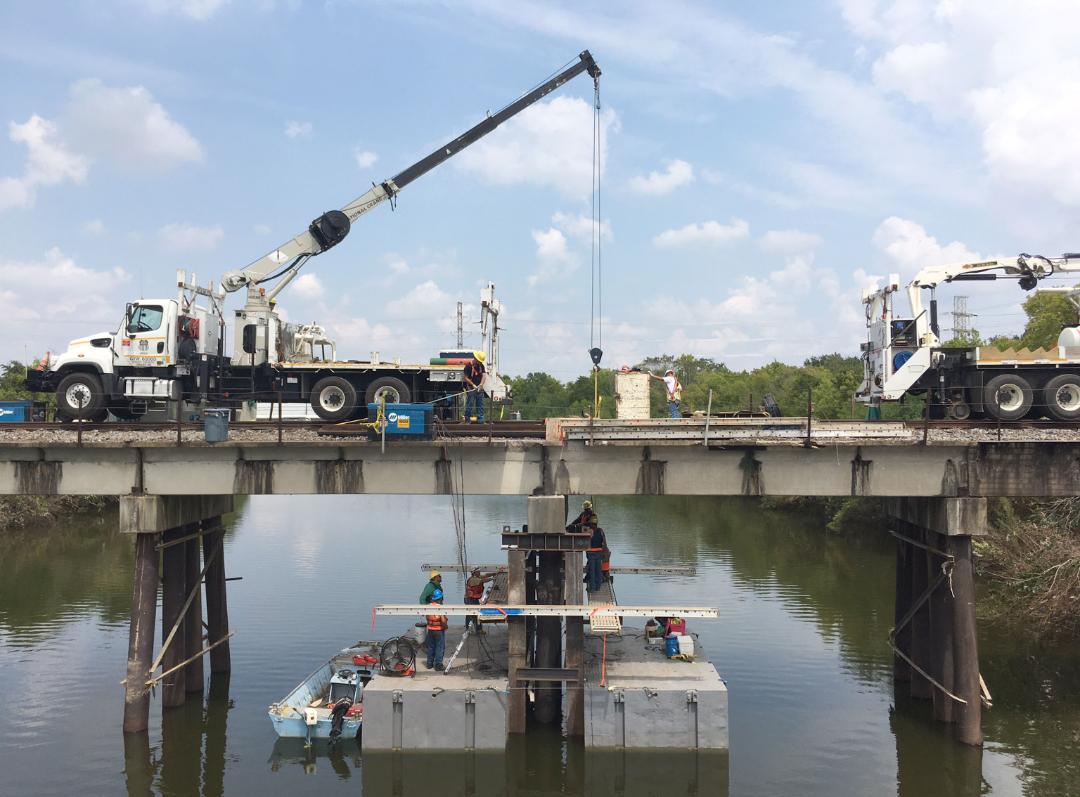 Bridge employees use a truck crane to repair a pier in Houston, Texas.
Sustainability Management Approach
Our business grows when we understand the needs of our communities and customers – and respond to those needs with dedication and commitment. Our sustainability approach reflects this. We are committed to engaging employees in our mission, transporting products safely, providing family-supporting jobs, operating ethically, protecting and strengthening the environment, and investing in America's communities.
Union Pacific's Chairman, President and CEO, and senior management oversee our corporate social responsibility strategy and report progress to the board of directors. A cross-functional management team is responsible for development and day-to-day management, while our nearly 42,000 full-time employees embrace and implement the strategy. Our stewardship is important – it's a way to unify our diverse workforce around a single purpose.
OUR SUSTAINABILITY AND CITIZENSHIP GOALS
Union Pacific's Building America Report details the company's progress against key pillars of our sustainability and citizenship strategy:
Operating a safe, efficient, reliable and environmentally responsible rail network that delivers the best customer experience.
Constantly improving employee and customer safety through training, education, innovation and investment.
Developing programs and processes, making us an employer of choice.
Growing our business profitably and responsibly so we can invest in the future and positively impact our stakeholders.
Creating economic strength and improving quality of life in the communities where our employees live and work.
Working to reduce locomotive fuel consumption 1.5 percent by 2020.
We track our performance toward these goals using the Key Performance Indicators (KPIs) shown in the table on page 10. Modeled after Global Reporting Initiative (GRI) standards, our KPIs align with our stakeholder groups' priorities. Achieving success in each category directly impacts Union Pacific's business. KPIs are updated annually in this report. Financial and safety performance results are presented during Union Pacific's quarterly earnings calls.
BUSINESS AND INDUSTRY AFFILIATIONS
Union Pacific is a member of many national industry and business organizations, including:
American Frozen Foods Institute
American Wind Energy Association
Association of American Railroads
Food Shippers of America
GoRail
GreenBiz Executive Network
Intermodal Association of North America
Midwest Association of Rail Shippers
National Association of Manufacturers
National Association of Rail Shippers
National Business Group on Health
National Freight Transportation Association
National Grain and Feed Association
National Minority Supplier Development Council
National Rail Labor Conference
National Safety Council
Operation Lifesaver
Pacific Northwest Association of Rail Shippers
Southwest Association of Rail Shippers
United States-Mexico Chamber of Commerce
U.S. Chamber of Commerce
Women's Business Development Center
Women's Business Enterprise National Council
Key Performance Indicators
| FINANCIAL | 2016 | 2017 | 2018 |
| --- | --- | --- | --- |
| Net income | $4.2 billion | $4.6 billion1 | $6 billion* |
| Operating revenue | $19.9 billion | $21.2 billion | $22.8 billion |
1 Non-GAAP results, adjusted to exclude Corporate Tax Reform impact. See Union Pacific's website, under Investors, and select Annual Report 10-Ks to read the Feb. 9 filing for a GAAP reconciliation.
OPERATING SAFELY
2016
2017
2018
Rail crossing accidents (per million train miles)
2.43
2.55
2.69
Reportable injury rate
(per 200,000 employee-hours)
0.75
0.79
0.82
STRENGTHENING COMMUNITIES
2016
2017
2018
Capital program
(private funds, no taxpayer dollars)
$3.5 billion
$3.1 billion
$3.2 billion
Spend with minority- and women-owned businesses
$325 million
$406 million
$357 million
ENGAGING EMPLOYEES
2016
2017
2018
Percent of unionized employees
85%
85%
85%
Workforce diversity2

6% Female,
94% Male
2% Asian
11% Black
72% Caucasian
13% Hispanic
2% Native American

6% Female
94% Male
2% Asian
12% Black
72% Caucasian
13% Hispanic
1% Native American

5% Female
95% Male
2% Asian
12% Black
71% Caucasian
14% Hispanic
1% Native American
2 U.S. Population 2015 census data (permits reporting of more than one race): 5% Asian, 13% Black, 77% Caucasian, 17% Hispanic, 1% Native American.
PROTECTING THE ENVIRONMENT
2016
2017
2018
Energy usage
40.6 million megawatt hours
41.9 million megawatt hours
44.5 million megawatt hours
Water usage withdrawals
1.26 billion gallons
1.14 billion gallons
1.2 billion gallons
GHG emissions
Intensity per million gross ton miles
12.6 metric tons
12.34 metric tons
12.79 metric tons
Locomotive fossil fuel emissions (scope 1)
9,913,870 metric tons
10,216,978 metric tons
10,873,854 metric tons
Fossil fuel emissions (scopes 1 and 2)
10,685,250 metric tons
10,969,898 metric tons
11,759,189 metric tons
Employee travel (scope 3)
18,603 metric tons
18,466 metric tons
17,138 metric tons
Purchases from biomass sources
119,872 metric tons
125,359 metric tons
122,692 metric tons
Waste
Total waste generated
1.10 million tons
1.25 million tons
2.09 million tons3
Tonnage diverted from landfills
68%
70%
71%
*Estimated in millions
3 2018 exceeded a typical year due to rail tie and petroleum contaminated soil disposal. We also moved to a new waste tonnage calculation system and will continue refining our approach in coming reports.
Stakeholder Engagement
Union Pacific's sustainability approach requires engaging with our four key stakeholder groups to understand their evolving needs, ultimately creating competitive advantages for customers, job stability for employees, strong returns for our shareholders and economic strength in our communities.
Stakeholders
Employees
Union Pacific employees work 24/7 across our 23-state service area. We engage employees through the following channels:
Communication from our CEO in many forms, such as online and in-person town halls with question-and-answer sessions; CEO videos covering key issues, including safety, Unified Plan 2020 and employee engagement; and a CEO blog highlighting observations from field visits and topics impacting the company.
Information Television Network.
Senior management town halls with question-and-answer sessions.
Employee clubs, resource groups, networks, focus groups and surveys.
Annual ethics training and regular ethics bulletins.
A values line allows employees to anonymously report concerns 24/7.
Customers
Union Pacific has great relationships with its customers. At the heart of those relationships is great communication. Communication enables us to develop solutions meeting their changing needs and supporting growth. We engage customers through the following channels:
Regular face-to-face, teleconferences and virtual meetings.
Our customer website.
Social media.
Customer communications, including letters from the executive vice president – Marketing and Sales.
Estimated time-of-arrival notifications.
Customer surveys and forums, evaluations and suggestions.
Our Customer Care and Support team.
Communities
Union Pacific's business positively impacts communities by creating economic growth and development for local businesses, career opportunities and reduced road congestion. We seek to support communities and manage potential negative impacts through the following channels:
Local public affairs representatives who regularly work with elected officials, economic development alliances, civic groups and other community organizations.
Our national 24/7 emergency hotline. In addition to emergency response, operators work with callers reporting issues, such as blocked crossings.
Event sponsorships and employee volunteerism.
Free safety training for emergency responders.
Inside Track – our website dedicated to sharing news, photos and videos about Union Pacific, our employees and the communities where we live and work.
Social media platforms, including Facebook, LinkedIn, Twitter, Instagram, YouTube and Glassdoor.
Shareholders
Clear communication with shareholders is important to Union Pacific. We engage them through the following channels:
Annual reports, proxy statements and Securities and Exchange Commission (SEC) flings.
Our Investor Relations site featuring upcoming events, public flings, industry reports, shareholder resources and answers to frequently asked questions.
Annual Building America Report and Investor Fact Book. Shareholder meetings with management and investor conferences.
Quarterly earnings reports and conference calls.
Other Key Audiences
Regulatory Officials
Union Pacific works closely with regulatory officials to align our business with the country's infrastructure requirements, shaping a responsible and sustainable operating environment through the following channels:
Transparent compliance reports, voluntary agreements and in-person meetings.
Ongoing dialogue via staff in Washington, D.C., and across our network.
Participation in the Association of American Railroads (AAR) and U.S. Environmental Protection Agency's (EPA's) SmartWay Transport Partnership.
Employee and corporate regulatory and legislative advocacy.
The Union Pacific Environmental Management Program.
Collaboration with U.S. Customs and Border Protection (CBP) and other government agencies.
Suppliers
Suppliers are an important part of Union Pacific's business – they help us serve our customers and provide quality materials and services. We manage suppliers through our Supplier Code of Conduct and Quality program, engaging them through the following channels:
Electronic commerce capabilities.
Supplier performance tracking system.
Supplier diversity program.
Key Awards and Recognition
Union Pacific is proud of the work we do, delivering the goods Americans use every day, building a diverse and inclusive workforce and strengthening communities. Our efforts were recognized with the following awards:
Fortune's most admired company among trucking, transportation and logistics for the eighth consecutive year.
Ranked among the world's largest transportation companies on the Forbes Global 2000.
Union Pacific Executive Vice President and Chief Financial Officer Rob Knight named best CFO for sixth consecutive year by Institutional Investor magazine on its list of airfreight and surface transportation companies.
Among Top 10 on Monster's Best Companies for Veterans List.
Named to Military Times' Best for Vets: Employers list for the eighth time and among 37 companies listed in the Military Times' Best for Vets Index.
Military Friendly Gold Award recipient.
Only Class I railroad on Mogul's list of Top 1000 Companies Worldwide for Millennial Women.
Named a Top Supporter of Historically Black Colleges and Universities Engineering Survey.
Named one of Inbound Logistics' Green Supply Chain Partners.
Received Nissan's North America Logistics Value to Customers Award.
Recognized as a Supplier of the Year for Performance in Sustainability in North America by BASF Corporation.
Received the Sister Cities International Citizen Diplomacy Corporate Responsibility Award.
Earned Gold level recognition from the American Heart Association on its Workplace Health Achievement Index for the quality and effectiveness of Union Pacific's workplace health programs.
A President's Journey
It was our honor and privilege to participate in former President George H.W. Bush's funeral, providing a train that carried his body from Spring, Texas, just outside of Houston, to College Station on Dec. 6.
The train was pulled by UP No. 4141, a locomotive designed to honor the nation's 41st president. It was originally unveiled in 2005 during a ceremony near the George Bush Presidential Library on the Texas A&M University campus. The custom-painted locomotive incorporates the colors of the Air Force One used during Mr. Bush's presidency and symbolizes national pride and strength.
For Union Pacific Locomotive Engineer June Nobles and Conductor Randy Kuhaneck, the honor of operating the funeral train was a matter of duty for a fallen sailor. Nobles and Kuhaneck served the U.S. Navy under Bush – Nobles for nine years, Kuhaneck for eight. Kuhaneck met Mr. Bush in 2005 when the president briefly took over the controls of No. 4141, following the locomotive's unveiling.
As the funeral train traveled 70 miles to College Station, it passed through towns including Wellborn, Navasota and Magnolia. Thousands lined the way with flags, flowers, crosses, large signs and formal military salutes, honoring the president.
"It was a very moving event," said Kuhaneck. "At times, I got emotional. This person – this president – touched a lot of people. His legacy can be summed up in two words: honesty and integrity."
This was the eighth time in U.S. history a train carried a president to his final resting place. The last funeral train was for President Dwight Eisenhower in 1969, passing through seven states before reaching its final destination in Kansas.
A special video documenting the former president's journey may be viewed on YouTube. Following the funeral procession, the locomotive returned to Omaha for a brief display and then traveled across our network, providing employees an opportunity to see the locomotive firsthand.
What's Ahead
2019 will be another year of change, and the end result will be a safer, more reliable and efficient network. We will focus on implementing our evolved strategy, helping employees understand the role their work plays in moving the company forward. By engaging employees, we can eliminate redundancies and tasks not related to achieving our objectives. Stronger employee engagement will be critical as we finish initial implementation of Unified Plan 2020. We will always be looking for new opportunities to make our railroad more efficient and reliable. As we make changes, we will continue working with customers, notifying them prior to changes.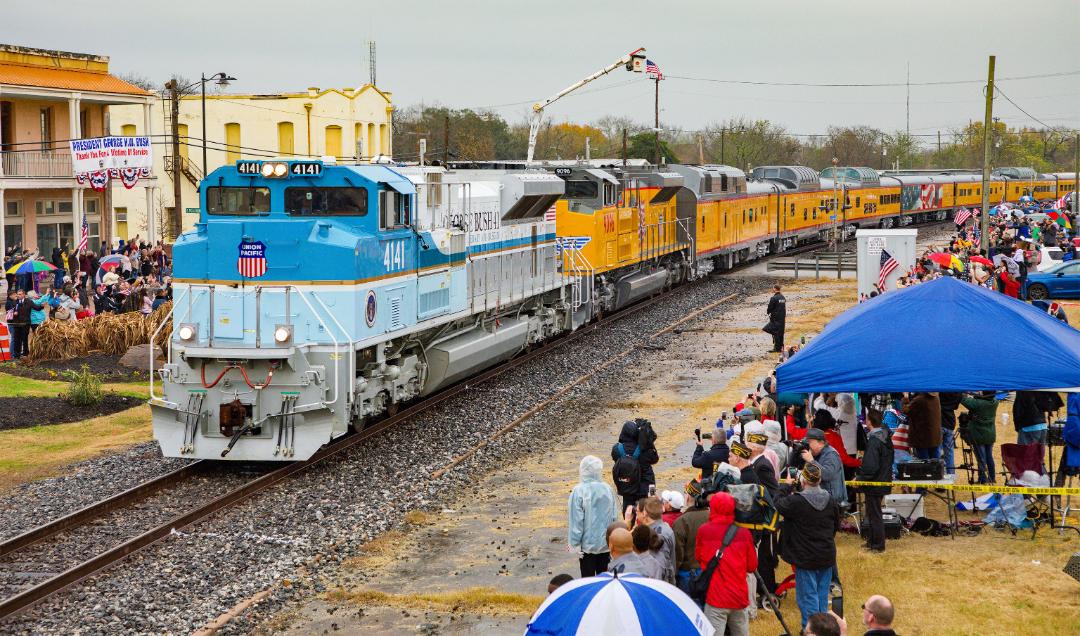 The 70-mile trip allowed thousands of Americans to participate in the president's funeral and pay their last respects.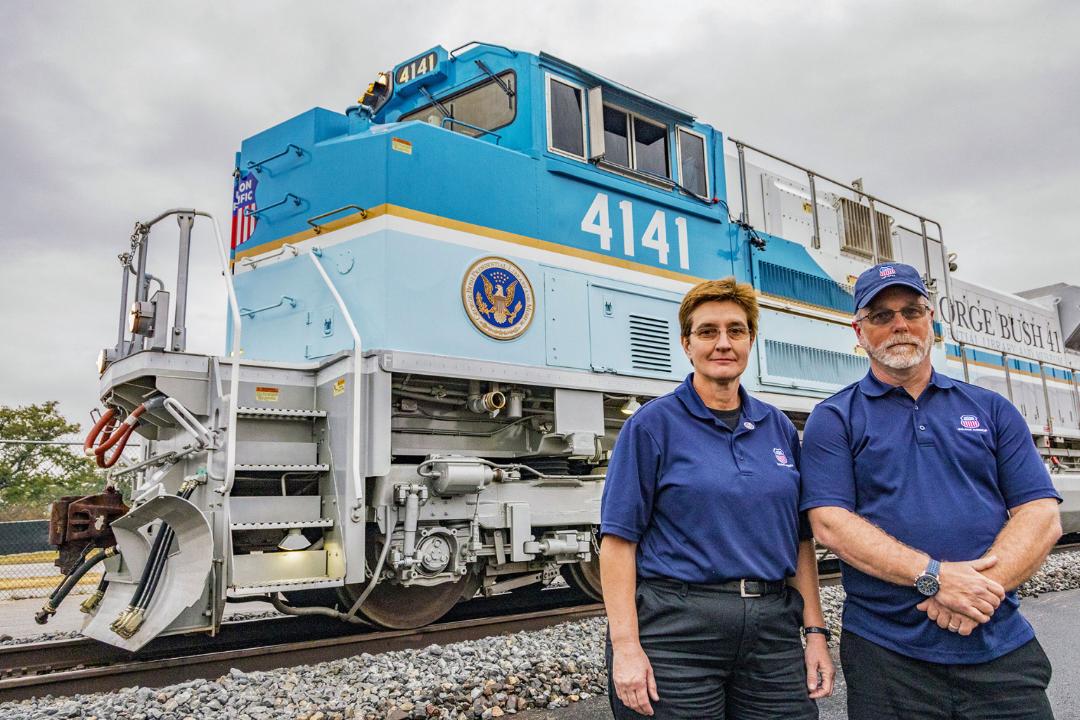 Locomotive Engineer June Nobles and Conductor Randy Kuhaneck felt the funeral train created a renewed sense of unity among Americans.