Protecting the Environment
A healthy environment is an essential foundation for a strong country – and a vibrant economy. Our vision of Building America involves protecting and strengthening this foundation.
Railroads are one of the most fuel efficient means of transportation. On average, trains are four times more fuel efficient than trucks. That means moving freight by rail instead of truck reduces greenhouse gas emissions by 75 percent. Those emissions are directly related to fuel consumption. On average, Union Pacific moved a ton of freight 444 miles on a gallon of diesel fuel. If 10 percent of freight moved by the nation's largest trucks was transported by rail, fuel savings would be more than 1.5 billion gallons per year and annual greenhouse gas emissions would fall by more than 17 million tons – equivalent to removing 3.2 million cars from highways for a year or planting 400 million trees.
We move freight in an environmentally responsible way, enabling sustainable economic growth, and we still recognize the importance of not being complacent about our operation's impact. As the world seeks to improve sustainability, we are working to reduce our carbon footprint and help our customers do the same.
1 Source: Association of American Railroads
2 Source: Association of American Railroads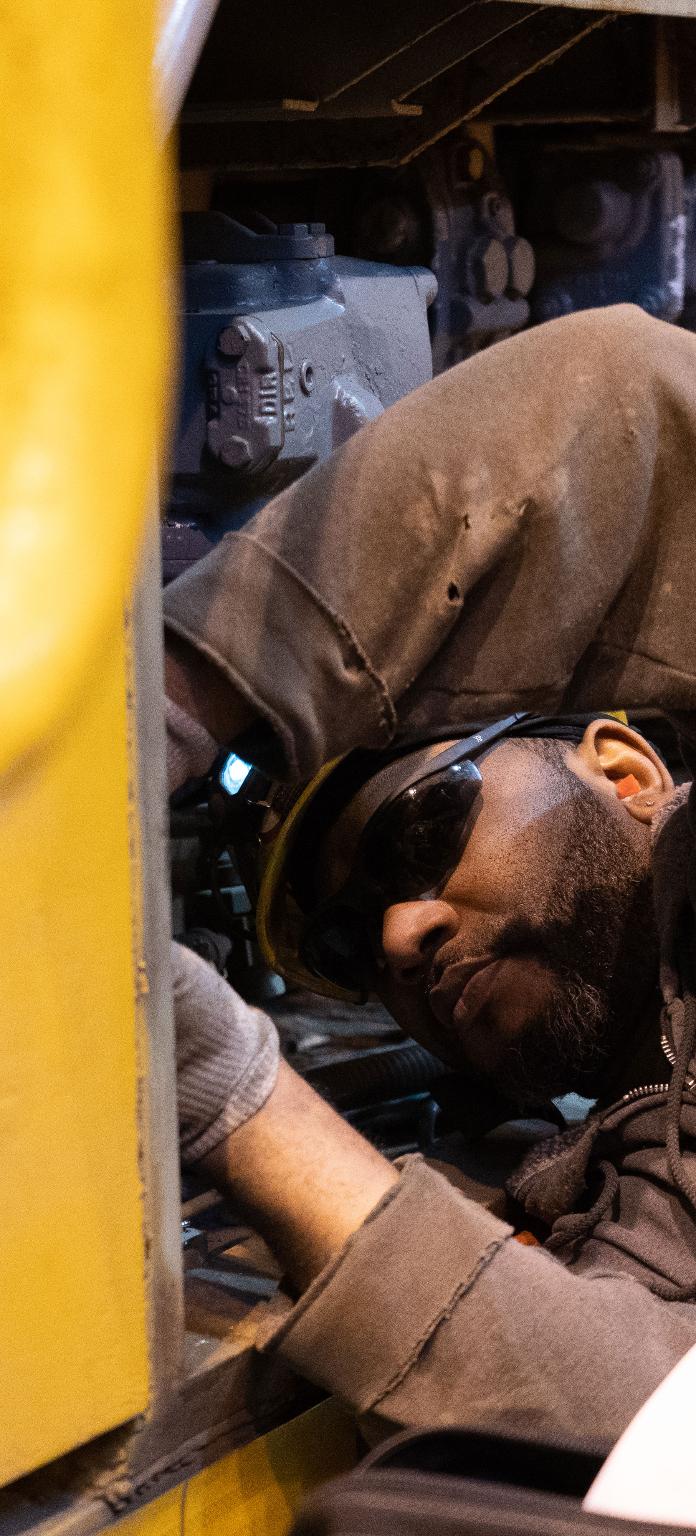 Our Approach to Environmental Management
Union Pacific's goal is to be a leader in moving goods in a fuel-efficient and environmentally responsible manner. Environmental Management policies and procedures provide a pathway for the company to meet or exceed applicable environmental laws and regulations.
Union Pacific's Environmental Management System improves processes and tracks performance. We strive to improve our performance by investing in technology, maintaining equipment and training employees in environmentally friendly behaviors.
Every Union Pacific employee must commit to preventing pollution, continuously improving and complying with all regulations, according to the company's environmental policy signed by Chairman, President and CEO Lance Fritz.
Our Environmental Management team oversees environmental compliance and is integrated into daily operations. The team rigorously plans, coordinates and communicates environmental requirements and best practices. It also engages employees in our Environmental Management mission and vision.
Environmental Risk Management
Union Pacific's assistant vice president of Fuel and Environmental Management is directly responsible for the company's progress regarding environmental compliance. Additionally, this position annually reports directly to the board of directors on environmental issues.
Continuous improvement in achieving the company's fuel efficiency goals, which directly impacts our emissions, is tied to our performance review process.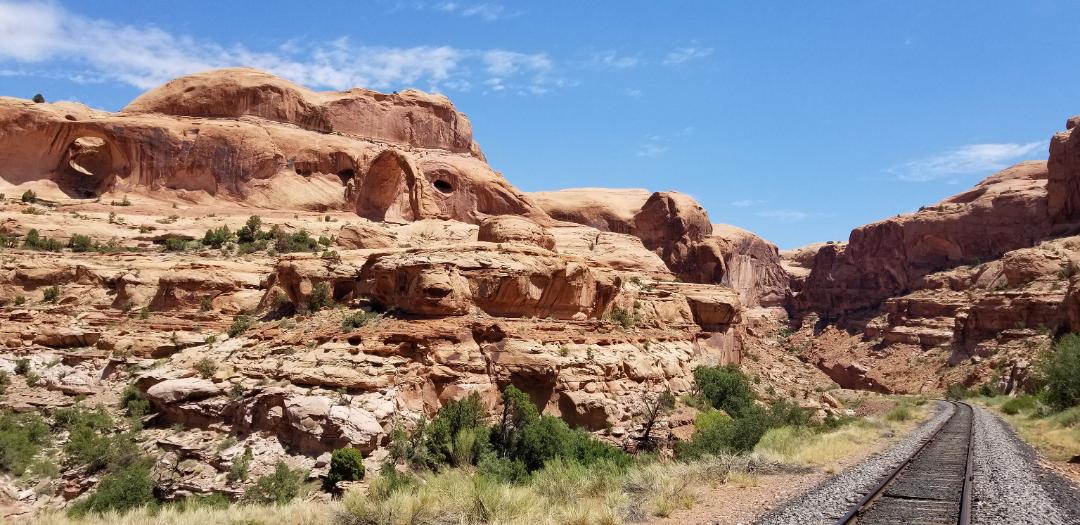 Union Pacific tracks traverse some of our country's most beautiful natural wonders, including Corona Arch in Moab, Utah.
Compliance
Union Pacific is subject to federal and state environmental statutes and regulations related to public health and environment, which are administered and monitored by the U.S. Environmental Protection Agency (EPA) and other federal and state agencies. Primary laws affecting rail operations include:
Resource Conservation and Recovery Act, regulating solid and hazardous waste management and disposal.
Comprehensive Environmental Response, Compensation and Liability Act, governing contaminated property cleanup.
Clean Air Act, regulating air emissions.
Clean Water Act, protecting the country's waters.
Union Pacific is committed to following applicable laws and regulations in all areas of our operations. From time to time, we are involved in legal proceedings, claims and litigation that occur in connection with our business. For example, we received notices from the EPA and state environmental laws for remediation costs at various sites throughout the United States, including sites on the Superfund National Priorities List or state superfund lists. We cannot predict the ultimate impact of these proceedings and suits because of the number of potentially responsible parties involved, the degree of contamination by various wastes, the scarcity and quality of volumetric data related to many of the sites, and the speculative nature of remediation costs. Where we are found in violation of specific rules or regulations, we seek remedy through the appropriate channels. More information on these notices can be found in our Annual Form 10-K.
Our Environmental Partners
We collaborate with a range of partners to identify opportunities to reduce our environmental impact and manage our land responsibly. Organizations with which Union Pacific collaborates include:
GreenBiz Network, a peer-to-peer learning forum for sustainability executives from a diverse group of some of the world's largest companies.
The California Council for Environmental and Economic Balance, a nonprofit, nonpartisan coalition of industry, labor and public leaders working to solve the most pressing environmental policy problems facing California.
The Association of American Railroads Environmental Affairs Committee, a rail industry forum sharing best practices.
Climate Change and Environmental Risks
We understand the Earth's climate is changing. As one of the nation's largest freight railroads, it is our responsibility to act as environmental stewards, working to reduce fuel consumption and greenhouse gas (GHG) emissions.
Railroads move approximately one-third of all U.S. exports and intercity freight volume in the United States. Despite the large volume, EPA data shows freight railroads only account for 0.5 percent of total U.S. GHG emissions and just 2 percent of emissions from transportation-related sources.
At Union Pacific, we moved a ton of freight 444 miles on a single gallon of diesel fuel in 2018, and we can do better. We are committed to investing in technology that helps us identify fuel saving opportunities and increase locomotive productivity. For example, new software helps us predict potential locomotive failures. It runs while a train is traveling our network, rather than requiring the locomotive to operate in a static position inside our yard, burning fuel.
While working to improve our environmental footprint, we also have robust processes in place to respond to climate change impacts. Union Pacific acts to strengthen our network's resiliency from potential effects of extreme weather events, such as blizzards, floods and hurricanes, which could lead to slower train speeds, service interruptions, track damage and recovery costs. We have emergency response procedures, which include moving required resources to regions likely to be affected. We also are pursuing improvements that further increase our infrastructure's resiliency, including mitigating the impact of potential sea level rise.
For additional information on how climate change could have a material adverse effect on operations results, financial condition and liquidity, see the risk factors in Union Pacific's Annual Form 10-K and CDP Filings.
Union Pacific earned an A- rating on the CDP's Climate Change Survey. We are proud of our achievements, resulting from the 11th consecutive year submitting climate change data to CDP.
Fighting The Camp Fire
North of Sacramento, California, the Camp Fire devastated the city of Paradise, destroying an estimated 11,800 buildings and burning 140,000 acres of land in Butte County. More than 5,600 emergency management personnel responded, and so did Union Pacific. We provided hyrailing vehicles – which can operate on rail and conventional road surfaces – and water car support in remote locations. The water supplied helped proactively battle the wildfire, keeping rail ties and bridges wet.
While the fire had minimal impact on our rail operations, many employees were significantly affected, including several who lost their homes. Signal Maintainer Rod Nijim, an 18-year employee working out of Chico, called the response overwhelming. His family, and others, received clothing, personal hygiene products, financial assistance and temporary housing.
"I'm blown away by the generosity, so many railroaders came forward, and the railroad gave me a place to go," said Nijim.
In addition to supporting our employees, The Community Ties Giving Program donated $15,000 to relief efforts through the American Red Cross.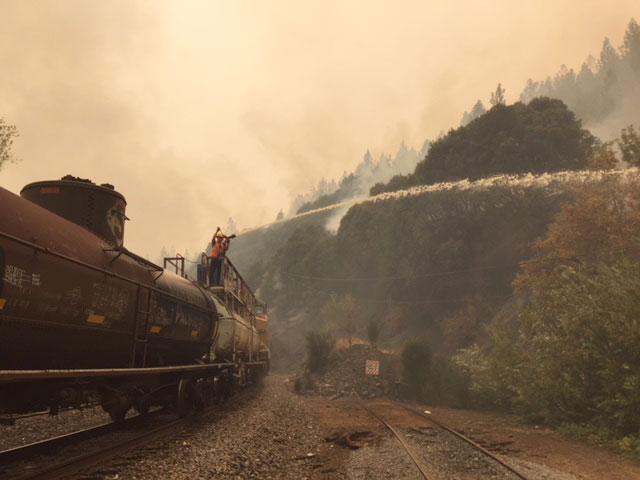 Northern California Service Unit employees between James and Pulga, California, use one ofmany "water cars" staged across the service unit to spray surrounding track.
Responding To Mother Nature
A muddy spring or geyser in Imperial County, California, near the Salton Sea, is impacting Union Pacific tracks connecting the Inland Empire to Yuma, Arizona. The exact cause is a mystery; however, it's believed to be partially due to historic earthquake activity, which allows underground gases to reach the earth's surface. In the last decade, geologists believe the muddy spring has moved more than 240 feet.
We're used to dealing with the aftereffects of Mother Nature. In this case, we're also on the defensive. We built a 100-foot long wall with boulders and steel, burying it more than 75 feet deep. Despite this effort, the spring continues its movement, leaving unstable ground in its wake. This summer, we installed a shoefly, or temporary track, that moves trains away from potentially unstable land. As we continue monitoring the situation, we also are considering alternative solutions, such as a bridge to completely bypass the area. Union Pacific remains in close contact with its local partners and we are prepared to respond as the geyser continues its slow march.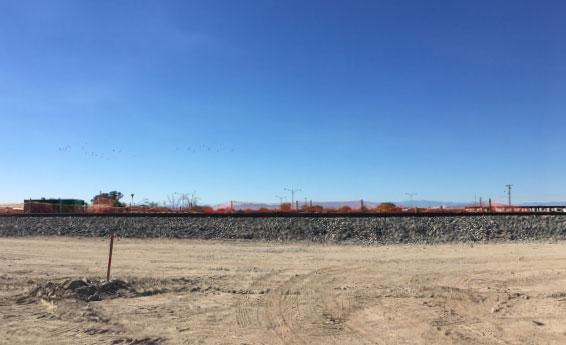 A shoefly was constructed to route train traffic away from the geyser.
Using Chainsaws And Helicopters To Trim Vegetation
Innovative ideas can come from anywhere, whether while watching TV or brainstorming with co-workers. The Mid-America Service Unit is known for trying new things. Kristina Stonner is in charge of vegetation control. When she suggested cutting brush and canopies with 24-inch blades on an 80-foot pole hanging from a helicopter, the service unit gave it a try. Their average cost dropped more than 70 percent, while productivity rose from half a mile to 5 miles per day.
From the St. Louis-area to North Little Rock, Arkansas, the idea took off. Now, helicopters equipped with saws are being used to eliminate canopies along our rights of way. Using this method eliminates the need to re-cut vegetation for five years, and maybe longer. A clear right of way also provides greater visibility and improves safety for train crews, as well as drivers and pedestrians traversing the tracks at designated crossings. Stonner is working on another process, equipping a train to spray the cut brush, weeds and vegetation along the mainline more efficiently and at reduced cost.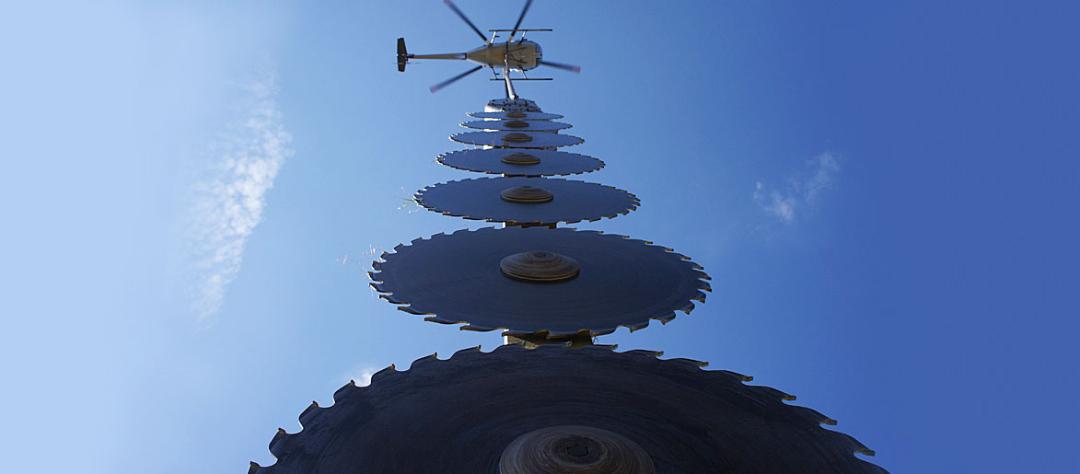 A 10-bladed saw suspended from a helicopter trims limbs and brush on rail rights of way.
Greenhouse Gas (GHG) Emissions Performance
Union Pacific locomotives produced 10,874,731 metric tons of GHG emissions, up from 10,216,978 metric tons in 2017 due to increased freight volume. Biomass source emissions were 122,692 metric tons, including 36,757 metric tons or 30 percent from renewable fuels. This is a decrease from 125,359 metric tons in 2017, which included 41,456 metric tons or 33 percent from renewable fuel.
Scope 3 emissions from employee travel totaled 17,138 metric tons, a decrease from 18,466 metric tons in 2017. Employee travel includes rental car fuel and commercial air travel.
Verification of Union Pacific Ranking GHG
Union Pacific worked with independent organizations to ensure an accurate annual GHG and emissions calculation. Cadmus Group assisted with methodology to accurately measure and calculate GHG inventory. GHD Limited will verify our GHG emissions inventory.
Fuel Efficiency
We strive to appropriately balance financial returns, environmental performance and social commitment. Fuel efficiency is a critical part of Union Pacific's sustainability approach. We have employees dedicated to finding ways to reduce consumption as diesel fuel accounts for approximately 17 percent of our operating expenses.
Fuel efficiency and carbon emission reductions fluctuate based on business volumes and commodity mix. Fuel efficiency improves when trains move heavier shipments. Unfortunately, we experienced heavy congestion across our system for much of the year. As we addressed these issues by streamlining process with Unified Plan 2020, our fuel efficiency improved in the fourth quarter. However, we ended the year with a 3 percent worse fuel consumption rate than 2017's best-ever performance. While we missed the first year of our 2018-2020 fuel goal, we remain steadfast in our commitment to further reduce locomotive consumption by 1.5 percent. From 2009-2018, our fuel consumption rate was essentially flat, however we saved more than 160 million gallons of fuel.
Innovative Locomotive Software Changes Help Save Fuel And Predict Failures
A software system in Union Pacific's high horsepower locomotives is helping predict locomotive failures and reduce fuel consumption. The program automatically captures a digital snapshot of a unit's engine parameters as it operates on a train, sending readouts to Mechanical employees for analysis. Previously, engines needed to be tested at a locomotive facility, burning roughly 35 gallons of diesel fuel. In addition to fuel savings, obtaining data while the locomotive is pulling freight helps us better predict potential failures and improve shop processes, increasing productivity. The concept was designed by our Engineering team, in partnership with external locomotive manufacturers. The software is installed on the majority of Union Pacific's high horsepower units.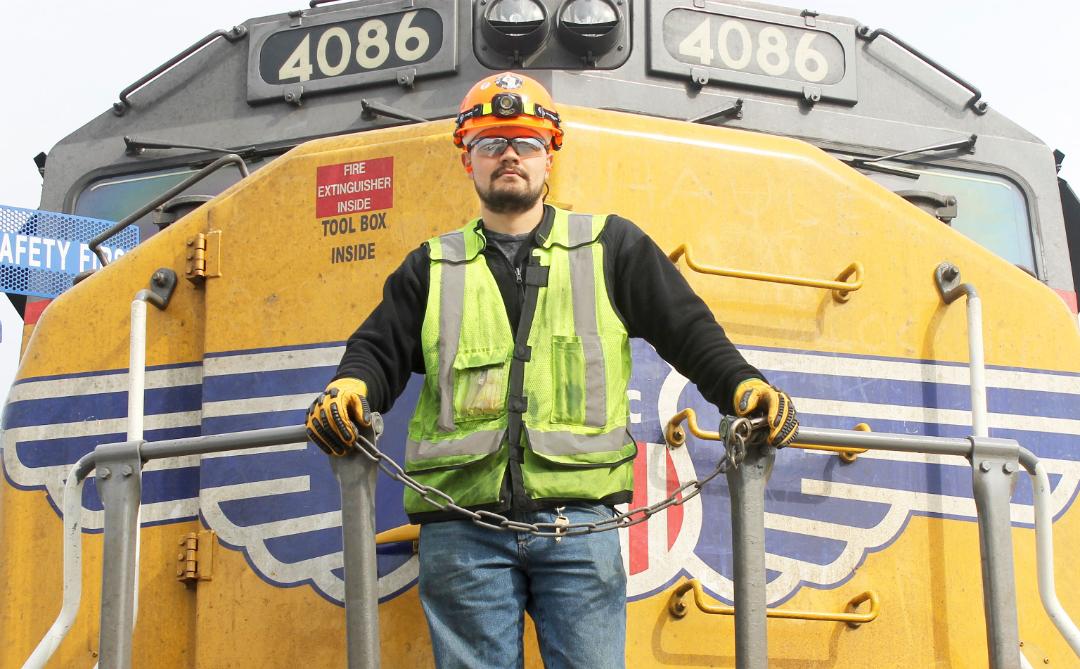 Mechanical Service Operator Camron Cox works to keep locomotives running at the Kansas City Locomotive Shop in Missouri.
Working With Customers To Reduce And Measure Emissions
Customers seeking to reduce carbon emissions can calculate savings from rail by using Union Pacific's online Carbon Emissions Estimator. Many also receive annual emissions savings estimates compared to moving goods by truck. Our customers eliminated an estimated 33 million metric tons of GHG emissions by choosing rail over truck transportation.
Investing In New Locomotives
Union Pacific acquired 51 new locomotives that meet the EPA's stringent Tier 4 emissions standards. Tier 4 standards reduce particulate emissions from diesel locomotives by as much as 90 percent and nitrogen oxide emissions by as much as 80 percent. We do not plan to purchase additional Tier 4 locomotives in 2019.
We invested roughly $3.8 billion in purchasing more than 1,500 new locomotives since 2008. These locomotives all meet the EPA's tier standards. Union Pacific retired more than 1,950 older, less fuel efficient locomotives over the same period. As a result of new locomotive and refurbishment programs, about 98 percent of Union Pacific locomotives meet EPA emissions standards.
Incorporating Technology
Technology plays a fundamental role in Union Pacific's fuel efficiency performance, supporting the train crews responsible for the daily movement of goods Americans rely on. The following technologies help drive fuel efficiency across the system.
Trip Optimizer and LEADER are energy management systems that work like cruise control. They automatically control a locomotive's throttle and dynamic brake to reduce fuel usage, minimize GHG emissions and optimize train handling. The systems calculate the most efficient way of operating a train by considering such factors as train length, weight, grade, track conditions and locomotive performance.
Our more than 1,500 LEADER- and Trip Optimizer-enabled locomotives completed more than 3.5 million trip miles. We deployed enhancements that allow the systems to integrate with PTC, providing increased efficiency opportunities.
Process improvements reduce fuel consumption and GHG emissions by optimizing how we manage and maintain locomotives. For example, Union Pacific's cross-functional Fuel Mizers Load Testing Reduction Team implemented a more efficient process for locomotive tests that ensures engines and generators produce enough horsepower to pull loaded rail cars. The process reduces fuel consumption by more than 3.5 million gallons annually and improves reliability.
New Locomotives Designed To Reduce Emissions
The Sacramento Metropolitan Air Quality Management District and the Bay Area Air Quality Management District awarded approximately $15 million in grants to repower 10 diesel-electric switching locomotives into new EPA-certified Tier 4 single-engine switching locomotives. Switching locomotives operate within rail yards, assembling and disassembling trains. Because they remain in a concentrated area, improving switching locomotive emission levels can improve the air quality regionally.
Funding was made possible through California's Proposition 1B: Goods Movement Emission Reduction Program, a partnership between the California Air Resources Control Board and local air districts. The program is aimed at incentivizing freight-moving equipment owners to upgrade to cleaner technologies.
The repowered locomotives will reduce particulate matter and nitrogen oxide emissions by more than 90 percent. Union Pacific is the only Class 1 railroad operating Tier 4 Genset switchers and is the first Class 1 to pursue Tier 4 single-engine repowers. A single engine means the locomotives should be more reliable and easier to repair.
"The use of this technology will improve air quality, and in the long-term reduce regional ozone levels," said Kristian Damkier, an air quality engineer with the Sac Metro Air District. "Union Pacific is stepping up to the plate and working with us to make these projects happen."
The new switchers operate exclusively in California.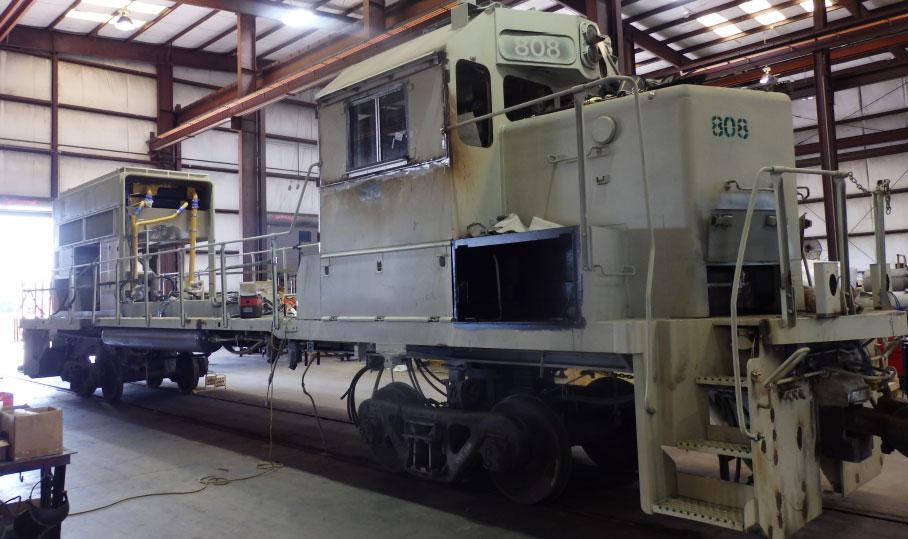 A stripped-down switcher locomotive waits to be repowered into a new Tier 4 switcher.
Energy Conservation
Union Pacific's utility conservation projects reduced energy consumption by 3.1 million kWh, which is enough to annually power more than 280 U.S. homes. Many projects were employee-driven solutions, such as retrofitting lights with LED bulbs and upgrading air compressor systems. These solutions also provide guidance for future initiatives.
| Energy Consumption* | 2016 | 2017 | 2018 |
| --- | --- | --- | --- |
| Diesel | 979.9 Gallons | 1,010.6 Gallons | 1,075.1 Gallons |
| Gasoline | 11.5 Gallons | 11.5 Gallons | 10.7 Gallons |
| Other Fuel | 11.4 Gallons | 10.9 Gallons | 15.2 Gallons |
| Electricity | 648.9 Kilowatt Hours | 682.9 Kilowatt Hours | 899.37 Kilowatt Hours |
| Natural Gas | 573.6 Standard Cubic Feet | 606.9 Standard Cubic Feet | 637.094 Standard Cubic Feet |
*Estimated in millions
A Bright Solution Reduces Energy Use
Union Pacific is working to reduce its carbon footprint by using solar power and LED light bulbs. In addition to saving financial resources, these options place less demand on the nation's energy grid, and, ultimately, the natural resources used to power it.
We implemented LED lighting at a number of facilities, including five new solar LED yard lights at Provo Yard in Wendover, Utah. The new lights improve safety, security and visibility for train crews working in the yard at night. In Long Beach, California, crews replaced 91 high-mast tower lights at our Intermodal Container Transfer Facility (ICTF) ramp. We also began switching out indoor light fixtures and will continue to make updates until the yard is 100 percent LED. Already, we estimate the energy savings at ICTF will be more than 2.7 million kWh per year. That's enough power to charge 83,000 2018 Tesla Model S vehicles for 100 miles each.
Union Pacific installs solar signals capable of powering our signal system in areas where traditional power sources are difficult to reach. So far, more than 130 locations are using the technology, including Gila Bend, Arizona, and Sentinel, California. In 2018, they generated an estimated 318,000 kWh, which is enough to power an additional 9,600 Teslas.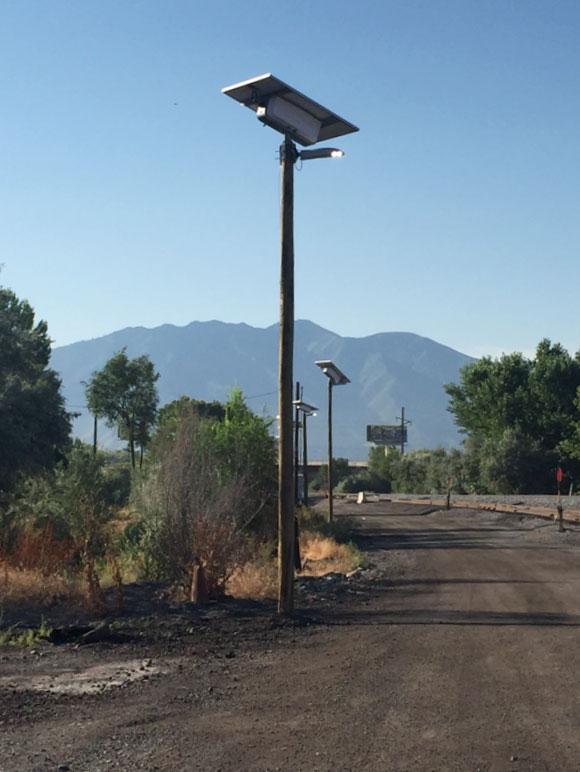 New solar LED lights help train crews safely build trains at night in Utah's Provo Yard.
Waste Management
Union Pacific generated an estimated 2.09 million tons of waste and diverted approximately 71 percent of this waste from landfills. We annually recycle about 300,000 tons of scrap metal, the most energy efficient recyclable material. It is the second largest contributor – behind rail ties – to our success diverting recyclable materials from landfills. Steel, aluminum and copper are the most recycled materials on the planet and found in a variety of unexpected products. From appliances to cell phones, buildings and highways, recyclable materials are globally transforming construction and consumer products.
We provide steel recycling bins for employee use at fixed facilities, along our right of way and at off-site locations. Recyclable track material and railroad equipment include rail, tie plates, spikes, anchors, locomotives, rail cars and retired Engineering Maintenance of Way roadway equipment.
The Paramount In Waste Disposal
A new waste disposal process implemented in three California locomotive shops is paying off. Previously, dumpsters were trucked to and emptied at a local landfill. Now, containers are loaded onto a train and taken to Paramount, California, where waste is sorted, consolidated and sent by train to East Carbon Development Company landfill in Utah. The employee-led initiative required collaboration between the Operating and Environmental teams. They looked for opportunities to further refine the process, performing detailed sampling of waste materials, which consisted mainly of track sand, rags and cardboard.
Disposing Of E-Waste
Union Pacific recycles electronics no longer in use, commonly known as e-waste. We recycled or distributed about 274,000 pounds of electronic equipment and more than 1.1 million pounds of signal batteries. We also invite employees to drop off obsolete and unwanted electronics at our Omaha headquarters.
Recycling Fuel And Oil
We recycled more than 5.2 million gallons of oil and fuel at our facilities. Union Pacific facilities have systems to catch spills and extract engine oil from wastewater. Facilities also use fuel nozzles that shut off automatically, preventing locomotive fuel tank overflow.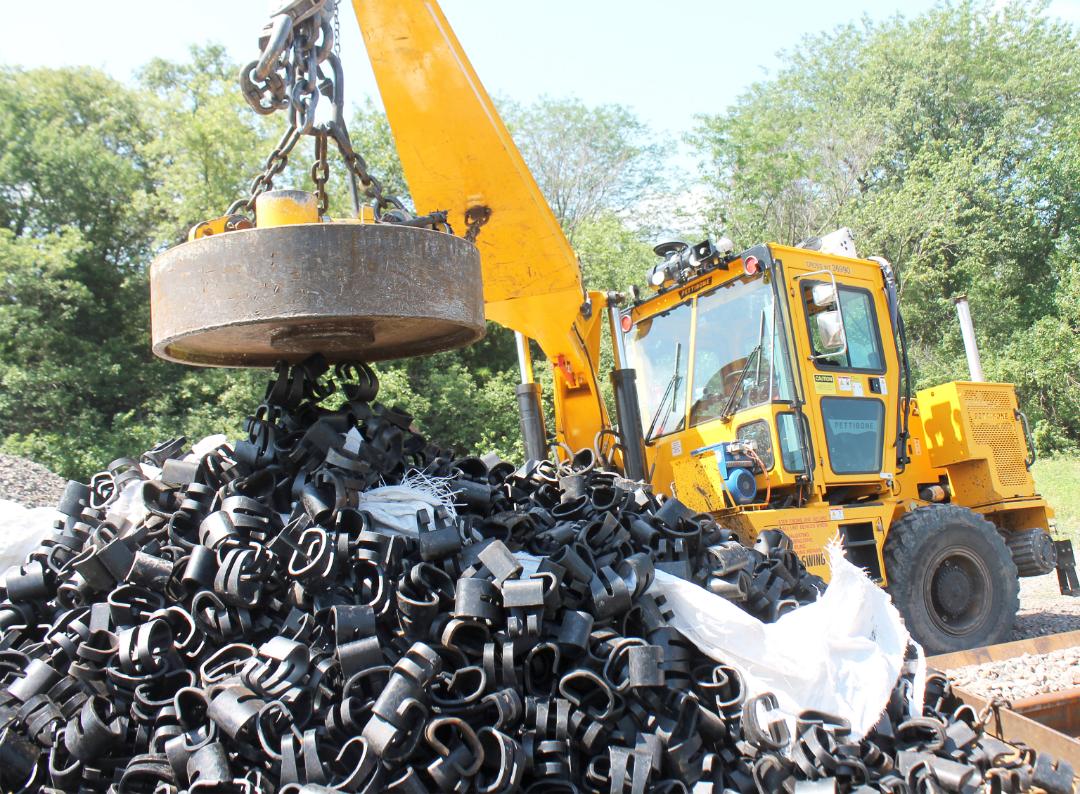 A speed swing operator compiles clips for recycling on the Marysville Subdivision in Nebraska.
Water Management
Many parts of the country experience water stress in local and regional watersheds. The U.S. Global Change Research Program notes widespread stress in much of the Southwest, western Great Plains and parts of the Northwest. We operate in many of these areas, and while managing thousands of utility accounts across our network can be challenging, we take our conservation responsibility seriously. Union Pacific used an estimated 1.2 billion gallons of water, a decrease from 1.14 billion in 2017. We continue exploring ways to conserve.
We analyzed the accounts, researched irregularities and identified opportunities to conserve millions of gallons. We made changes and repairs, eliminating unnecessary water use. Our team is focused on using data to identify and address consumption changes, which might suggest a leak or other issue.
Union Pacific helps protect water resources from our operations through spill prevention controls and countermeasure plans at more than 130 facilities. Ninety-nine wastewater treatment facilities capture and treat water from equipment washing and maintenance. We also treat captured wastewater to comply with government regulations and wastewater discharge permits.
Reporting Water To CDP
Union Pacific was the first Class 1 railroad to report water consumption to CDP, which we submitted for the fifth consecutive year. The company's B rating reflects our awareness of the impacts of business activities on the environment, people, ecosystems and vice versa. The CDP results help our efforts to measure, monitor and report water consumption.
Leak Reduction Initiative
We analyzed water accounts and researched consumption irregularities, as well as identified opportunities to conserve millions of gallons of water.
We made multiple changes and repairs eliminating unnecessary water use. We saved an estimated 6.9 million gallons by fixing identified leaks in Oakland and Truckee, California; Salt Lake City, Utah; and Big Springs, Houston and Marion, Texas.
A Scientific Approach To Flood Risk Management
Union Pacific is working with scientists at the U.S. National Oceanic and Atmospheric Administration (NOAA) to determine which spots along our 32,000 mile network are most vulnerable to catastrophic water flows from storms and build a plan to ensure their resiliency. For example, the Houston area was devastated by Hurricane Harvey in 2017. At the height of the storm, we had 1,750 miles of track out of service. The dedication of our employees and successful implementation of our Hurricane Response Plan allowed us to repair 97 percent – all but 50 miles of track – in just 10 days.
Our NOAA partnership helps us identify at-risk areas and determine what steps should be taken to prevent the impacts from another "Harvey." That could mean creating culverts or raising the railroad tracks – whatever it takes to maintain traffic flow. Despite these efforts, we continue our vigilance monitoring extreme weather and are ready to act, whether that means dispatching emergency response teams, modifying our train schedules, preparing surge resources (ie. Engineering work crews, pumps, generators, locomotives and ballast) or moving equipment to higher ground.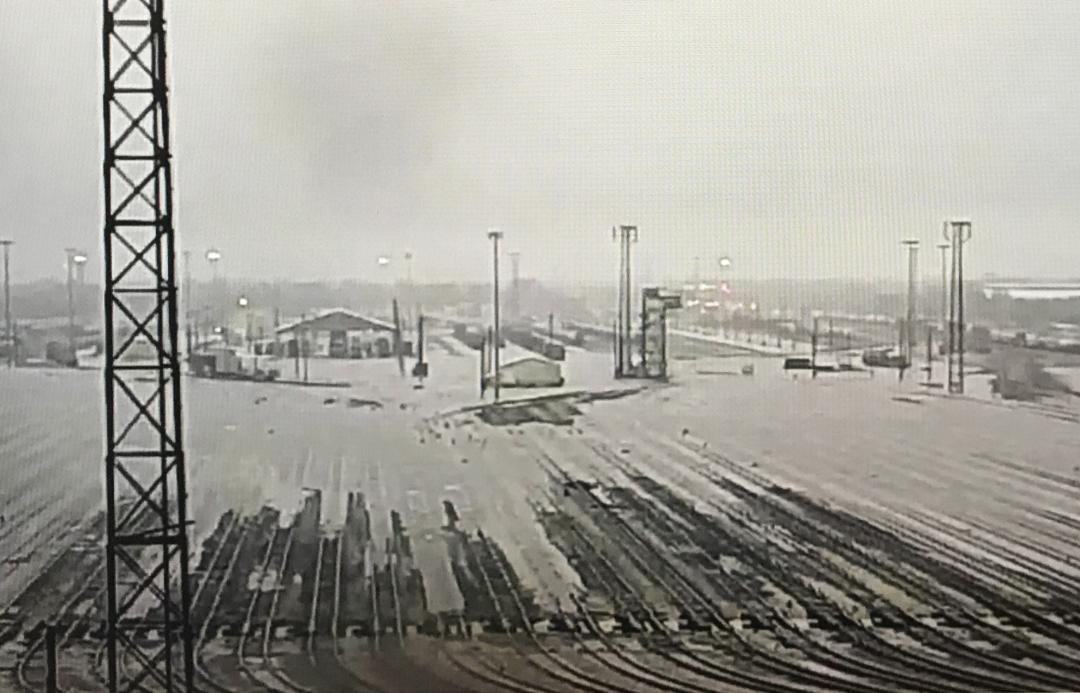 Extreme weather events, such as the devastation left by Hurricane Harvey in 2017 at Houston's Englewood Yard, make flood risk management critical.
Biodiversity and Land Preservation
Biodiversity refers to the variety of living organisms in a particular habitat or ecosystem. Our footprint touches many diverse ecosystems, and we are committed to being a responsible steward of the land we own. We work to preserve our ecosystems, improve our resiliency and reduce our impacts. This is fundamental to ensuring a healthy environment and supporting vibrant local economies.
Union Pacific implements habitat conservation plans to protect ecosystems and endangered species in various locations. Plans in the western half of our network will impact species including the desert tortoise, endangered southwestern willow flycatcher and valley elderberry longhorn beetle.
Restoring The Persimmon Gully Preserve
At the start of the 20th century, longleaf pine forests, woodlands and savannas covered 90 million acres, throughout the Coastal Plain and stretching from southeast Virginia to east Texas. The highly valued wood was harvested and used to build homes in Philadelphia, Baltimore and New York and was delivered across the Atlantic to European cities. By the 1990s, only 3 percent of its original footprint remained.
The Nature Conservancy and a coalition of public and private partners, including Union Pacific through its Community Ties Giving Program, are working to conserve and restore the longleaf pine habitat. Persimmon Gully Preserve, near DeQuincy, Louisiana, is a longleaf-dominated flatwoods savanna. Prescribed fire and selective herbicide work are being used to continue the restoration and health of these diverse ecosystems. Clearing the understory of brush also provides important habitats for many wildlife species, such as the southern fox squirrel, eastern screech owl and red-cockaded woodpecker.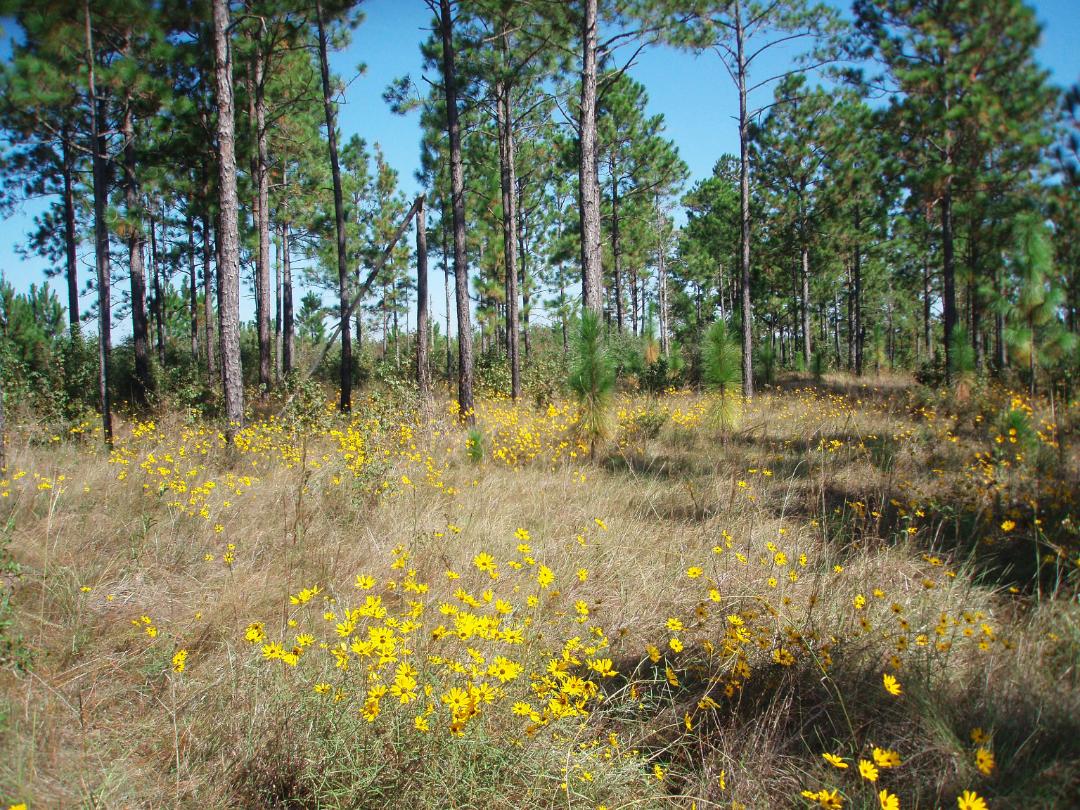 Persimmon Gully Preserve near DeQuincy, Louisiana, where excess brush was removed, allowing grasses and wildlife to once again flourish. (Courtesy: The Nature Conservancy)
What's Ahead
Leveraging efficiencies gained under our Unified Plan 2020 initiatives, we will continue diligently working toward achieving our 3-year fuel consumption goal-reducing locomotive consumption by 1.5 percent in total through 2020. One way we plan to optimize fuel consumption is expanding the use of our energy management system (EMS), by equipping most of our high-horsepower locomotive fleet with the technology. EMS equipped locomotives will be able to use the system, similar to cruise control, in all locations utilizing Positive Train Control (PTC). PTC provides the two-way communication and data needed to optimize EMS technology.