Strengthening Our Communities
Union Pacific takes tremendous pride in our community relationships and efforts to improve the places where we live and work through the Community Ties Giving Program and volunteer efforts. We supported more than 2,600 nonprofit partners, donated $20 million to community efforts, and our public affairs representatives are members of more than 180 local civic organizations, such as chambers of commerce and economic development organizations.
Union Pacific's lines of communication are open to local and state agency officials, neighborhood groups and local citizens. Our public affairs representatives facilitate resources and address operations-related concerns reported directly through our 24/7 community line and website. Communities are one of Union Pacific's key stakeholders, and we are committed to serving and investing in their futures.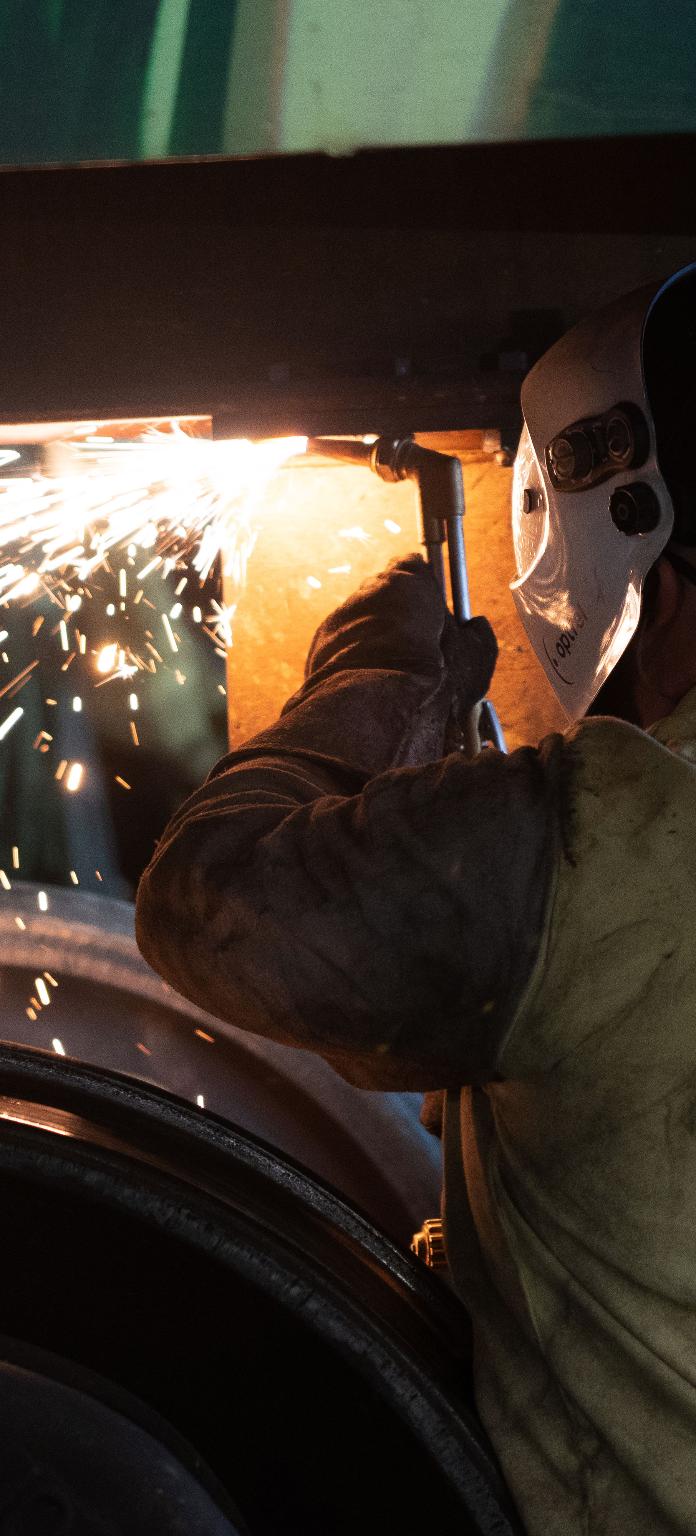 The Community Ties Giving Program
Union Pacific's charitable giving programs have helped thousands of nonprofit organizations achieve their missions since 1959. Evolving with the changing needs of the communities we call home, we redesigned our philanthropic giving program in 2017 and it took on a new name, the Community Ties Giving Program.
Fully implemented in 2018, funding allocated by the Community Ties Giving Program ranges from $2,500-$25,000 for organizations receiving local grants to $3 million for multi-year key partnerships. We understand each community has its unique challenges and opportunities. The programs we support align with one or more of our social impact goals related to safety, workforce development and community spaces. Together, our work in these areas builds safe, prosperous and vibrant communities – places people want to live and work.
Safety
Communities thrive when residents feel safe. Union Pacific is committed to helping communities prevent and prepare for accidents and emergencies, ensuring everyone gets home safely at the end of each day. This reflects our commitment to employee safety and the communities through which our railroad passes. We prioritize funding for programs that achieve the following objectives:
Encourage safe behaviors and prevent accidents through education and awareness, particularly projects focused on rail, driver, bike and pedestrian safety.
Eliminate risks and improve safe access to community spaces through infrastructure improvements. Examples include signage, proper lighting and public trail upgrades.
Prepare and equip residents and emergency responders to effectively respond to incidents and emergencies, if or when they occur.
Prevent crime and violent incidents through efforts addressing the root causes and seeking to mitigate their occurrence.
Safety Spotlight
A Lesson in Bicycle Safety
Each year in California, more than 100 bicyclists are killed and 10,000 injured. In many cases, incidents were preventable. Union Pacific supported the Sacramento Police Foundation's efforts to change the statistics through its Pedals program. Police officers provide important safety gear, including reflectors and helmets, and encourage safe behavior for children and teens riding in the community and near railroad tracks.
The program also is geared toward improving inner-city youth self-esteem and reducing juvenile delinquency. Research shows young adults who have a positive outdoor outlet are less likely to commit a crime. Officers hope their interactions through the Pedals program build positive relationships and trust in the communities they serve.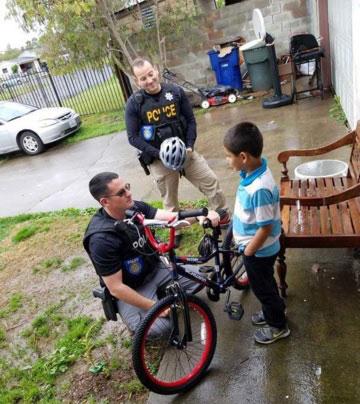 Sacramento police officers discuss safety and build relationships through the bike giveaway program.
Workforce Development
For more than 155 years, Union Pacific has helped stimulate growth in cities and towns across the nation by training and providing employment to thousands of workers. We believe a skilled workforce and access to jobs paying good wages are essential elements for a prosperous community. We prioritize funding for programs that seek the following objectives:
Put youth on the right track by creating awareness of family-supporting jobs, such as those offered by Union Pacific, and building foundational skills, specifically in Science, Technology, Engineering and Mathematics (STEM)-related fields, as well as necessary technical and life skills to begin a trajectory toward these careers.
Raise awareness of, educate and prepare young adults for middle-skills jobs through community colleges, vocational and career training programs, workforce readiness initiatives and programs assisting with job placement and/or on-the-job experience.
"Up skill" the existing workforce by providing training and resources enabling workers to reach the next level in their careers.
Provide training and mentorship for nonprofit professionals, helping them grow and advance their organizations.
Workforce Development Spotlight
Creating a Passion for STEM
In Chicago's inner-city schools, phrases like "I'm just not good at math" echo among low-income students, many of whom don't consider a career in STEM fields a possibility. That's where the Big Shoulders Fund steps in, offering programs, such as math games for elementary children during indoor recess, and coding and robotics for high school students.
Union Pacific is proud to support the Big Shoulders Fund, an extended-day after-school program providing students an opportunity to experience how science, technology, engineering and math create career paths. Research shows interest in these fields wanes in middle school, especially if students don't see STEM professionals where they live. An investment in students at a young age creates a passion for STEM-related careers, which is critical for students and our nation.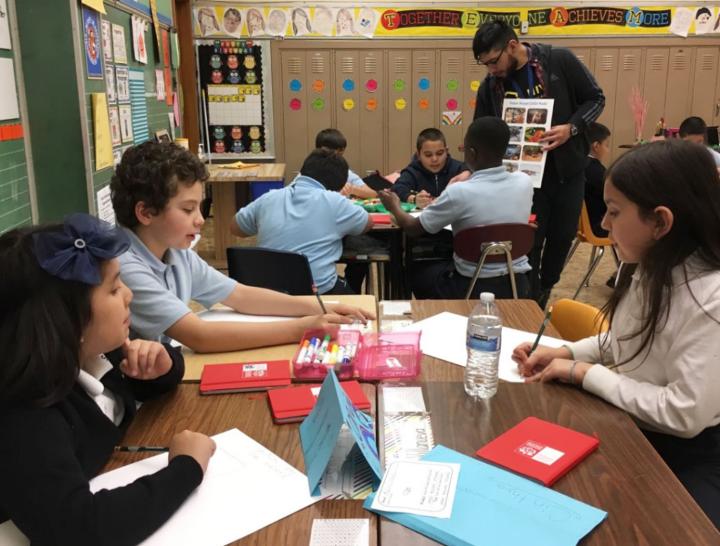 Students discuss a group science project in St. Nicholas of Tolentine School's science club, a program supported by the Big Shoulders Fund.
Community Spaces
Vibrant communities attract businesses, tourists and skilled workers. We seek to ensure residents within our communities have access to special places celebrating cultural diversity, artistic expression, our natural environment and the social interactions enriching their lives. We believe such community spaces contribute to the distinct identity of cities and towns. We prioritize funding for programs and projects that meet the following objectives:
Create, sustain or expand upon artistic and cultural experiences offered to a broad and diverse audience. For example, museums, theaters, libraries, concerts and lectures.
Preserve and share a local community's unique history, including projects related to trains and/or Union Pacific history.
Provide clean, safe and positive outdoor recreational and/or educational opportunities fostering an appreciation for our natural environment.
Beautify neighborhoods and main street areas to improve livability, promote commerce and, ultimately, attract more residents, businesses and visitors.
Plan for, create or enhance unique spaces reflecting a community's character, and diverse needs and desires.
Community Spaces Spotlight
Building America One Playground at a Time
A dream is coming true in Fort Worth, Texas. Work is underway to transform an old playground into Dream Park, designed to ensure no child is left on the sidelines due to a disability. The new, universally inclusive playground goes above and beyond Americans with Disabilities Act guidelines. Special features include a stainless steel roller slide, cozy dome for children with Autism, adaptive swings, a zipline and musical components.
Union Pacific is proud to partner on this project, giving all children, parents, grandparents and other community members with disabilities a place to play together; ultimately building the foundation for a more inclusive society. When completed in spring of 2019, Dream Park will be one of the largest inclusive playgrounds in Texas.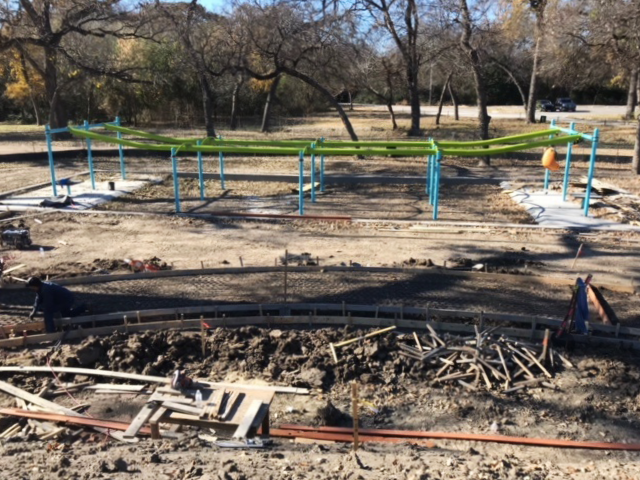 Dream Park construction began in September with equipment installation, followed by rubber surfacing, sidewalk and fence work.
Our Impact
Community Spaces
280
community buildings constructed or enhanced
330
green spaces created or enhanced
780
public spaces cleaned
Safety
1.1M
trained in safety procedures
27k
hours of safety training
2,800
emergency services equipment procured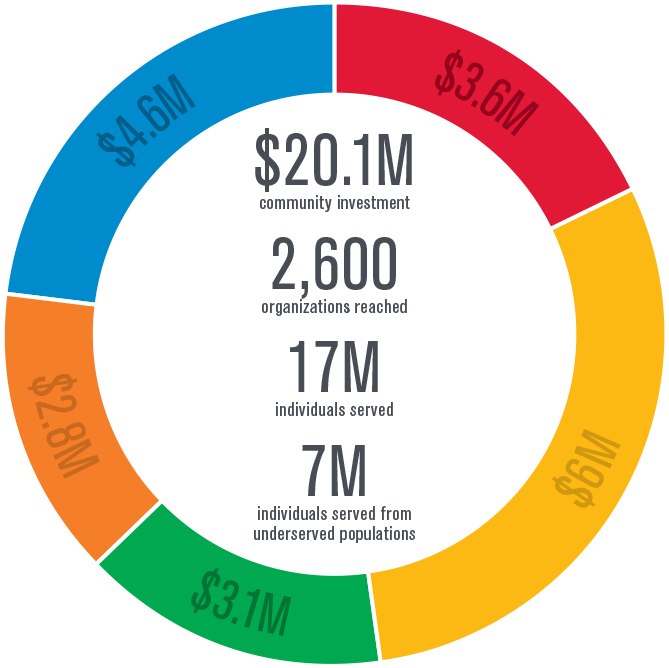 Workforce Development
19k
job placements
230k
hours of career-related classroom training provided
Local Community Support
corporate sponsorships, memberships, and local needs grants
Matching Gifts
GivePLUS and FFEG
Key Partnerships
From local grants to key partnerships, our philanthropic outreach aligns with Union Pacific's long-standing commitment to building America. Key partnerships incorporate two subgroups, regional and national, and provide large-scale, targeted grants intended to achieve significant, measurable and sustainable impact in our communities, while supporting Union Pacific's key areas of giving in safety, workforce development and community spaces.
National Partners
Following a nationwide search, Safe Kids Worldwide, Local Initiatives Support Corporation (LISC) and the National Park Foundation were selected as national key partners, each receiving $1 million in 2018. Our partnership with these world-class nonprofit organizations continues into 2019 with an additional $1 million in funding for each group. Together, we are empowering communities to create a safe place for children and families, bringing economic prosperity and well-being to our neighborhoods, and encouraging exploration of our country's greatest treasures – national parks.
Safe Kids Worldwide
Safe Kids Worldwide is a nonprofit organization working to prevent childhood injury, the No. 1 cause of death for children in the United States.
Our partnership with Safe Kids Worldwide is designed to reach a full continuum – from pre-schoolers to K-12 youth, and parents – with research-based education and messaging designed to reduce risky behaviors that lead to rail-related incidents.
In partnership with Scholastic and Safe Kids Worldwide, we developed a new Clifford the Big Red Dog book, in which Clifford and his friends encounter a railroad crossing both by school bus and on foot, and learn valuable lessons about rail safety. The new book launched in December, and is a fun tool for Safe Kids Worldwide and Union Pacific employees to share in their communities.
Safe Kids Worldwide refreshed its "Start Safe Travel" program material to include a new section on rail safety. The content is distributed to local coalitions across the United States, who then present the material at Head Start centers and community events. The material was leveraged during National Rail Safety Week, engaging more than 300,000 social media users.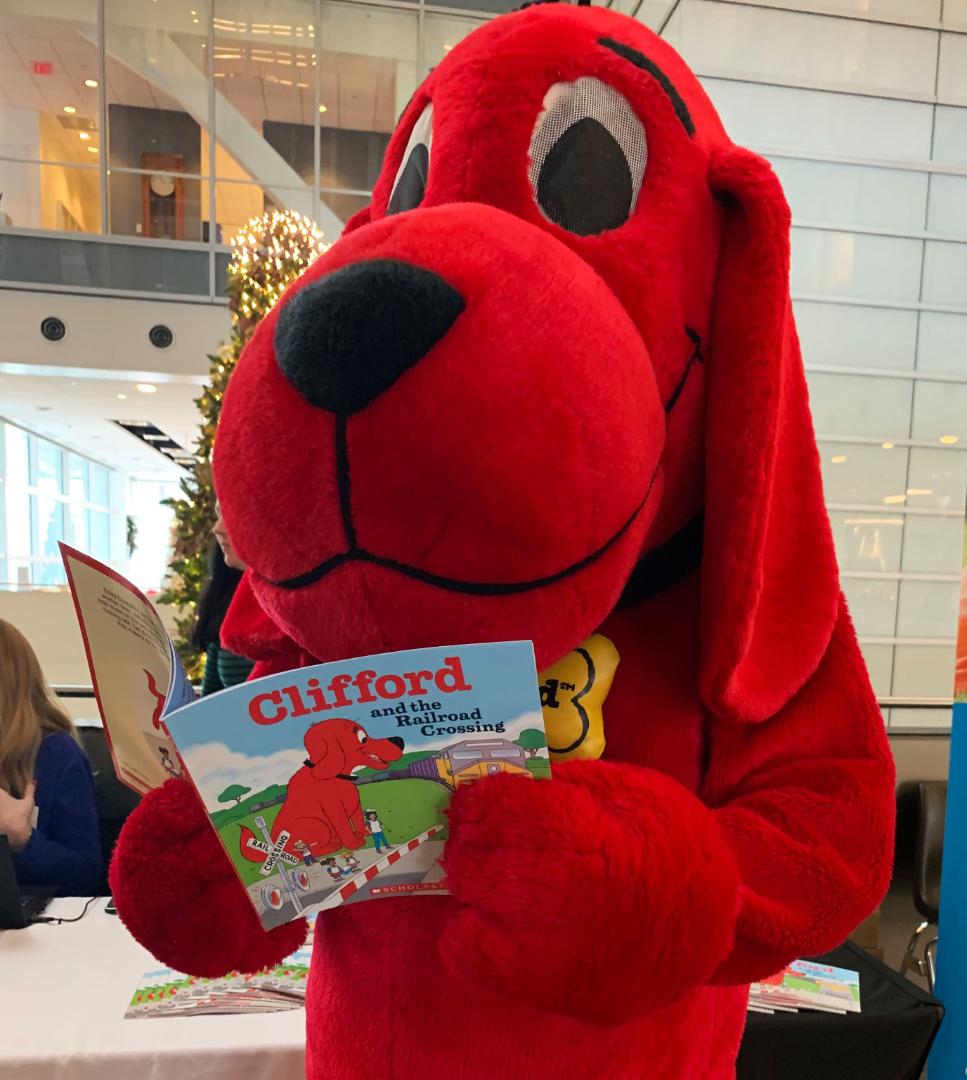 Clifford the Big Red Dog makes a special visit to Union Pacific Center in Omaha, Nebraska, to launch his new book, "Clifford and the Railroad Crossing."
LISC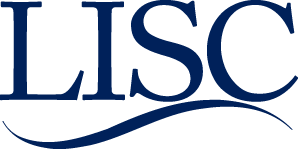 Union Pacific is partnering with LISC to invest in American workers and an economic future based on quality jobs. Our partnership is fueling the Bridges to Career Opportunities (Bridges) program, which helps participants build foundational literacy, math and technical skills, allowing them to qualify for training and credentialing programs that can lead to living-wage jobs. The curriculum is tailored to local growth industries and includes "soft skills" that are necessary for success in a work environment.
The Bridges program is part of an integrated set of services offered by LISC Financial Opportunity Centers (FOCs), a network of career and financial coaching service centers across the country. Union Pacific is specifically focused on FOC programs in Chicago, Illinois; Kansas City, Missouri; Houston, Texas; and Los Angeles, California. In July, our Talent Acquisition team hosted a UP.jobs webinar for LISC FOC partners. More than 100 workforce development coaches learned about UP career opportunities, the application process and hiring requirements, enabling them to educate program participants. This introduction served as a starting point on how to best grow our partnership in the years to come.
This partnership helps build pathways for diverse, underserved individuals to find family-sustaining careers, as well as build a skilled pipeline for in-demand jobs in the rail industry and beyond.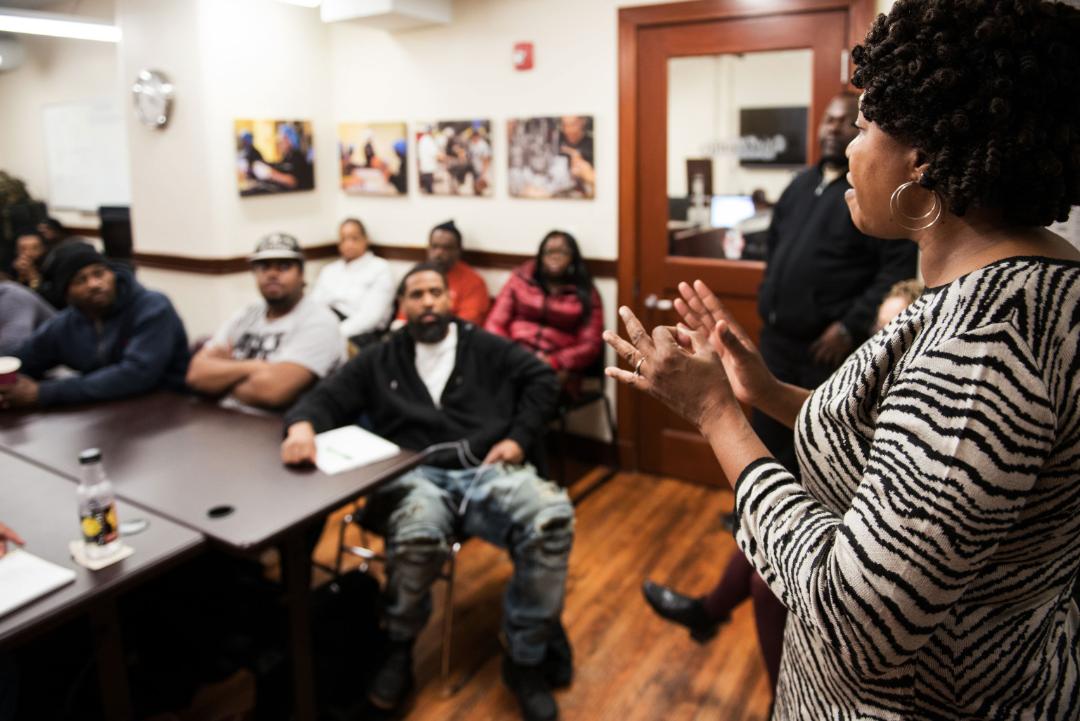 Union Pacific Senior Recruiter Chiquita Morgan hosts a training class with LISC Chicago and North Lawndale Employment Network.
National Park Foundation
Our history with the national parks started with creating iconic Western parks like Yellowstone, Zion, Grand Canyon and Death Valley, when the railroad provided the only access to pristine landscapes that were otherwise virtually impossible to visit. We are pleased to renew our partnership under the theme "Explore America's Backyard," encouraging younger generations to visit national parks and bring awareness to lesser-known parks – the ones in our own backyards.
We launched our partnership during National Park Week in April by releasing a parks video highlighting our joint history, which was shared on social media and played in 55 of the most highly visited national parks. News of our partnership was shared on a video screen in Times Square in New York City, providing a powerful platform to encourage millions to visit national parks.
Approximately half of our funding supports the National Park Foundation's Open OutDoors for Kids (OOK) program. Our funding supported 42,000 students with visits to 27 national parks in 15 states. We believe it's important for students to explore the world around them while learning about science, history, conservation and their role in protecting national and local treasures. Union Pacific's contribution constituted 21 percent of the total OOK budget, making us the program's largest private donor.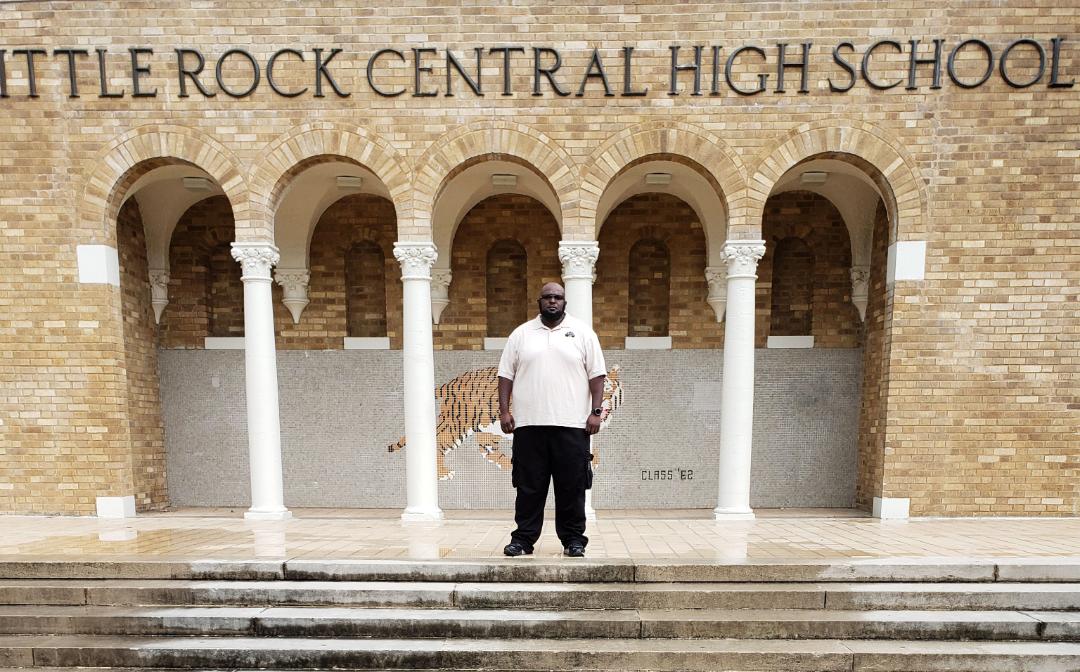 Union Pacific Locomotive Engineer Harlee Watson stands outside his alma mater, Little Rock Central High School, one of the Open OutDoors for Kids locations supported by Union Pacific.

Regional Partners
Regional partnerships are granted by invitation only and, like our national partnerships, are often multi-year commitments designed to provide long-term impact in our communities. We want to work with organizations with whom we can explore big ideas, build powerful momentum within our communities, and achieve significant, lasting impact across Union Pacific's network.
Texas A&M Transportation Institute
Young drivers experience the highest rate of transportation-related fatalities. In an effort to change the statistics, Union Pacific is supporting the Texas A&M Transportation Institutes Youth Transportation Safety (YTS) program, which focuses on issues such as eliminating distracted driving, driving at night or while drowsy, not wearing a seatbelt or impaired driving. Funding will help YTS expand its bicycle and pedestrian safety efforts, as well as add a rail safety component. It also will support the next generation of the Teens in the Driver Seat app. A teen driver starts the app before a trip and – as long as they don't access their phone while driving – logs undistracted miles at the end. Points are awarded based on safely driven miles, and prizes are offered.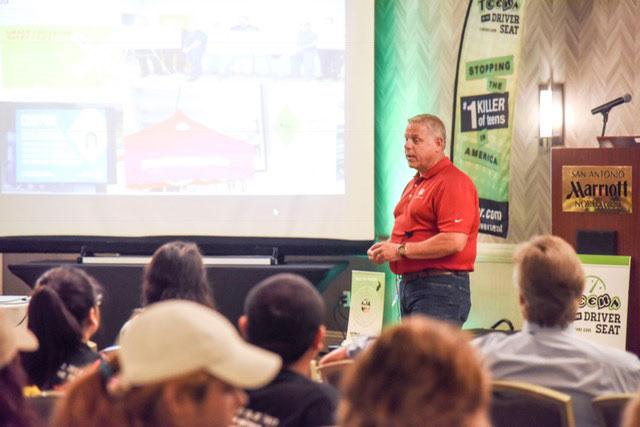 Union Pacific's Senior Supervisor of Public Safety Buck Russel discusses rail safety at a Teen's in the Driver's Seat event, geared toward creating a traffic safety culture among youth.
Associated Industries Of Arkansas
For years, graduating high school seniors have been encouraged to pursue a college degree, causing a decline in the number of people entering skilled trade professions. The Associated Industries of Arkansas now hopes to inspire students to consider a career in construction, transportation, manufacturing and other trades, preparing the next generation to replace the state's aging skilled professional workforce. To offer insight into these fields, the Be Pro, Be Proud Mobile Workshop provides middle- and high school-age students hands-on experience through diesel technology, fiber optics splicing and welding simulators. Union Pacific is proud to help the organization replace and expand its existing workshop, which showcases many of the careers found at the railroad.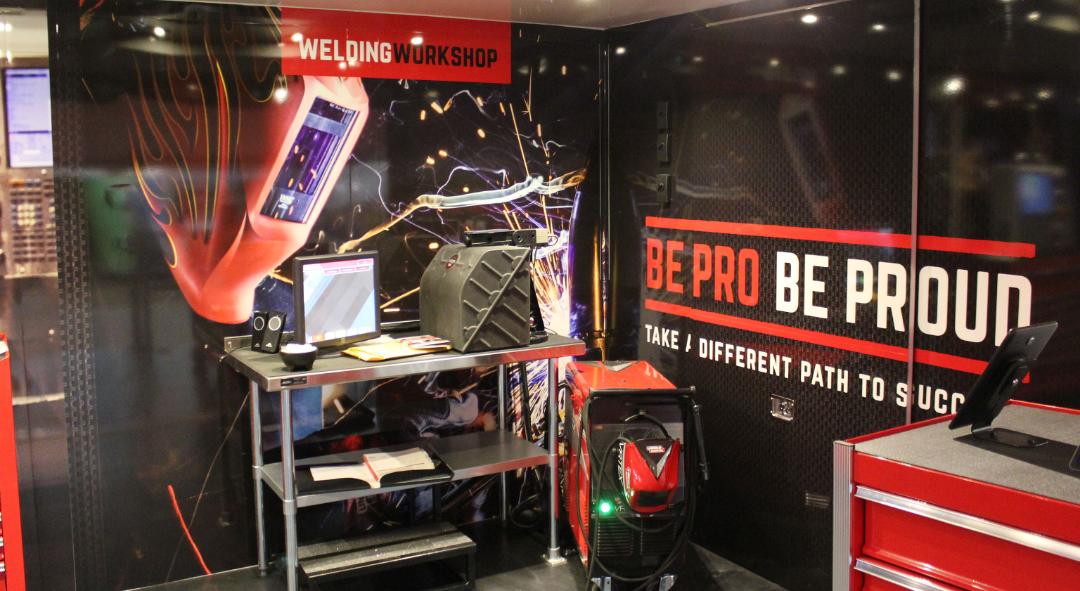 Welding is an important skill for the railroad, and visitors have an opportunity to see if it sparks their interest inside the mobile workshop.
Chicago Cook Workforce Partnership
Union Pacific is building on its 2017 partnership with Chicago Cook Workforce Partnership, which provides interns with hands-on experience through internships. Last year, we hosted three interns, exposing them to various railroad career paths. The Opportunity Works program in Chicago, Illinois, gives young adults the resources they need to find a family-supporting job. The intense program begins with fundamental skills training, such as money management, scheduling and personal hygiene, followed by six weeks exploring careers in high-growth, high-demand sectors that serve as Cook County's economic engine.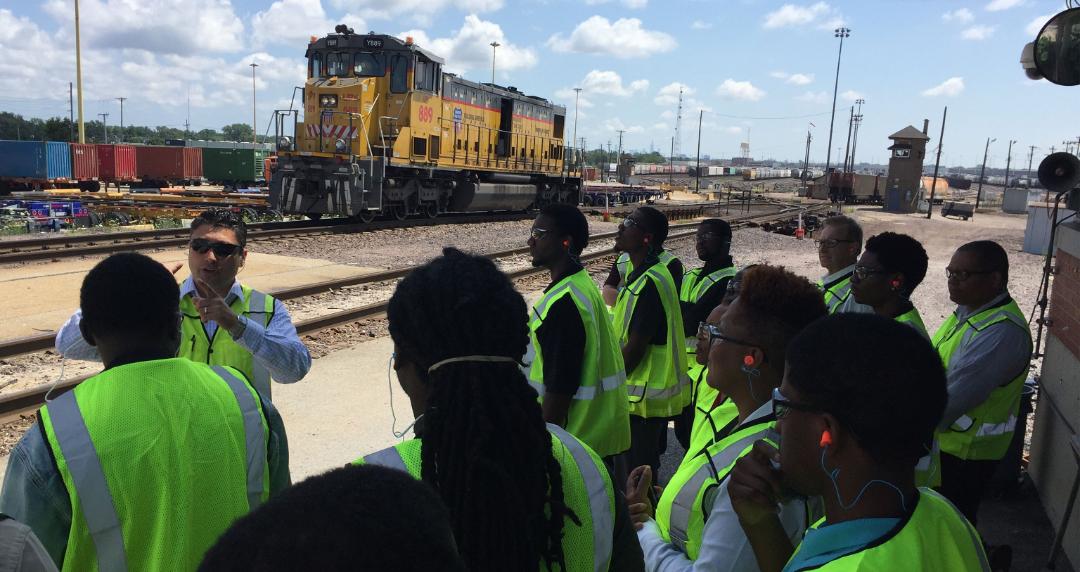 Opportunity Works interns tour a Union Pacific yard to learn about day-to-day operations and various career opportunities.
Junior Achievement of Utah
In this digital era, a skills gap is making it difficult for some students to enter the workforce. Junior Achievement of Utah and Union Pacific are working together to put youth on the right track, enhancing foundational skills in finance, STEM, life skills and career awareness through gaming. JA City is an interactive, hands-on learning facility with the feel of an actual community, featuring 25 businesses. Each brings the city to life and helps teens dream about their future. The full concept for Union Pacific's display is still in development.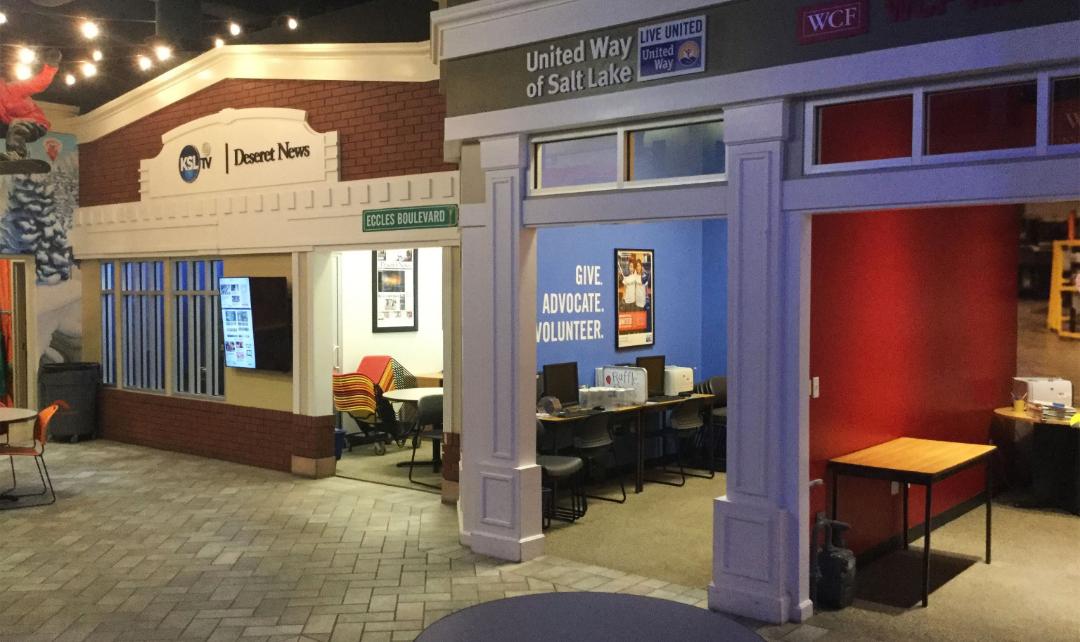 JA City in Salt Lake City, Utah, provides storefronts where students work, learning about commerce and free enterprise.
Westside Community Schools Foundation
We often select a career based on interactions or experiences in our youth. Soon, additional Westside High School students in Omaha, Nebraska, will get to experience what a career in welding means. The Westside Community School Foundation's newly expanded lab will allow additional students to enter the program and have flexible space for lectures and group activities, as well as storage for gases and additional Arc Welding Units. The purpose is to create awareness about trade positions that lead to family-supporting jobs, such as those offered at Union Pacific.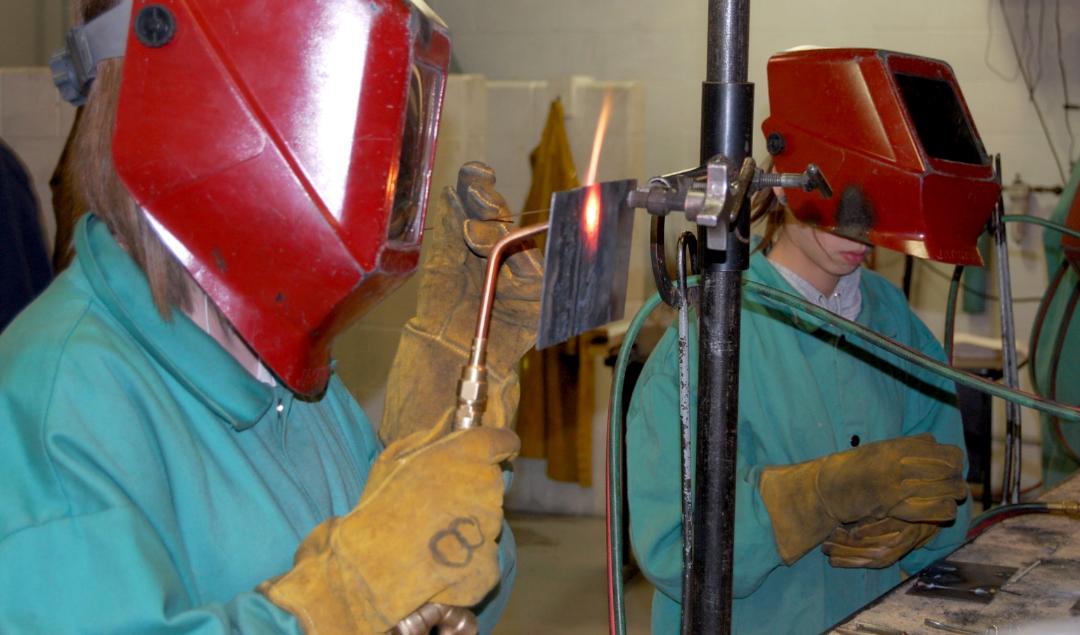 Westside students learn how to properly use tools and create strong welds.
Denver Zoo
Like Union Pacific, Denver Zoo is a central chapter in Colorado's story. It is one of America's oldest public zoos and still features structures dating back to the early 20th century. Denver Zoo's train station is at the historic heart of its campus, offering rides to more than 270,000 riders each year. In addition to fun facts about Asian elephants, rhinos and gorillas, the train's conductor will share important safety reminders with passengers. Signs at the train depot and across the park will encourage visitors to consider how they interact with trains and tracks, and practice safe behavior at the park's two rail crossings.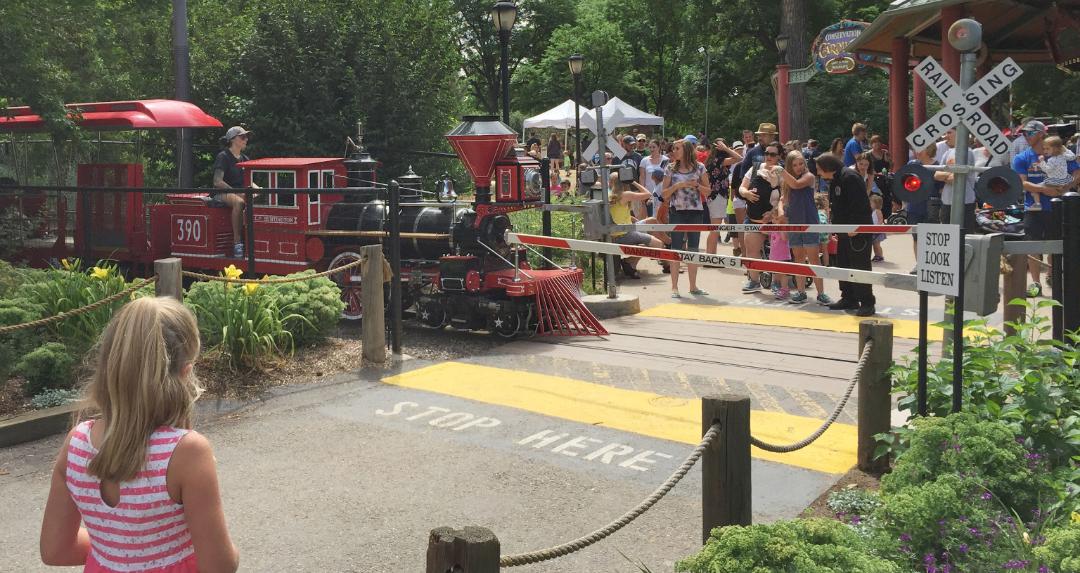 Visitors have a chance to practice safe habits around railroad tracks as they experience Denver Zoo's sights and sounds.
Oregon Museum Of Science And Industry (OMSI)
Union Pacific and OMSI, located in Portland, Oregon, are building a Design Challenge for visitors participating in the museum's new Center for Innovation (C4I). C4I provides museum guests a space to design and test solutions to solve personal, local and global challenges. The goal is to inspire children to connect with STEM-related activities. The full concept for Union Pacific's design challenge is still in development.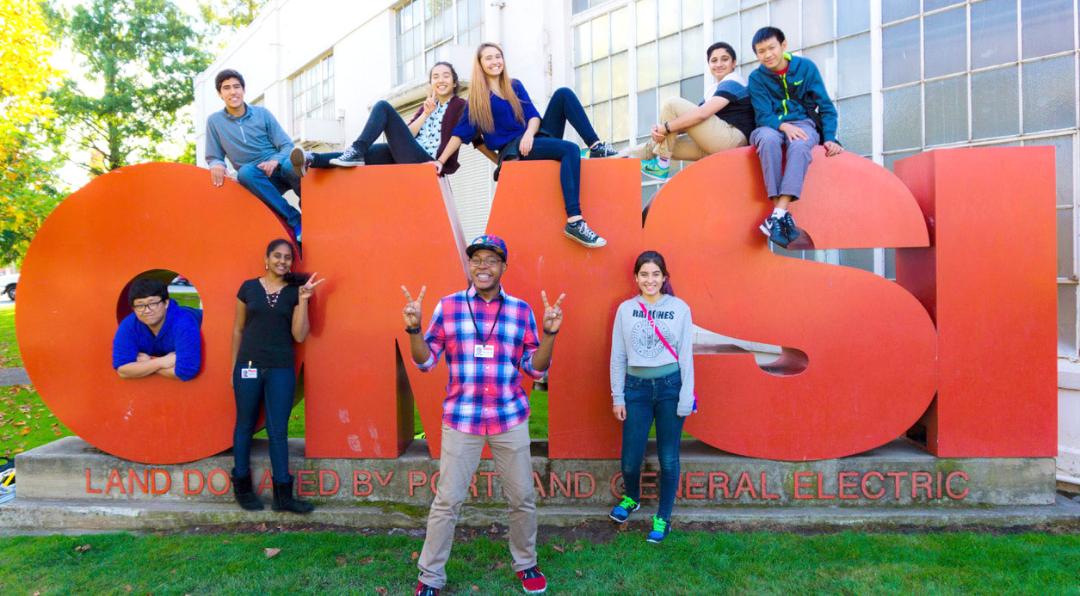 Union Pacific has proudly supported OMSI STEM-related programming since 2011.
Local Support Spotlight
We supported hundreds of local organizations through our Local Grants program. The recipients were selected through an open application process, and their work aligns with our Community Ties Giving Program goals. Some of those organizations include the following:
Safety
Twin Cities Public Television in St. Paul, Minnesota, seeks to create multilingual railroad safety messages in four target languages – Hmong, Spanish, Somali and English – for broadcast on its 24/7 channel dedicated to public safety, health and emergency preparedness.
Louisiana Sheriff's Honorary Membership Program in Baton Rouge, Louisiana, provides bulletproof vests to deputies throughout the state.
Providence Health Care Foundation Eastern Washington in Spokane, Washington, offers ongoing injury prevention programming for children and parents emphasizing traumatic brain injury prevention related to activities such as mountain biking, snowboarding and rock climbing.
Workforce Development
Big Brothers Big Sisters of Tucson in Tucson, Arizona, helps disadvantaged high school students improve graduation rates and prepare for college or trade-related careers.
Skillpoint Alliance in Austin, Texas, enables individuals with barriers to employment to transform their lives through skills-based training and education, preparing students for work in the electrical field.
Missouri Chamber Foundation in Jefferson City, Missouri, provides a free, statewide internship-matching program linking employers, students, colleges and universities through a personalized support and outreach initiative targeting hard-to-fill positions in welding, electrical work and machine operations.
Community Spaces
Levitt Pavilion for the Performing Arts in Arlington, Texas, provides more than 50 free, family-friendly and culturally diverse live concerts through its Free Music Under the Stars program.
Carroll Public Library Foundation in Carroll, Iowa, is renovating and expanding to enhance its children's section with room for on-site educational programming, as well as increased space for community events.
Gorge Grown Food Network in Hood River, Oregon, supports local farmers and provides access to good food for a healthy, self-sufficient Columbia River Gorge community.
The Community Ties Giving Program proudly supports local United Way organizations across our operating regions. Union Pacific has a longstanding partnership with United Way that we believe is a vital resource and contributor to communities across the country.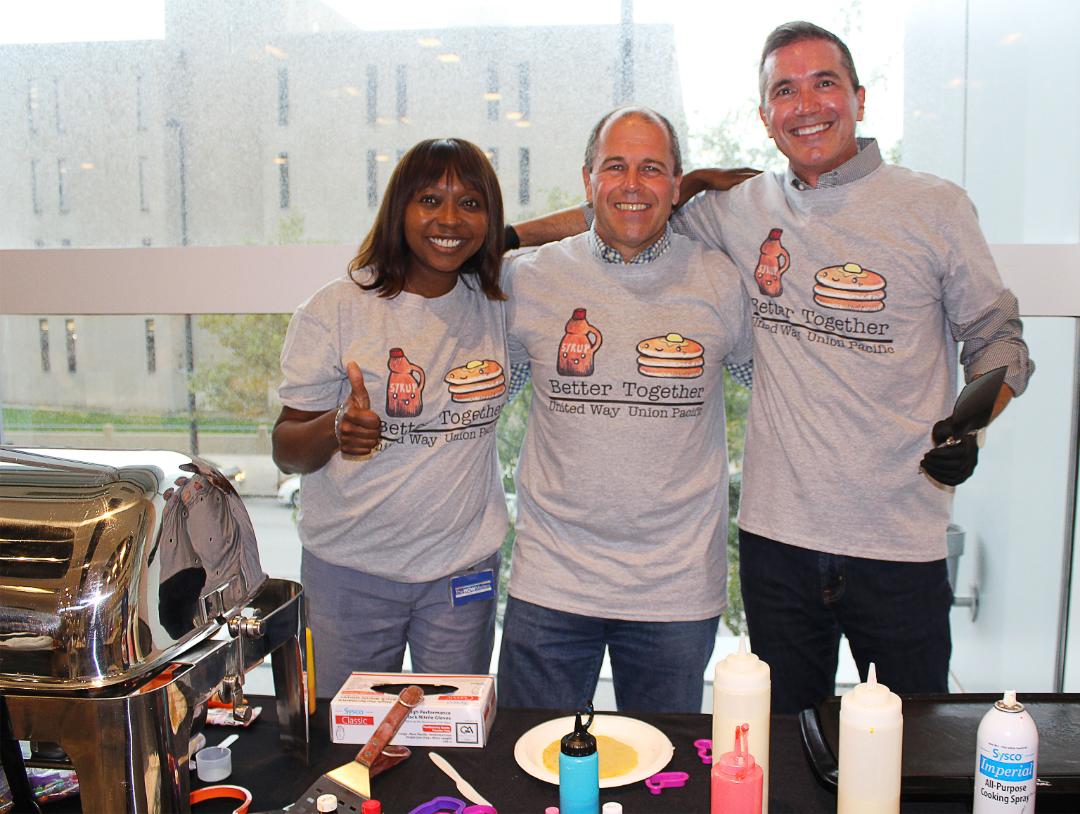 A pancake feed at Union Pacific Center in Omaha, Nebraska, featured the leadership team as celebrity chefs and raised more than $2,600 toward the company's United Way goal. From left, Rhonda Ferguson, executive vice president, chief legal officer and corporate secretary; Lee Myers, assistant vice president-Risk Management; and Tom Andreoli, vice president-Law.
Making a Difference in our Communities
Union Pacific's business is inextricably linked with communities, and we strive to tackle problems, find solutions and make positive impacts. Every partnership is important to us, and the work we do has the potential to change lives. Following are just a few of the projects we supported with grants that made a difference in the communities we call home.
Innovative Arkansas Nonprofit Supports Inventive Minds
The Arkansas Regional Innovation Hub in North Little Rock is a lot of things: a woodshop, welding lab, co-working and event space. During the day, entrepreneurs, small business owners and students attending field trips can be found at work. After school, up to 100 students learn coding, laser cutting, 3-D printing, robotics, video game design and more.
With all this making, there was just one problem: Many people in rural areas didn't have access to the Hub. In an effort to reduce barriers and encourage every Arkansan to be innovative, the Mobile Makerspace was created. The trailer, partially funded by Union Pacific, has many of the Hub's features, including its own 3-D printer. Unveiled in May at the annual Maker Faire, it now travels across the state to teach classes in schools and community centers.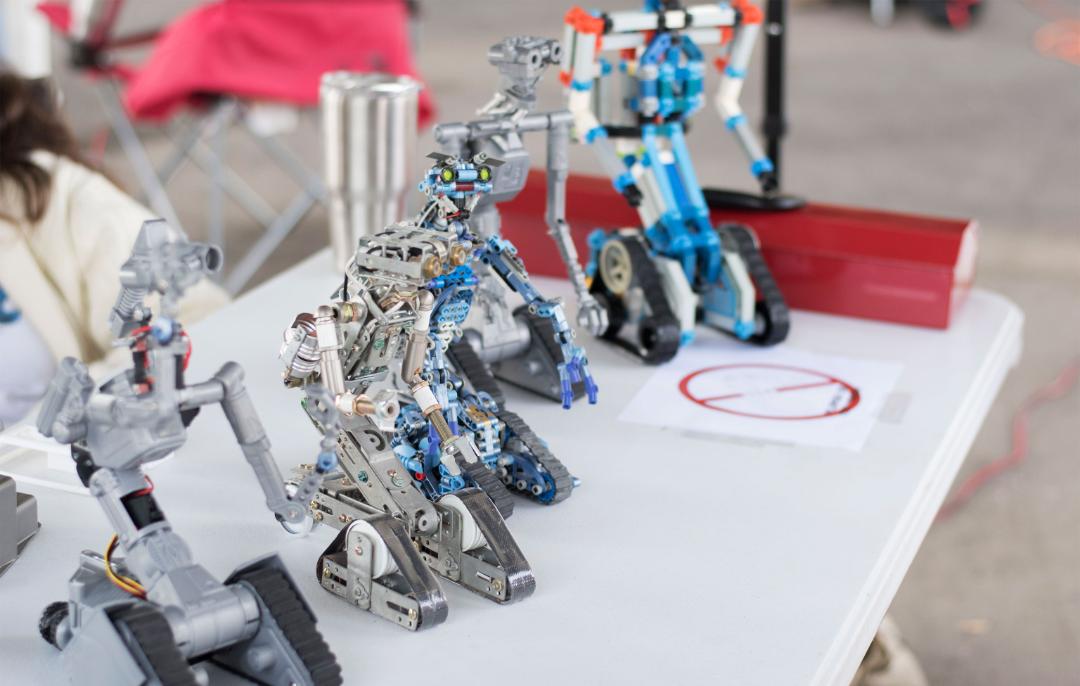 Created by Arkansas Regional Innovation Hub participant Drew Lovell, miniature models of the "Johnny 5" robot from the 1986 film Short Circuit were on display at the Hub's annual Maker Faire.
Coming Soon: New Community Arts And Culture Center
Shakespeare said it best in his famous As You Like It monologue, "All the world is a stage." In February 2020, Council Bluffs, Iowa,-area residents will enjoy a new stage at the Hoff Family Arts and Culture Center.
Union Pacific is proud to support Pottawattamie Arts, Culture and Entertainment (PACE) as it renovates the historic Harvester II building. When completed, the 95,000-square-foot, state-of-the-art facility is an Iowa West Foundation initiative that will enrich and enliven the region through performance, education, culinary craft, visual arts and community engagement. The facility will offer flexible administrative space for local nonprofits. PACE, American Midwest Ballet, Kanesville Symphony Orchestra, Chanticleer Community Theater and regional entrepreneurial food incubator, Kitchen Council, will also call the space 'home.' A new addition to the historic structure, the Polina and Bob Schlott Performing Arts Center, will house a 280-seat theater, named Union Pacific Stage.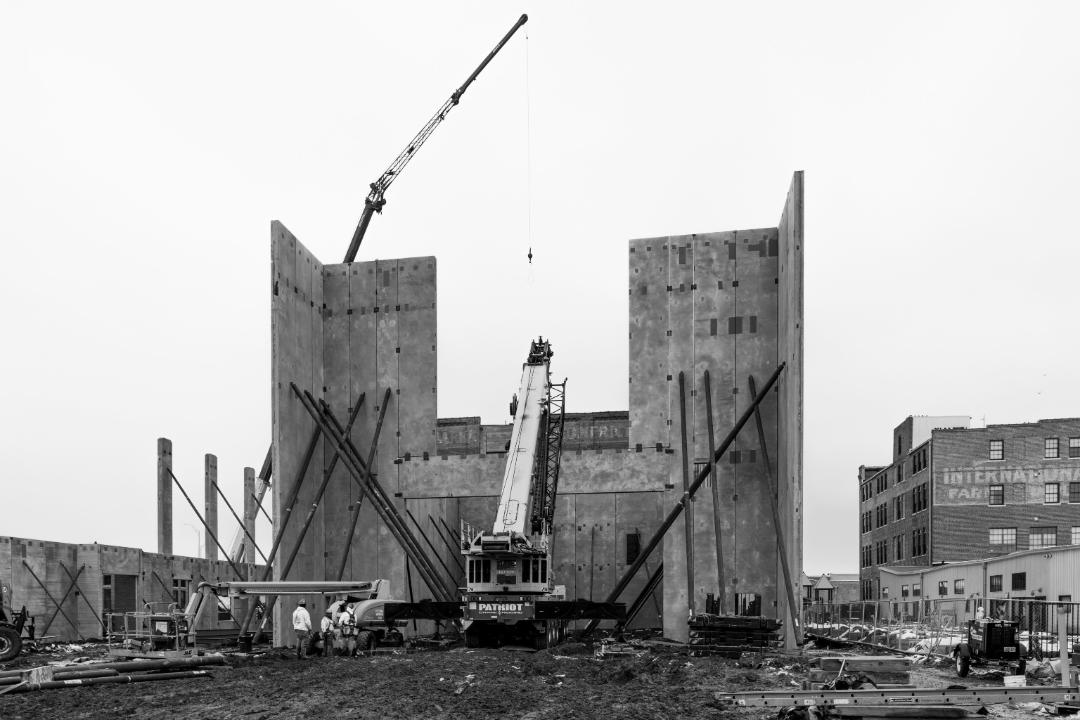 Construction begins on the Polina and Bob Schlott Performing Arts Center.
Forever Forest Offers Lesson In Sustainability
How do you teach children about sustainability and the everyday products we use that are made from trees? Through play and a traveling exhibit called Forever Forest. The exhibit was created in partnership with Union Pacific, North American Wholesale Lumber Association, Omaha Children's Museum, and the hard and soft lumber industry of North America. It encourages families to observe, explore and investigate amazing aspects found throughout the forest, such as insects and different plant parts. Forever Forest features a tree top climber, a realistic mini replica of a Union Pacific locomotive and a kid-sized home under construction for children to help build. These play areas illustrate the lifecycle of a tree, from forest to transportation to our communities, and use in our homes and schools.
The national tour began at the Omaha Children's Museum, making stops across Nebraska and at The Magic House in St. Louis, Missouri. Altogether, more than 250,000 visitors have stepped into the world of trees, experiencing how forests play a role in their lives. Forever Forest will travel to the Mobius Children's Museum in Spokane, Washington, and Amazeum in Bentonville, Arkansas, in 2019.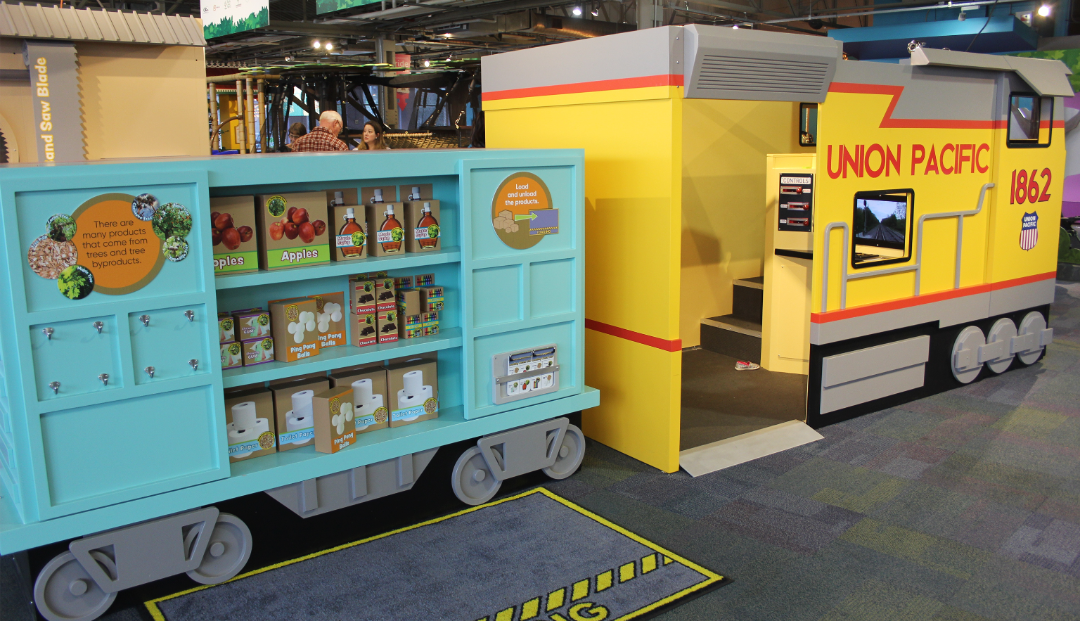 A replica Union Pacific locomotive puts children at the controls, providing a first-hand look at what it's like to ride down the rails.
Matching Our Employees' Generosity
Union Pacific's GivePLUS program matches employee donations to nonprofit organizations, dollar-for-dollar, and supports employees who volunteer their personal time by providing matching grants. We matched our employees' generosity and donated nearly $2 million to nonprofit organizations improving our communities. Additionally, Union Pacific matches dollar-for-dollar employee contributions to its Fund for Effective Government (FFEG) by donating to charities of employees' choosing.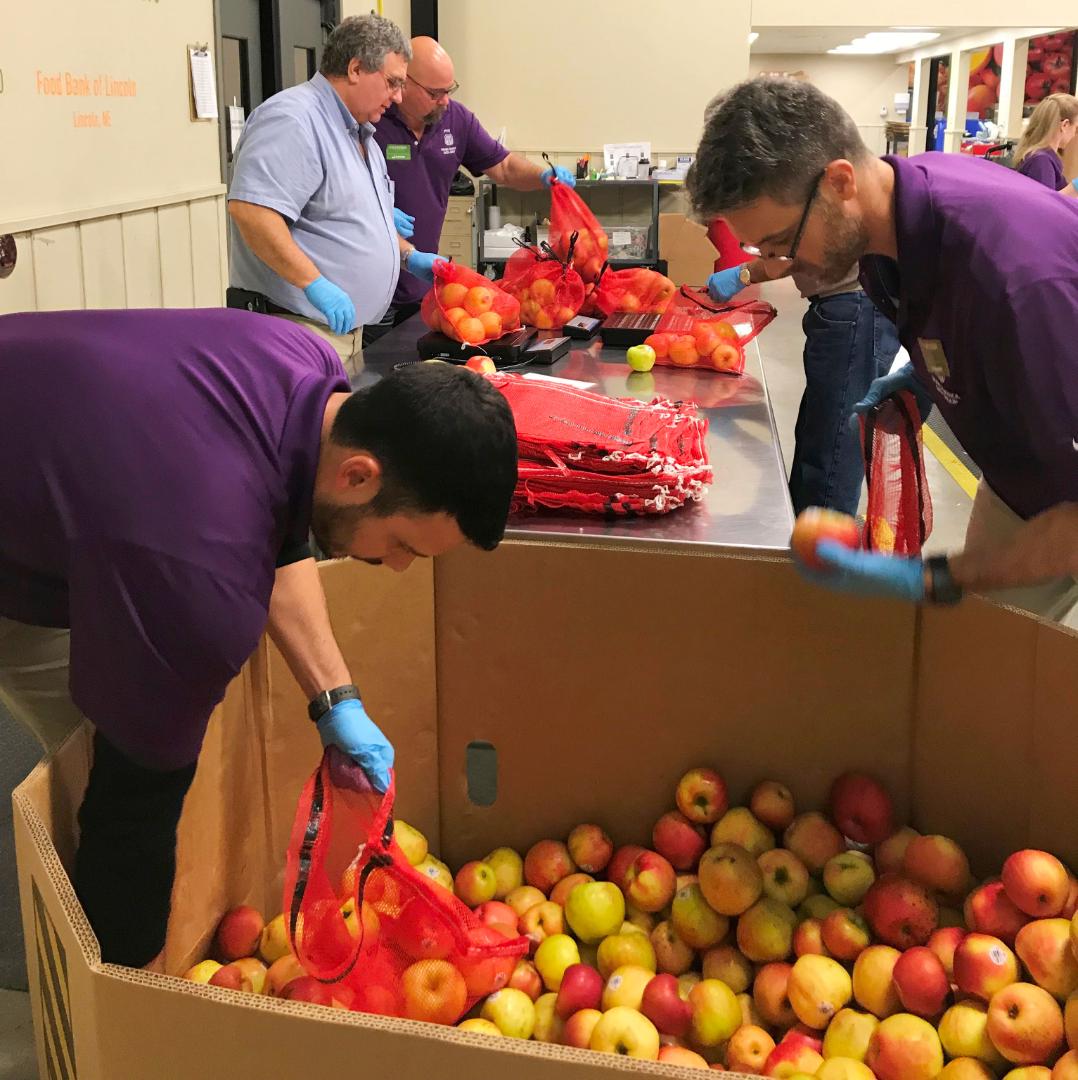 Union Pacific employees donate their time filling bags at Omaha's Food Bank of the Heartland.
The Great Race to Promontory
Celebrating With The Communities Lining History's Path
Union Pacific's history is intertwined with the thousands of communities created or whose growth was spurred by the building of the first transcontinental railroad. President Abraham Lincoln signed the Pacific Railway Act of 1862, authorizing Central Pacific Railroad of California, chartered in 1861, to build a line east from Sacramento. At the same time, the act chartered the Union Pacific Railroad Company to build west from the Missouri River. The original legislation granted each railroad 6,400 acres and up to $48,000 in government bonds for each mile completed, igniting The Great Race to Promontory.
To mark this monumental anniversary, we began a three-year "race" in 2016, building anticipation and excitement for the 150th anniversary of the transcontinental railroad's completion. We created an interactive website, the Great Race to Promontory, illustrating the journey to Promontory, Utah, with rare photographs and animated maps.
We continue hosting community celebrations, including a 7-by-7-foot traveling exhibit featuring historical photos and community descriptions. A custom panel highlighting each community's connection to our development was created and gifted. It was a privilege to visit with towns and cities, and we are proud to have presented a commemorative Golden Spike to our community partners with an engraved message reading: "Towns developed, and the bond between UP and the early settlements grew. As we celebrate the 150th Golden Spike anniversary, UP is proud of these long-standing community relationships."
The special events and celebrations will culminate with two special ceremonies – May 9, 2019, in Ogden, Utah, and May 10, 2019, at Promontory Summit, Utah, the spot where the Golden Spike was ceremoniously "tapped" into place.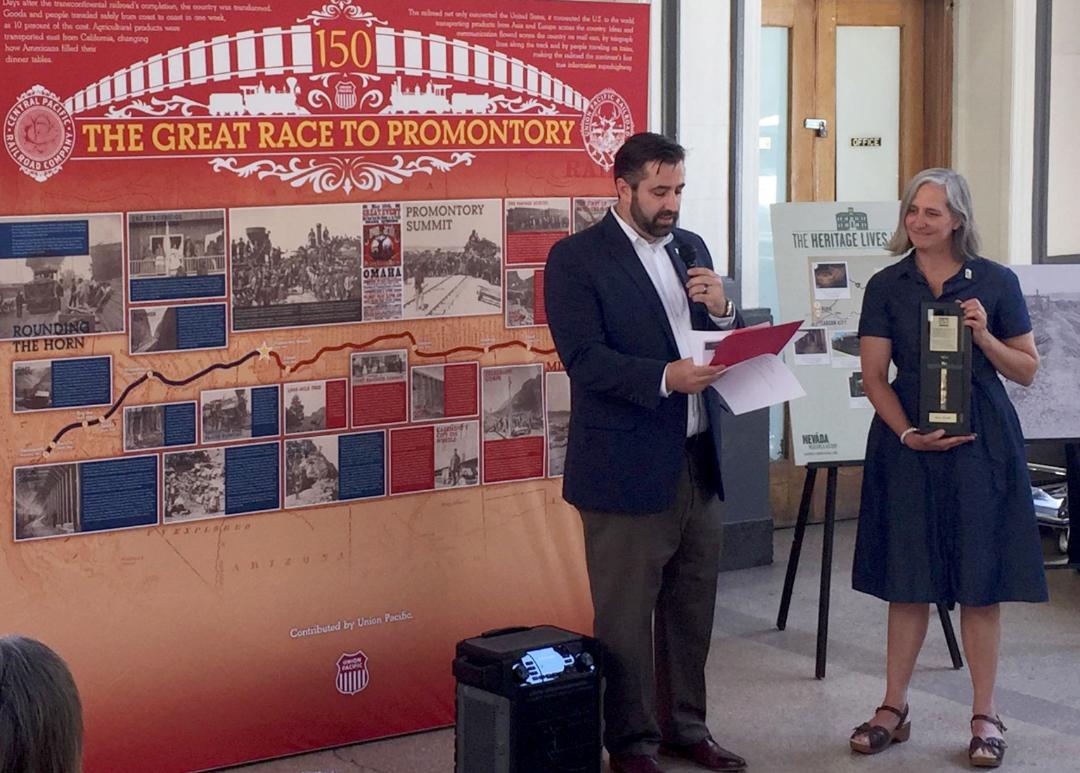 Union Pacific's Senior Director of Public Affairs Nathan Anderson presents a commemorative Golden Spike to Reno, Nevada, City Council member Jenny Brekhus.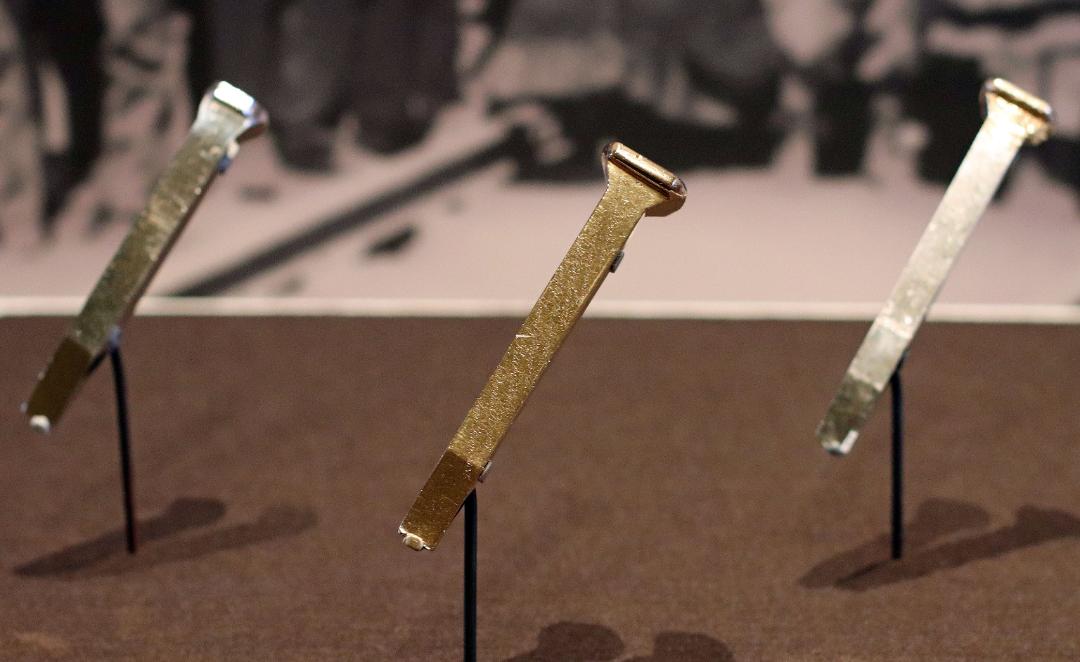 Three of the four original spikes reunited in Omaha, Nebraska, at the Joslyn Art Museum.
The Eighth Wonder Of The World's Crown Jewels
For the first time since that windy day at Promontory Summit in 1869, three of the four original spikes driven to honor the transcontinental railroad's completion were reunited in Omaha, Nebraska, a few miles from mile zero, where Union Pacific laid its first rail near the Missouri River. The spikes sparkled as the centerpiece of a traveling exhibition, The Race to Promontory: The Transcontinental Railroad and the American West.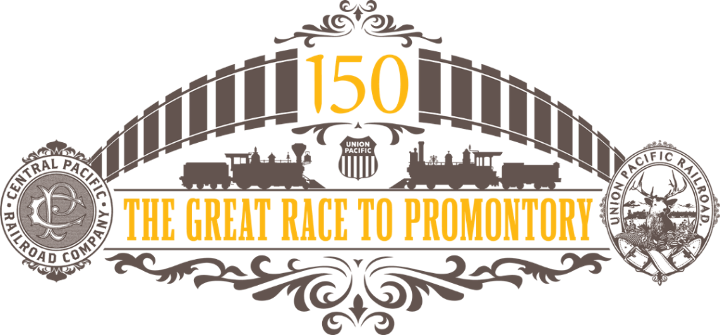 The exhibition celebrates the railroad's construction through the photographs and stereographs of Andrew Russell and Alfred Hart. Their work, drawn exclusively from Union Pacific's collection, visually recreates the meeting of the rails. Many of the displayed images have never been publically viewed.
"It's fascinating that both railroads chose photographers to document their journey, rather than a painter or print maker," said Joslyn Art Museum's Chief Curator and Holland Curator of American Western Art Toby Jurovics. "If you think about it, the most modern invention in transportation was being documented by the most modern artistic medium – photography."
The Race to Promontory: The Transcontinental Railroad and the American West exhibition began at the Joslyn Art Museum, before moving to the Utah Museum of Fine Arts in Salt Lake City, Utah. It will end its journey at the Crocker Art Museum in Sacramento, California, in late 2019.
What's Ahead
Union Pacific is pleased with the progress we've made during the first, full year of our redesigned Community Ties Giving Program. We look forward to seeing our key partnerships mature, making progress toward our social impact goals in safety, workforce development and community spaces.
Union Pacific's board of directors approved additional funding, bringing our projected Community Ties Giving Program 2019 spend to $21 million. We will expand our Regional Key Partnerships program and build on the first-year successes of our National Key Partnerships. We are creating new curriculum related to the Transportation, Logistics and Distribution (TDL) sector through our LISC partnership. We are working diligently to distribute our new Clifford book to communities and launch a new program with Safe Kids Worldwide, designed to engage teenagers in spreading our rail safety message to children. We are also partnering with the National Park Foundation on a 2019 summer photo sweepstakes, encouraging exploration in our nation's parks.