About the Streamliner
Locomotives 951, 949 and 963B are the last of Union Pacific's high-speed diesel-electrics built for service on the famous streamliner and domeliner passenger trains. The 2000 horsepower locomotives were built for the Union Pacific Railroad by the Electro-Motive Division (EMD) of General Motors and delivered in June 1955.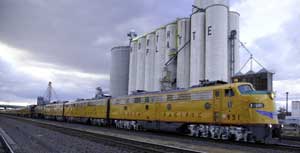 The units, part of 69 EMD model E-9 units on Union Pacific, pulled such famous trains as the City of Los Angeles, City of Portland, City of San Francisco, City of St. Louis and the Challenger.
Considered to be among the most graceful looking locomotives in American railroading, the sleek units evolved from the first Union Pacific streamlined locomotives back in 1934. The "E" series was started by EMD in the late 1930s. Delivery of the E-8s (virtually identical in appearance to the E-9s) in the 1950s completed dieselization of the Union Pacific's passenger service. E-9 production began in 1954 and the last E-9 unit ever built by EMD was delivered to Union Pacific in 1964.
Vital Statistics
Unit Numbers 951, 949, 963B
Builder:
Electro-Motive Division
General Motors (EMD)
Year Built:
1955
Model:
E-9
Horsepower:
2,000
Engines:
1 EMD 16-645E
Traction Motors:
4 EMD D78
Tractive Start Effort:
56,480 lbs.
Tractive Effort, 98 mph:
8,000 lbs.
Gear Ratio:
55/22
Top Speed:
98 mph
Headlights:
Mars Twin-sealed beam,
600,000 candlepower
Bearings:
Hyatt Roller
Fuel:
2,400 gallons
Lube Oil:
330 gallons
Engine Cooling Water:
436 gallons
Sand:
18 cubic ft.
Weight:
335,770 lbs. or 167.8 tons
Length:
70 ft. 3 in. over pulling faces
Width:
10 ft. 7-1/2 in.
Height:
16 ft.
Max. Track Curvature:
21 degrees