Southern Pacific Railroad

Founded in 1865 by a group of businessmen in San Francisco, the Southern Pacific was created as a rail line from San Francisco to San Diego. By 1883, the line extended all the way to New Orleans.
In 1885, the Southern Pacific leased the Central Pacific Railroad until eventually merging with it in 1959. Through the years, the line expanded to more than 13,000 miles of rail covering most of the southwestern United States.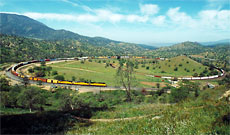 In 1876, Southern Pacific assistant chief engineer William Hood devised the ingenious method of 18 tunnels in 28 miles of track climbing down from the Tehachapi Mountains to the San Joaquin Valley below. One of the most difficult was the Great Tehachapi Loop. The switchback literally had the Southern Pacific train curved back on itself as it gained altitude.
Heritage Locomotive
The Southern Pacific merged with Union Pacific on Sept. 11, 1996.
On August 21, 2006, our tribute to the Southern Pacific was introduced during a special employee event in Roseville, Calif. The new locomotive incorporates Southern Pacific's historic colors and graphic elements to honor the men and women of the SP.
The Southern Pacific was the final unit in UP's Heritage Series of locomotives, and was inspired by the railroad's famous "Daylight" trains, often referred to as "The Most Beautiful Trains in the World."