Union Pacific Refrigerated Boxcar Loading & Unloading Requirements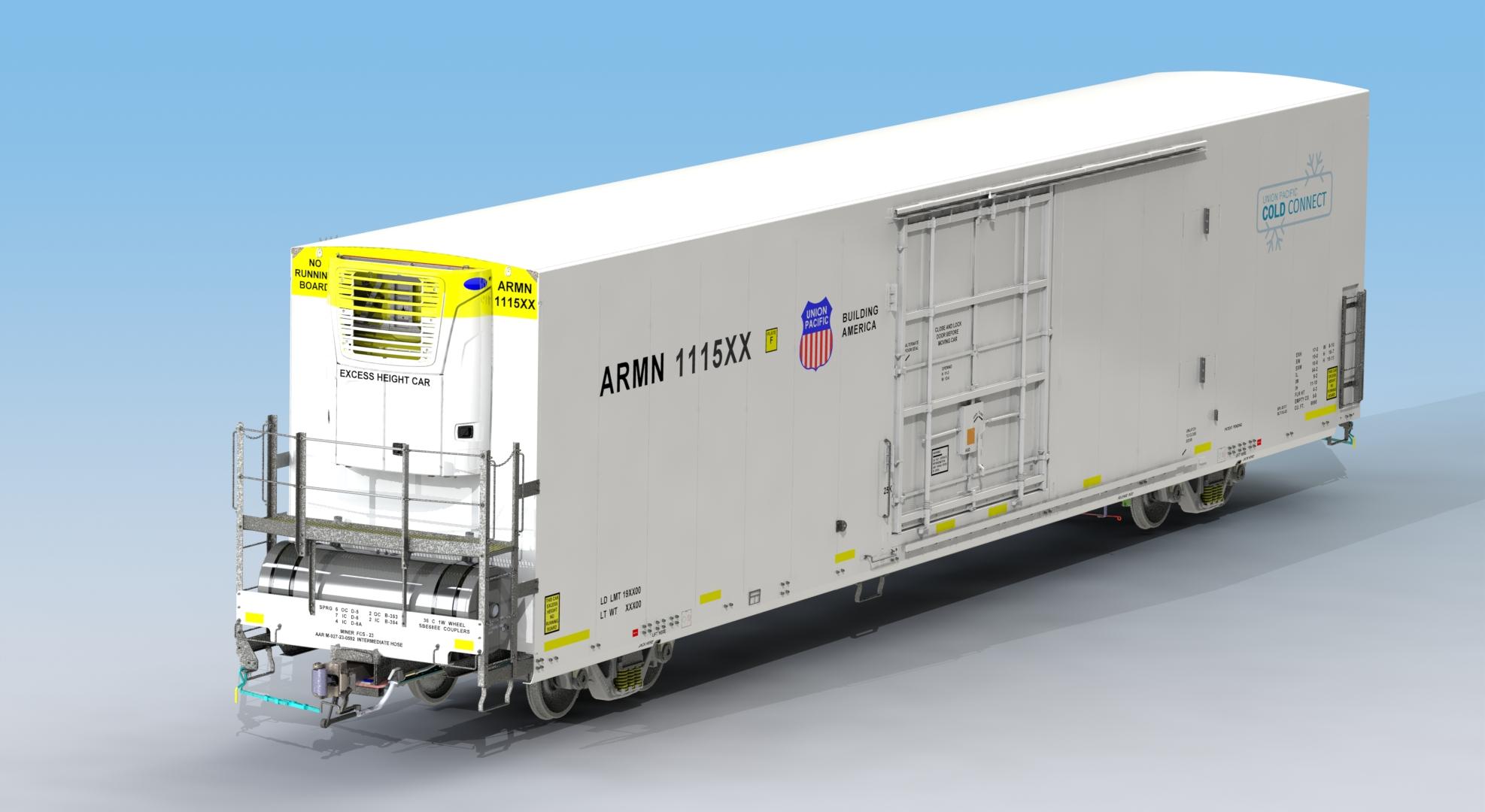 Get a printer-friendly PDF with key loading and unloading requirements.
Reliable Transportation of Food and Beverages
Union Pacific is dedicated to providing reliable transportation of refrigerated food and beverages. Our state-of-the-art refrigerated rail car fleet is designed to transport your freight safely from origin to destination while maintaining a consistent temperature throughout its journey.

To ensure your product is loaded properly and arrives at its final destination fresh and damage free, we need your help. It is critical shippers adhere to the following loading and unloading requirements established for refrigerated products.
For additional information regarding general terms and conditions for Union Pacific shipments, please reference the tariff document, UP 1000.
For a comprehensive guide, download Shipment Quality Requirements for Refrigerated Products.
Before You Load
Inspect empty rail car
Check for damage that might compromise the cold chain, including major damage to ceiling panels, side walls and doors
Sweep and clean out any debris
Ensure floor drains are plugged. The drain covers are located at all four corners, both inside the rail car underneath the floor as well as under the outside corners of the car.
Pre-cool the empty rail car to within 5 degrees of set-point temperature
Verify the reefer unit is working properly and confirm fuel level
Ensure the interior of the car is cooled properly for optimal cold chain integrity
Check the temperature of the product you plan to load
The product's core temperature should not exceed five degrees difference from the set point of the rail car
If the reefer is cooled to the set point temperature but the product is five degrees above or below that temperature, do not load products until their temperature is within the set point range (e.g., potatoes harvested in the summer may need to be cooled before loading). It is the shipper's responsibility to monitor and maintain the product's temperature at the time of and during loading.
It's important to note that, if properly pre-cooled, rail cars are designed to maintain temperature only. The rail car refrigeration unit is not intended to either increase or decrease the product temperature during transportation.
Ensure loading area is properly cooled and protective measure are followed to prevent loss of temperature and abuse
Once all of the pre-loading requirements have been met and the rail car and refrigeration unit are deemed suitable, loading can begin
Loading
Always shut off the refrigeration unit while the rail car doors are open during loading and unloading
Protect your freight from humidity-related freezing or thawing
Prevent overworking the refrigeration unit which can lead to future failures
Load within 4 hours or less to protect the integrity of the product being shipped
Loading during cooler times of the day (early morning, evening, and night time) will also safeguard the cold chain
Follow AAR loading guidelines and dimensional restrictions to protect airflow and ensure load integrity
Document final load by taking origin loading photos of the inside of the rail car at both A and B ends as well as the doorway
Close the rail car door, seal car, and turn the refrigeration unit back on
Use cable seals with a minimum diameter of 1/8" or bolt seals. Utilize rail car's high security hasp, if available, as an additional security measure.
Ensure refrigeration unit is running properly and verify the correct Intelliset setting is selected
Waybill and release car
Unloading
Unload rail car within 24 hours of arrival at destination
Always shut off the refrigeration unit while the rail car doors are open during loading and unloading
Immediately notify UP of any rail car defects, temperature or claim issues upon arrival and document with photos
Completely unload all product, packaging, and dunnage material and fully clean out rail car
Ensure floor drain plugs are re-secured after cleaning
Properly close and secure doors and ensure refrigeration unit is off prior to releasing cars as empty
Reporting Rail Equipment Damage or Issues
If at any point you determine the rail car or refrigeration unit is not suitable for loading or transit, please report damage, defects or safety issues by accessing Union Pacific's Shipment Management system (user ID and password required). For customers served by a foreign railroad, please report issues via email here (boxref@up.com).
Reporting Product Damage & Claims
By following these loading requirements, you will be doing your part to ensure the cold chain is protected while your product is in transit. In the unlikely event damage to your product does occur, timely notification to our claims team will allow us to efficiently address your situation. If you encounter damage please contact our Freight Claims Team.
For destination locations served by a Foreign railroad, please notify the delivering carrier immediately to help assist with next steps. If you are unable to find a contact or need assistance, our Claims Team can help.
Please note, compliance with refrigerated rail car loading and unloading requirements and other requirements in UP 1000 will be taken into consideration when evaluating and settling all refrigeration claims.