Improved Shipping in the I-5 Corridor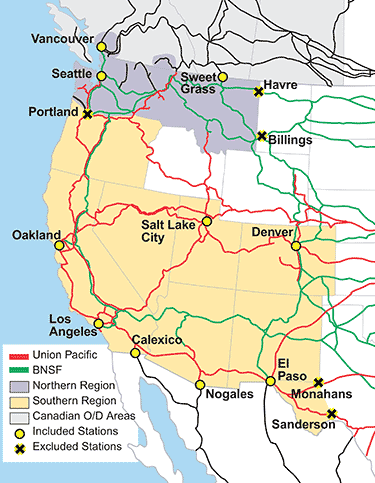 I-5 Region
If you ship commodities through the I-5 corridor, Union Pacific can transport them efficiently and to a broader geography — offering you single line pricing, expanded market reach and a better alternative to your current shipping options.

I-5 Proportional Rate Agreement — More Options, Better Service
The I-5 Proportional Rate Agreement was established in 1997 to allow Union Pacific to compete with BNSF for traffic moving between the Pacific Northwest/Canada and the Southwest/Mexico. The agreement allows Union Pacific to unilaterally establish rates between these points, skipping the concurrence process. As a result, shippers get rates quickly and have more options for shipping product farther and faster throughout the I-5 corridor.

Benefits:

Greater options for competitive pricing in the West
Access to Union Pacific's unmatched service to consumption markets
Access to markets in the Pacific Northwest, British Columbia, Alberta and Saskatchewan
Increased market coverage for shippers and receivers
Greater Access in the I-5 Corridor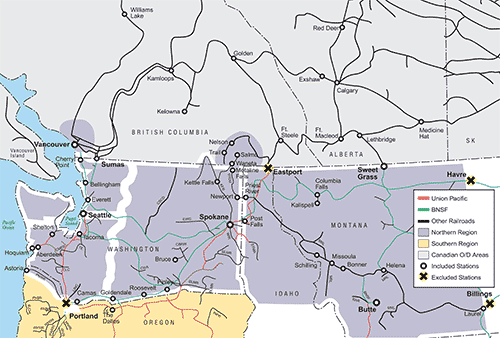 Northern Region Detail
Union Pacific's infrastructure stretches from points in Oregon, Washington, Idaho and Western Montana in the Pacific Northwest to many points throughout the Southwest.

By taking advantage of interchange points with the Canadian National, Canadian Pacific and Southern Railway of British Columbia railroads, Union Pacific has access to British Columbia, Alberta and Saskatchewan as well.

The I-5 Proportional Rate Agreement also allows Union Pacific to offer competitive pricing for BNSF Railway locations north of Portland, Oregon, including customers in Washington, Northern Idaho, Western Montana and the Vancouver, B.C., area.

Union Pacific can ship to and from BNSF connections including short lines, handling carriers, line-haul (Central Montana Rail) and Canadian railroads.
Seamless Shipping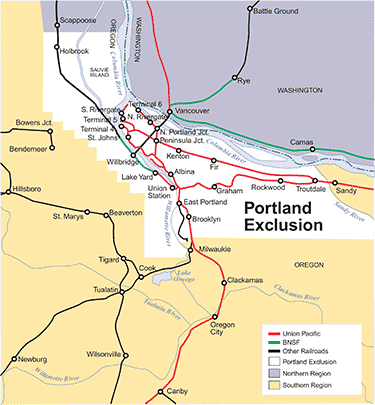 Portland Detail
Plants, auto ramps, team tracks, port facilities, storage facilities and intermodal/transload facilities (unless located within 75 miles of a Union Pacific facility) are all eligible to ship in the I-5 corridor.

All rail cars shipped in the I-5 are physically routed over Portland, Oregon.

In areas where the Proportional Rate Agreement applies, rates can be quoted for all car types and all commodities. Your shipment process doesn't change. You will order and bill cars the same way you do today.
Learn More
If you are unable to identify a rate from one of the above pricing documents, send us a Rate Request or contact your Union Pacific sales representative.
For assistance waybilling cars, please contact the EDI Support Desk at 1-800-872-1045.