Copper Connection
Door-to-Door Service for Finished Copper Products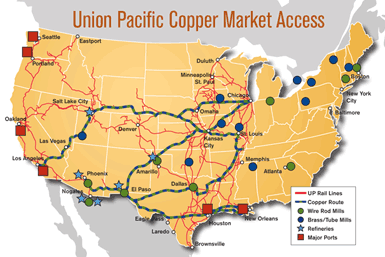 Union Pacific Railroad, along with our logistics management subsidiary, Loup, have teamed together to develop Copper Connection, a reliable, new rail/truck service designed to streamline your copper shipments and save you money. Combining door-to-door truck delivery with the long-haul economics of rail transportation, Copper Connection offers a seamless, competitive alternative to motor carrier. This service targets refined copper shipments moving from Utah and Arizona to multiple domestic and export points with access to all major London Metal Exchange (LME) and COMEX warehouses across North America.
Extensive Market Access and Equipment Fleet
Access to major refineries, mills and ports across the U.S.
Large boxcar fleet to safely and efficiently handle your business
Ability to handle more than four truckloads of product in each rail car
Access to Warehouses
Rail access to major LME and COMEX warehouses across North America
Established network of preferred provider warehouses at over 90 locations in U.S., Mexico and Canada
Access to 35 international ports and eight border crossing locations
Learn More
To learn more about shipping finished copper products by rail, answer a few questions and we'll connect you with an expert.