Why Ship with Union Pacific
In addition to delivering the best value for your transportation dollar, we have flexible solutions for the unique needs of every customer. Union Pacific is cost-competitive with unbeatable products, reliability and an extensive network to reach key industry locations across North America.
Solutions That Make Sense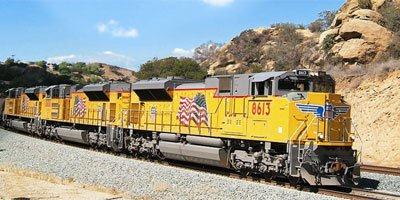 Our logistics experts work with you to determine the best shipping solution for your business. Whether you are new to rail or are currently rail served, need expedited service or just a cost-effective way to get from A to B, Union Pacific has the flexibility to meet your shipping needs.
Commitment to Service
We are committed to providing reliable transportation solutions that ensure your product reaches your destination on-time, every time. Our customer satisfaction index, measuring real feedback from real customers, is at an all-time high. Every one of our employees knows that everything they do, every day, is done to help our customers succeed.
Cost-Competitive
We work to be the most efficient, cost-effective choice of your numerous shipping options. We are committed to delivering market-competitive service and value, maximizing the benefits and efficiencies of rail. Helping you find the most cost-effective solution that's right for you is our number one priority.
Technology
Our service is continuously improved with the use of cutting-edge technology that provides you full shipment visibility 24/7 and the ability to track your shipments and run reports in real time. These technologies have translated to faster transit times, greater reliability and higher customer satisfaction.
Green Transportation