Global III - Rochelle, IL
Intermodal Facilities Maps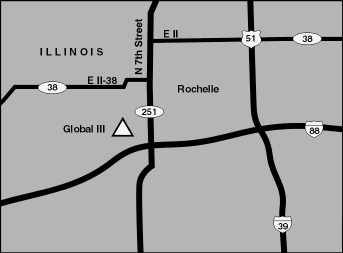 Terminal Information
Location: 2701 Intermodal Drive, Rochelle, IL 61068
Terminal Capabilities: TOFC/COFC
Directions: From Chicago, take I-88 West to Route 251. Turn right 1/4 mile to Bush Grove Road. Turn left, go west 3/4 mile to Intermodal Drive. Turn right into facility.
Fax: (708) 649-5432
Hours of Operation:
SUN
MON
TUE
WED
THU
FRI
SAT
Flip Hours
n/a
0800-1700
0800-1700
0800-1700
0800-1700
0800-1700
0800-1200
Roadability Hours
n/a
0800-1700
0800-1700
0800-1700
0800-1700
0800-1700
0800-1200
This facility is equipped with an Automated Gate System (AGS).
National Customer Service Center
NCSC Contacts
Intermodal Phone
800-877-5123
Intermodal Fax
800-228-9615
Schedule Information
More About Rochelle Global III Intermodal Terminal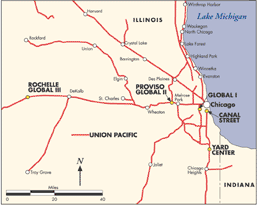 Union Pacific's Rochelle Global III Intermodal Terminal is the industry's finest state-of-the-art facility, designed to serve as a critical interchange hub and loading/unloading terminal for rail intermodal shipments moving through the western Iowa and Wisconsin. This expansive facility allows Union Pacific the necessary capacity to improve and expedite operations for current shipments, as well as room for additional expansion to keep pace with the projected growth in what is forecasted to be a robust intermodal market for years to come.
The Rochelle Global III Intermodal Facility is strategically located on the growth edge of Chicago's westward commercial frontier. A short distance outside the city, this in-demand area is experiencing enormous development and growth as industries look to locate warehouse and distribution facilities outside of Chicago's capacity-constrained downtown area. This facility offers customers multiple ease-of-doing-business advantages, including direct interstate highway routes offering easy access to major east-west markets.
The Rochelle Global III facility, covers 1,200 acres and includes a large switching yard to expedite the re-segmenting of trains and blocking of cars. The intermodal terminal includes a 720,000 lift capability, a 10-lane gate entrance and a 7,200 unit container/trailer yard at full build-out.
This facility provides the capacity necessary to improve the efficient interchange of shipments to and from rail connections, and expedite the operations of over 25 trains and 3,000 containers/trailers daily. The consolidation of operational functions between the Rochelle Global III facility and Union Pacific's other Chicago-area intermodal facilities allows us to greatly improve transit times and create competitive new services for customers, designed to better meet their international and domestic intermodal requirements.
Switch Yard Features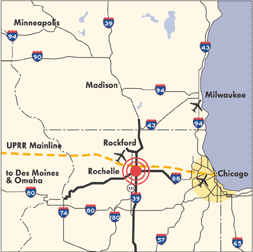 Extended Lead Tracks
Allows intermodal trains to access the switch yard at higher speeds, minimizing main line delays.
Thirteen Yard Tracks and Six Support Tracks
Expedited operations such as train blocking, switching and directional running for faster interchange between eastern rail connections and improved service reliability.
Expansion Space Available
Available capacity for construction of five additional support tracks to meet continued market growth.
Intermodal Terminal Features
Four Loading Tracks (expandable to five tracks)
Allows for expedited loading/unloading capability resulting in improved container/trailer availability.
10-Lane Gate Entrance
Improved gate capacity to minimize motor carrier congestion and improve gate/terminal throughput. Improves truck turn times resulting in lower drayage costs.
720,000 Lift Capability and 4,000 Parking Spaces
Improved capacity and more efficient terminal operations, for faster container/trailer availability.
Locomotive and Car Facilities
Full maintenance and fueling capabilities on-site to maximize railroad asset efficiency and improve cycle times, resulting in more reliable service.
Additional Facility Features
State-of-the-Art Security
Eight-foot security fencing, lighting and full gate inspections provide a secure, theft-resistant environment for customers' cargo while at the terminal.
Leading Technology

Automated Gate System (AGS) employed to expedite ingate/outgate process.
OASIS software utilized to maximize terminal efficiencies and provide customers visibility of their shipments at all times.

U.S. Customs Capability
Expedited customs clearance and inspection upon train arrival and container availability.
Refrigeration Capability
On-site refrigerated container/trailer capabilities to fully support customer refrigerated requirements.
Administrative Office Space
On-site office space available for customers' administrative staff to better coordinate daily operations.
24-Hour, Seven-Day-a-Week Operations
Enhanced customer and motor carrier operational convenience and flexibility.
Interstate Access
Convenient access to Interstates I-39 and I-88, with toll-free north/south interchange. Eliminates delays due to traffic congestion on other capacity-constrained highway routes.
Access to Major Industrial Park
Allows for industry growth in close proximity to Global III. Minimizes costs associated with motor carrier operations.