Significant Individuals

1809-1865

Abraham Lincoln
Sixteenth president of the United States.
In 1862, President Lincoln signed the Pacific Railroad Act into law, directing the Union Pacific and Central Pacific to build the nation's first transcontinental railroad.
Dr. Thomas C. Durant
1820-1885
Formerly associated with the construction of other railroads, notably the Mississippi and Missouri Railroad across Iowa with engineer Henry Farnam, Durant came to the Union Pacific Railroad as vice president and general manager to extend a number of his own interests that would benefit from its construction. Durant, instrumental in marshaling support and financing for construction, worked at every level within the enterprise, from lobbying President Lincoln and maneuvering in Congress to intervening in the business of track-laying itself, seizing many an opportunity to bolster his own venture capital. An associate later called him "the most extravagant man I ever knew in my life."
Sidney Dillon, president of the Union Pacific in the 1870s and '80s, described Durant as "a fast man ... he was a man who, when he undertook to help to build a railroad didn't stop at trifles in accomplishing the end." Associated with virtually every accusation of bribery, fraud and scandal during and after construction, Durant outlived many of his enemies, dying at home at the age of 65.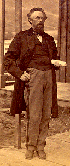 Samuel Reed
1818-1891
Reed began his career working on the Erie Canal. In 1864, he was hired by T.C. Durant as locating engineer of the UPRR. Reed spent six months surveying between Green River, Wyoming, and the Salt Lake Valley, recommending the route over which the railroad was finally built. In 1865, he was put in charge of all surveys west of the Continental Divide. The following year, Durant switched him from surveying to Engineer of Construction and Superintendent of Operations on the line as it advanced. It was Reed who had supervision of all grading, bridging, tunneling and track laying during construction. In the end, he could no longer tolerate Durant, writing that Durant's policies were ill-advised and extravagant and that "... immense amounts of money were squandered."
General Grenville M. Dodge
1831-1916
Civil War general and Chief Engineer of the Union Pacific Railroad during construction. No other man would be more important or more closely identified with the history of the Union Pacific and all western railroading than General Dodge. Trained as a civil engineer, Dodge would influence the Union Pacific's destiny from the first survey to its reorganization 30 years later.
Peter A. Dey
1825-1911
Surveyor and civil engineer. Formerly Chief Engineer of the M&M in Iowa, Dey, together with a young assistant by the name of Grenville Dodge, undertook the first survey of a railroad across the state of Iowa. From 1863 to 1865, Dey directed surveys of the road to Promontory, helped secure land for right of way, ordered equipment, arranged tie contracts, raised funds for construction and served as chief engineer until tendering his resignation from the project over disagreements with Durant over propriety.
In his letter of resignation, Dey wrote that he wanted no part of repeating [the mistakes already made] and with reluctance, "resigned the best position in my profession this country has ever offered to any man." Dey was later vindicated, most notably by E.H. Harriman, who, when straightening the main line in 1908, constructed the "Lane CutOff" directly across the route laid out by Dey.
General John Stephen "Jack" Casement
1829-1909;
Dan Casement
1832-1881
Together, the Casement brothers laid the entire track and undertook some of the grading of the Union Pacific road from just west of Fremont, Nebraska, to Promontory. Though both men were short of stature (Jack was 5'4" and Dan stood at "five feet nothing" according to one wag), they were not men to be crossed. Both hardbitten and fearless, they handled the roughest of Irish crews. The brothers went on to build railroads in Pennsylvania, Ohio, New York, Indiana, Kentucky, West Virginia, Canada and Costa Rica.
Oakes Ames
1804-1873;
Oliver Ames
1807-1877
Oakes and Oliver Ames (of the Oliver Ames & Sons pick and shovel business, which amassed a large fortune during the gold rush), undertook the financing of the construction of the Union Pacific, coming to the assistance of Dr. Durant during a crucial money crunch in 1865. The Ames brothers invested more than a million dollars of their own money in the railroad and raised an additional $1.5 million upon the credit of their business, placing all the resources of their factories at the road's disposal.
Oakes Ames, admired for his lack of pretense and his willingness to take on difficult tasks, was referred to by President Lincoln as the "broad shouldered Ames." During a difficult and uncertain period of construction Oakes Ames wrote General Dodge, saying "Stand by the company and let the Ameses take care of themselves."
Dodge wrote in his reminiscences, "Nothing but the faith and pluck of the Ameses, fortified with their extensive credit, carried the thing through."
Oliver Ames, a bright, tactful manager and a punctilious bookkeeper, was later to become president of the UP from 1866-1871.
President Ulysses S. Grant
1822-1885
The Civil War general to whom Confederate General Robert E. Lee surrendered at Appomattox in 1865, and the18th president of the United States from 1868-1876. President Grant was in office during construction of the transcontinental railroad, and was one of its strongest advocates.

Edward Henry Harriman
1848-1909
Railroad magnate, former president of the Illinois Central and president of the Union Pacific from 1904-1909. In 1897, Harriman, as part of an investment group put together by Kuehn, Loeb & Co., bought the bankrupt UP for $110 million dollars. Soon he set about improving the line, spending over $240 million, and creating a railroad empire.
Known for possessing a vision of the new order toward which railroads were evolving, Harriman embraced gigantic undertakings and served as a catalyst in changing how railroads were run, specifically promoting consolidation and acquiring rival companies. One scholar writes of Harriman, "If they would not sell the colt, Harriman would buy the mare."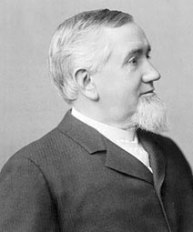 George Pullman
1831-1897
George Pullman, together with Andrew Carnegie, approached T.C. Durant in 1867 with the idea of sleeper cars. The Union Pacific responded, taking a controlling interest in the Pacific Pullman Company. Pullman cars of the 1860s and '70s eased travel and offered some luxury, notwithstanding the perils of early train travel. The Pullman Company eventually would add diners, parlor cars, observation cars and other passenger train cars to their line, constantly making improvements in their product.
Their efforts were not lost on the public. The lavish passenger trains of the 1930s touched off an industrial and architectural design movement which expressed itself in streamlined chrome, plastic, synthetic fiber and coordinated color schemes. Pullman passengers and staff alike enjoyed a world of fine wood, excellent upholstery and polished metal. Opulence, food you couldn't find at any restaurant back home and perfect service were the Pullman's stock in trade.
Jay Gould
1836-1892
Having immersed himself in the Union Pacific until he acquired an almost encyclopedic knowledge of its affairs, Jay Gould integrated his expertise in finance with that of operations and development, ascending to one of the most controversial chairmanships in the company's history. Gould's tenure with the Union Pacific, from 1874-1884 and again in 1892, was during a period of considerable decline. Gould managed to keep the UP liquid, asserting success lay in improving the road's performance, increasing efficiency and developing new business. It was Gould who created a "foreign policy" to deal with the growing number of competitors. This policy was to stave off debt by absorbing rival railroads, a way of doing business that continued into the 1970s and beyond.
Carl Gray
1867-1939
President of Union Pacific from 1920-1937. During World War I, he was Director of the Division of Transportation Operations for the United States Railroad Administration, a role which placed under his supervision the direction of the operations of all the country's railroads, as a wartime measure. Gray's administration was activist in nature. He was an advocate for greater cooperation among the railroads for their mutual benefit and he had an active role in 1934, in the formation of the Association of American Railroads. In addition, in 1938, he served on a committee representing railroad management and labor, appointed by President Roosevelt, to recommend legislation for the amelioration of existing railroad adversities.
Averell Harriman
1892-1986
Son of E.H. Harriman, chief U.S. contact with the Soviet Union during World War II, and diplomat and advisor to every Democratic president of the 20th Century except Woodrow Wilson, until Harriman's death in 1986.
Max Lerner, Los Angeles Times Syndicate columnist, once wrote of Harriman, "He was a figure out of an Age of Reason, living into a world and time when unreason keeps extending its domain."
Averell Harriman knew Stalin, Churchill, Roosevelt, Lyndon Johnson (who sent him to Paris to negotiate with the Viet Cong in 1968, one of the most heartbreaking events of his life) and John Kennedy (who credited him with negotiating the 1963 nuclear test ban treaty, "a monument in our quest for nuclear arms control").
During his chairmanship of Union Pacific (1920-1946), Harriman promoted the development of Sun Valley and the Utah Parks system, contributed to the design of the first Streamliner, and invented the "roomette" in sleeping cars.

John Kenefick
1921–2011
Vice Chairman and Chief Executive Officer of the Union Pacific Corporation from April 1986 until his retirement on December 31, 1986. Chairman and Chief Executive Officer of Union Pacific and Missouri Pacific Railroads, 1983-1986. President of Union Pacific Railroad, 1971-1983.
A graduate of Princeton University with a major in mechanical engineering, he served in the U.S. Navy during World War II and began his career at Union Pacific working in the mechanical and operating departments from 1947 until he left in 1952. Kenefick held various operating positions at the Denver & Rio Grande Western and New York Central railroads before returning to Union Pacific in 1968 as Vice President - Operations. He was made Executive Vice President in 1969, was elected Chief Executive Officer of the transportation division in 1970 and became President on October 1, 1971.
Kenefick led an aggressive upgrading of Union Pacific in the 1970s and guided the company into the era of deregulation after the passage of the Staggers Act in 1980. Under his leadership, Union Pacific more than doubled its size with the acquisition of the Missouri Pacific and Western Pacific in 1982, and in a key strategic move, gained access to the coal-rich Powder River Basin in Wyoming in 1984. Kenefick also laid the groundwork for acquisition of the Missouri-Kansas-Texas ("The Katy") and Chicago and North Western railroads following his retirement.