During World War II Union Pacific operated some of the most modern and powerful steam locomotives ever built. Among them were the famous "Big Boys," the largest steam locomotives in the world. Working with them were the "800-class" high-speed passenger locomotives, as well as hundreds of older class steam engines. Union Pacific's steam legacy continues today with the preservation and operation of its historic fleet – No. 844 and No. 4014.
Schedule
Big Boy No. 4014 visited Omaha on the "Home Run Express" in June 2023!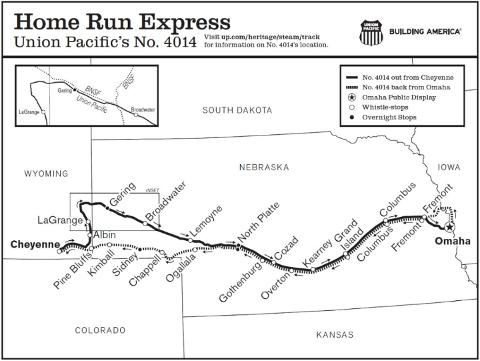 Big Boy #UP4014 is heading to all corners of the Union Pacific system in 2024! Plans are still under development, but we anticipate stops in Chicago, Dallas/Ft. Worth, Houston, Nampa, Portland, Roseville and Salt Lake City among others.
Track
Where are our Steam Locomotives right now?
Join
Steam Club members get the latest news and scheduling information about Union Pacific's legendary steam train program!
Union Pacific Steam Shop Tour
Bringing the Big Boy Back to Life
Trace the progress of Union Pacific and Central Pacific railroads as they raced to complete the transcontinental railroad and discover the communities they created along the way.
Explore the Great Race website