Challenger No. 3985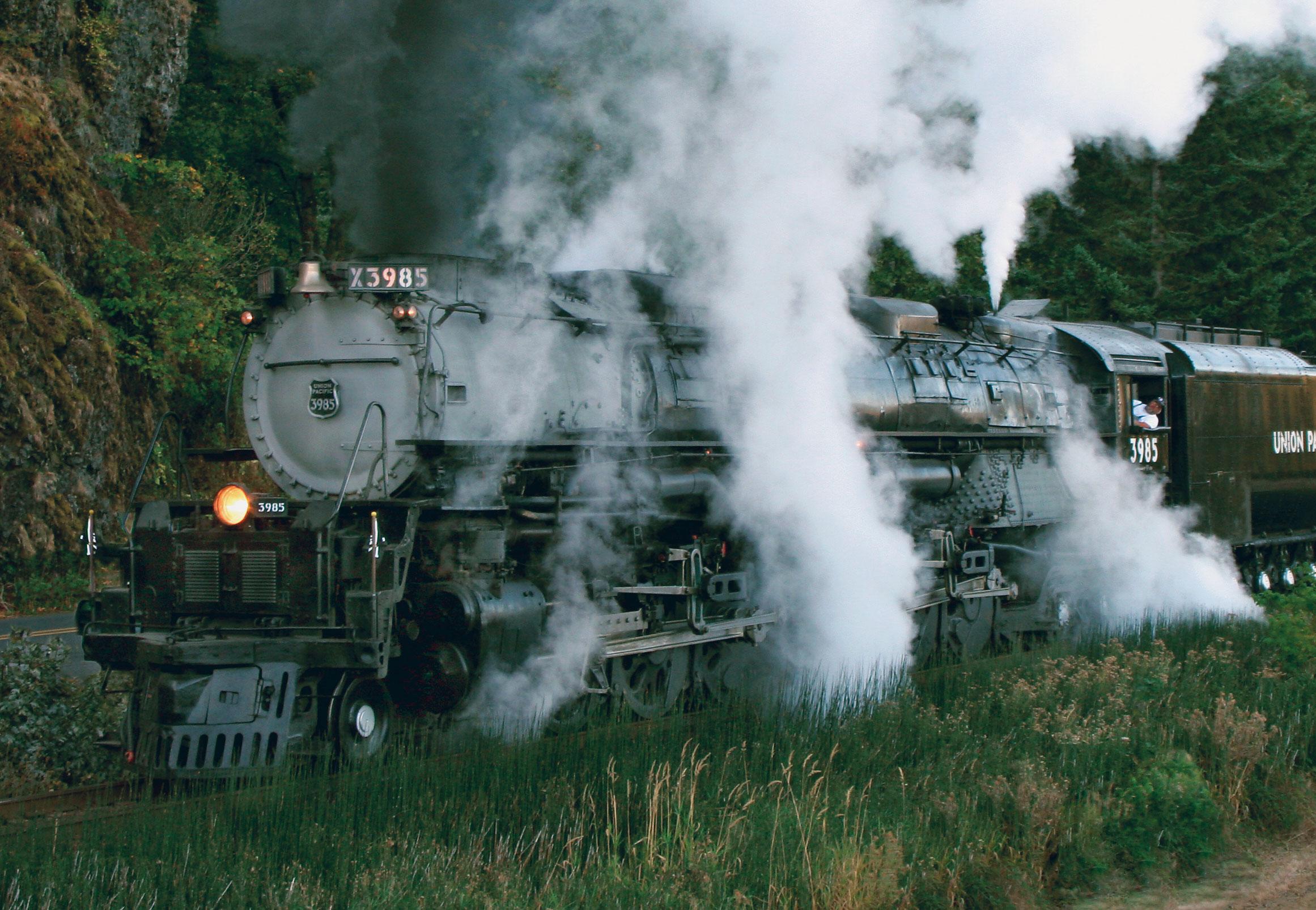 Union Pacific Challenger No. 3985 was designed by Union Pacific and built in 1943 by the American Locomotive Company. It is one of 105 Challengers built for Union Pacific between 1936 and 1943 and was, for many years, the only operating engine of its class in the world – the largest and most powerful operating steam locomotive. That title has transitioned to Big Boy No. 4014 following the Big Boy's restoration.
No. 3985 last operated in "regular" train service in 1957. It was retired in 1962 and stored in the roundhouse in Cheyenne, Wyoming, until 1975 when it was placed on display near the Cheyenne depot. A group of Union Pacific employees volunteered their services to restore the locomotive to running condition in 1981.

In 2022, Union Pacific donated Challenger No. 3985 to the non-profit Railroading Heritage of Midwest America (RRHMA) who plans to restore it back to operating condition.
The History of the Challengers
The name Challenger was given to steam locomotives with a 4-6-6-4 wheel arrangement. This means that they have four wheels in the leading "pilot" truck, which helps guide the locomotive into curves; two sets of six "driving" wheels, and finally, four "trailing" wheels, which support the rear of the engine and its massive firebox. Each set of driving wheels has its own steam cylinder. In essence, the result is two engines under one boiler.
The frame of the locomotive is "articulated," or hinged, to allow it to go through curves. When watching the approaching locomotive go through a curve, you can see the boiler swing out left or right independently of the lower half of the engine, as the rear half of the locomotive remains in a straight direction until its wheels and frame are halfway through the curve.
Union Pacific at one time owned 105 Challenger locomotives. Built between 1936 and 1943, the Challengers were nearly 122 feet long and weighed more than one million pounds. They operated over most of the Union Pacific system, primarily in freight service, but a few were assigned to passenger trains operating through mountain territory to California and Oregon.
The Challengers were designed for fast freight service, but occasionally pulled passenger trains. No. 3985 originally burned coal and pulled a tender with a 32-ton capacity. In 1990, it was converted to use No. 5 oil. The top speed of No. 3985 is about 70 miles an hour.
The only other remaining Challenger, No. 3977, is on display in North Platte, Neb.
Vital Statistics
| | |
| --- | --- |
| Tender Type: | 14-wheeled |
| Water Capacity: | 25,000 gallons |