Big Boy No. 4014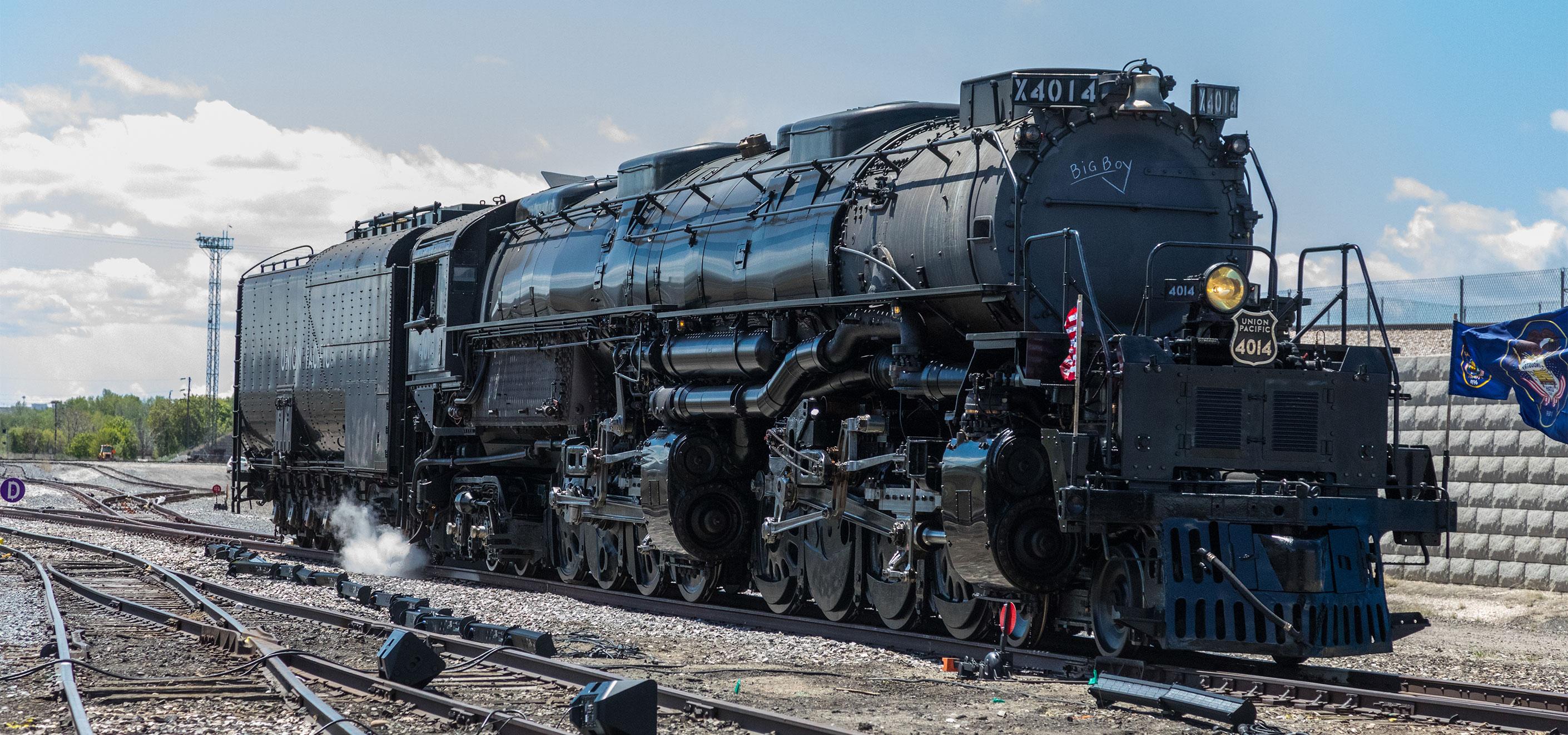 Twenty-five Big Boys were built exclusively for Union Pacific Railroad, the first of which was delivered in 1941. The locomotives were 132 feet long and weighed 1.2 million pounds. Because of their great length, the frames of the Big Boys were "hinged," or articulated, to allow them to negotiate curves. They had a 4-8-8-4 wheel arrangement, which meant they had four wheels on the leading set of "pilot" wheels which guided the engine, eight drivers, another set of eight drivers, and four wheels following which supported the rear of the locomotive. The massive engines normally operated between Ogden, Utah, and Cheyenne, Wyo.
There are seven Big Boys on public display in various cities around the country. They can be found in St. Louis, Missouri; Dallas, Texas; Omaha, Nebraska; Denver, Colorado; Scranton, Pennsylvania; Green Bay, Wisconsin; and Cheyenne, Wyoming.
Big Boy No. 4014 was delivered to Union Pacific in December 1941. The locomotive was retired in December 1961, having traveled 1,031,205 miles in its 20 years in service. Union Pacific reacquired No. 4014 from the RailGiants Museum in Pomona, California, in 2013, and relocated it back to Cheyenne to begin a multi-year restoration process. It returned to service in May 2019 to celebrate the 150th Anniversary of the Transcontinental Railroad's Completion.
Vital Statistics
Tender Type:
14-wheeled
Water Capacity:
25,000 gallons
Fuel:
Coal**
56,000 lbs.
Gauge of Track:
4 ft. 8-1/2 in.
Cylinder:
Diameter: 23 3/4 in.
Stroke: 32 in.
Driving Wheel Diameter:
68 in.
Boiler:
Outside Diameter: 106 9/16 in.
Pressure: 300 lbs.
Fire Box:
Length: 235 1/32 in.
Width: 96 3/16 in.
Tubes:
2-1/4 in. Diameter: 75 x 22 ft. 0 in.
4 in. Diameter: 184
Wheel Base:
Driving: 47 ft. 3 in.
Engine: 72 ft. 5 1/2 in.
Engine & Tender: 132 ft. 9 7/8 in.
Weight in Working Order,
Pounds:
Leading: 97,000
Driving: 540,000
Trailing: 125,000
Engine: 762,000
Tender: 427,500
Evaporating Surfaces,
Square Feet:
Tubes: 967
Flues: 4,218
Fire Box: 593
Circulators: 111
Total: 5,889
Superheating Surface,
Square Feet:
2,466
Grate Area:
150
Maximum Tractive Power:
135,375 lbs.
Factor of Adhesion:
4.00

**Original configuration. Now converted to No. 5 Oil
Bringing the Big Boy Back to Life
Dare to compare ...
How does No. 4014 compare to a diesel locomotive ... or a Boeing 747? Take a look!