Union Pacific Heritage Donation Special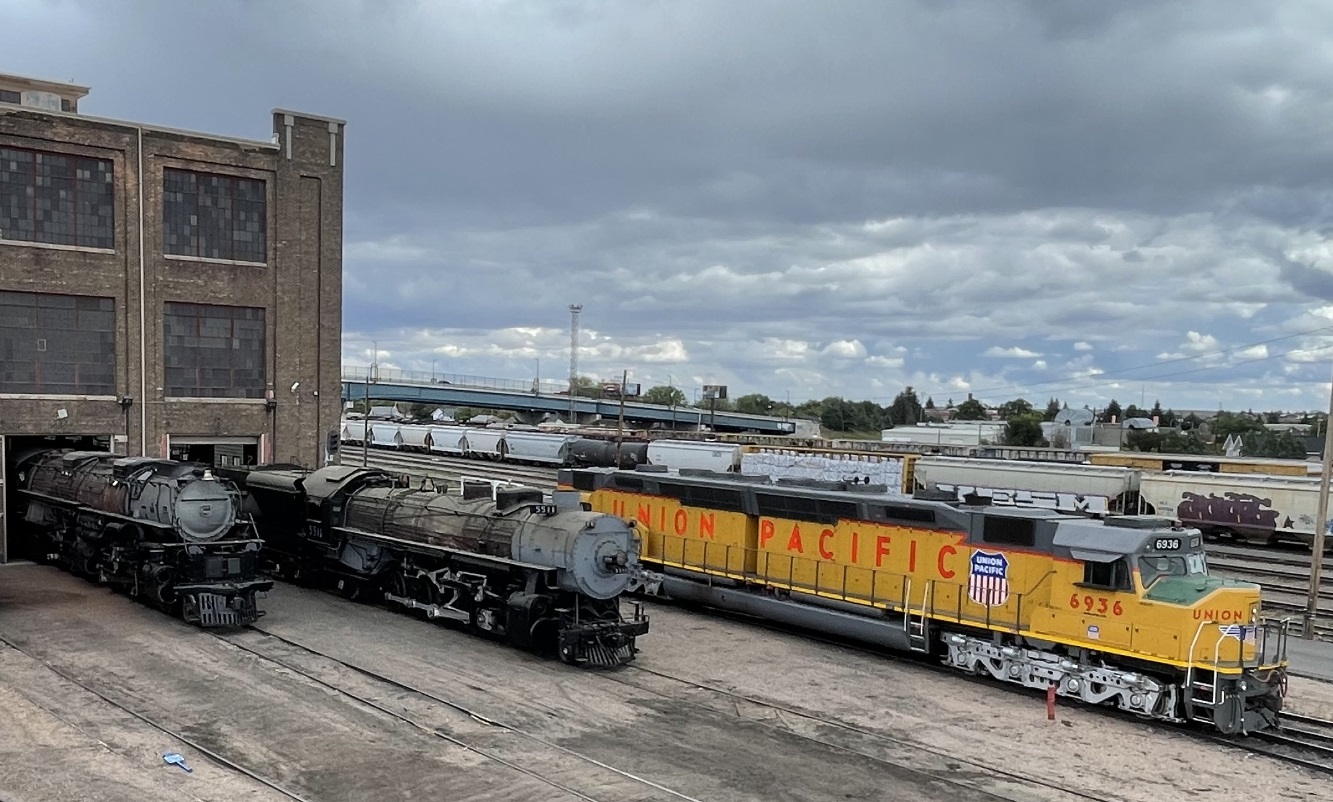 Challenger No. 3985, Steam Locomotive No. 5511 and Centennial No. 6936
Union Pacific is proud to retain its historical equipment, honoring its more than 160-year history. The preservation of vintage passenger cars and steam and diesel locomotives provides a glimpse into our role shaping the global economy, and each piece of equipment is unique, chronicling a different chapter of Union Pacific's past.
Our steam locomotive fleet includes No. 844, a world-famous high-speed passenger locomotive, and No. 4014, one of twenty-five of the famous "Big Boy" 4000 class – the largest steam locomotives in the world. Each year we proudly sponsor a steam tour, inviting communities and rail fans to join us at whistle-stops and displays across our 23-state network to celebrate Union Pacific's rich heritage and learn about modern rail operations.
Through its recent donation, Union Pacific continues its leading role in the preservation of historic locomo¬tives and rail cars, providing the opportunity for additional equipment to be restored and returned to active service. Included in the donation consist are the No. 3985 "Challenger" steam locomotive, the No. 5511, a 2-10-2 steam locomotive and the "Centennial" diesel locomotive. The No. 3985 is one of just two remaining engines of its kind in the world, with the second on static display in North Platte, NE. The No. 5511, a member of the Union Pacific TTT-6 class, is the last of its kind in existence. The "Centennial" was built for the 100th anniversary of the transcontinental railroad's completion in 1969 and was the largest diesel engine ever built. Also included are two luxury business cars – the Selma, built in 1912, and the Stanford built in 1928; four passenger coach cars; and a Union Pacific class CA-10 caboose.
UPB 966
Union Pacific's classic E-Units are some of the most recognizable diesel locomotives in America. They were designed and built as passenger locomotives that replaced the iconic "Mighty 800 Class" Steam Locomotives as the newer technology eventually replaced the steam locomotive. They were used to pull the famous UP passenger trains in the times before our nation created Amtrak to handle all intercity passenger trains in 1971. The UP-E units were a combination of "A" units, built with a control cab for the engine crew and cab-less units designated as "B" units. The UP purchased 34 "B" units to be used in combination with the "A" units to complete the power requirements for each train. The UPB 966 was retired and sold to Amtrak where it was used for many years until being replaced by newer designed passenger locomotives. It was sold back to UP to be held as a back-up in Cheyenne to our present UP E-9 Fleet. It is presently equipped with two steam generators and is not self-propelled.
Built by Electro-Motive Division of General Motors Corporation in June of 1955
Length – 70'
Height – 15'
Horsepower – 2000
Retired by UP in 1971
Classic A-1-A Truck Design.
UP 5746 Postal Storage Car
Built 1962 by St Louis Car Company in an order for 35 new cars to be used as a Postal Storage Car. These 6-wheel truck equipped cars were positioned at the "Head End" or front of the passenger train. As the train was stopped at the various stations along the journey, mail and baggage was loaded and unloaded as needed for each city.
Length – 85'
Height – 15'
Retired by UP in 1972.
UP 5016 Diner
Built as a "Café Lounge" car by the St Louis Car Company in 1960, retired in 1972. These cars were used to provide smaller and a more simplified menu with a cozy lunch counter style of floor plan, they were very popular with the passengers. The UP 5016 was moved to Cheyenne from California in 2005 for possible future use. This car is nearly identical to the "Overland" and the "City of Denver" in use today as part of the Union Pacific's Heritage Fleet.
UPP 115 - "Selma"
Built as UP Officer's Car 101, "Overland", by Pullman in 1912, rebuilt in 1969 and then sold to Western Pacific as Business Car "Feather River" in August 1971. Reacquired in the UP merger with the Western Pacific in 1983. Renamed Missouri Pacific Business Car 3 "Kansas City" in 1985, UP Business Car 115 in 1985, named "Selma" in August 1987.
UPP 140 - "Stanford"
Built in 1928 by the Pullman Company, originally as the Southern Pacific's President's car named the "Sunset." Renamed in 1955 to honor Leland Stanford, the President of Central Pacific at the completion of the first transcontinental railroad. UP retained name and number post 1996 merger. The car was consistently upgraded to be able to operate on Amtrak. The interior features Honduras Mahogany finishes. The Stanford was delivered to the RRHMA in September 2022.
UP 25740 Caboose/UP 903011 Caboose
Union Pacific Class CA-10 Caboose's were another classic UP design. These Cabooses were designed with a taller and prominent Cupola that permitted better visibility for the Conductor and Rear Brakeman. It was retired from active service in 1987 and converted for use in MOW Service in 1993 and renumbered to UP 903011. In the early 2000's, it was relocated to Cheyenne in the early 2000's and renumbered back to 25740.
Built in September 1975 by the International Car Company in Kenton, Ohio.
Length – 41'
Height – 15', 10"
Weight – 24 Tons.

UPP 5486 - "City of Salina"
Named the City of Salina in 1992 to honor the named train service between Kansas City and Salina, KS – this was the first "streamliner" a 3 car train set operating 1935-36. This was one of 12 cars upgraded in 1989.
Built in 1954 by American Car & Foundry Company
Lightweight coach - 44 seats
Length - 85'
Delivered to the RRHMA in September 2022
UPP 5480 - "Sunshine Special"
Named to honor the Missouri Pacific passenger service of the same name (Later the Texas Eagle) This was one of 12 cars upgraded in 1989.
Built in 1954 by American Car & Foundry Company
Lightweight Coach - 44 seats
Length: 85 ft.
Delivered to the RRHMA in September 2022
UPP 5468 - "KATY Flyer"
Named in 1993 to remember the MKT service between St. Louis and Galveston - This was one of 12 cars upgraded in 1989.
Built in 1954 by American Car & Foundry Company
Lightweight Coach - 44 seats
Length: 85 ft.
Delivered to the RRHMA in September 2022
UPP 5473 - "Portland Rose"
Named in 1989 to commemorate the UP service between Chicago and Portland, OR – This was one of 12 cars upgraded in 1989.
Built in 1954 by American Car & Foundry Company
Lightweight Coach - 44 seats
Length: 85 ft.
Delivered to the RRHMA in September 2022