Safety Practices, Equipment and Regulations
Investing for Safety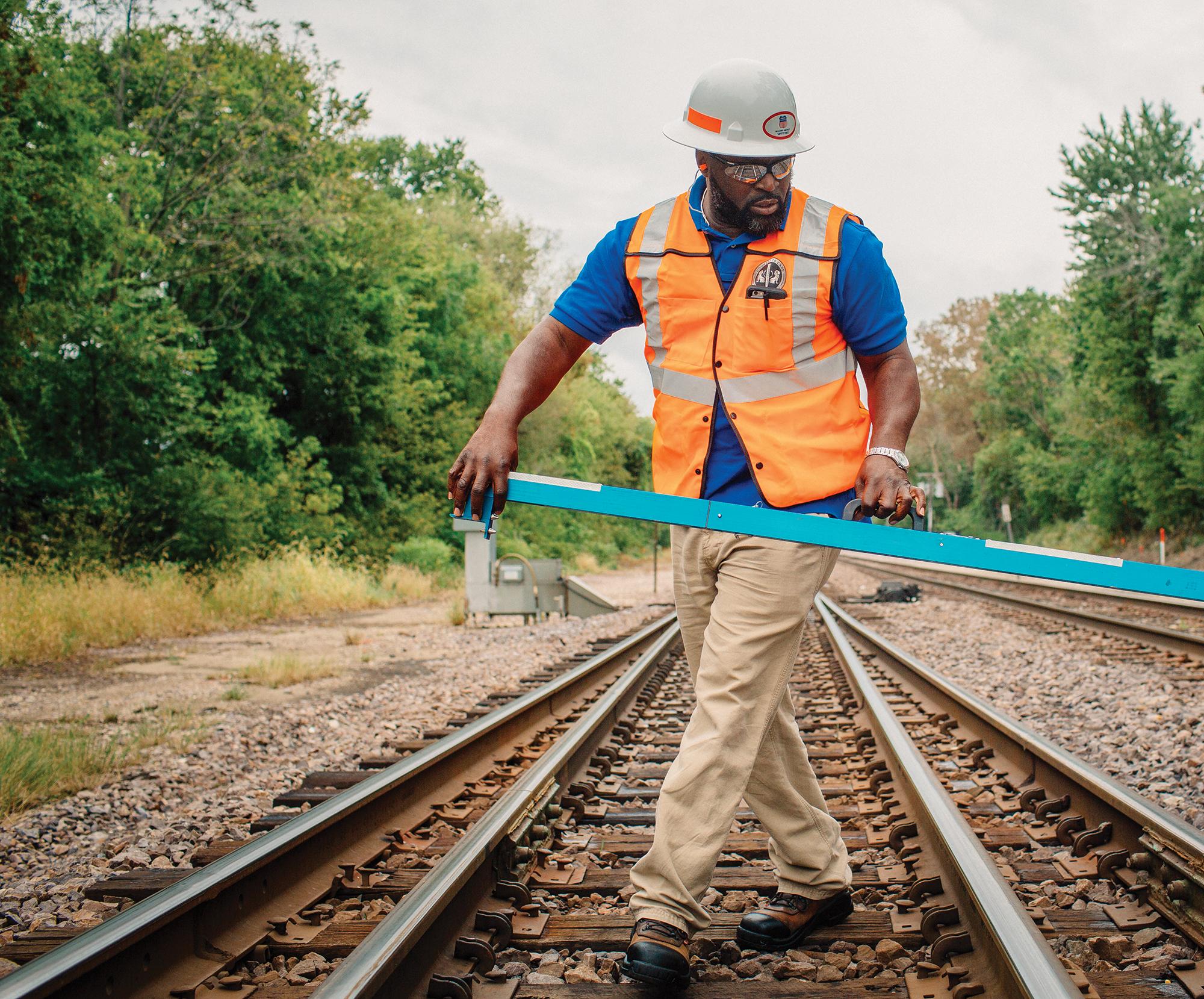 Union Pacific works diligently to prevent derailments and other accidents. We spent more than $34 billion in private capital investments from 2007-2016 and plan to spend $3.1 billion in 2017 continuing to strengthen our infrastructure. Doing so helps us improve safety for our employees, communities and customers.
We decreased reportable derailments of customer goods by 14 percent between 2007 and 2016. This success is due in part to robust track inspection processes and safety training, including the following:
Developing and using the latest technology such as lasers and ultrasound to identify rail imperfections.
Forecasting potential failures before they happen by tracking acoustic wheel vibrations.
Performing a real-time analysis of every rail car moving on our system each time it passes a trackside sensor.
Conducting rigorous safety training programs on a regular basis to help employees identify and prevent potential derailments.
The Common Carrier Obligation – Supporting America
The federal government's common carrier law requires railroads to transport hazmat if customers deliver the commodity in conformity with U.S. Department of Transportation requirements. Other types of carriers, such as trucks and barges, don't have this same obligation and may refuse to carry hazmat at their discretion.
Union Pacific does not make hazmat materials, own the tank cars that move them or choose the origins or destinations where they are shipped. The common carrier obligation requires Union Pacific to transport hazmat and to bear almost all associated risks.
Operating Practices
While every shipment Union Pacific moves is treated with care and caution, some hazardous materials shipments require additional safety measures as outlined by entities such as the Pipelines and Hazardous Materials Safety Administration (PHMSA). For trains hauling flammable liquids as either (1) a continuous block of 20 or more tank cars or (2) 35 or more tank cars dispersed throughout the train, these operating requirements include:
Reduced operating speeds. Applicable Union Pacific trains operate at 50 mph or less, and at 40 mph or less in high threat urban areas, (HTUAs), which are defined by the Transportation Security Administration (TSA).
Routing – Union Pacific selects the best route for applicable trains based on 27 PHMSA-defined safety and security factors, including the volume of the commodity transported, total distance traversed, track attributes, population density, prior history of incidents or risk mitigation measures, among others.
Information access – Union Pacific provides train consist information to state and local fusion centers (law enforcement intelligence-sharing sites overseen by the Department of Homeland Security) as well as advance notification to state emergency response commissions.
Union Pacific uses customized securement procedures and instructions for "key trains," which include trains carrying a variety of hazmat commodities, such as crude oil, flammable liquids like ethanol, and poison/toxic by inhalation (PIH/TIH) chemicals. These measures are further protections we put in place to prevent hazardous materials incidents.
Electronically Controlled Pneumatic (ECP) Brakes: Union Pacific fully supports efforts to make the rail system even safer. While the ECP rules proposed in May 2015 by the U.S. Department of Transportation (DOT) may allow trains to brake a fraction of a second quicker, ECP brakes do not provide significantly greater safety benefits than distributed power widely used by Union Pacific and could have far-reaching negative consequences for the railroads, our customers and the broader economy. In recent analyses, both the Federal Railroad Administration and the Railway Association of Canada concluded their use was not justified and found that they could pose significant compatibility and reliability issues. These conclusions are consistent with our own tests of ECP, which show the systems have not been proven effective for large-scale use.
Read the Association of American Railroads (AAR) Response: https://www.aar.org/newsandevents/Press-Releases/Pages/New-US-Rules-Governing-Flammable-Liquids-Moved-by-Rail-Enact-Misguided-Braking-Requirement-That-Threatens-Rail-Capacity.aspx
 
Tank Car Standards: Similar to shipping guidelines for other products, the U.S. DOT and the Association of American Railroads (AAR) govern rail car standards for hazardous materials shipments. Railroads do not own tank cars; rather they are owned by shippers and rail car leasing companies. About half of all hazmat shipments move in one of several types of tank cars:
DOT-105 – a pressure, jacketed tank car primarily used for hauling chlorine.
DOT-111 – a non-pressure, jacketed tank car made of 7/16" steel that's designed to carry liquids such as crude, ethanol and non-hazmat food-grade commodities such as alcohol and high fructose corn syrup. DOT-111s are sometimes referred to as older model tank cars. The Pipelines and Hazardous Materials Safety Administration (PHMSA) mandates these cars be retired or retrofitted to DOT-117 standards by May 1, 2025.
DOT-112 – a pressure, jacketed tank car, designed to carry pressurized gases, such as propane and anhydrous ammonia.
DOT-113 – a jacketed, cryogenic liquid tank car, designed to carry cryogenic liquids such as refrigerated ethylene and argon, an element used for making computer components.
DOT-117 – a non-pressure tank car designed to carry liquids such as ethanol, crude and non-hazmat food-grade commodities. DOT-117s are sometimes referred to as newer model tank cars. In accordance with PHMSA regulations, tank cars built after Oct. 1, 2015, must be built to this specification, which includes: (1) tank shells constructed of 9/16" steel, with 11-gauge sheet metal jackets, (2) 1/2" thick head shields on the ends of the tanks and (3) and improved valves over previous designs.
CPC-1232 – a DOT-111 non-pressure, jacketed tank car that has already been retrofitted to meet DOT-117 specifications.
Recognizing hurdles related to tank car availability and financial constraints, Union Pacific is supportive of customers and rail car leasing companies shifting from older tank cars to newer ones. More details about rail industry support for enhanced tank car standards is available from the Association of American Railroads.