Positive Train Control
Union Pacific is committed to implementing Positive Train Control (PTC) carefully and thoroughly to enhance safety for employees and communities. Through Dec. 31, 2017, we've invested $2.6 billion in PTC, and we plan to spend $160 million in 2018. Our current estimate for PTC's total cost is about $2.9 billion.
About PTC
Positive Train Control (PTC) is an advanced system designed to automatically stop a train before certain accidents occur. In particular, PTC is designed to prevent:
Train-to-train collisions
Derailments caused by excessive train speed
Train movements through misaligned track switches
Unauthorized train entry into work zones.
PTC will not prevent vehicle-train accidents at grade crossings, or those due to track and equipment failures.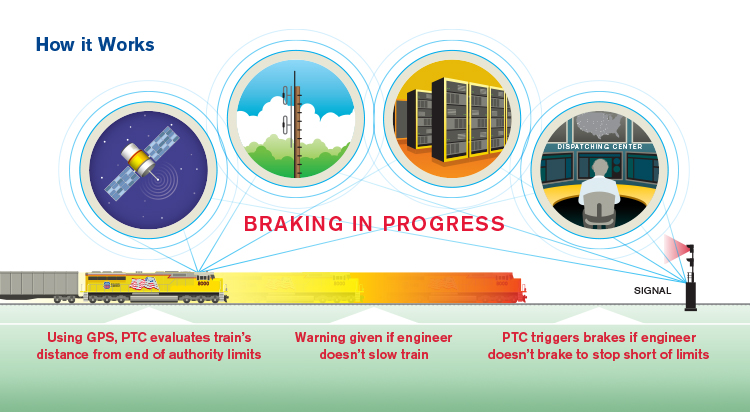 When fully deployed, the nationwide PTC system must be able to accurately determine a train's location, direction and speed via the following process:
An onboard computer system receives and analyzes track data from wayside locations and base-station radios along the planned route.
This provides the locomotive engineer with advance warning of movement authority limits, speed limits and track conditions ahead, giving the engineer time to react and bring the train to a safe speed or controlled stop.
If corrective action is not detected within the warning period, PTC automatically applies the train brakes and brings it to a controlled stop without the engineer's assistance.
Fast Facts: Union Pacific PTC Facts and Progress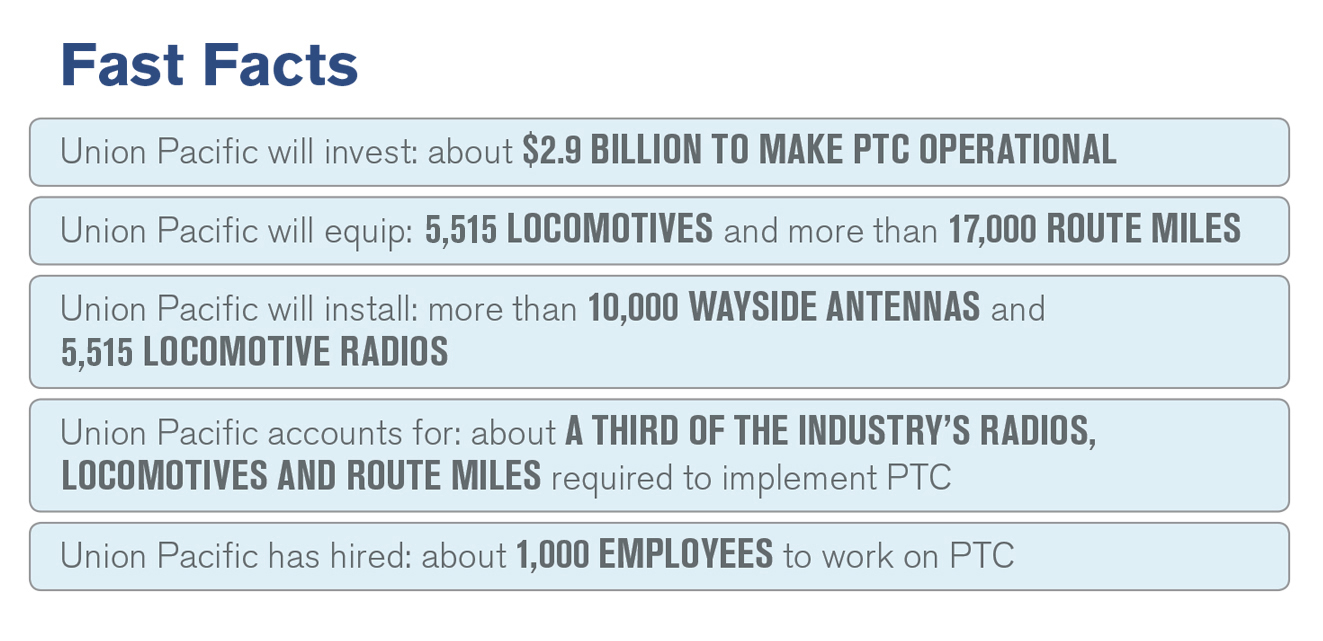 Union Pacific is proud of its employees involved in this unprecedented undertaking, as they work tirelessly to safely design and implement interoperable technology that is largely unproven.
Union Pacific's PTC Progress
Developing and implementing PTC is a multi-part process requiring a systemwide approach. Once all the technologies are fully developed and installed, a comprehensive testing process will take place.
Through December 31, 2017, Union Pacific:
Installed 99 percent, or more than 17,000 miles, of total route miles with PTC signal hardware.
Partially installed PTC hardware on about 98 percent of its 5,515 locomotives earmarked for the same technology.
Equipped and commissioned 4,220 locomotives with PTC hardware and software.
Installed 100 percent of the wayside antennas needed to support PTC along the company's right of way.
What PTC Does and Does Not Do
PTC is an advanced system of technologies designed to automatically stop a train before certain accidents occur. In particular, PTC is designed to prevent:

Train-to-train collisions
Derailments caused by excessive train speed
Train movements through misaligned track switches
and unauthorized train entry into work zones.

PTC will not prevent vehicle-train accidents at grade crossings, stop trains when people are walking on the track illegally, or incidents due to railroad track or equipment malfunctions.
Why PTC is so Complex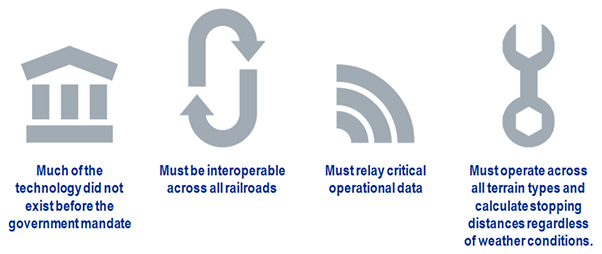 Positive Train Control (PTC) is a complex, nationwide system of newly developed technologies that continuously relays critical information such as speed limits, train movement authorization, switch positions, work zone locations and other operational data. It must factor in locomotive and rail car mix; train length, weight and speed; terrain and signal aspects to determine safe stopping distances. This conservatism in the "braking curve" slows the rail network's velocity and, thus, reduces capacity and ability to handle more freight. Additionally, any PTC hardware or software component failure also defaults to stopping the train, thus reducing rail network capacity.
Implementing PTC properly requires integrating thousands of components across the telecommunications spectrum, such as GPS, Wi-Fi, radios, cellular technology, antennae, base stations and first-of-its-kind software that decides when to slow or stop a train – across Union Pacific's network.
PTC must be "interoperable" – passenger, commuter and freight trains must be able to seamlessly communicate and operate across all railroad systems. Any breakdown in interoperability presents unacceptable risks to the safety and efficiency of America's rail network. Additionally, the Federal Railroad Administration (FRA) must review each railroad's PTC safety plan and certify the PTC system after development and testing of components is completed. This certification is mandatory before PTC-controlled trains can go into service.
About 40 railroads are developing and installing PTC systems around the country. As the architecture of this system comes together, 1,000 Union Pacific employees and contractors are working full-time against a planned $2.9 billion investment in PTC.
PTC Background and Testing
The Rail Safety Improvement Act of 2008 (RSIA) requires railroads to install PTC systems on tracks that carry passengers or poison- or toxic-by-inhalation (TIH) materials. Based on a January 2012 final Federal Railroad Administration (FRA) rule, the Association of American Railroads (AAR) estimates that PTC technology will be deployed on about 63,000 miles of U.S. freight rail lines. As originally written, the RSIA mandated that PTC be put into service by the end of 2015. Recognizing the challenges of this new technology, in December 2015 Congress extended the PTC implementation deadline to Dec. 31, 2018.
Union Pacific freight trains with PTC-equipped locomotives and PTC-trained crews began operating in California in late 2015. Classified as "revenue service demonstration" or RSD, the locomotives, equipment and crews are in operational testing for safety compliance, a monumental undertaking across all PTC components and service groups. On any given day, around 40 trains are operating in southern California's L.A. Basin. This RSD service allows Union Pacific to continuously refine its implementation of this built-from-scratch technology and gather feedback, such as:
verifying and enhancing track feature databases;
improving educational tools for train crews;
standardizing engineering and dispatching processes; and
continuing to assess locomotive reliability.
Industry Investment
Industry implementation costs for Positive Train Control are expected to be $10 billion, which includes:
More than 5,000 people installing PTC capability on more than 22,500 locomotives.
Developing a large, new wireless communications network involving Global Positioning System (GPS), Wi-Fi, radios and 20,000 wayside poles.
Installing more than 36,000 wayside units and 4,200 base stations that transmit information to locomotives and train dispatching facilities from signals and switches along the track.
Once the system is installed, PTC will cost the industry more than $500 million annually to maintain.
Additionally, 60 percent of the industry's employees must receive PTC training.