Career Profile: Technical Trainer Applies Real-Life Railroad Experience in Classroom
Posted June 14, 2016 09:00 AM CDT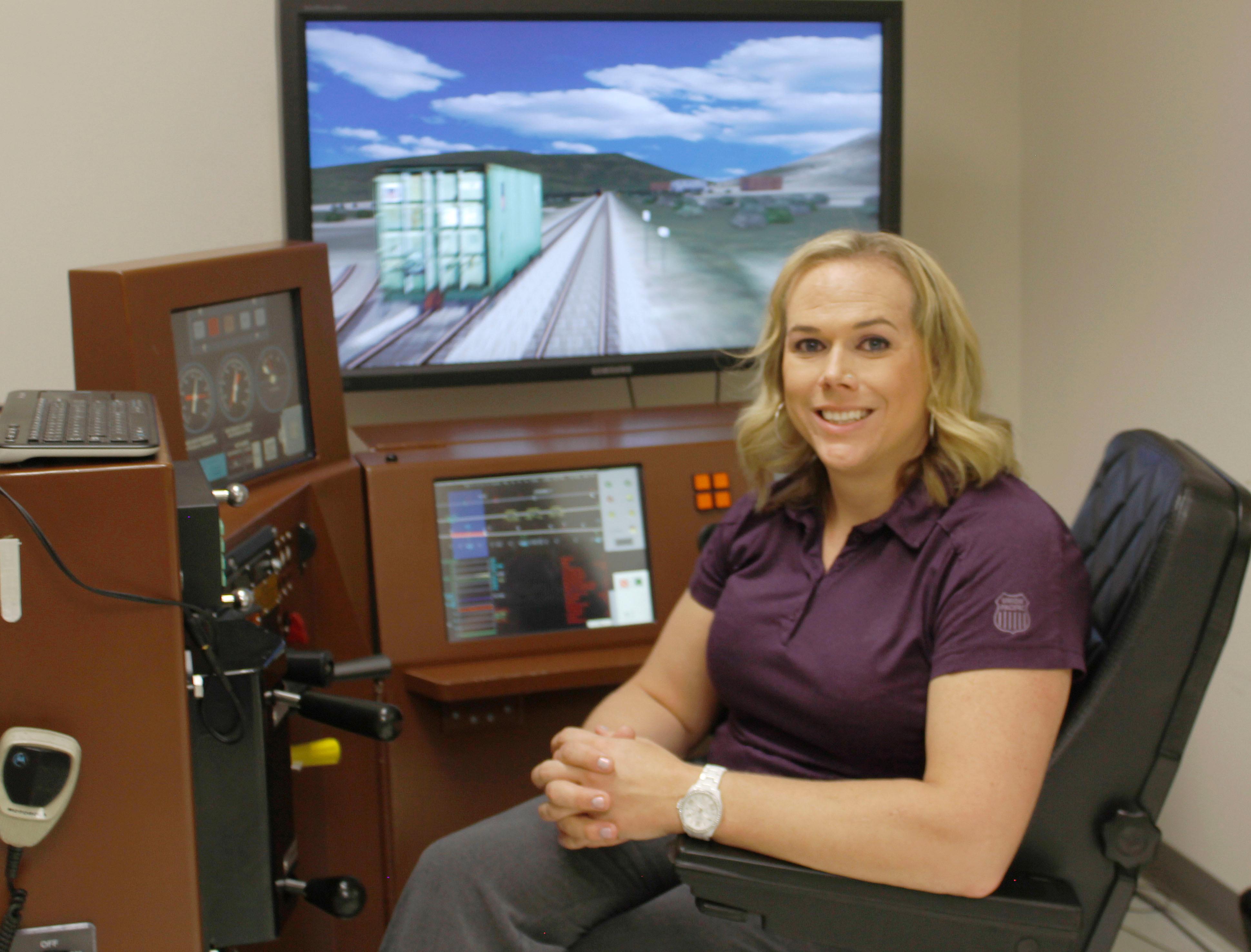 Alexis Howle, a technical training instructor for Union Pacific, applies her past experience as a brakeman, conductor and locomotive engineer in the classroom teaching new hires in Salt Lake City.
You could say railroading is in Alexis Howle's blood.
"I was a railroad child," she said, recalling her father's career as a Union Pacific locomotive engineer. "I was used to that lifestyle."
So, it came as no surprise when Howle followed in her father's footsteps. After finishing high school, Howle took a job as a brakeman for Union Pacific in Bill, Wyoming, working nights and weekends connecting and disconnecting rail cars. Howle worked her way up to become a conductor – and later a locomotive engineer, operating trains to and from coal mines in Wyoming.
"They're wonderful jobs," she said. "They were a lot of fun, very interactive, and a lot of responsibility."
Despite that, Howle left the company in 2009 to earn a degree, but afterward realized her heart still was in railroading.
She returned to Union Pacific in 2014 to start her railroad career again and after a short time as a train employee came across an opportunity that didn't involve working in a rail yard: being a technical training instructor.
"Given my background and my college education, I thought I could help new employees," Howle said.
The company thought so, too.
Today, she works as a technical training instructor in Salt Lake City, relying on her field experience to train new hire brakemen, conductors and engineers safe operations of trains, industry rules and practices.
Alexis Howle explains a day in the life of a technical training instructor at Union Pacific.
"I'm able to provide real-life scenarios that I've dealt with, discuss how they happened and how to avoid them so they won't find themselves in the same situation," Howle said.
Howle shares her experiences with classroom lectures and hands-on experience using simulators. Simulators give new hires the opportunity to put their classroom knowledge into action and also allow for coaching opportunities on operating trains safely.
"I tailor my instruction for individual students," Howle said. "I look for the 'light bulb moments,' when they finally understand what I'm teaching. It's very rewarding."
Howle knows many women don't consider a career in railroading. She says they're missing an incredible opportunity.
"There's nothing a female cannot do in train service," Howle said. "I encourage anyone to come run trains. It's a wonderful career with wonderful benefits. Union Pacific is a huge company with several departments and great potential for career growth."
Opportunities for advancement, personal growth and development are what kept Howle at Union Pacific for more than a decade.
"The sky is the limit," she said. "It's all about what you want to do."
Interested in a career with Union Pacific? Visit https://up.jobs to view our current openings.