For Salt Lake City Machinist, Railroading Is a Family
Posted June 28, 2016 03:00 PM CDT
Share This!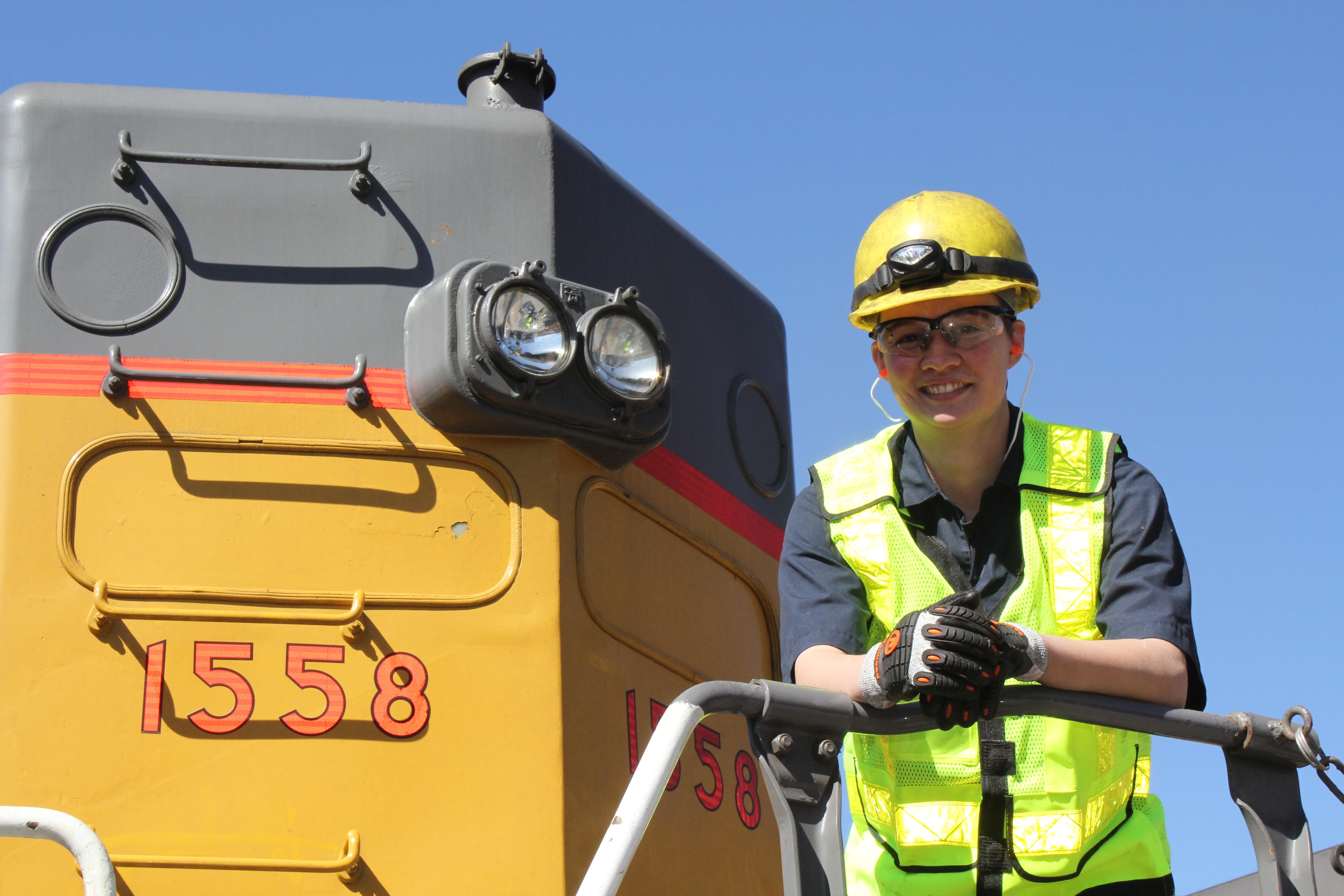 Union Pacific machinist Alia Eden works on locomotives in the Roper mechanical locomotive shop in Salt Lake City, Utah.
Union Pacific machinist Alia Eden has never been afraid of rolling up her sleeves to get something done.
Eden dabbled in carpentry in middle school. Once she reached high school, she got paid for it. Her skills evolved to cabinetry and framing houses in high school and the years following.
Eden's uncle, who worked as a machinist for Union Pacific, told her about an opportunity with the railroad as a fireman and oiler – the position is now known as a mechanical service operator. She took the job at Union Pacific's Utah Service Unit, working in the Roper mechanical locomotive shop in Salt Lake City.
"It was a whole new world for me," Eden said.
After three years of shuffling trains in the yard, ensuring they're in the proper place, Eden moved on to her current role as a diesel mechanic on Union Pacific's locomotives.
"I inspect locomotives and repair them if there's something that needs to be fixed," she said. "Sometimes that means working with torches, air drums and electric drills and getting your hands dirty."

While Eden's work in keeping locomotives moving freight across the country has a huge impact on the industry, her favorite part of the job is constantly learning.
"I'm able to learn new things all the time," she said. "Even after you've figured out your work, there's always something you can look at in a whole new way."
Nine years into her career, Eden says Union Pacific is a great place to be, and encourages anyone to consider a career at the railroad.
"I'm proud to say I work for Union Pacific," Eden said. "There's a certain amount of brotherhood and sisterhood that comes with it. It's a small community. It's nice to run into somebody and say, 'I'm a railroader, too,' and have that connection."
That's part of what keeps her at Union Pacific. "The company is inclusive of everyone," she said. "It's like a family."
Interested in a career with Union Pacific? Visit https://up.jobs to view our current openings.
More Stories