Ask a Recruiter: What is Union Pacific looking for in the background check?
Posted February 22, 2016 02:00 PM CDT
Share This!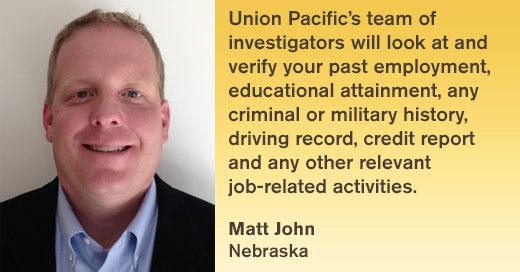 You've cleared the hurdles – you've made it through your interviews and have been offered a position with Union Pacific. But, you haven't crossed the finish line yet. You still have a couple more hurdles to go: a medical screening and a background check, which your offer is contingent upon.
So what does the background check involve, and what is Union Pacific looking for?
Union Pacific has a team of investigators that will look at and verify your past employment, educational attainment, any criminal history or military history, driving record, credit report and any other relevant job-related activities.
Union Pacific's investigators will work closely with you throughout the process to make sure you know what to provide, and are aware of the status of your background check. If any discrepancies are found, the investigator will review them with you individually on a case-by-case basis.
Once you clear your background check and medical screening, you're ready to begin your new chapter with Union Pacific.
- Matt John, Nebraska
Visit http://up.jobs to apply today.
More Stories