Veterans Find Perfect Fit at Union Pacific Railroad
Posted May 9, 2016 02:00 PM CDT
Share This!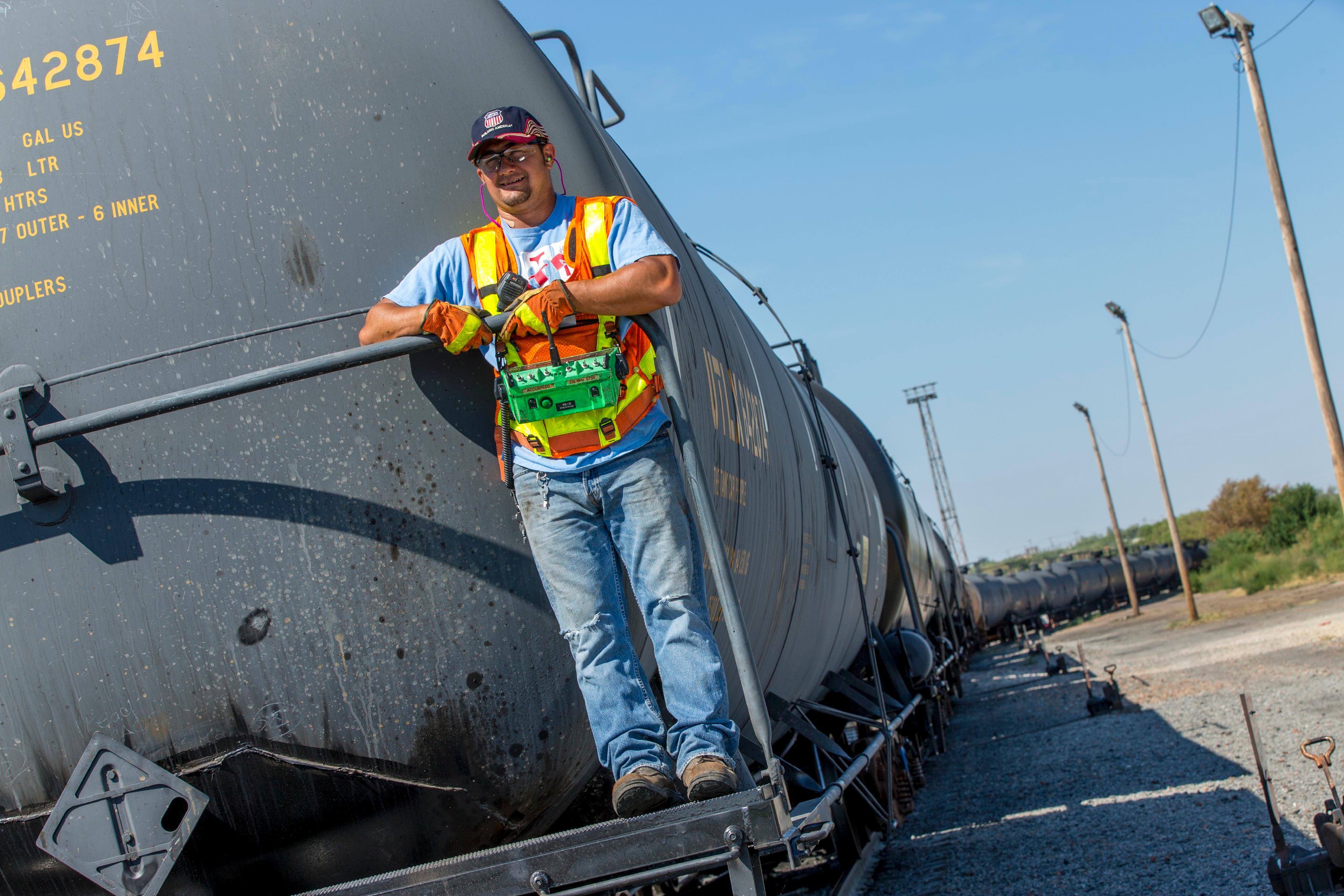 More than 20 percent of Union Pacific employees, like Conductor Eddie Gonzales, have military experience, and some are still active in the National Guard or Reserves.
Life after the military.
There are an estimated 22 million veterans whose service ranges from World War II, Korea, Vietnam, the Gulf War and the intervening peacetime operations, according to the Department of Veterans Affairs. More than three quarters served during a war or conflict.
Veterans transitioning from active duty often face uncertainty, wondering how their skills translate to the corporate world. Many are surprised to learn their proven leadership skills, adaptability and comfort working in challenging environments make them a perfect fit for Union Pacific Railroad.
The company's tradition of hiring military veterans dates back to the Civil War. Today, that dedication is being honored by CivilianJobs.com, which named Union Pacific one of the military's Most Valuable Employers (MVE) for the second consecutive year.
"Union Pacific is honored to be recognized for its support of servicemen and women," said Sherrye Hutcherson, Union Pacific's vice president-Human Resources. "Veterans are the cornerstone of our talent management blueprint, which focuses on recruiting, developing and engaging top talent."
CivilianJobs.com recognized more than 50 employers in various industries nationwide for their recruiting, training and retention efforts. The MVE list is often a starting point for veterans beginning their job search.
Another tool is Union Pacific's Military Skills Translator, which connects military experience to a comparable civilian job. The company's recruiters also are trained to understand roles and responsibilities within the five military branches and can answer questions at career fairs and events.
"We understand that in addition to hiring veterans, it is important to support and retain them," Hutcherson said. "Union Pacific is proud of its reservist policy, which compensates the difference between military and railroad pay for employees called to duty, and insurance covers their dependents for the duration of their tour."
The military is known for its camaraderie, and Union Pacific offers a similar environment through the company's employee resource group UPVETS. The group is open to all Union Pacific employees and gives military veterans a chance to network with other departments as they navigate their civilian careers.
To view the entire CivilianJobs.com MVE list, click here.
Interested in a career at Union Pacific? Visit https://up.jobs to view current openings.

More Stories