Student Conference Emphasizes Non-Technical Side of Engineering
Posted April 21, 2016 02:00 PM CDT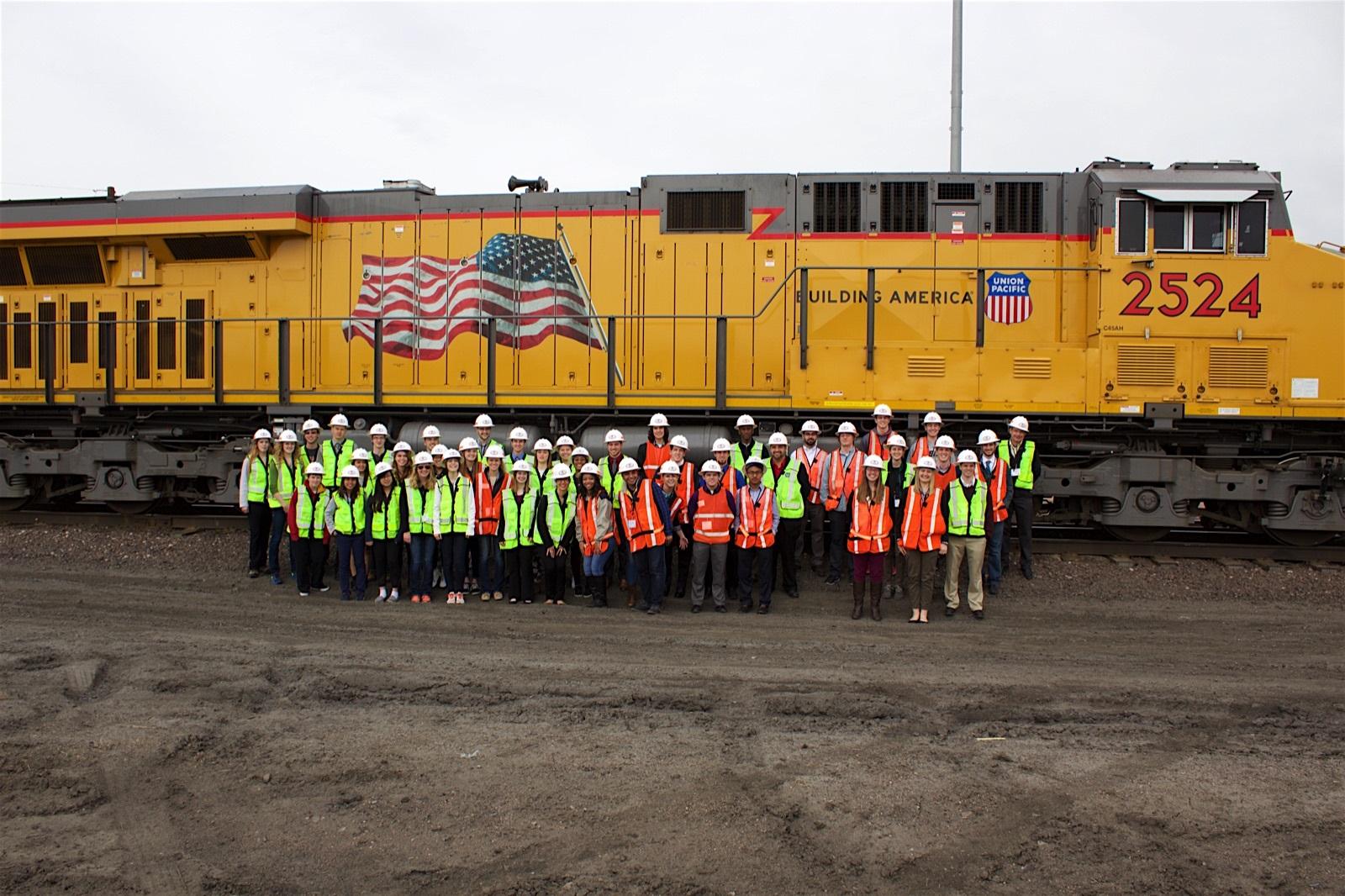 University of Nebraska-Lincoln engineering students tour the Council Bluffs, Iowa, rail yard as part of The Complete Engineer Conference this spring.
When students contemplate the discipline of engineering, few consider the non-technical skills – working as a team, collaborating and presenting ideas and concepts.
"Those non-technical skills are absolutely vital to an engineer's success, and just as important as the technical skills," said Lance Fritz, Union Pacific chairman and CEO, who also has a mechanical engineering degree from Bucknell University.
Building those skills was the focus of The Complete Engineer Conference, hosted by Union Pacific and the University of Nebraska-Lincoln earlier this spring at Union Pacific Center in Omaha.
Over three days, 50 engineering students heard from Union Pacific executives including Fritz; Cameron Scott, executive vice president of Operations; Tom Jacobi, vice president of Operating Systems and Practices; and Phil Danner, assistant vice president of Engineering. Additional presenters were from UNL and other higher education institutions.
In addition to extolling Union Pacific's culture, mission and values, Fritz gave students advice on being tapped for leadership positions.
"It's true you need to differentiate yourself from others, but you also need to assimilate to those around you," Fritz said. "It's important to bring your diverse perspectives and assimilate them into our culture. Get a range of experience early in your career. Craft your 30-second elevator speech to show how you bring value to the company. Engage early and often. Be present and bring solutions."
Fritz also spoke to an area of the railroad's business most students weren't aware of, "Union Pacific is a technology company."
The railroad is at the forefront of technological advances that are helping make operations safer, such as laser-driven cracked wheel detectors and the use of drones to inspect derailment sites.
Cameron Scott elaborated on that point, providing students additional examples of innovation projects at Union Pacific, specifically the Arrowedge— an aerodynamic device that attaches to the top of a rail shipping container to reduce fuel consumption and emissions on double-stack intermodal trains.
Students received a close-up view of railroad operations by touring the rail yard in Council Bluffs, Iowa, and visiting the Harriman Dispatching Center.
Closing out the conference, students formed teams and solved challenging scenarios using their non-technical skills. Scenarios included meeting a need for advanced personalized learning, improving urban infrastructure, and preventing nuclear terror.
"When I thought about working in groups, I thought it would be easy, that we would all cooperate, have similar views, and there would be no problems whatsoever," said Jonathan Brito-Mendoza, architectural engineering freshman. "I realized that's not the case, and that's okay. We all learned to adapt to our surroundings and overcame any obstacles to complete the task. I picked up skills here that I would not have learned in an engineering course."
Brynne Schwabauer, chemical engineering sophomore, said the conference was invaluable. "It really helped us to tap into our individual strengths and apply those strengths to our group dynamic."
For students like Brito-Mendoza, the conference did much more than teach the non-technical aspects of engineering; it validated his career path.
"This conference confirmed that my interest in engineering is far greater than I ever imagined," he said. "This reassured me of my decision to become an engineer."