Climbing the Ladder One Challenge at a Time
Posted January 31, 2017 03:00 PM CDT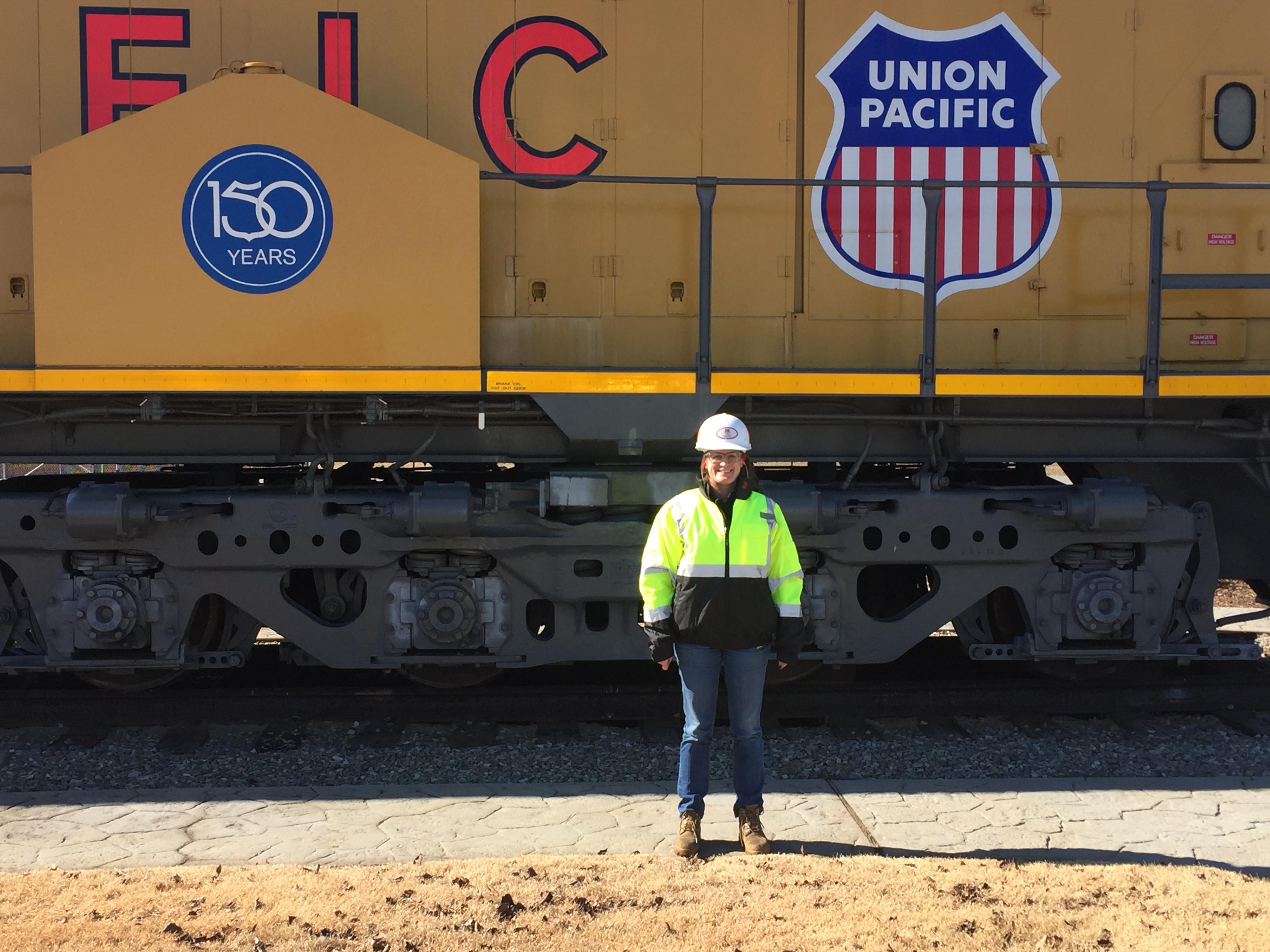 Grace Butts, manager of mechanical maintenance, oversees the overhaul process of hundreds of locomotives each year at Jenks Shop in Little Rock, Arkansas.
Grace Butts is motivated by a challenge. A lifelong learner, she's fascinated with solving problems and implementing solutions. She does it every day as a manager of maintenance at Jenks Shop in Little Rock, Arkansas, where she oversees the overhaul process of hundreds of locomotives each year.
"We refurbish locomotives – the engine and the generator – depending on the type of locomotive, every 10 years or 1 million miles, whichever comes first," Butts said. "Each overhaul takes one week and we also perform heavy maintenance on Union Pacific's fleet of 8,500 locomotives."
Butts relocated in November 2016– it's the fifth job she's held in nearly seven years with Union Pacific. The variety of work and challenges keep her fulfilled.
"I'm never bored," Butts said. "I've learned several roles in the past few years and I'm still learning. With every role, I learn a new area of the business. That's pretty unique."
The daughter of an engineer with several more in her family, Butts studied industrial engineering at the University of Michigan where she heard about Union Pacific's Operations Management Training (OMT) program.
"I wanted field experience to learn the business from the ground up, which made the UP's OMT program very appealing," Butts said.
She joined the program after graduation, training for nine months in Chicago, where she learned how to manage a locomotive shop. From there, she became a manager of mechanical engineering. One of her major projects was putting seven "Genset" (short for "generator set") locomotives into service at the Proviso Yard. Gensets are built with multiple truck engines that only produce the necessary horsepower for yard service. They also save more than 20 percent in fuel use when compared to diesel locomotives in similar operation.
Next, Butts moved to North Platte, Nebraska, as a manager of locomotive maintenance.
"I managed the model line," she said. "The model line is where North Platte does all scheduled locomotive maintenance. The workforce applied UP Way processes designed to standardize work, eliminate variability and waste, and solve problems, to meet safety, quality and productivity goals each month."
"One of my favorite projects was running weekly problem-solving meetings. They set aside an hour each week to solve problems on the floor," she said. "Those meetings not only improved their work, but also produced modifications that improved the locomotives' reliability."
Butts' next stop was managing locomotive operations in Denver, where she established a "Critical 5" team, which consisted of union leadership, safety facilitator, occupational health nurse, managers and craft employees. The team ensures facility leadership is consistently working as a team toward safety, quality and reliability goals.
"I was proud of the work this team started and is sustaining today at Denver North Yard," she said.
Butts then moved to Omaha for eight months, where she performed special projects for the Mechanical – Locomotive Department as a manager of maintenance.
"With my background in field operations, I helped analyze data and gave feedback on how projects would work in the field," she said.
To gain more experience in the field, Butts moved to North Little Rock's Jenks Locomotive Shop, where she continues as a manager of maintenance. Jenks Shop is Union Pacific's largest locomotive maintenance facility and among the largest in the world.
"I was really excited for the opportunity to work here," she said. "Similar to my other moves through UP, I have learned a lot from the team here already."
"The railroad provides a lot of opportunities for growth," Butts said. "You'll learn all sides of the business and take on new challenges. New roles prepare you for the next level."
Interested in a career at Union Pacific? Visit https://up.jobs to view our current openings.