Career Profile: Applying Engineering in the Field, Learning the Business from the Ground Level
Posted May 4, 2016 02:00 PM CDT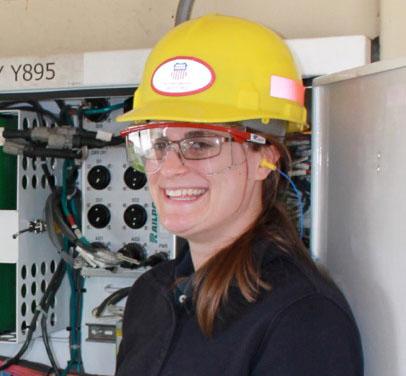 Grace Butts, manager of maintenance, came to Union Pacific as part of the Operations Management Training (OMT) program six years ago. She says the best part of her job is working with people in the field.
Grace Butts grew up around engineers. Her father and several members of her family are engineers. With math and science among her favorite subjects in school — and a nudge from her family — she was destined to become an engineer, too.
Butts' enjoyment of solving problems, implementing solutions and working as a team led her to an industrial engineering degree at the University of Michigan, and eventually to a career in Operations with Union Pacific that began six years ago.
"I wanted field experience and to understand the business from the ground level, which made the Operations Management Training (OMT) program at Union Pacific very appealing," Butts said.
After graduating, Butts joined Union Pacific's OMT program. She trained in Chicago for nine months learning how the railroad works and how to manage a locomotive shop. From there, she became a manager of mechanical engineering. One of her major projects was putting seven "Genset" (short for "generator set") locomotives into service at the Proviso Yard. Gensets are locomotives built with multiple truck engines that only produce the necessary horsepower for yard service. They also have fuel savings of more than 20 percent compared to diesel locomotives in similar use. She also worked on various other projects across multiple locomotive shops.
From there, Butts moved to North Platte, Nebraska, as a manager of locomotive maintenance and as a shift manager at the locomotive shop.
"One of the areas I managed was the model line." Butts said. "The model line is where North Platte does all of its scheduled maintenance on locomotives. The workforce on that line applied UP Way tools, company tools designed to standardize work, eliminate variability and waste and solve problems, to meet safety, quality and productivity goals each month. One of my favorite things I helped them with was weekly problem solving meetings. The team took an hour each week to step away from the business and solve problems they saw on the floor. Solutions from those meetings not only improved their work, but also produced reliability modifications to improve the quality of our locomotives."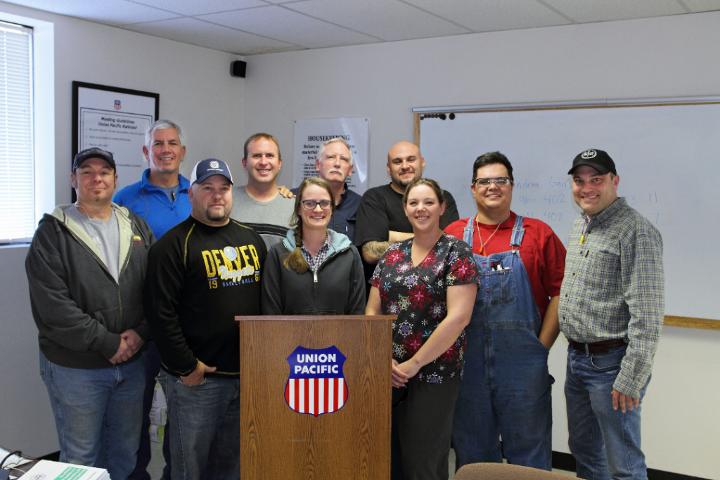 Denver Service Unit employees with Grace Butts in January. Back row - Mike Brall, Jeremy Kahler, William Hall and Anthony Lobato. Front row - Rick Baum, Grace Butts, Erin Addleman, Jeremy Swartz and Mark Benton.
Butts went on to work in Denver as a senior manager. There, she managed locomotive operations for Denver and established a "Critical 5" team which consisted of union leadership, a safety facilitator, an occupational health nurse, managers and craft employees. The Critical 5 team ensures facility leadership is working as a team towards safety, quality and reliability goals.
"I was really proud of the work this team started and is sustaining today at Denver North Yard," she said.
Today, Butts lives in Omaha and holds a manager of maintenance title. She works on special projects for the Mechanical – Locomotive Department.
"As a manager of maintenance — and an industrial engineer, I look for opportunities to improve processes and ensure facilities are running smoothly," she said. "One example is ensuring our federal and company maintenance is scheduled correctly and efficiently for our shops."
Six years into her career, Butts says the best part of her job is the people.
"I love working with our people in the field," she said. "Every place I have been, we have smart and hard working people who want to make their jobs and the railroad better. Working closely with those people to build teams and then watching those teams grow and achieve their goals is a rewarding experience."
Interested in a career at Union Pacific? Visit https://up.jobs to view our current openings.