Mechanical Maintenance Manager Takes 'Building America' To Heart
Posted July 22, 2016 08:00 AM CDT
Share This!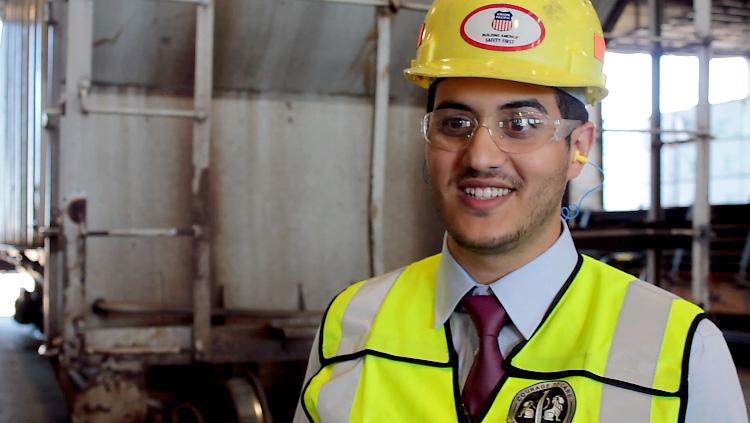 Kosay Abu-Ghaban works as a manager of mechanical maintenance in Salt Lake City. He came to Union Pacific through the company's Operations Management Training (OMT) program.
As a child, Kosay Abu-Ghaban remembers playing with toy trains and marveling at the power of locomotives. He never imagined he'd grow up to work at a railroad, let alone manage the people who repair freight cars and keep train operations running.
"I love it," Abu-Ghaban said. "Freight cars look simple, but there are so many different parts and components."
Abu-Ghaban joined Union Pacific's Operations Management Training (OMT) Program after graduating from University of California-Davis with a degree in mechanical engineering and aerospace engineering. He trained in Roseville, California, before shadowing a mechanical manager for several months.
"The OMT program is interesting because you get to experience all aspects of the railroad and realize the magnitude of impact the industry has on the country," Abu-Ghaban said.
Abu-Ghaban now works as a manager of mechanical maintenance in Salt Lake City's Roper Yard. He oversees terminals in North Salt Lake, Roper, Ogden and Provo, and has more than 100 direct reports.
"What's unique about this job is that there are a lot of pieces to it," he said. "There aren't a lot of jobs where you get out of college and have the opportunity to manage a full slice of the business right away – everything from safety, to budget, to manpower, to materials. It's a huge responsibility."
His teams have a huge responsibility, too.
"The job we do is so important to public safety," Abu-Ghaban said. "We take pride in what we do."
Working as a team is the best part of his job, he said.
"The feeling of satisfaction that we, as a team, came together and made something happen for a customer is pretty great," he said.
Abu-Ghaban encourages anyone to consider a career at Union Pacific, specifically through the OMT program.
"If you're looking for a career that's rewarding where you can be part of the change to the infrastructure of our country, this is the job for you," he said.
Interested in a career with Union Pacific? Visit https://up.jobs to view current openings.

More Stories