Top 5 Ways Union Pacific is Military Friendly
Posted October 3, 2018 11:00 AM CDT
Share This!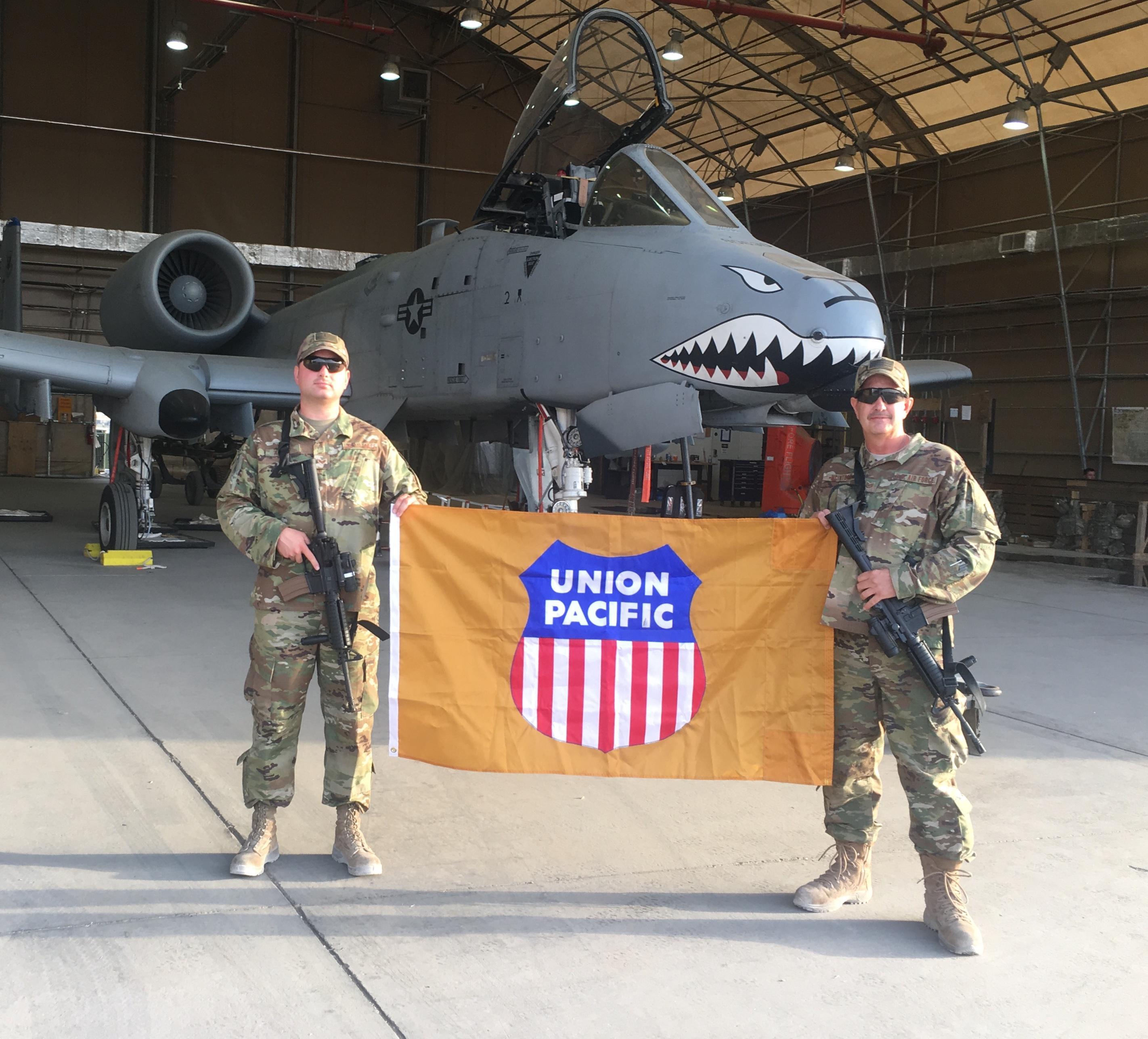 From right, Union Pacific Carman Welder Robley McIntosh, Dupo, Illinois, and fellow Air National Guard holding a Union Pacific flag in front of a fighter plane while deployed in Afghanistan.
Some of Union Pacific's first employees were Civil War veterans, and throughout its 155-year history, Union Pacific has consistently supported the military – by moving troops and supplies while providing jobs for veterans and active-duty soldiers.
Here are the top five ways Union Pacific is military friendly:

1. Hiring Veterans: Union Pacific welcomes veterans and honors their service. Currently, 18 percent of agreement and 14 percent of management employees self-identify as veterans. Veterans also make up 24 percent of new employee hires in the past five years.

2. Deployment Support: Every month, between 52-60 non-management and 7-10 management Union Pacific employees are deployed with the United States Armed Forces in compliance with the Uniformed Services Employment and Re-Employment Rights Act (USERRA).

3. Military Liaison: Union Pacific employs a military liaison serving as a point of contact for agreement and nonagreement military employees and their families during deployments, answering questions and handling concerns in accordance with Union Pacific's Military Leave Policy.

4. Award-Winning Assistance: In February 2018, Employer Support of the Guard and Reserve's (ESGR) Nebraska Chapter honored Union Pacific with the Extraordinary Employer Support Award. UP is also frequently recognized by GI Jobs and the Military Times.

5. Serving through Shipping: Union Pacific directly serves more than 25 military facilities, annually shipping thousands of rail cars of ammunition, Humvees, tanks and other various types of military equipment. Union Pacific's geographic reach and connections allow Union Pacific to deliver equipment across the country, between military installations and to ports overseas.

Interested in a career at Union Pacific? Visit UP.jobs to view our openings and apply today.

More Stories