Five Resume Writing Tips for Military Veterans
Posted August 5, 2016 09:00 AM CDT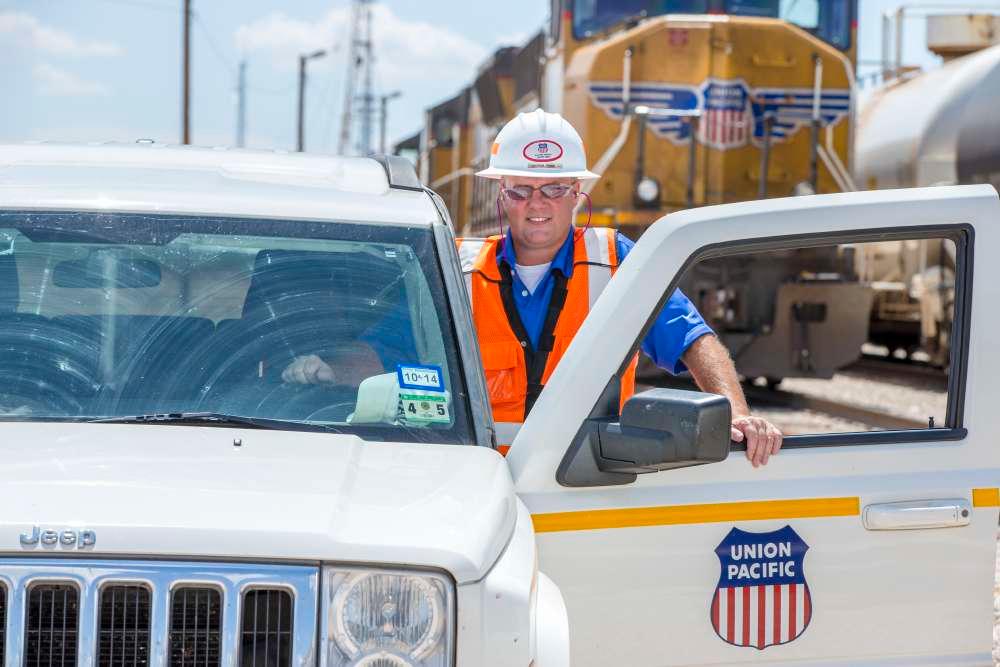 Union Pacific's Tom Price, a military veteran who works as a manager in Engineering, stands next to his vehicle at the Odessa Yard in Texas.
You've served your country. Now, you're looking to transition from your military career to a civilian career. But, where do you start? And, how do you take your military experience and apply it to a civilian career?
Here are five resume writing tips for military veterans looking for a civilian career at Union Pacific:
1. Understand what's important to Union Pacific. Union Pacific's mission statement and values highlight how employees are dedicated to serve customers and committed to safety while operating a successful transportation network. Resume accomplishments that highlight skills in safety, training, productivity, innovation, leadership, problem solving, operating in extreme environmental conditions, engineering, logistics, communications and customer satisfaction are all applicable and vital to an excellent customer experience at Union Pacific.
2. Include a career highlights section. Rather than an 'Objective' section on your resume, include a 'Career Highlights' section detailing four to five major accomplishments that are most important for a Union Pacific recruiter to know and understand. Instead of highlighting your skills in weapons shooting proficiency, highlight your skills in safety, leadership, planning and operations – skills which directly apply to Union Pacific.
3. Focus on measurable accomplishments, not responsibilities. Use data. Resumes should show accomplishments in addition to job responsibilities. A good accomplishment on a resume highlights the percent change, improvement of a process, specific dollar cost savings or how a customer was better served. For example, "Responsible for a $4 million parts budget," is not a strong resume bullet. Instead, "Saved 15 percent ($600K) through improved parts inventory process of a $4 million budget," is much better because it directly shows what you did to improve a process.
4. Beware of military terms and acronyms. Keep in mind not all recruiters are familiar with military jargon. Using clear and simple terms that can be understood in one read-through is important. For example, including a term of your assigned command NAVSPECWARCOM (U.S. Navy Special Warfare Command) can easily confuse someone. Labeling it US Navy Special Operations is less confusing.
5. Have people without military experience look over your resume. They'll be able to ensure you're fully translating and explaining your military accomplishments and responsibilities in a way that will have a positive career impact.
Interested in a career with Union Pacific? Visit https://up.jobs to view current openings.
This article was written by Union Pacific's Chad Storlie, senior director of Customer Solutions. Storlie served in the United States Army for more than 20 years as a Lieutenant Colonel in the Infantry and Special Forces (Green Beret). He served in Iraq, Korea, Bosnia, Germany and throughout the United States.