Railroad Experience Aids Veteran in Combat
Posted September 7, 2016 03:00 PM CDT
Share This!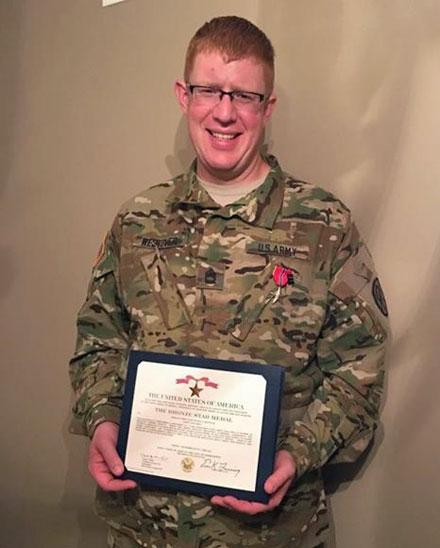 Nate Westover, senior manager of Strategic Sourcing at Union Pacific, who serves as a U.S. Army Reservist, was recently presented the Bronze Star for meritorious service in a combat zone in his latest mission to Iraq.
Nate Westover's job at Union Pacific involves a lot of logistics working with suppliers as a senior manager of Strategic Sourcing. As a U.S. Army Reservist, Westover's latest combat mission to Iraq also involved logistics, and leadership – earning him a Bronze Star for meritorious service in a combat zone.
The 13-year U.S. Army reservist deployed to Iraq May 2015 to April 2016 to coordinate petroleum supply operations. Upon arrival, Westover was tasked with a much larger responsibility – building a new base camp, a process he likened to creating a small town.
"There was a team of us, but I was the guy on the ground coordinating the logistics," Westover said. "I established the food supply line, the fuel supply and all of the life support services that went into developing the camp, which was designed to support special operations."
Westover applied several skills learned from Union Pacific to his service abroad as sergeant first class.
"I was given that responsibility overseas because of my background in procurement and logistics, and working with suppliers at Union Pacific," he said. "That really led to the fact that I received the Bronze Star."
Westover appreciates Union Pacific management's support during his deployment.
"Lynn Kelley took time out of her day at least once a month to keep me in the loop and let me know how things were going in the department," he said. "Management has been extremely flexible and helpful to take care of my family."
Kelley, senior vice president-Supply Chain and Continuous Improvement, said Westover is a tremendous asset.
"We are so relieved to have him safely back home, both with us and with his family," she said. "We are extremely proud of him for his positive attitude and serving our country. He is an inspiration to all of us."
Westover is one of thousands of United States veterans who have found a perfect fit working at Union Pacific.
Interested in a career with Union Pacific? Visit https://up.jobs to view our current openings.

More Stories