Journeyman Electrician Finds Home at Union Pacific
Posted October 20, 2016 09:00 AM CDT
Share This!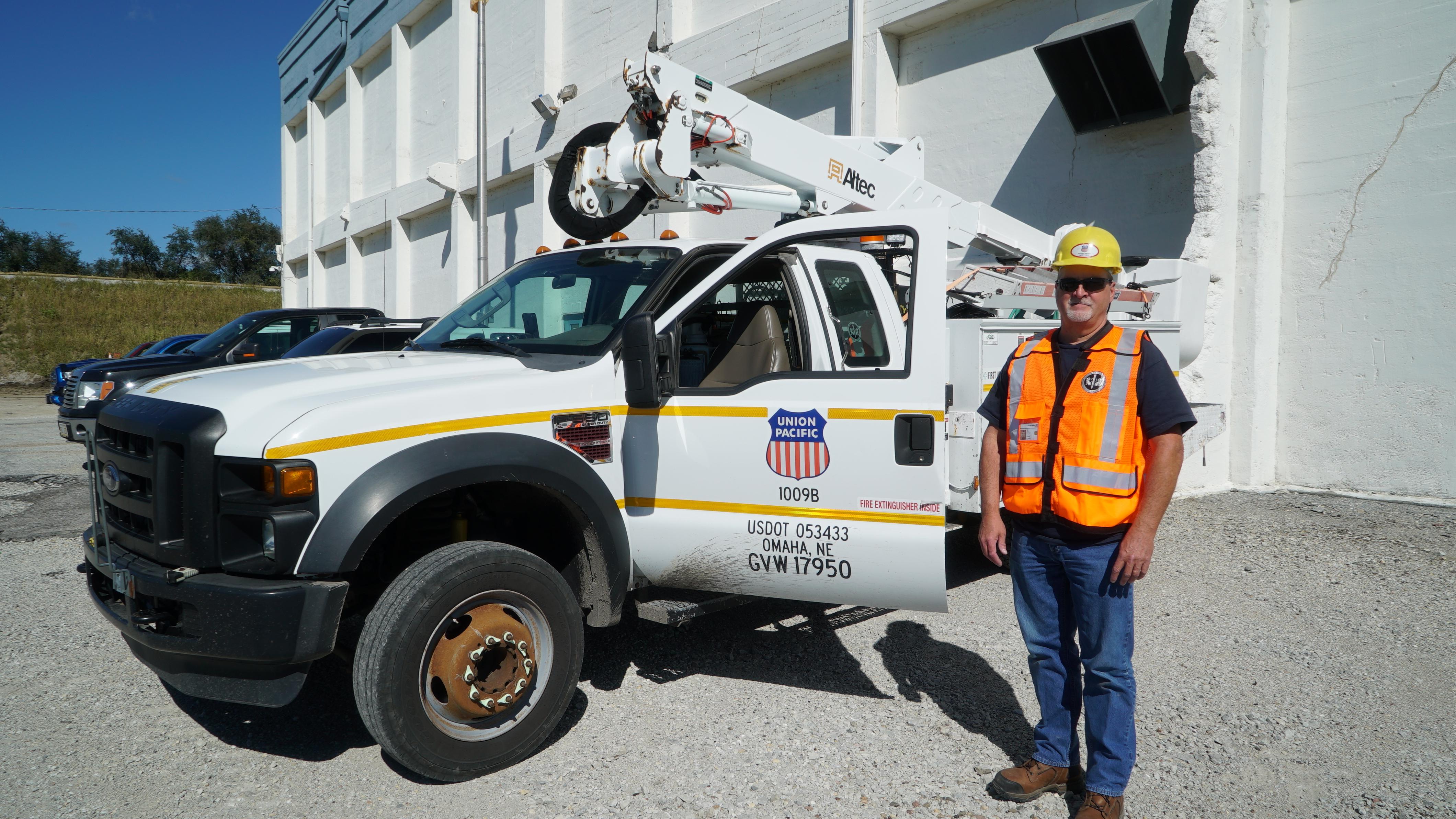 Journeyman Electrician Scott Casey covers a wide area in the Midwest including: Council Bluffs and Sioux City, Iowa; Fremont, Valley, Columbus and Grand Island, Nebraska; and Marysville, Kansas.
Scott Casey knows the electrical industry. He grew up watching his father, uncles and grandfather – all electricians – deal with the industry's fluctuating demands, often working job-to-job. For 30 years, Casey lived as a commercial electrician working on big projects like the Methodist Women's Hospital and TD Ameritrade Park in Omaha.
"I went through years and years of getting jobs done and not knowing when the next was coming," he said. "When work got slow, I started looking. That's when I found Union Pacific."
Casey was hired as a journeyman electrician in Council Bluffs, Iowa, five years ago.
"Being a journeyman electrician for the railroad is quite a bit different from being a journeyman electrician commercially because we do everything from building maintenance, lighting, power systems, control panels to power line work and yard lighting," he said.
Casey does a little bit of everything electrical, but specializes in supplying power to railroad signal sites, including lights and crossing gates.
"That's vital to running a railroad," Casey said. "Everything works on electricity."
He also responds if storms impact electricity in his coverage area, which includes Council Bluffs and Sioux City, Iowa; Fremont, Valley, Columbus and Grand Island, Nebraska; and Marysville, Kansas.
"When lightning hits a power line, I repair the fuses, if they blow," Casey said. "If a power line comes down, I repair that, too. I also fix rail yard lighting if it goes out; they have to have lighting at all times."
Lately, he began installing high-powered LED lighting in rail yards, which puts out a brighter light – an upgrade that pleases crews.
"It's gratifying when I can make something better for others," Casey said.
He says the railroad's stability, compared to the construction industry, is what drew him to Union Pacific. It's what keeps him here, too.
"Union Pacific is a huge company with a lot of stability," he said. "Every day you have work to do. You don't have to worry about where you're going next. You create your own work schedule. As calls come in, you prioritize the work. It's a very challenging, but rewarding, job."
Interested in a career like Scott Casey's? We're hiring another Journeyman Electrician in Council Bluffs. Apply here and visit https://up.jobs to view other current openings.
More Stories