Three Advantages of Joining Union Pacific's Talent Community
Posted August 26, 2016 02:00 PM CDT
Share This!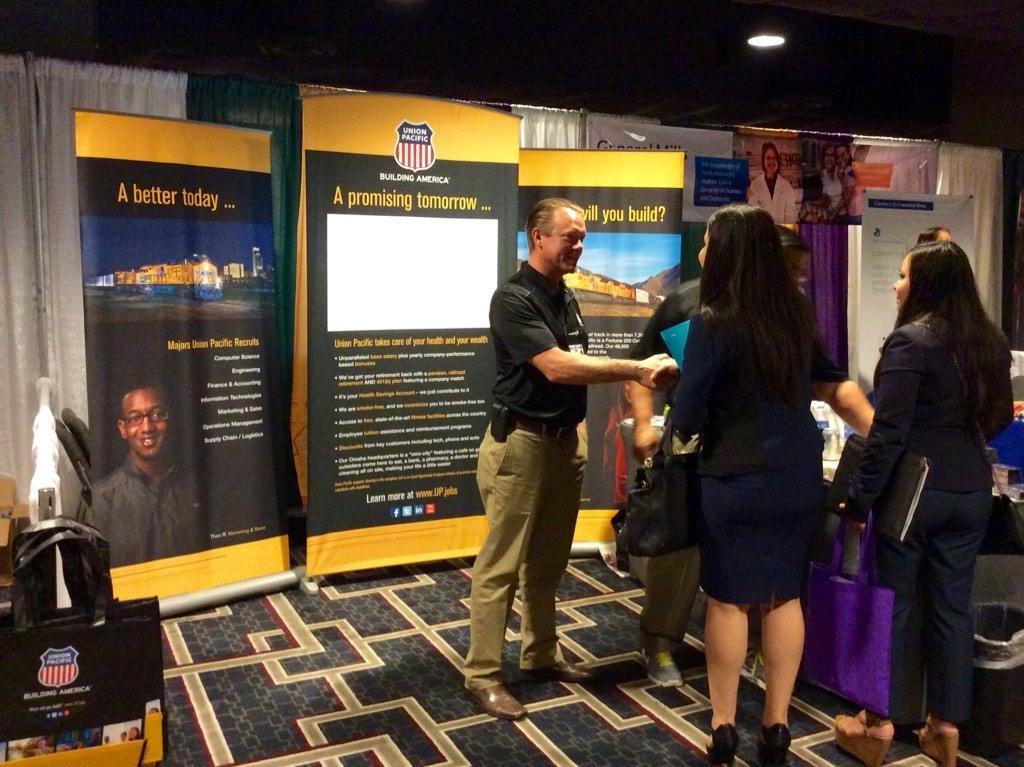 Union Pacific Senior Recruitment Manager Brent Litjen networks with students at a career fair.
Say you're a forward-thinking college student who just began fall semester, but are already looking to line up an internship later in the school year. If you're planning to attend a career fair on campus, Union Pacific's recruiters will encourage you to sign up for the Talent Community ahead of time.
What is the Talent Community and why should you join?
Union Pacific's Talent Community is a centralized hub for job or internship seekers. Information submitted gives recruiters what they need to help connect you with the right opportunities at Union Pacific.
Here are the top three reasons to join the Talent Community:
1. It's a "fast pass" to face time with a recruiter. Just like amusement parks are riddled with mile-long lines, career fairs quickly become congested. Joining the Talent Community ahead of time lets you skip the lines and spend more time talking one-on-one with a recruiter – rather than spending that time signing up for the Talent Community on-site. You'll sign up at some point. Why not be ahead of the game?
2. The Talent Community is always in the know. Talent Community members are the first to know when Union Pacific recruiters are attending an event near them and will be communicated with before and after events. You'll even be the first to hear about internship and career opportunities with the company.
3. Talent Community members are the first people we think of when opportunities become available – and we really will be in touch. Whether you're ready for a job or internship now or in the future, the Talent Community is the first place Union Pacific's recruiters go to look for candidates when new opportunities arise. Joining the Talent Community gives recruiters contact information to reach out to the most qualified candidates.
Ready to join Union Pacific's Talent Community? Sign up now.
Not a student, but interested in a career with Union Pacific? The Talent Community isn't limited to just students – join the Talent Community to be in touch with recruiters about events and career opportunities.
More Stories