Career Profile: Study Abroad Opportunity Inspires Career in Railroading
Posted March 8, 2016 12:00 PM CDT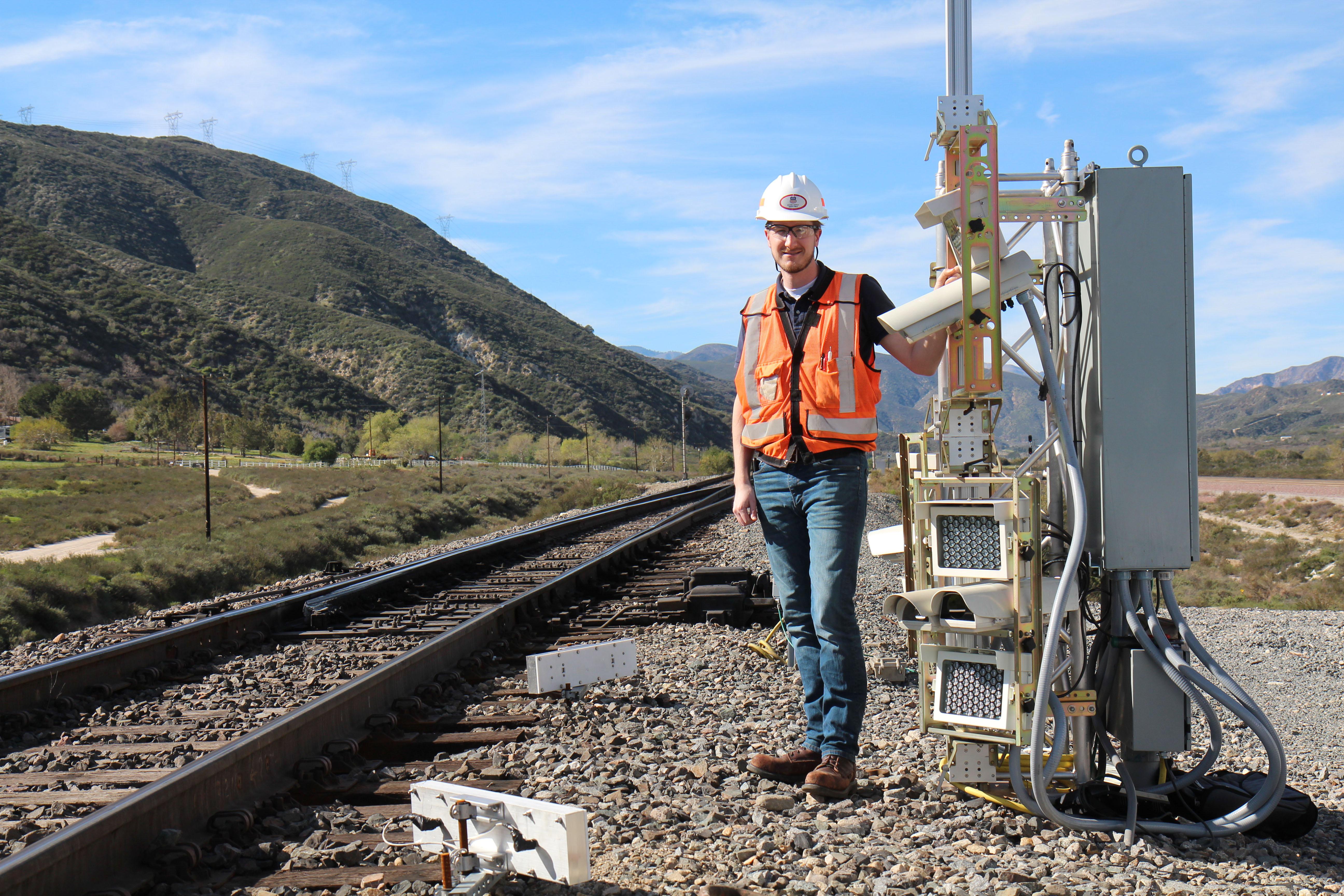 Tom Bartlett, senior manager, Engineering Methods and Research, at Union Pacific Railroad's Mojave Subdivision near Cajon Pass in San Bernardino, California. Photo courtesy of Mario Delceppo.
Tom Bartlett never would have considered a career in the railroad industry had it not been for a study abroad opportunity in Finland as an undergraduate engineering student at Michigan Tech University.
"My passion was audio," Bartlett said. "I wanted to design speakers, microphones and amplifiers."
But his plans changed after his junior year when he spent a summer studying railroad engineering in Finland.
"I studied how the railroads operate there, how they maintain the track and structures," Bartlett said. "It was really interesting, and sparked an interest in an industry and a career I'd never considered before."
His interest in railroads continued after Finland, and led to a semester-long internship at Union Pacific in Omaha, developing automation to help sort rail cars in classification yards, working with existing technology to make the process better.
"The internship made me realize there's a world of interesting, unsolved challenges in this industry," Bartlett said.
So, he went back to Michigan Tech, changed his degree focus from audio to Control Systems and Power Systems, which allowed him to gear his elective courses toward rail. He also got involved in the university's railroad clubs – even holding a leadership position in the Railroad Engineering Activities Club (REAC).
Michigan Tech is among a handful of colleges and universities that offer railroad undergraduate programs or clubs – but that trend is changing.
As the railroads declined prior to industry deregulation, many universities moved away from rail education in favor of highways and aviation. Now, with a strong continuing demand for new talent, universities working with the industry see an opportunity to re-enter railroad engineering education.
After graduating from Michigan Tech University with a degree in electrical engineering, Bartlett came back to Union Pacific to start his career in the Operations Management Training (OMT) program.
"From the OMT program, I found a career path that was well aligned with my skill sets and my interests and I knew I could really make a difference: technology development for derailment prevention," Bartlett said.
After three years as a manager of special projects within engineering, Bartlett advanced to a senior manager role.
"Union Pacific offers you an opportunity to do design work, but there's also a significant field component to the job, where you're in safety gear, outside, working near trains," he said. "Not only are you making these designs and handing them off to someone, you're building them yourself and get to see them make an impact, which appeals to a lot of engineers, myself included. It's important, impactful engineering work, and you're not desk-ridden."
Bartlett credits his undergraduate experience for his success at the railroad.
"Those programs get talented people, talented engineers, who have no plans at all to go into rail, to begin thinking about it as a career option," he said.
Union Pacific has hired graduates from: Brigham Young University, Oregon State University, University of Illinois, Urbana-Champaign, and the University of Kansas, to name a few. Each of those schools offer railroad curriculum or clubs.
Interested in a career at Union Pacific? Visit https://up.jobs to view current openings.