Fremont Great Race Celebration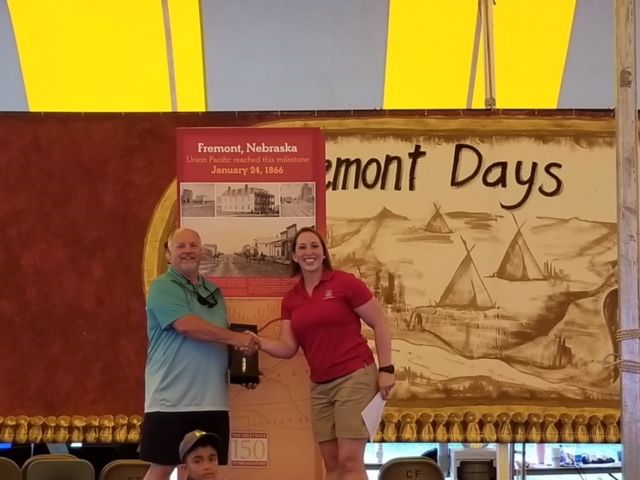 Fremont Mayor Scott Getzschman accepted a commemorative Golden Spike from Union Pacific Public Affairs Director Lindsey Douglas
Union Pacific and Fremont have intertwined histories dating back to the 1850s. The first transcontinental railroad spurred growth for the community then, and Union Pacific continues to operate here today.
Fremont was incorporated as a town in 1858, but as early as 1853 General Grenville Dodge, Union Pacific's chief engineer, suggested Fremont be a priority for railroad crews building out west. In January 1866, Union Pacific completed its tracks and service was established. Fremont served as the winter quarters for the railroad's construction crews through that first season, and by 1876 the town had grown into an agricultural center on the railroad's main line, responsible for exporting more than 42 million pounds of grain annually. In January 1904, Union Pacific and Chicago & North Western constructed Union Station. Little did the builders know that less than 20 years later President Warren G. Harding's funeral train would pass through the community.
Union Pacific presented a commemorative Golden Spike to the City of Fremont during Fremont Days on Saturday, July 14, 2018 to Mayor Scott Getzschman.