It takes a team to keep America's supply chain in motion, and Union Pacific is helping tackle the middle mile by partnering with logistics leaders across its 23-state network.
Union Pacific subsidiary Loup Logistics recently welcomed more than 40 representatives from nearly two dozen trucking companies to the railroad's Omaha headquarters.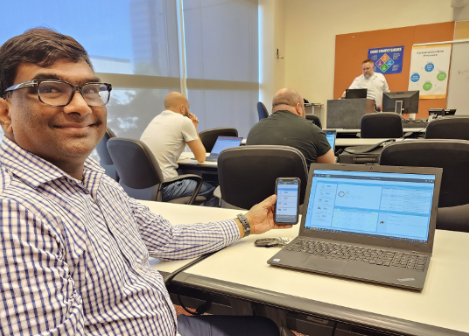 "We were very excited to host our U.S. carriers in person," said LaKeisha Gatson-Dunham, general director-Strategic Services, Loup Logistics. "The conference gave us an opportunity to sit across the table with carriers we work with every day to create and develop customer solutions."
The conference included small-group training sessions, networking opportunities and updates on railroad initiatives.

"I've never been to anything like this before," said Shaw Issa of Chicago-based Legacy Express/Fleet Holdings. "It was very informative."
Attendees learned more about Union Pacific's Supplier Diversity program and Intermodal Excellence initiatives before engaging in strategic discussions on current operations and strategic growth with key Loup Logistics business teams.
The railroad team also shared how Union Pacific's integrated tech network enables Loup Logistics to stand out as a supply chain logistics provider, with solutions like mobile app UPGo and a user-friendly Transportation Management System (TMS).

After engaging in classroom-based training sessions, several carriers expressed excitement using Loup Logistics' new TMS:
"Honestly, I wish our system looked like this!" said Matthew Aaron, Legacy Express Trucking, Chicago.
"I like this, this will be so easy to teach this to the dispatchers!" said Jessica Sanchez, Grapevine Intermodal, Los Angeles.
Subscribe to
Inside Track
"It was truly a great time," Gatson-Dunham said. "Next stop is Monterrey, where we will meet with our Mexico carriers."
Visit the Loup Logistics website to learn more about how transloading can offer efficient supply chain solutions.