Chicago is one of the largest import markets in the U.S., with approximately 50% of containers offloaded at West Coast ports destined for the Windy City and surrounding region.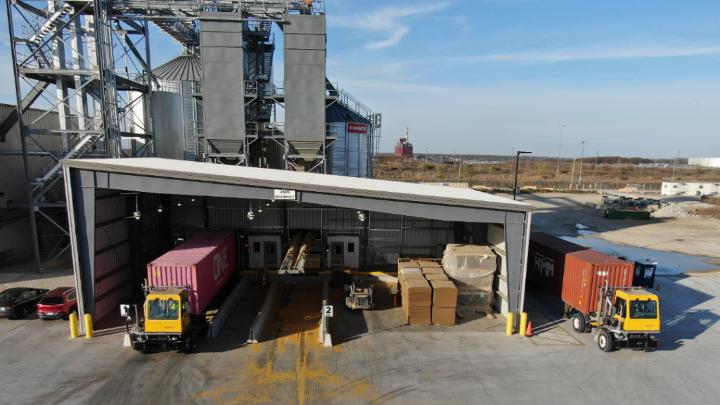 It's also located in the middle of some of the richest, most productive farmland in the nation.
When you put these two facts together, what do you get? A Union Pacific-built state-of-the-art grain transload facility that will reduce transportation costs for Midwest agricultural producers while creating efficiencies for ocean carriers and the nation's overall supply chain.
"The facility is a win-win for both our agricultural producers and intermodal customers," said Kenny Rocker, executive vice president-Marketing and Sales. "This innovative investment will provide producers access, and efficiencies, to Union Pacific's extensive network and give our ocean carrier customers a competitive edge in the export market. We are committed to providing export optionality to an ever-changing marketplace."
The Global 4 grain transload facility opened with a soft launch in August. It officially celebrated its grand opening on Nov. 16, with a host of VIPs, customers and proud Union Pacific employees in attendance.
The facility, which is owned by Union Pacific, will be managed by JCT, a 50/50 joint venture between Gavilon and Consolidated Grain and Barge Co. (CGB).
The facility has the capacity to process 60,000 containers per year at full buildout and is the first railroad-owned transload facility of its size and scale in North America. It primarily will specialize in transloading soybeans and dried distiller grains (DDGs), a major byproduct of ethanol production.
Subscribe to
Inside Track
It offers efficiencies on several fronts.
The cutting-edge facility reduces unload times for inbound products, saving agricultural producers and processers both time and transportation costs. It also gives them ready access to empty containers already headed back to the West Coast and overseas markets.
"We couldn't be prouder of all the work and challenges our team had to overcome to construct and build a facility of this size during a pandemic, and in the midst of national supply chain challenges," said Hasan Hyder, general director-Sales. "It's really a testament to the tenacity of our people."
To learn more about the facility, including pricing and availability, go to UP.com.