Preserving the Environment
Preserving the Environment
A healthy environment is an essential foundation for a strong country – and a vibrant economy. Our vision of Building America involves protecting and strengthening this foundation.
Railroads are one of the most fuel efficient means of transportation, generating fewer carbon emissions than long haul trucks or air transport. Moving freight on trains also reduces traffic gridlock on America's overtaxed highways and carbon emissions from idling vehicles.
We move freight in an environmentally responsible way, enabling sustainable economic growth, but we still recognize the importance of not being complacent about our operations' impact. As the world seeks to improve sustainability, we are doing our part to reduce our carbon footprint and help our customers do the same.
2017 Highlights, Challenges and Opportunities
Green Ranking
Union Pacific ranked No. 61 among all U.S. businesses in Newsweek's Green Ranking, an improvement from our position as No. 81 in 2016.
On average, trains are four times more fuel efficient than trucks. That means moving freight by rail instead of truck reduces greenhouse gas emissions by 75 percent.1 Those emissions are directly related to fuel consumption. On average, Union Pacific moved a ton of freight 465 miles on a gallon of diesel fuel. If 5 percent of freight switched from truck to rail, 800 million gallons of fuel could be saved.
Union Pacific earned an A- rating on the CDP's Climate Change Survey in 2017. We are proud of our achievements, resulting from the 10th consecutive year of submitting climate change data to CDP.
Our Approach to Environmental Management
Union Pacific's goal is to be a leader in moving goods in a fuel-efficient and environmentally responsible manner. Environmental Management policies and procedures provide a pathway for the company to meet or exceed applicable environmental laws and regulations. Our environmental management efforts are based on the following strategic pillars:
Prevention – Acting to reduce environmental damage from operations, including carbon emissions and climate impact.
Preparedness – Working with customers and communities to prepare an effective response to future environmental issues.
Response – Responding to emergencies involving environmentally sensitive materials to minimize health, environmental, operational and financial impact.
Recovery – Restoring the environment from contamination for which Union Pacific is responsible.
Union Pacific's Environmental Management System improves processes and tracks performance. We strive to improve our performance by investing in technology, maintaining equipment and training employees in environmentally responsible behaviors.
Every Union Pacific employee must commit to preventing pollution, continuously improving and complying with all regulations, according to the company's environmental policy signed by Chairman, President and CEO Lance Fritz.
Our Environmental Management Group (EMG) oversees environmental compliance and is integrated into daily operations. EMG rigorously plans, coordinates and communicates environmental requirements and best practices. It also engages employees in our Environmental mission and vision.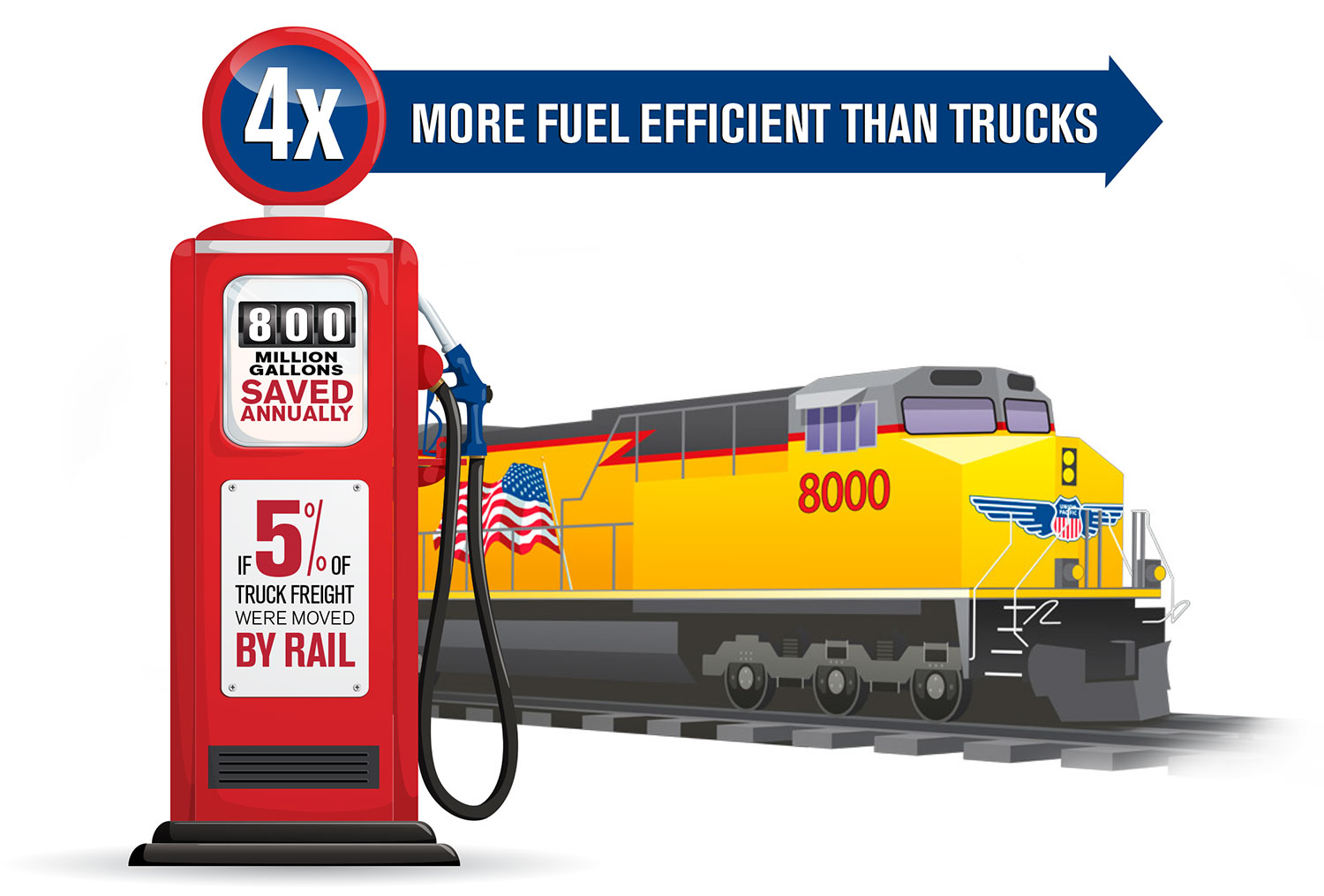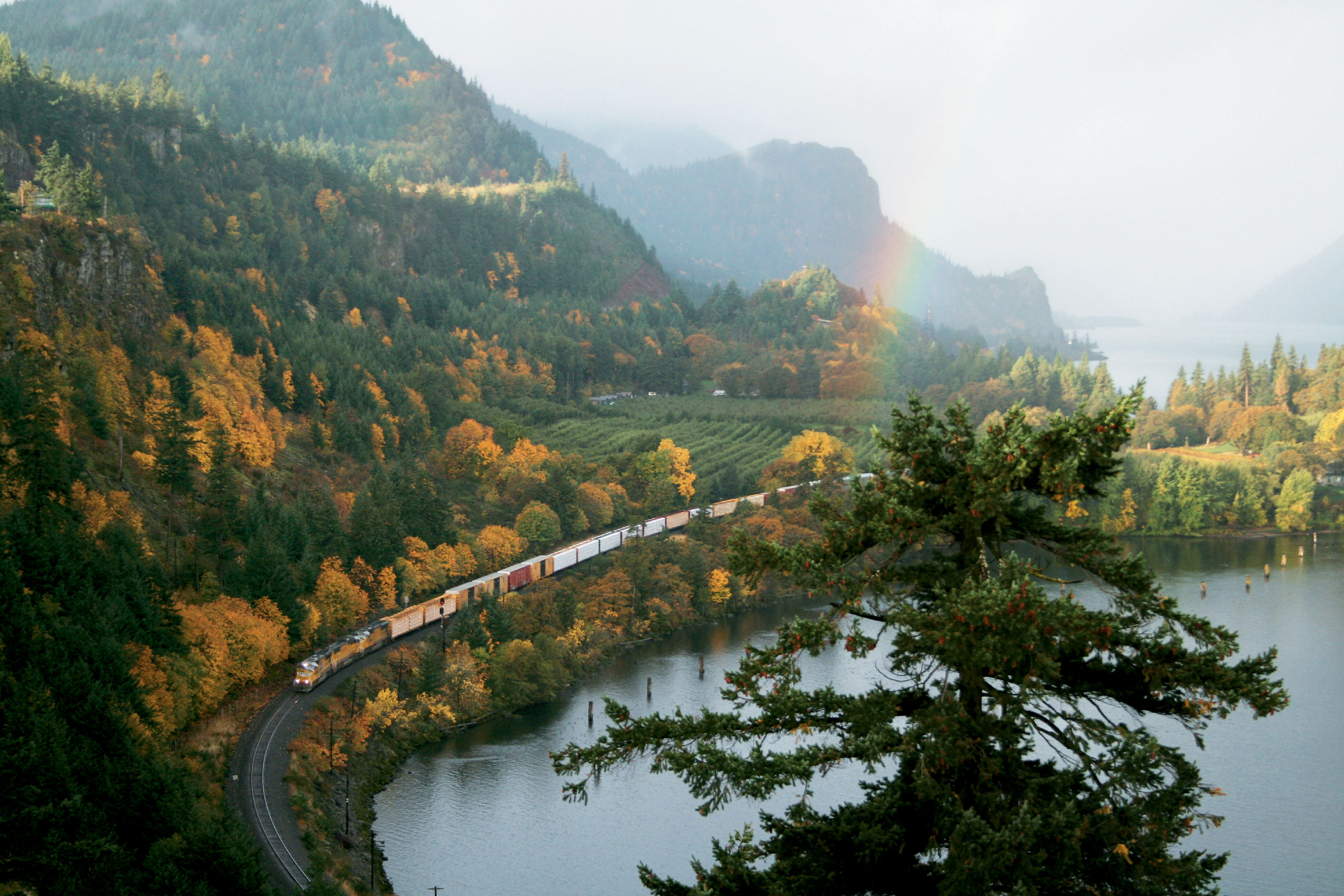 A Union Pacific train travels along Hood River in Oregon.
Environmental Risk Management
Union Pacific's vice president of Safety is directly responsible for the company's environmental progress. He reports to the Chairman, President and CEO regarding environmental compliance. Additionally, the vice president of Safety annually reports directly to the board of directors on environmental issues.
Continuous improvement in achieving the company's fuel efficiency goals, which directly impact our emissions, is tied to compensation as a result of our performance review process.
Compliance
Union Pacific is subject to federal and state environmental statutes and regulations related to public health and environment, which are administered and monitored by the EPA and other federal and state agencies. Some of the primary laws governing rail operations include:
Resource Conservation and Recovery Act, regulating solid and hazardous waste management and disposal.
Comprehensive Environmental Response, Compensation and Liability Act, governing contaminated property cleanup.
Clean Air Act, regulating air emissions.
Clean Water Act, protecting the country's waters.
Our Environmental Partners
We collaborate with a range of partners, identifying opportunities to reduce our environmental impact and manage our land responsibly. Organizations with which Union Pacific collaborates include:
GreenBiz Executive Network, a peer-to-peer learning forum for sustainability executives from a diverse group of some of the world's largest companies.
The California Council for Environmental and Economic Balance, a nonprofit, nonpartisan coalition of industry, labor and public leaders working to solve the state's most pressing environmental policy problems.
The Association of American Railroads Environmental Affairs Committee, a rail industry forum sharing best practices.
Environmental Risks
Extreme weather results in harsh working environments for employees, increased rail maintenance costs and negative service impacts. Blizzards, floods and hurricanes can lead to slower train speeds, service interruptions, track damages and recovery costs.
Our company acts to strengthen our network's resiliency from potential effects of extreme weather events. We have established emergency response procedures, which include moving required resources to regions likely to be affected. We are pursuing improvements that further increase our infrastructure's resiliency, including mitigating the impact of potential rise in sea level.
Union Pacific educates public and elected officials about the environmental benefits of moving goods by rail. We work closely with public agencies to advance emissions reduction technology while delivering immediate benefits in improved air quality. As part of this collaboration, we strategically position our lower-emitting locomotives in parts of the country where communities fail to meet federal and national air quality standards.
For additional information on how climate change could have a material adverse effect on operations results, financial conditions and liquidity, see the risk factors in Union Pacific's Annual Report Form 10-K and CDP filings.
Rallying From Hurricane Harvey
In August, more than 27 trillion gallons of rain fell over Texas – the most rainfall ever recorded in the continental U.S. from a single rain event. The Category 4 hurricane had a diameter of 280 miles with winds of 130 mph during its first landfall. At the height of the storm, Union Pacific had 1,750 miles of track out of service.
As we braced for impact, Union Pacific activated its Hurricane Response Plan, which includes dispatching emergency response teams, modifying our schedule, preparing surge resources (i.e. Engineering work crews, pumps, generators, locomotives and ballast) and moving equipment to higher ground. It's because of these measures and the dedication of our employees that we were able to repair 97 percent – all but 50 miles of track – in just 10 days, allowing us to serve our customers and deliver goods vital to rebuild. Most importantly, the work was completed without injury.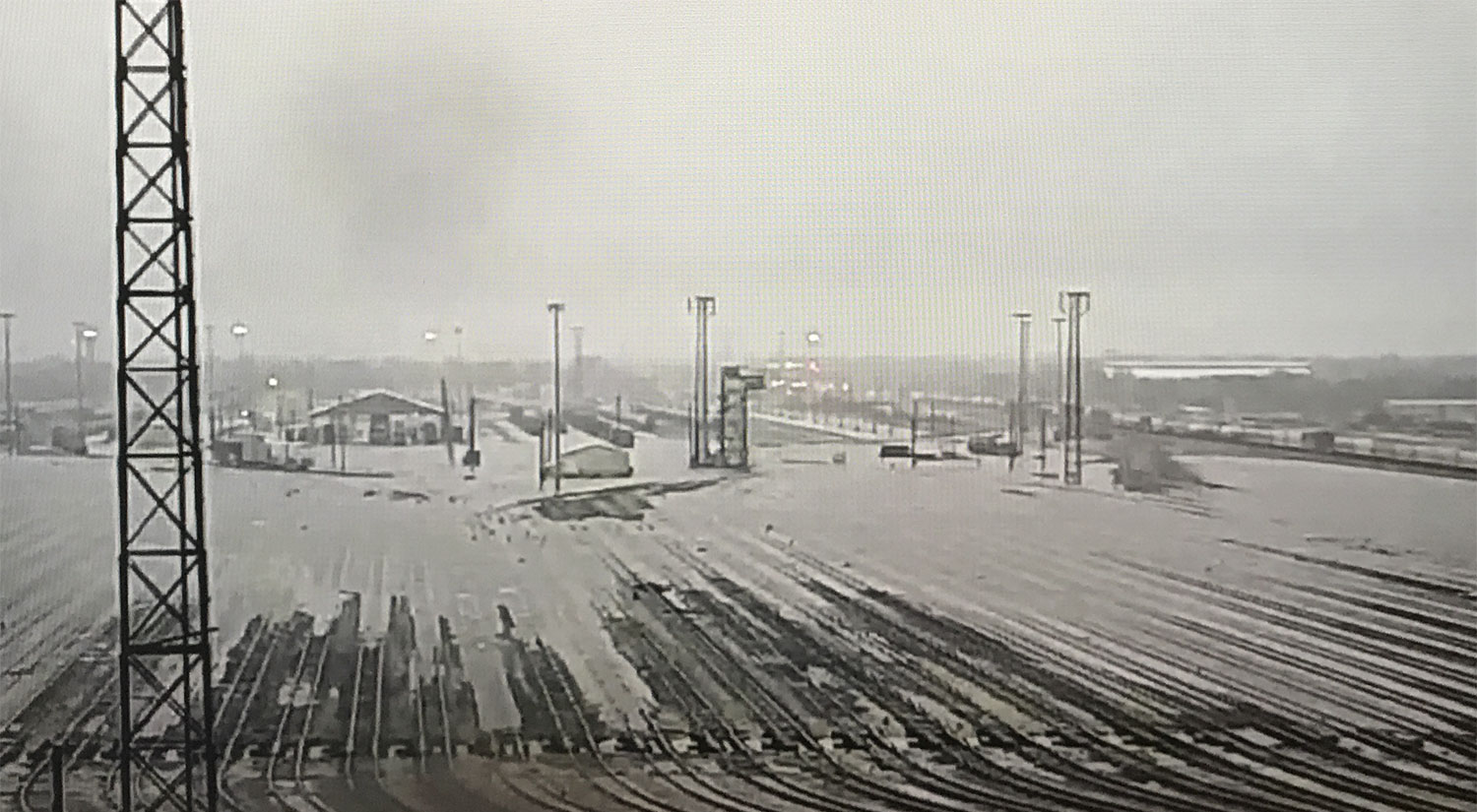 A webcam image shows the devastation caused by Hurricane Harvey in Houston's Englewood Yard.
Greenhouse Gas (GHG) Emissions Performance
Union Pacific locomotives produced 10,216,978 metric tons of GHG emissions, up from 9,913,870 metric tons in 2016 due to increased freight volume. Biomass source emissions were 125,359 metric tons, including 41,456 metric tons or 33 percent from renewable fuels. This is an increase from 119,872 metric tons in 2016, which included 34,026 metric tons or 28 percent from renewable fuel.
Scope 3 emissions from employee business travel totaled 18,466 metric tons, a decrease from 18,603 in 2016. Employee business travel includes rental car fuel and commercial air travel. We engaged with 31 percent of suppliers, based on Union Pacific's spend, to identify GHG emissions. Non-fuel suppliers produced Scope 3 emissions totaling 304,990 metric tons, compared to 269,386 in 2016. Scope 3 emissions from Union Pacific's largest fuel suppliers' extraction, production and transportation were 2,615,256 metric tons, up from 2,536,657 in 2016.
Verification Of Union Pacific GHG Inventory
Union Pacific worked with independent organizations to ensure an accurate annual GHG inventory and emissions calculation. Cadmus Group assisted with methodology to accurately measure and calculate GHG inventory. GHD Limited verified our GHG emissions inventory.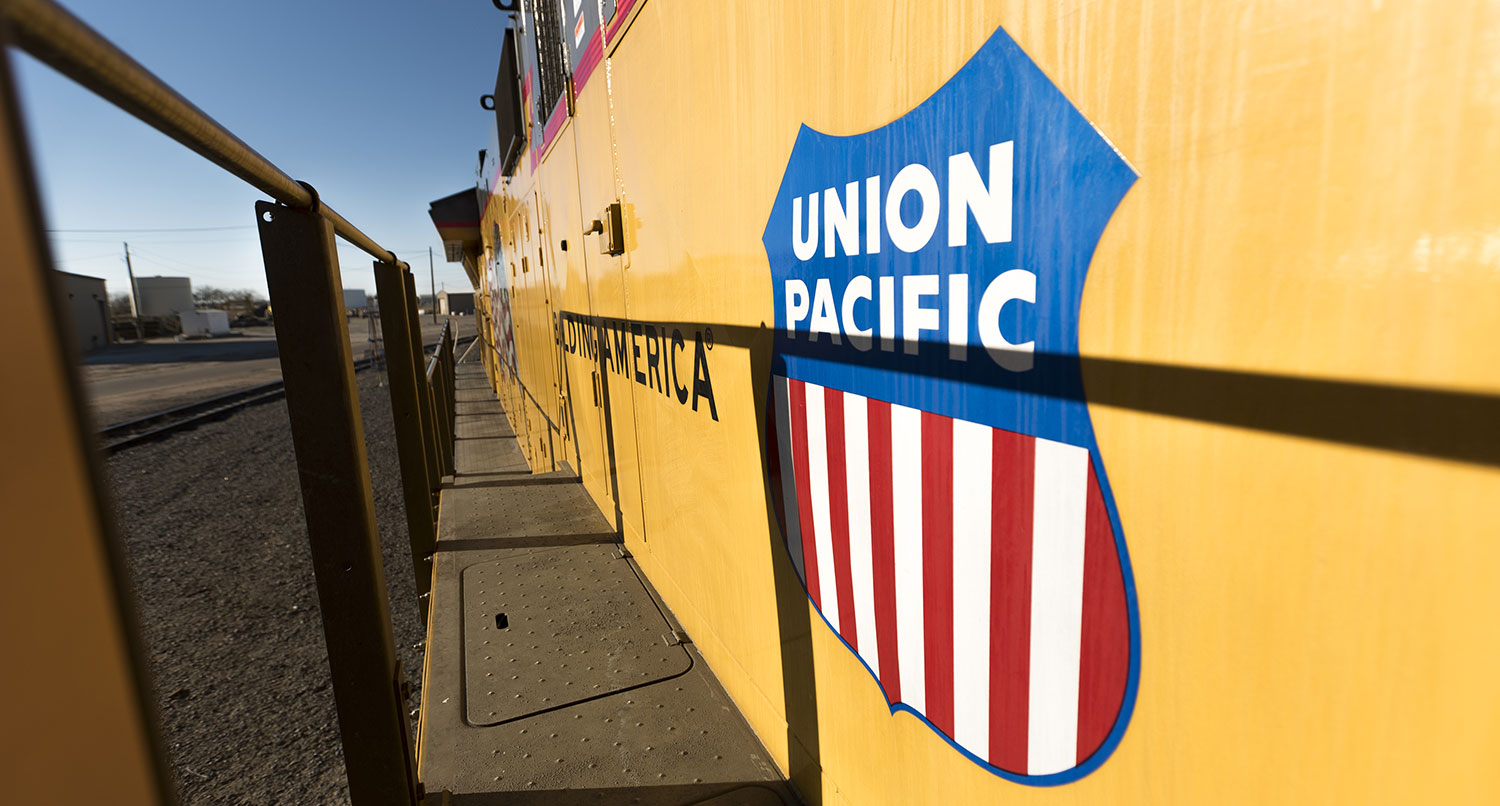 This new Tier 4 locomotive meets the EPA's most rigorous air quality standards.
Fuel Efficiency
We strive to appropriately balance financial returns, environmental performance and social commitment. Fuel efficiency is a critical part of Union Pacific's sustainability approach. Diesel fuel accounts for nearly 14 percent of our operating expenses.
Fuel efficiency and carbon emission reductions fluctuate based on business volumes and commodity mix. Fuel efficiency improves when trains move heavier shipments. We set our best-ever fuel consumption rate, improving by 1.7 percent, compared to the 0.8 percent improvement in 2016.
This marks the end of a three-year commitment to improve our fuel efficiency by 0.5 percent annually. Union Pacific surpassed the goal by 0.6 percent as a result of the strategies outlined below.
We're proud of the fact that since 2000, we've saved nearly 2.9 billion gallons of fuel, and our work is ongoing. Union Pacific set a new goal to further reduce locomotive consumption by 1.5 percent through 2020.
Working With Customers To Reduce And Measure Emissions
Customers seeking to reduce carbon emissions can calculate savings from rail by using Union Pacific's online Carbon Emissions Estimator. Many also receive annual emissions savings estimates compared to moving goods by truck. Our customers eliminated an estimated 31 million metric tons of GHG emissions by choosing rail over truck transportation.
Investing In New Locomotives
Union Pacific acquired 28 new locomotives meeting the EPA's stringent Tier 4 emissions standards. Tier 4 standards reduce particulate emissions from diesel locomotives by as much as 90 percent and nitrogen oxide emissions by as much as 80 percent. We plan to purchase additional Tier 4 locomotives in 2018.
We invested roughly $8.8 billion in purchasing more than 4,600 new locomotives since 2000. These locomotives all meet the EPA's emissions standards. Union Pacific retired more than 3,200 older, less fuel efficient locomotives over the same period.
Since 2000, Union Pacific overhauled or rebuilt more than 6,700 diesel engines with emissions control upgrades. As a result of new locomotive and refurbishment programs, more than 96 percent of Union Pacific locomotives meet EPA emissions standards.
Incorporating Technology
Technology plays a fundamental role in Union Pacific's fuel efficiency performance and supports our train crews who are responsible for the daily movement of goods Americans rely on. The following technologies help drive fuel efficiency across the system.
Trip Optimizer and the Locomotive Engineer Assist/Display and Event Recorder (LEADER) systems automatically control a locomotive's throttle and dynamic brake to minimize fuel usage and optimize train handling. The systems calculate the most efficient way of operating a train by considering such factors as train length, weight, grade, track conditions and locomotive performance.
Our more than 1,300 LEADER- and Trip Optimizer-enabled locomotives completed 23.6 million trip miles. We also began testing enhancements that allow the systems to integrate with PTC, providing increased efficiency opportunities.
Process improvements reduce GHG emissions by optimizing maintenance work. Union Pacific's cross-functional Fuel Mizers Load Testing Reduction Team implemented an efficient process for locomotive tests that ensures engines and generators produce enough horsepower to pull loaded rail cars. The process reduced fuel consumption by more than 3.5 million gallons and improved reliability.
The Next Generation Arrowedge
Research and field testing for Union Pacific's patented ArroWedge© started to transition into realized fuel savings and environmental benefits. First put into service in 2014, the ArroWedge device is positioned on top of the first freight container of a double-stack intermodal train - containers hauling everyday items such as cell phones, televisions and clothing. Its tapered body allows air to more easily flow around the train's top frontmost containers, reducing aerodynamic drag and improving fuel efficiency. We added 50 ArroWedges, increasing the total number traveling across the nation to 57. Each ArroWedge saves around 140 gallons of fuel per round-trip across the system.
Originally built for 48-foot-long containers, we created an "add-on" flare extending the device to 53 feet. The result was a 20 percent greater fuel savings than the original design. As we move into 2018, our researchers are working on wind tunnel analysis to further refine the ArroWedge design.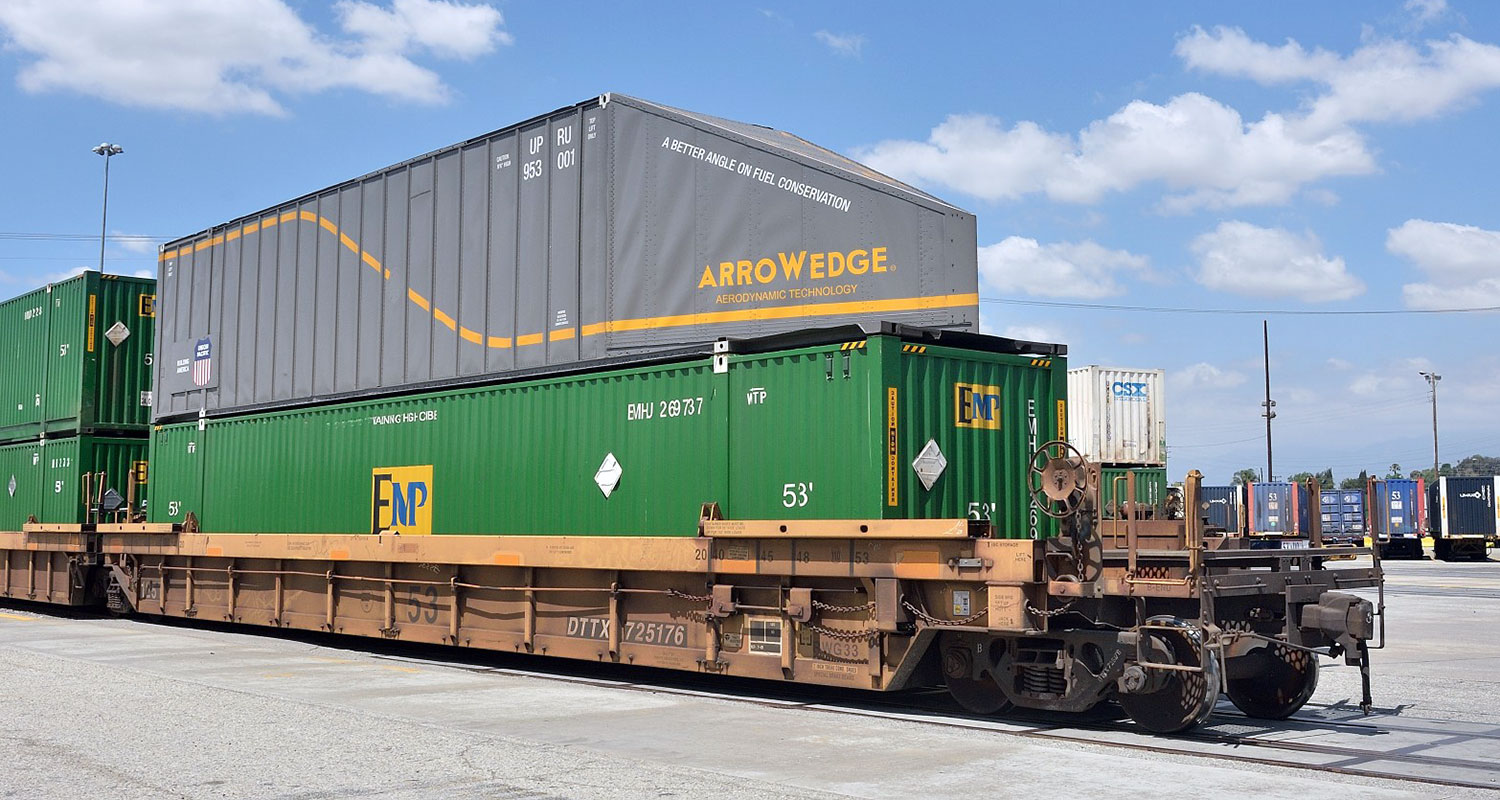 ArroWedge is the perfect example of Union Pacific's innovation strategy, never being satisfied with current results and pushing ourselves to achieve more.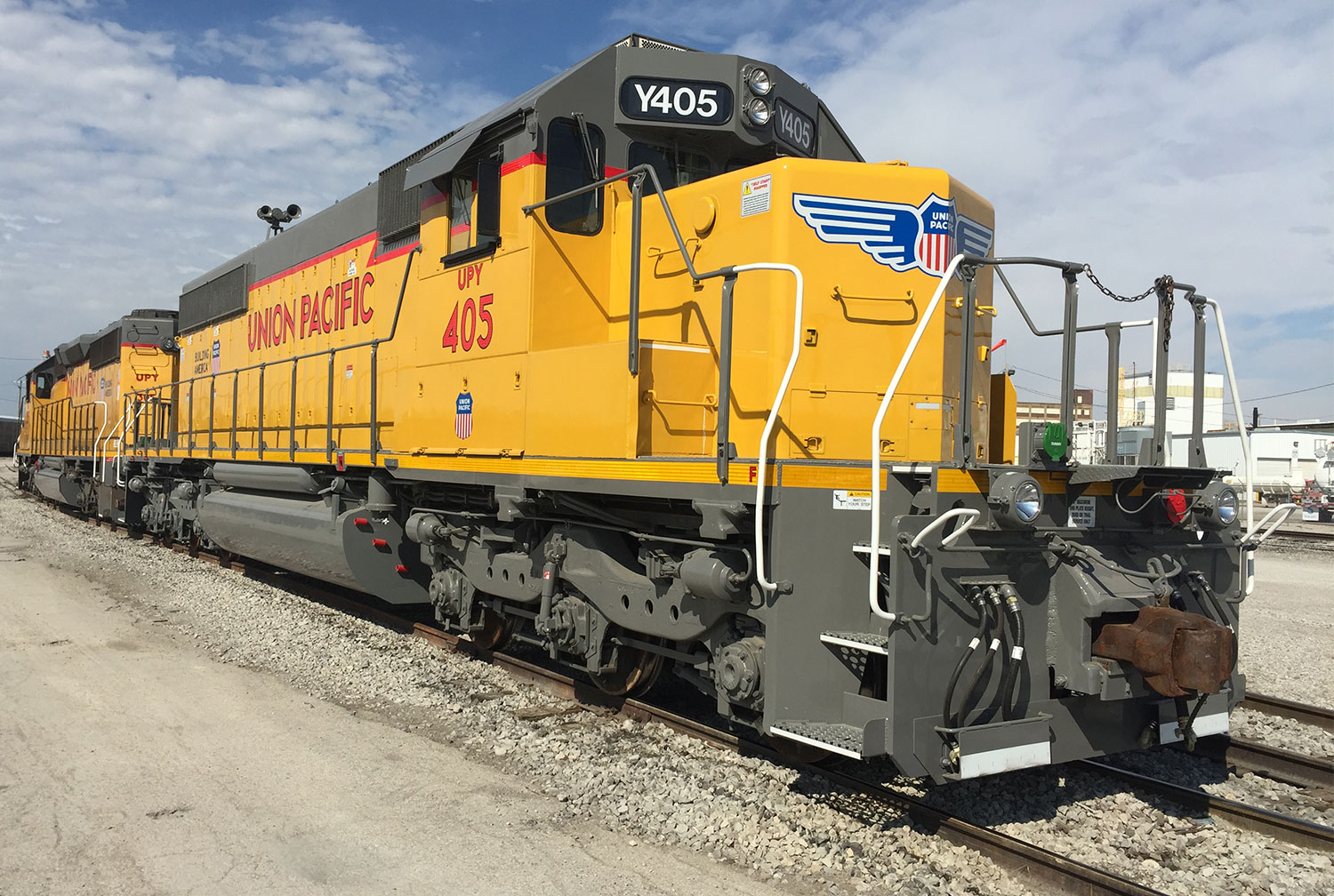 The mother-slug units include fully equipped operator cabs, providing various crew amenities such as air conditioning, an ice box and a bathroom facility.
Driving Fuel Efficiency In Hump Yard Operations
We're embracing innovation to enhance hump yard operations with 45 new "mother-slug" sets, representing Union Pacific's largest investment ever in the technology.
Mother-slug sets replace two locomotives with one diesel locomotive connected to an accessory, or slug. We use older SD38-2 locomotives, typically with higher emissions, for the conversion, and remove the engine and alternator. The engineless slug increases traction motors available to the locomotive, boosting the pulling and braking power – key for yard operations.
The new mother-slug sets achieve fuel and maintenance savings, plus offer environmental benefits, mainly because only one engine is being used versus two. We began rolling out this equipment and plan to finish implementation of the 45 sets in 2018.
Yard Workhorses Drive Business
Union Pacific trimmed its active low horsepower (LHP) locomotive fleet by more than 500 units in 2016 and 2017. As a result, we expect substantial savings by 2021, primarily through lease returns, and reduced maintenance and fuel costs.
Thanks to LHP innovation, we can do more with less by extending unit life another 20 years on our roughly 1,600 units, which are mainly used for yard jobs and industry work. Preventive maintenance is essential for success. Our team developed specific plans for various LHP models, such as rebuilding the car body, overhauling the engine, giving locomotives a fresh paint job and upgrading control systems.
By using remote diagnostics and automatic over-the-road load testing during locomotive operation, we save time and fuel. In the past, a clipboard-toting technician measured items like oil pressure and temperature, noting problems and returning to the office. Now, fault codes are automatically transmitted for repair, and data is used over time to capture trends.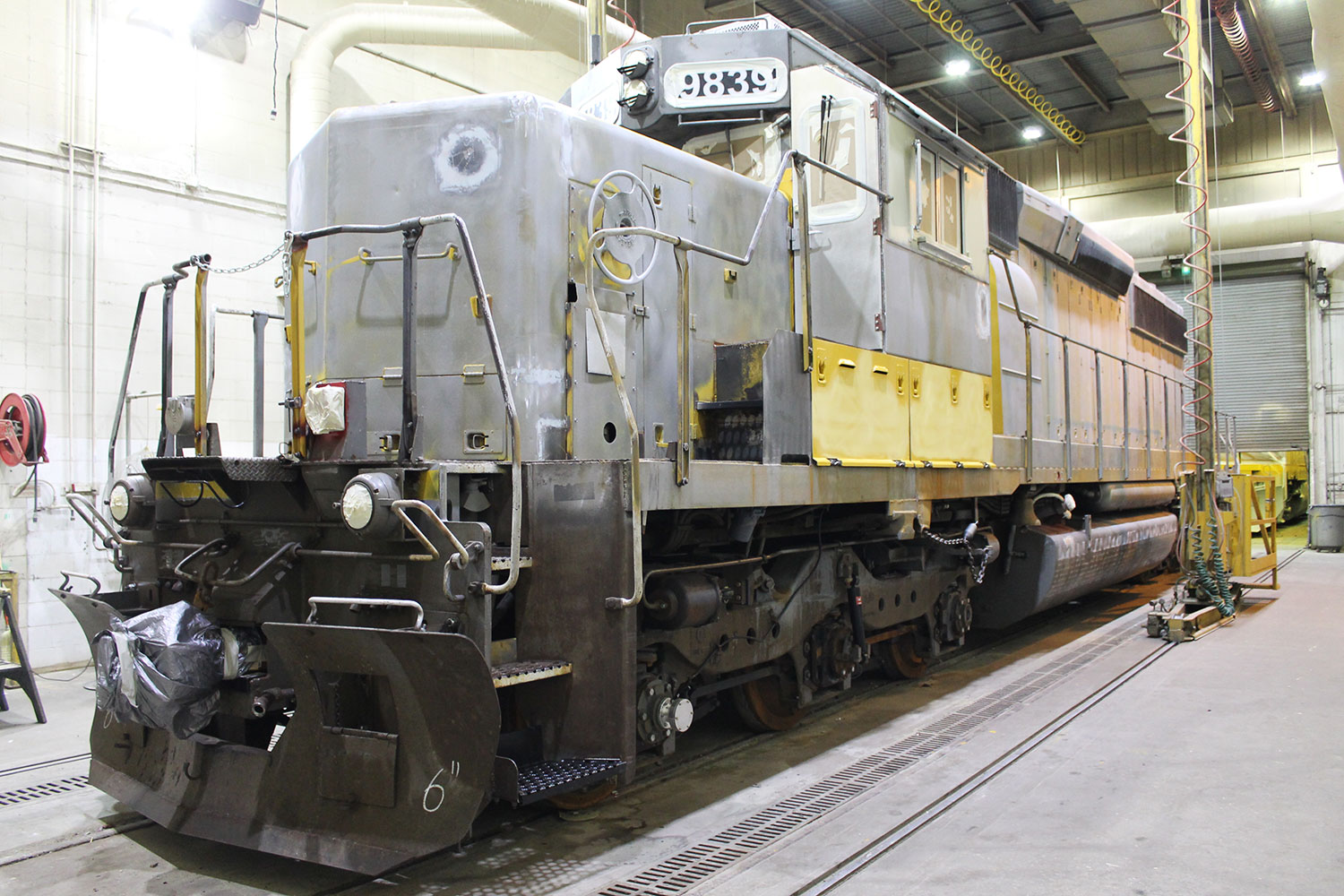 An SD40 locomotive being prepped for work at Jenks Locomotive Facility in North Little Rock, Arkansas.
Energy Conservation
Union Pacific's utility conservation projects reduced energy consumption by 3.8 million kWh, which is enough to annually power more than 400 U.S. homes. Many projects were employee-driven solutions, such as locating leaks in underground air compressor lines, installing automatic control devices on locomotive part washers and testing new solar yard lighting. These solutions also provide guidance for future initiatives.
2017 Energy Consumption
ENERGY CONSUMPTION*
2015
2016
2017
Diesel
1,071.3 gallons
979.9 gallons
1,010.6 gallons
Gasoline
11.9 gallons
11.5 gallons
11.5 gallons
Other fuel
17.7 gallons
11.4 gallons
10.9 gallons
Electricity
669.4 kilowatt hours
648.9 kilowatt hours
682.9 kilowatt hours
Natural gas
1,145.5 standard cubic feet
573.6 standard cubic feet
606.9 standard cubic feet
*Estimated in millions
Innovation Cuts Electricity Use
An effort to replace outdated and inefficient air compressors is responsible for roughly half of Union Pacific's 2017 energy consumption savings. Compressors represent about 20 percent of our electricity usage. They support critical functions, including yard and single-car air brake tests, and operating maintenance tools, locomotive sanding systems, hump retarders and switches, and waste water treatment pumps.
In 2015, a cross-functional team developed the compressor system currently being installed, which is between 30 and 90 percent more energy efficient. The percent varies depending on the age and length of underground pipes, as well as whether the original system was the right size for the facility. New compressors require less maintenance, increase equipment life, eliminate downtime during repairs and can be relocated to support operational changes.
We installed 10 of these systems, resulting in increased efficiency and reliability for our customers. We plan to continue installing new units in 2018.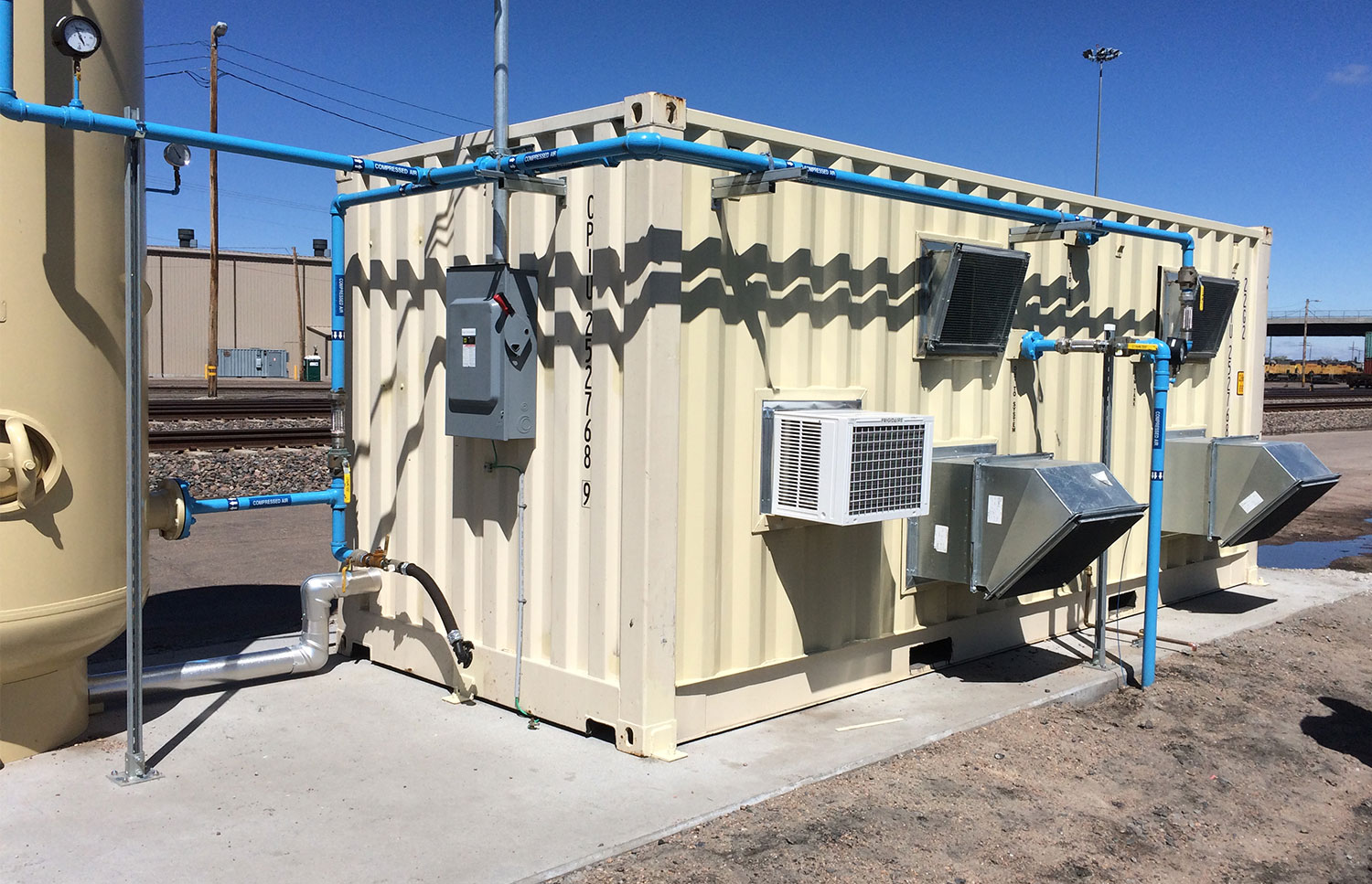 A new air compressor in service in North Platte, Nebraska.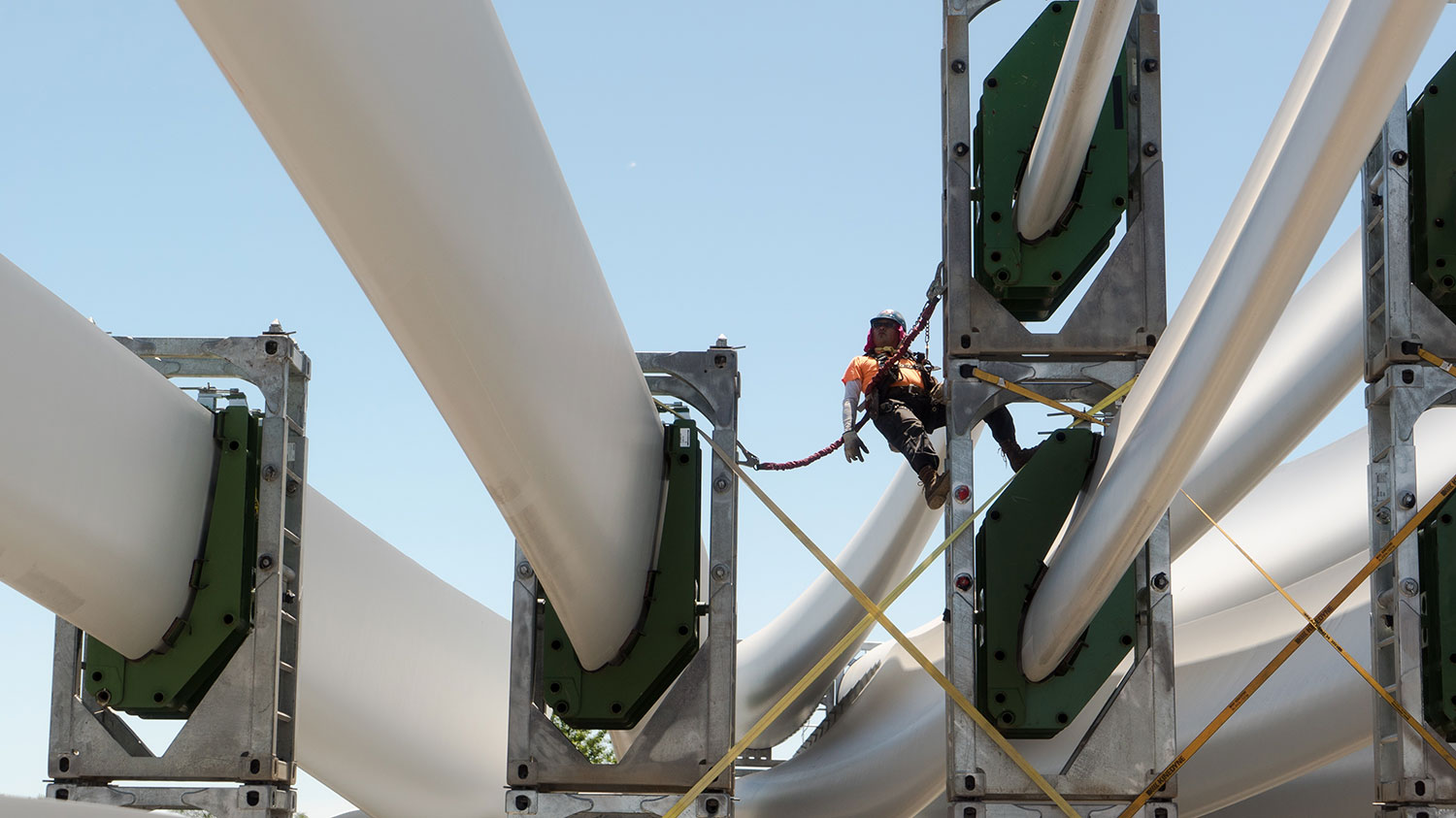 Stacked wind turbine blades at an Iowa distribution center wait to be taken to the installation site.
Wind Rides On The Back Of Union Pacific Trains
Giant wind turbines dot America's landscape. Due to the components' sheer size, they're often transported by trucks. Union Pacific provides a more efficient, affordable option for moving components long distances.
Union Pacific and our subsidiary, Loup Logistics – which provides door-to-door shipping and logistics services for companies shipping almost any commodity – work with customers like Vestas. We move wind harvesting components by rail car to distribution centers located within a specific distance, called wind miles, from a customer's wind farm project. Here, components are unloaded and wait to be taken to installation sites. We operate about 50 wind distribution centers nationwide.
Visit up.com to learn more about wind power.
Waste Management
Union Pacific generated an estimated 1.25 million tons of waste in 2017 and diverted approximately 70 percent of this waste from landfills.
Scrap Metal Recycling
Union Pacific annually recycles about 300,000 tons of scrap metal, the most energy efficient recyclable material. It is the second largest contributor – behind rail ties – to our success diverting recyclable materials from landfills. Steel, aluminum and copper are the most recycled materials on the planet and found in a variety of unexpected products. From appliances to cell phones, buildings and highways, recyclable materials are globally transforming construction and consumer products.
We provide steel recycling bins for employee use at fixed facilities, along our right of way and at off-site locations. Recyclable track material and railroad equipment include rail, tie plates, spikes, anchors, locomotives, rail cars and retired Engineering Maintenance of Way roadway equipment.

Disposing E-Waste
Union Pacific recycles electronics no longer in use, commonly known as e-waste. We recycled or distributed 163,000 pounds of electronic equipment and more than 1.8 million pounds of signal batteries. In November, we invited employees to drop off obsolete and unwanted electronics at our Omaha headquarters to mark America Recycles Day.
Recycling Fuel And Oil
We recycled more than 4 million gallons of oil and fuel at our facilities. Union Pacific facilities have systems to catch spills, extract engine oil from wastewater and use fuel nozzles that shut off automatically, preventing locomotive fuel tank overflow.
Water Management
Many parts of the country experience water stress in local and regional watersheds. The U.S. Global Change Research Program notes widespread stress in much of the Southwest, western Great Plains and parts of the Northwest. We operate in many of these areas, and while managing thousands of utility accounts across our network can be challenging, we take our conservation responsibility seriously. Union Pacific used an estimated 1.14 billion gallons of water, a reduction from 1.25 billion in 2016. We continue exploring ways to conserve.
We analyzed the accounts, researched irregularities and identified opportunities to conserve millions of gallons. Our team is focused on using data to identify and address consumption changes, which might suggest a leak or other issue.
Union Pacific helps protect water resources from our operations through spill prevention controls and countermeasure plans at 133 facilities. Ninety-nine wastewater treatment facilities capture and treat water from equipment washing and maintenance. We also treat captured wastewater to comply with government regulations and wastewater discharge permits.
Leak Reduction Initiative
We made multiple changes and repairs eliminating unnecessary water use. For example, one solution in Livonia, Louisiana, addressed an underground water leak. By replacing outdated infrastructure, we reduced water consumption by an estimated 10 million gallons a year.
Reporting Water To CDP
Union Pacific was the first Class 1 railroad to report water consumption to CDP, which we submitted for the fourth consecutive year. The company's B rating, an improvement from a C in 2016, reflects our awareness of the impacts of business activities on the environment, people, ecosystems and vice versa. The CDP results help our efforts to measure, monitor and report water consumption.
Passion, Stewardship Earn Chairman's Environmental Award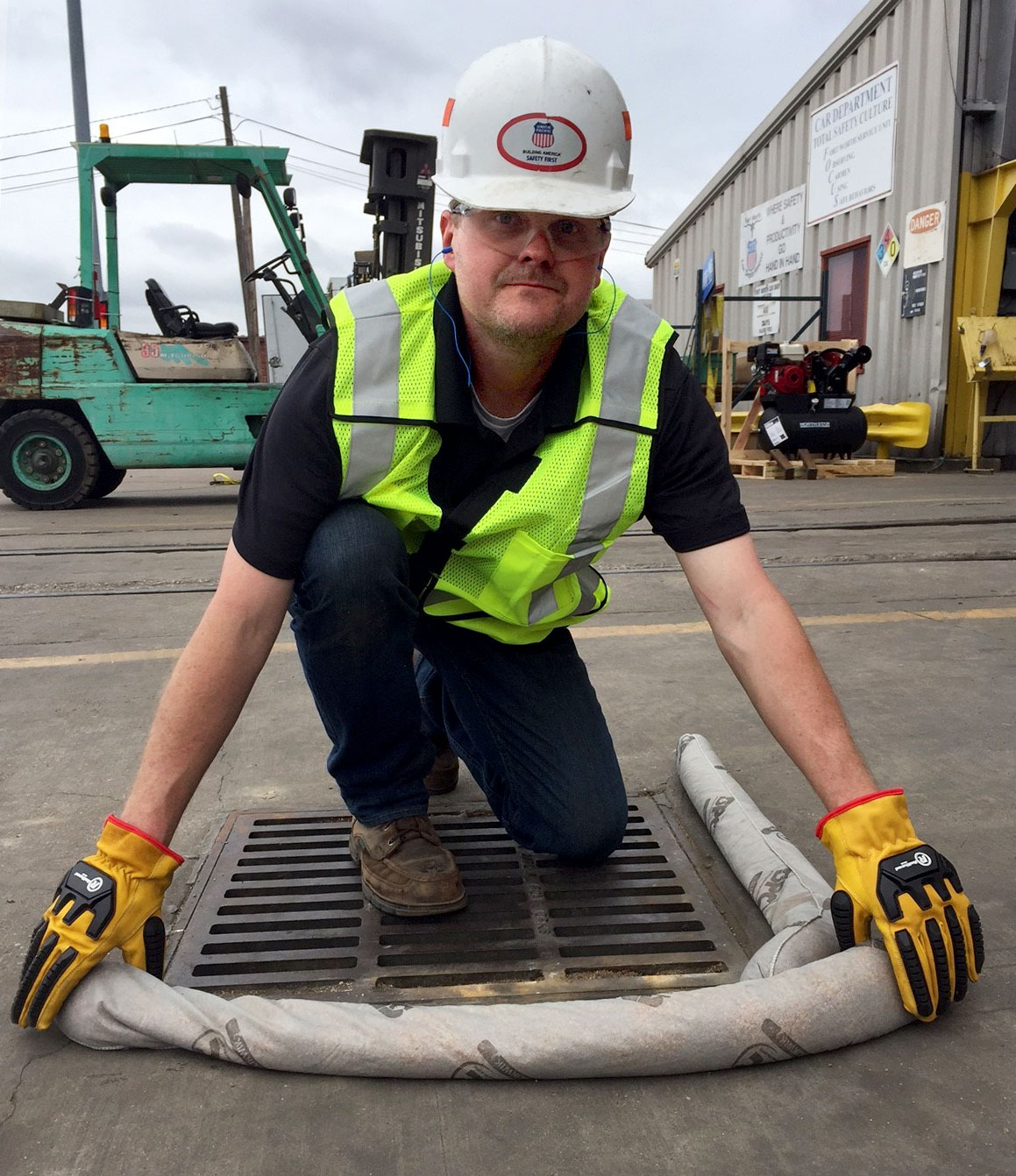 General Foreman Milton Dempsey places boom around a drain at Davidson Yard car shop in Fort Worth, Texas.
Union Pacific's General Foreman Milton Dempsey is often heard saying, "I hate litter; I just simply hate it." The 14-year railroader leaves nothing to chance when it comes to environmental stewardship in the Davidson Yard car shop in Fort Worth, Texas. His diligence earned him the 2017 Chairman's Environmental Award, honoring outstanding environmental awareness, leadership and responsibility.
His job duties include identifying and mitigating car deficiencies that could result in releasing hazardous substances. Dempsey also pinpoints work activity changes impacting oil handling/spill prevention plans and provides feedback to environmental managers. He is known among his colleagues for taking the lead on safety and being a reliable source on environmental issues.
Dempsey was Union Pacific's John H. Chafee Environmental Excellence Award nominee. This award is the Association of American Railroad's highest environmental honor, annually recognizing railroad employees for outstanding awareness and social responsibility.
Biodiversity and Land Preservation
Biodiversity refers to the variety of living organisms in a particular habitat or ecosystem. Our footprint touches many diverse ecosystems, and we are committed to being a responsible steward of the land we own. We work to preserve our ecosystems, improve our resiliency and reduce our impacts. This is fundamental to ensuring a healthy environment and supporting vibrant local economies.
Union Pacific implements habitat conservation plans to protect ecosystems and endangered species in various locations. Plans in the western half of our network include the desert tortoise, endangered southwestern willow flycatcher and valley elderberry longhorn beetle.
We also manage 30 miles of trees to prevent sand from blowing across the track in the Mojave Desert and actively manage several wetland areas.
Using Our Network To Establish Habitat Corridors
Union Pacific's vast rail network provides an opportunity to establish ecologically significant habitat corridors across wide areas of the central and western United States. In 2015, we joined the Wildlife Habitat Council (WHC) to leverage this potential for preserving and improving pollinator habitats. Starting with lands away from railroad operations, we are working with the WHC to establish a suitable habitat to support migrating species, such as the Monarch butterfly. Union Pacific also is part of the Rights of Way Habitat working group, supported by the University of Illinois at Chicago to enhance our efforts.
Compliance
Union Pacific is committed to following applicable laws and regulations in all areas of our operations. From time to time, we are involved in legal proceedings, claims and litigation that occur in connection with our business. For example, we received notices from the EPA and state environmental laws for remediation costs at various sites throughout the United States, including sites on the Superfund National Priorities List or state superfund lists. We cannot predict the ultimate impact of these proceedings and suits because of the number of potentially responsible parties involved, the degree of contamination by various wastes, the scarcity and quality of volumetric data related to many of the sites, and the speculative nature of remediation costs. Where we are found in violation of specific rules or regulations, we seek remedy through the appropriate channels. More information on these notices can be found in our Annual Report Form 10-K.