Drive down an interstate in Texas, Iowa, Oklahoma, California or Kansas, and you're bound to spot them – giant wind turbines lined up like soldiers in perfect rows.
Subscribe to
Inside Track
A wind turbine works the exact opposite of a household fan. Instead of using electricity to make wind, turbines harness wind, turning a generator inside to create electricity. The power runs into the ground and is sent to a sub-station and, eventually, onto the power company's grid.
Due to the components' sheer size, they're often transported by trucks sporting a "wide load" sign; however, there's another more efficient, affordable option for moving components long distances. Union Pacific customers, in this case Vestas, the leading global wind turbine manufacturer, and its contractors load and secure the massive wind harvesting components onto rail cars. A typical blade is 177-feet – longer than the width of a football field – and many are even longer. Union Pacific and its logistics subsidiary, Union Pacific Distribution Services (UPDS), then transport the cars to a wind distribution center.
UPDS will become part of Loup Logistics Company beginning Nov. 1. Consisting of four Union Pacific subsidiaries – UPDS, Streamline, ShipCarsNow and INL – Loup will provide door-to-door shipping and logistics services for companies shipping almost any commodity.
"Every time a wind project comes up, we build a solution," said Union Pacific Vice President Shawntell Kroese, who will lead the new subsidiary.
UPDS employees have made a science out of building wind distribution centers, completing 47 centers over the years. Two more are currently underway in Buffalo, New York, and Montevideo, Minnesota. The turnaround for each completed facility is about six months, and they are typically underwritten by the customer. A recent solution is a wind distribution center in Carlisle, Iowa, just outside Des Moines. The site was built to handle nearly 500 turbines over a three-year span.
"The pace is fast and furious," Kroese said. "From annexing or renting property to negotiating numerous contracts, even deciding who will mow the grass, each facility builds on the success of our existing network."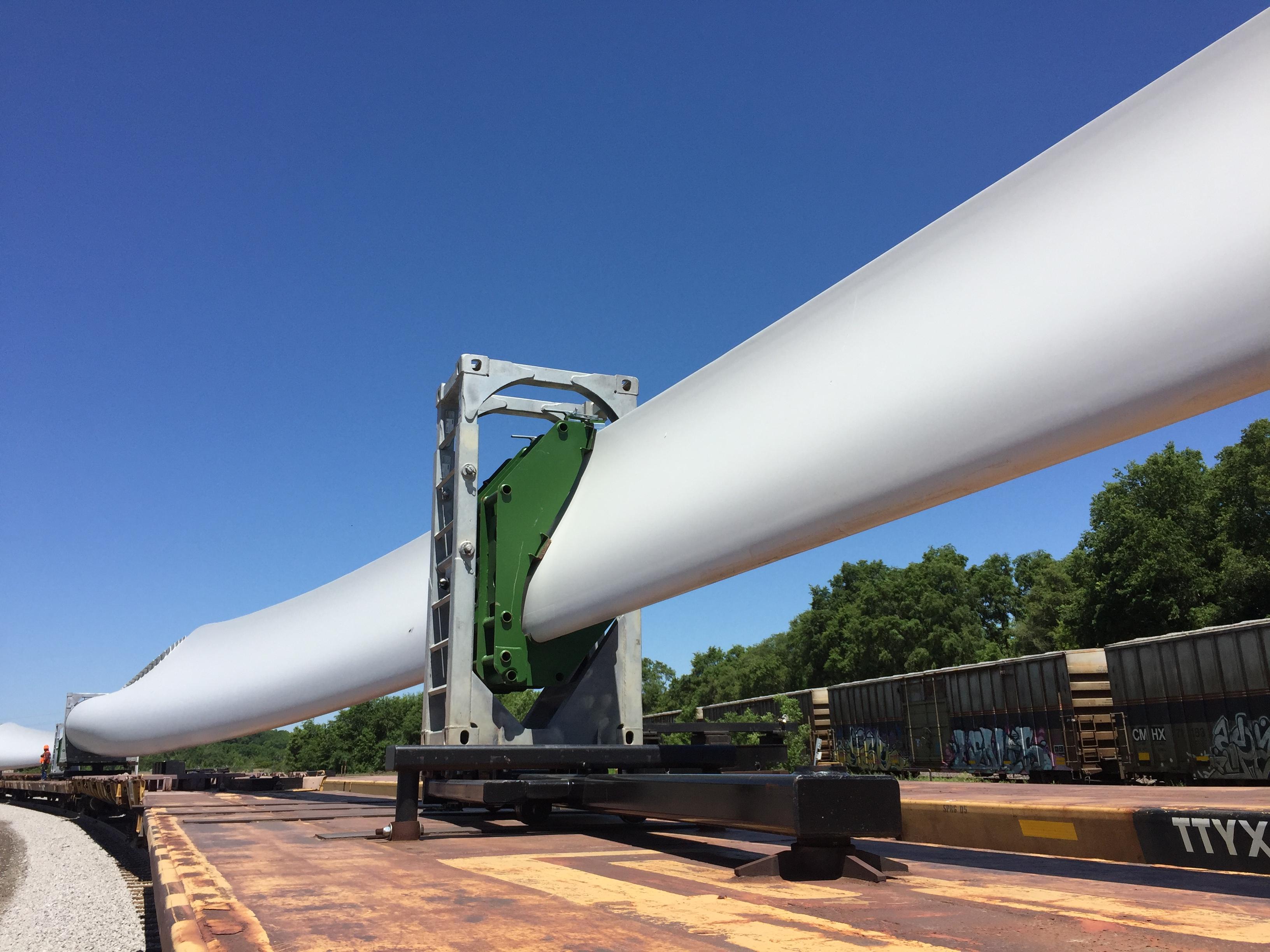 Research is critical. UPDS employees start with Google Earth, searching for rail lines within a specific distance – measured in wind truck miles – from a customer's project(s). Wind truck miles differ from the mileage every day Americans drive because they're over-dimensional and only include route miles that avoid bridges or areas with low clearance. They then look for big, open space to build on with highway accessibility.
"We're essentially building a 10- to 20-acre gravel parking lot," Kroese said.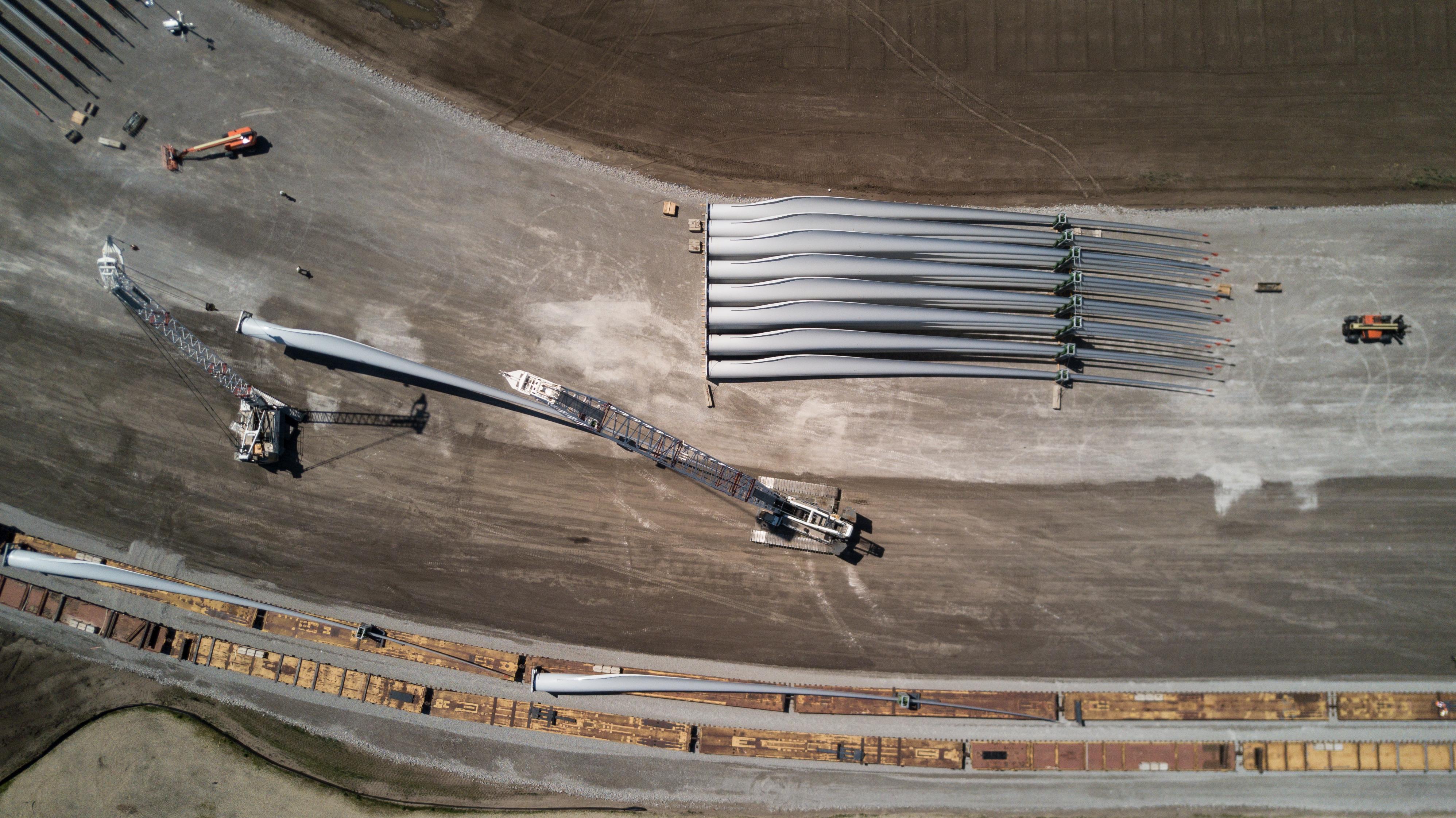 For the new Iowa distribution center, two tracks were built off Union Pacific's main line and the road into and out of the facility were extended to ensure emergency response vehicle accessibility.
"We spend a lot of time talking to community members," Kroese said. "We want to be good neighbors."
Once infrastructure is completed, the facility's operation works much like a finely choreographed ballet. First, trains come in from Colorado delivering components to build inventory, which is stored until trucks haul parts out of the distribution center.
"It's like grocery shopping," Kroese said. "Trucks come in and pick up the specific components they need – three blades, four tower sections, one nacelle (the top of the turbine) and a hub – and then head to the project site."
In June, more than a dozen trucks exited the facility daily delivering components to Pella, Iowa, where a new wind turbine farm is being built. Plans to distribute parts from the Carlisle distribution center for other projects are being discussed.
"We're looking forward to adding to our flagship site with Vestas in northern Iowa," Kroese said. "To see this continued growth is exciting for the wind industry and Union Pacific."