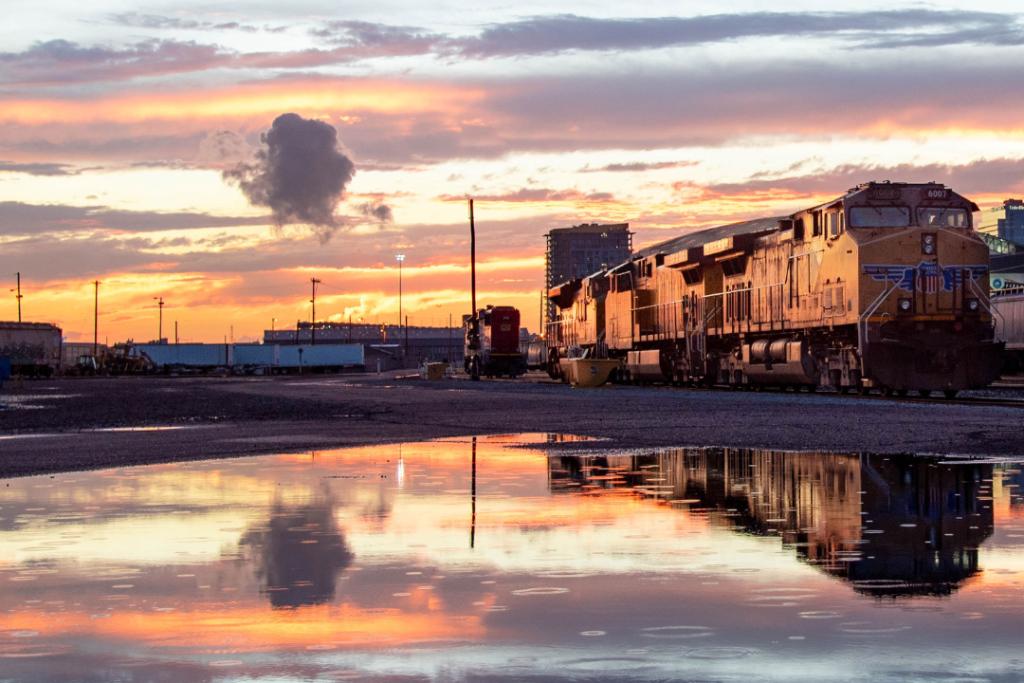 Union Pacific
2019
Building America
Report
A report to communities on our social, environmental and economic sustainability progress.
Union Pacific's vision of Building America means we connect the nation's businesses and communities to each other and the world by providing safe, reliable and efficient supply chain solutions that support sustainable economic growth. In doing so, we strive to serve our customers, enhance shareholder value, invest in our communities and provide promising careers, while operating in an ethical manner.
This report details progress in key areas supporting our environmental, social, and governance pillars: delivering an excellent customer experience, operating safely, strengthening communities, engaging employees and protecting the environment. We also summarize our 2019 financial performance.
We used the Global Reporting Initiative's global sustainability reporting standards as a framework to report our most material social responsibility issues. This publication focuses on initiatives and accomplishments from the 2019 calendar year and includes 2019 data, unless otherwise noted. The impact of COVID-19 and our response occurred in 2020 and will be thoroughly detailed in the 2020 Building America Report. Information also is available at up.com.
Letter to Stakeholders
As we close out the decade, I am more proud of the Union Pacific team than ever. Together, we celebrated the 150th anniversary of the transcontinental railroad's completion, a moment that united our nation and the world, and enabled economic growth – roles our railroad still plays today. We took significant steps toward building a more sustainable future for everyone. And we implemented a new transportation plan that sets us up for long-term success as the safest, most efficient and most reliable railroad in North America.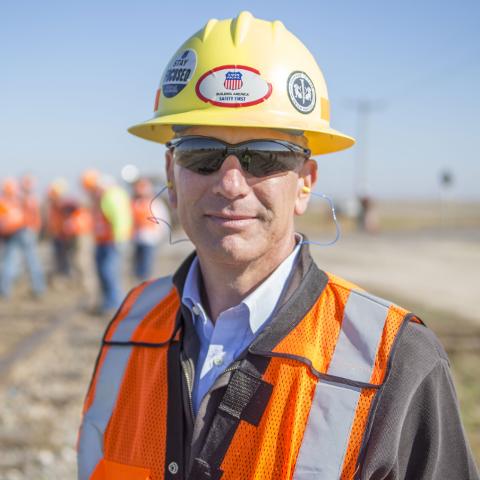 Transforming our railroad wasn't easy. As we implemented Unified Plan 2020, which incorporates Precision Scheduled Railroading principles, we found efficiencies and turned our focus to moving customers' cars as quickly as possible. The end result is that we're delivering a better customer experience. First Mile, Last Mile, which measures if we delivered and picked up cars to and from customer facilities as scheduled, is up 6 points to 91% from 2018. We're driving down Freight Car Dwell to record levels, shaving off approximately 5 hours. Customers' cars are moving 12 miles per day faster, meaning fewer cars are needed to move the same volume, and product is getting to market more quickly and reliably.
These results are even more impressive when we consider the battle with Mother Nature. Our employees performed herculean recoveries from record snowfall and sub-zero temperatures in the Midwest and Pacific Northwest, power outages in Northern California, and widespread flooding from Nebraska to Arkansas. We understand the changes in weather are real and significant, and that climate change is, in part, due to human activities.
We have a responsibility to act as environmental stewards, working to reduce fuel consumption and greenhouse gas (GHG) emissions. Moving freight by rail, instead of truck, is up to four times more fuel efficient, but we still have work to do. Union Pacific is looking for ways to reduce fuel consumption, investing in technology to improve locomotive fuel use and training employees to optimize train handling. We're building longer trains, meaning fewer locomotives haul the same amount of freight, thus reducing emissions. Additionally, we're setting targets through the Science Based Targets Initiative, providing us with an actionable plan to reduce emissions. We anticipate publishing our targets in the 2020 Building America Report.
There are 10 years left to meet the United Nation's Sustainable Development Goals (SDGs); however, research reveals no country is on track to achieve success by 2030. Businesses need to get involved and take real action. The UN Global Compact dubbed 2020 as the launch of "the decade of delivery," and Union Pacific is answering the call.
In this report, we outline our commitment to seven of the 17 SDGs – areas where we can make the most difference. We examined the top material issues our stakeholders identified in our 2019 preliminary materiality assessment, and we're setting goals that will help us take measurable steps. The first is our commitment to a more diverse and inclusive workplace. To have the best employees, we can't overlook any segment of the population, and our workforce must feel comfortable bringing their best selves to work every day.
I am proud to be among the more than 180 CEOs nationwide who signed the Business Roundtable's updated Statement on the Purpose of a Corporation. It commits us to leading our companies for the benefit of all stakeholders, rather than giving one priority over another. The statement begins: "Americans deserve an economy that allows each person to succeed through hard work and creativity and to lead a life of meaning and dignity. We believe the free-market system is the best means of generating good jobs, a strong and sustainable economy, innovation, a healthy environment and economic opportunity for all." We believe this wholeheartedly at Union Pacific.
Union Pacific has never wavered in its commitment to each of our stakeholders: employees, customers, shareholders and communities. We have a clear vision for our future – one built on safety, efficiency and reliability. Our railroad is ultimately a reflection of society. You can see it in the products we move. Society is concerned about climate change and it wants corporations to take action; it wants income equality, job creation and healthy, safe communities. In some cases, there aren't ready-made solutions. We are designing our own roadmap, and we hope that our actions inspire others. Just as our predecessors did when they connected the nation by rail 150 years ago, we will drive real change together.

Lance Fritz
Chairman, President and CEO
Appendix
Feedback
For questions on this report or to provide feedback, contact Union Pacific via email at sustainability@up.com.
Additional Resources
For ongoing updates on our citizenship and sustainability efforts, visit www.up.com.
Cautionary Information
Our 2019 Building America Report provides additional explanatory information regarding Union Pacific that may not be available, included or directly derived from information in the company's Annual Report.
This report includes statements and information regarding future expectations or results of the company that are not historical facts. These statements and information are, or will be forward looking as defined by federal securities laws. Forward-looking statements and information can be identified by use of forward-looking terminology (and derivations thereof), such as "believes," "expects," "may," "should," "will," "would," "intends," "plans," "estimates," "anticipates," "projects" and other words or phrases of similar intent. Forward-looking statements and information generally include the following: the company's expectations or forecasts with respect to general economic conditions in the United States and the world; the company's financial and operational performance; increases of the company's earnings; demand for the company's rail service; improving customer service; enhancing profitability; volume and revenue growth; efficiency improvements and increasing returns; and improving asset utilization. Statements also include the effectiveness or growth of new and newer services; management of network volumes; increasing shareholder value; total amount of capital investments; completion and effectiveness of capacity expansion and other capital investments, and other investments in infrastructure improvements; returns on capital investments; improvements regarding safety of our operations and equipment; improving efficiencies in fuel consumption; preserving the environment and communities where the company operates; and effectiveness of plans, programs and initiatives to reduce costs and other efficiency improvements. Forward-looking statements and information should not be read as a guarantee of future performance or results and will not necessarily be accurate indications of the times that, or by which, such performance or results will be achieved. Forward-looking statements and information are subject to risks and uncertainties that could cause actual performance or results to differ materially from those expressed in the statements. Forward-looking statements and information reflect the good faith consideration by management of currently available information and may be based on underlying assumptions believed to be reasonable under the circumstances. However, such information and assumptions (and, therefore, such forward-looking statements and information) are or may be subject to variables or unknown or unforeseeable events or circumstances over which management has little or no influence or control.
The risk factors in Item 1A of the company's Annual Form 10-K, filed Feb. 7, 2020, could affect our future results and could cause those results or other outcomes to differ materially from those expressed or implied in the forward-looking statements and information. This report should be read in consideration of these risk factors. To the extent circumstances require or the company deems it otherwise necessary, the company will update or amend these risk factors in subsequent Annual Reports, periodic reports on Form 10-Q or current reports on Form 8-K.
Forward-looking statements speak only as of the date the statement was made. We assume no obligation to update forward-looking information to reflect actual results, changes in assumptions or changes in other factors affecting forward-looking information. If we do update one or more forward-looking statements, no inference should be drawn that we will make additional updates with respect thereto or with respect to other forward-looking statements.
Category
Issue
Definition
Corporate Governance
Corporate Governance and Ethics
Corporate management approach and governance structure, including a culture of respect and observance of business ethics throughout the company.
Enterprise Risk Management
Systems and controls to effectively identify, assess and prepare for events that pose a risk to the company's operations and objectives.
Legislation, Regulation and Government Relations
Understand the potential or existing business impacts of legislative and regulatory actions and building relationships with elected officials.
Talent
Talent Management
Efforts to attract, retain and develop the best talent for the company.
Diversity and Inclusion
Providing equal opportunity for employees and executives who represent diversity in all aspects.
Employment Practices
Employee compensation and benefits and the efficacy of policies and practices that maintain a healthy and safe work environment and promote employee well-being.
Labor Rights
Ensuring the fundamental rights of workers, such as freedom of association and the right to collective bargaining.
Employee Engagement
Efforts to enhance employees' commitment to Union Pacific and its goals, through workplace relationships, employee rewards, job responsibilities and personal growth opportunities.
Business Operations
Customer Service and Satisfaction
Efforts to meet or exceed customer expectations and build productive customer relationships.
Responsible sourcing
Maintaining a diverse and responsible supply chain that ensures ethical business conduct and proactively manages its social and environmental impacts.
Safety & Security
Emergency Preparedness
Measures taken to prepare for and reduce the impacts of disasters, including but not limited to building relationships with emergency responders and preventing incidents involving hazardous materials.
Rail Safety & Maintenance
Efforts to maintain quality rail infrastructure and prevent derailments, including track inspections and other measures.
Digital & Physical Asset Security
Protecting the company's critical physical infrastructure and data.
Environment
Emissions & Energy Use
Energy use and the resulting direct and indirect greenhouse gas (GHG) emissions (Scope 1 emissions are direct emissions from owned or controlled sources. Scope 2 emissions are indirect emissions from the generation of purchased energy. Scope 3 emissions are all indirect emissions not included in Scope 2).
Land Management & Biodiversity
Managing the use and development of land resources and the potential impact of our supply chain and operational activities on biodiversity (the variety and variability of living organisms).
Water Use & Management
Water usage and the efficient management of water resources.
Waste Disposal & Reuse
Waste generated, recycling and other efforts to divert waste from landfills.
Community
Community Involvement & Philanthropy
Activities to strengthen the communities within which we operate, including through corporate philanthropy, partnerships and employee volunteering.
Infrastructure Investment & Protection
Investing in and protecting our network infrastructure and working with regulatory officials to align our business with the country's infrastructure requirements and needs.