The Spirit Locomotive Honoring U.S. Armed Forces
Union Pacific's Locomotive No. 1943, The Spirit, is the 16th commemorative locomotive introduced in the 155-year-old company's history. The Spirit honors the United States' armed forces and the men and women filling their ranks. Created in collaboration with Union Pacific veterans, the locomotive illustrates the railroad's connection to the thousands of veterans who helped build America through the centuries.
The Moniker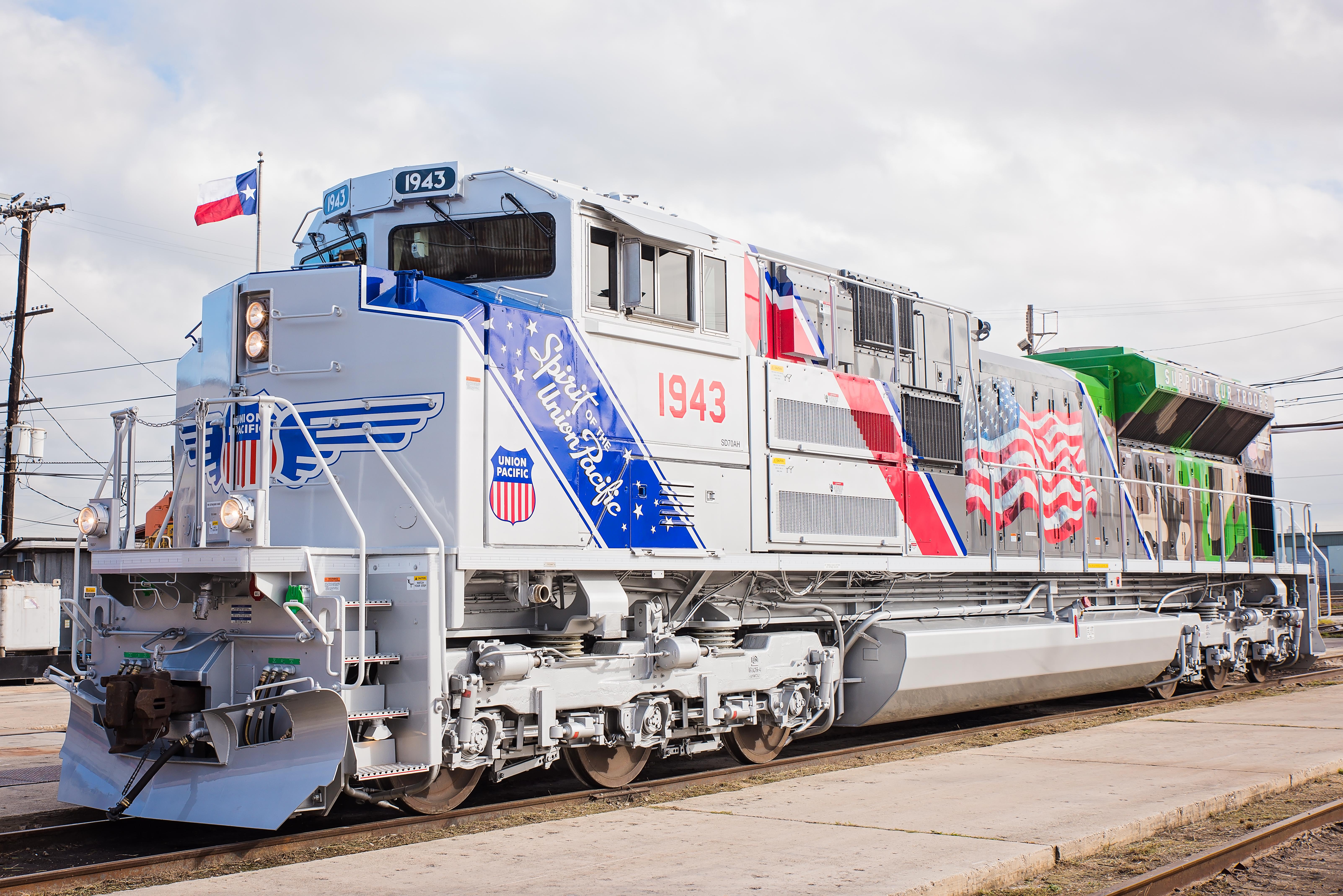 A Boeing B-17 was christened the Spirit of the Union Pacific in 1943, recognizing employees who funded it through war bond contributions. The Spirit of the Union Pacific was assigned to the 571st Bomber Squadron and shot down on its fifth mission during a raid on enemy installations in Munster, Germany.
Honoring the Armed Forces
Every detail in The Spirit's trade dress incorporates a piece of each U.S. armed forces branch.
The Spirit's front is symbolic of Air Force Silver, and the blue stripe is a reflection of the former Strategic Air Command's "nose sash." The lettering inside the sash is the original handdrawn font used on the B-17. It is followed by the Coast Guard's "Racing Stripe" and the Navy's Battleship Gray, which frames Union Pacific's traditional American flag. The military camouflage is a nod to the Army and Marines.
As the train passes by, the final message on the tail is dedicated to U.S. prisoners of war and those missing in action, featuring the POW/MIA symbol and its motto, You Are Not Forgotten.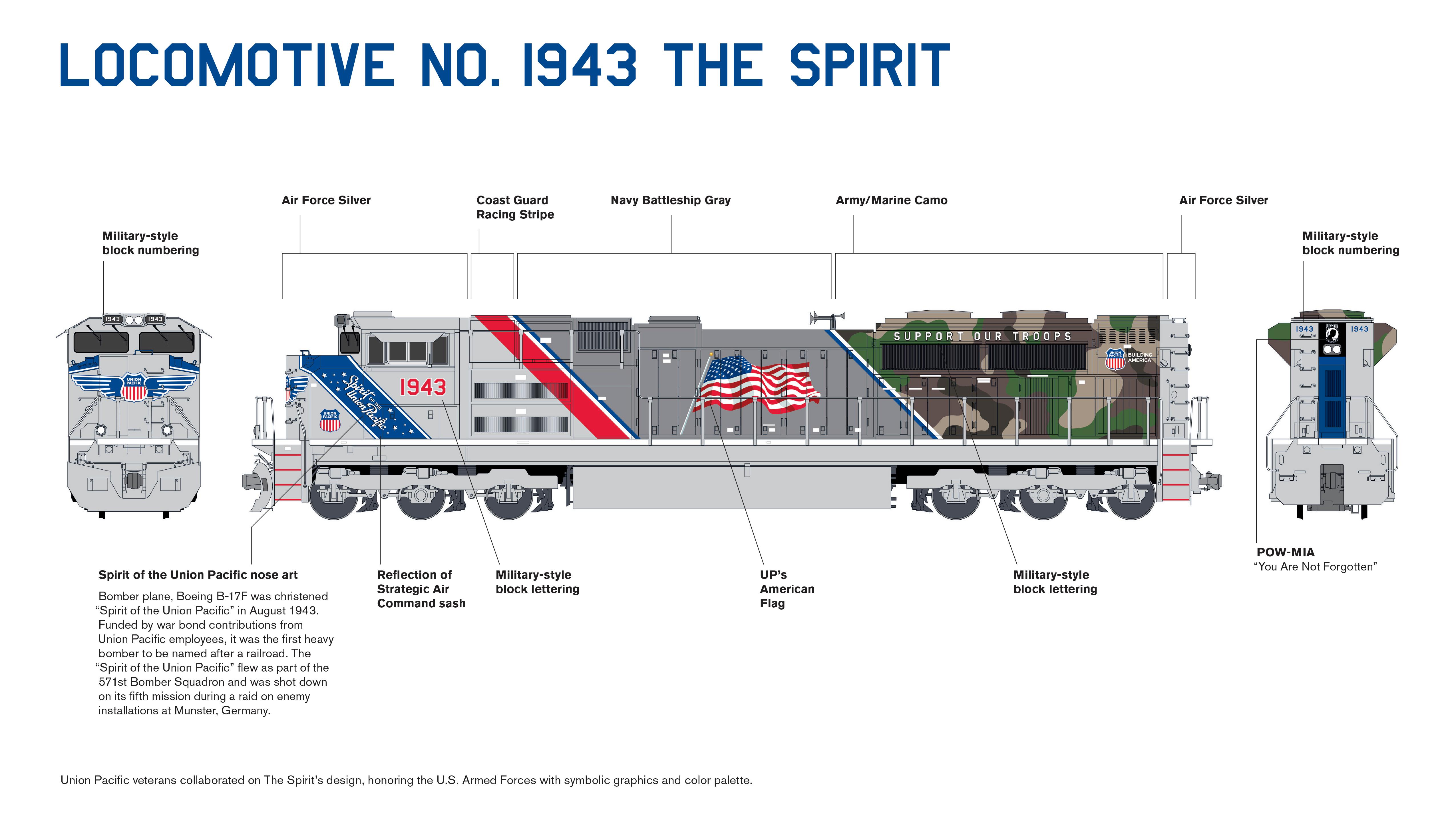 Salute to the Military Tour
San Antonio, Texas
October 19, 2017
Sunset Station, 1174 E Commerce St.
On Display: 1:30 p.m. - 2:30 p.m.
New Orleans, La.
October 21-22, 2017
On Display: Audubon Park, 6500 Magazine St
Train Arrives: 11:10 a.m. Saturday
Train Departs: 4:00 p.m. Sunday
North Little Rock, Ark.
October 24, 2017
Union Pacific Office, 1000 W. 4th St.
Public Event: 10:00 a.m.
Display: 10:30 a.m. - 4:00 p.m.
Van Buren, Ark.
October 25, 2017
Union Pacific Depot, 620 S. 13th St.
Public Event: 10:00 a.m.
Display: 10:30 a.m. - 4:00 p.m.
Fort Riley, Kan.
November 6, 2017
First Territorial Capitol, 692 Huebner Road
Visitors without Department of Defense identification should visit the Visitor Control Center at exit 301, I-70. Credentialed guests will then be directed to the Henry gate at Marshall Army Airfield.
Public Event: 10:00 a.m.
Display: 10:30 a.m. - 6:00 p.m.
Omaha, Neb.
November 10, 2017
Durham Museum, 801 S. 10th St.
Train Arrives: 11:15 a.m.
Public Event: 11:30 a.m. (inside museum, admission required)
On Display Until 4:45 p.m.
Cheyenne, Wyo.
November 13, 2017
Cheyenne Depot Museum, 121 W. 15th St.
Public Event: 10:30 a.m. - 11:00 a.m.
On Display: 11:00 a.m. - Noon
Sacramento, Calif.
November 29, 2017
California State Railroad Museum Roundhouse, 125 I St.
On Display: 10:00 a.m. - 12:45 p.m.
Las Vegas, Nev.
December 1, 2017
Union Pacific Iron Horse Yard, 1001 Iron Horse Court
On Display: 10:00 a.m. - 7:00 p.m.
Oakland, Calif.
December 7, 2017
7th Street Spur Track, 7th and Middle Harbor Road
On Display: 10:00 a.m. - 5:00 p.m.
Details for additional dates and locations still to come.