Preventing Derailments at Customer-Owned Facilities
Risk Identification & Mitigation (RIM) Process
As part of our Courage to Care culture, we look at seven areas to identify and mitigate risk: Employees, Public, Industry, Main Line, Yard, Shop and Work Site.
Our customers are a key component of the Industry Derailment Prevention Team (IDPT). The IDPT focuses on the reduction of derailments at customer-owned facilities by jointly holding meetings to identify areas of risk — both in the past and future.
Conducting Industry Derailment Meetings at Customer Facilities:
Collaborative effort involving both Union Pacific and customer representatives.
Customer and Union Pacifi c review incident that occurred and the cause.
Discuss current inspection and maintenance plan schedule.
Understand the top-five causes of industry derailments and how to identify them.
Conduct walk through of facility with contractor and identify potential risks.
Develop follow-up plan to address potential risks.
Printer-friendly Preventing Derailments at Customer-Owned Facilities marketing material. View now.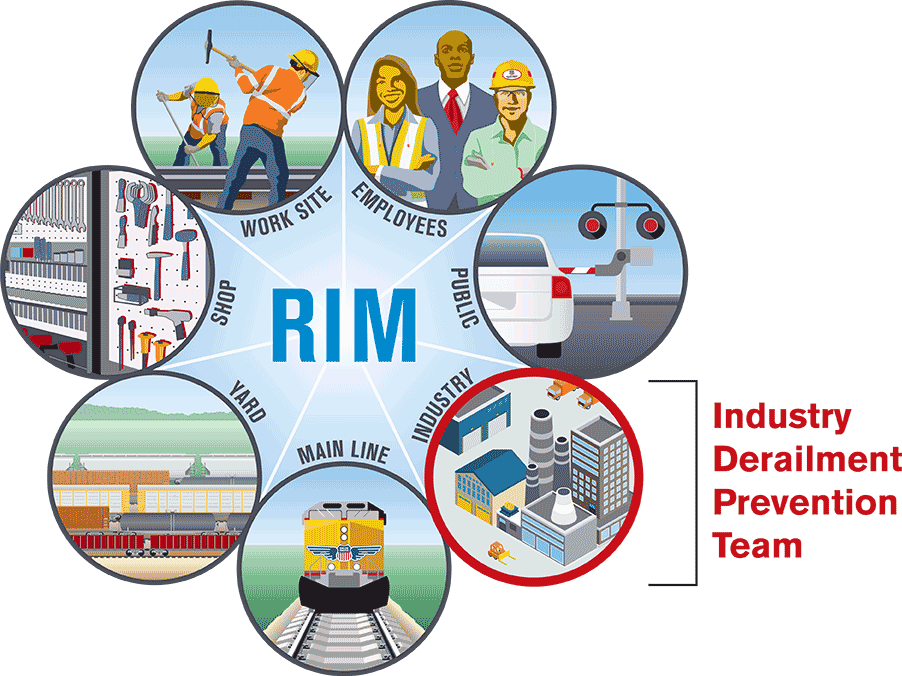 Industry Derailment Measurements

Number of derailments at customer owned facilities located on Union Pacific.
Track Inspection Suggestions
By following these guidelines, you can avoid a derailment at your facility, which can cause a disruption of service and impact your supply chain.
Make the safety of your employees and Union Pacific employees your first priority.
Inspect all rail track within your facility quarterly.
Use a qualified contractor to perform inspections.
Perform regular and consistent maintenance of all rail infrastructure.
Train all employees to look for potential hazards or defects.
Top-Five Causes of Industry Derailments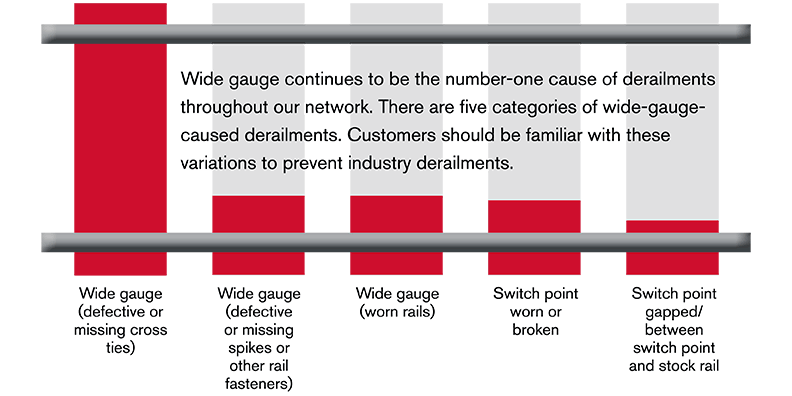 2017 data.
Track Condition Awareness

What is wide gauge?
The standard measurement or gauge between the inside of rail track is 56.5 inches. Gauge width beyond this, known as wide gauge, may lead to train derailments. Wide gauge can be caused by lateral rail car movement on tracks and weak rail ties.
Common ways to inspect for wide gauge include:
Checking for loose or missing joint bars and bolts.
Inspecting track for broken railroad ties, loose or missing spikes and tie plates cutting into the railroad ties.
Visual signs of mud on top of ballast may indicate a weak foundation and inadequate drainage.
A broken switch point may create a gap between the rail and point, allowing the wheel of a rail car to travel down the wrong track.
Poor structural integrity, such as poor tie conditions or spike quantity, may also result in buckled or rolled rail.
Clearance Cones
Preventing sideswipes within a facility can also prevent industry derailments and ensure Union Pacific crew and customer safety. These incidents can occur when rail cars are left beyond clearance points and switch crews are unaware the track is obstructed.
Companies that own or lease tracks can assist in this safety effort by installing clearance cone markers. Clearance cone markers will specifically identify where cars can be spotted, while not obstructing an adjacent track. Painting two railroad ties 50 feet back along the cones is also recommended.
Please contact your Union Pacific sales representative if you have any questions. Clearance cone vendors can be identified through a simple web search.
Derailment Recovery Process
| | |
| --- | --- |
| Customer | Union Pacific Employees |
| Contact Union Pacific's Risk Management Communications Center (RMCC) at 1-888-UPRRCOP (877-7267). | Ensure all employees are clear of any hazards. |
| Work with the Union Pacific Response Team to ensure proper procedures are followed. | Follow industry derailment standard work process. |
| Work with the Union Pacific Response Team to determine cause. | Work with your customer to resolve incident and prevent future incidents. |
| Begin re-rail process with contractor or Union Pacific. | |
| Have contractor or Union Pacific make necessary track repairs. | |