Weather Recovery Update
Announcement Number: CN2014-23
Categories: General Announcements
Posted Date: July 2, 2014
To Our Customers,
The weather events over the last two weeks continue to create operating challenges on our network. Heavy rainfall has caused washouts and other flood-related damage at many locations in the Midwest.

.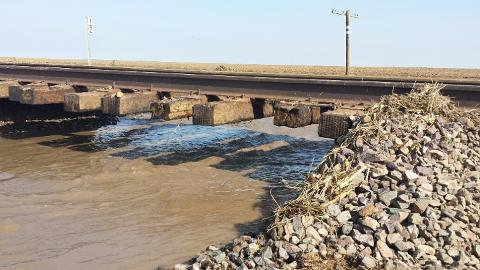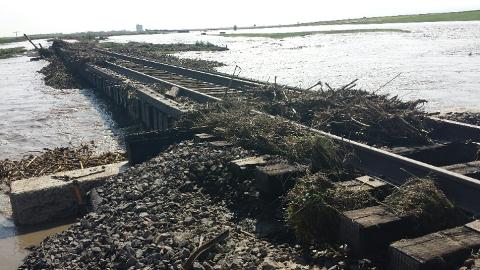 Washouts on the Union Pacific network this week.

Union Pacific crews have mobilized and are working to repair our infrastructure as quickly and safely as possible. Updates on major service interruptions are listed below:

Mankato Subdivision
We have restored limited service to our Mankato subdivision southwest of St. Paul ahead of schedule. As you may recall, this subdivision experienced significant damage on June 19 after flooding caused washouts and mudslides along approximately 40 miles of the route. We have completed initial repairs and will begin to process backlogged shipments over the next several days. Additional maintenance will take place over the next three to four weeks as we work to fully restore the line.
Mississippi River water levels are starting to recede near St. Paul. Flood barricades are being removed and rail lines reopened as conditions permit. Embargoes are being lifted as operations resume. We are coordinating closely with the City of St. Paul to open remaining closed lines as the water levels recede and repairs are made.
Clinton Subdivision
We have also restored limited service along our Clinton subdivision near Cedar Rapids, Iowa. The Clinton subdivision is part of our central corridor east-west main line between Chicago and the West Coast. Soft roadbed conditions are restricting speed through the area, and we will continue to perform maintenance over the next several days. Once service is fully restored to this main line, it will take additional time to return to normal operations.
Tama, Iowa
Further west along the Clinton subdivision, near Tama, Iowa, the Iowa River is above flood stage and is expected to crest in the next 24 hours. We have work crews on standby to conduct repairs if necessary.
We will continue to reroute traffic as necessary, and customers may experience delays in the affected areas until service is fully restored. We appreciate your continued support as we work through these challenges, and we will update you as repairs progress and operations are returned to normal. Please contact the National Customer Service Center or your Union Pacific representative with any questions.