Service Update from Kenny Rocker, EVP, Marketing & Sales
Announcement Number: CN2018-46
Categories: General Announcements
Posted Date: December 6, 2018
To Our Customers,
As we continue to implement the first phase of Unified Plan 2020 across our network, I'd like to provide an update on our progress and current service status.
Unified Plan 2020
The first phase of the Unified Plan 2020 rollout is in full swing, and our performance metrics are showing improvement compared to where we stood prior to the launch of the new operating plan.
Since September:
On-time delivery of cars increased by 5%.
Car velocity (i.e., daily miles per car) increased by 7%.
Dwell times have been reduced by 10%.
We are pleased our metrics are trending in the right direction and you should be seeing service improvements as Unified Plan 2020 is rolled out across more areas of our network.
In mid-November, we began planning for the next phase of implementation on our two rail corridors between Los Angeles and Chicago. Originally, this work was planned for the first quarter of 2019. Because of the steady progress, we are adjusting the Unified Plan 2020 rollout to be completed in three phases rather than four.
Planning for the third and final phase is scheduled to begin in early 2019 and will encompass the Pacific Northwest, Northern California and I-5 corridors. Based on this new schedule, we now expect full implementation of Unified Plan 2020 by mid-2019 rather than our previously announced target date of year end 2019.
Operating Inventory
Overall operating inventory has been reduced by 10% since September, and we are moving your freight at a faster pace. Your support to achieve our mutual goal of "right sizing" both system and private car fleets has helped to drive this progress. We appreciate your cooperation as these initiatives are critical to improving overall service and reliability.
Terminal Rationalization
As we prepare to roll out Unified Plan 2020 to more areas, we are carrying out a terminal rationalization strategy intended to identify opportunities where we can improve velocity and efficiency throughout our terminals.
Effective December 1, manifest switching operations at Roper Yard will begin moving to Ogden, a more geographically efficient location. Automotive trains will continue to run through Roper's auto facility and available space at the yard will be repurposed to support our focus on increased asset utilization. With this new transportation plan in place, we expect more streamlined operations and improved car cycle times, resulting in more efficient and consistent service in the Utah Valley.
Moving Forward
As we move into the next phase, our sales team will keep you engaged on what will change, when the change will happen and what you should expect. The changes we are making today are enabling us to provide you with the most efficient and reliable transportation service.
As always, we appreciate your business!!
Sincerely,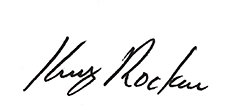 Kenny Rocker
Executive Vice President, Marketing & Sales