Service Update from Kenny Rocker, EVP, Marketing & Sales
Announcement Number: CN2019-61
Categories: General Announcements
Posted Date: August 29, 2019
To Our Customers,
I hope many of you have enjoyed your summer. Since my last service update in July, I'm happy to report no significant weather impacts to our network. And with our continued fine-tuning of Unified Plan 2020 to improve network fluidity, our key performance metrics are gaining momentum and we're moving your freight more consistently.
Car Trip Plan Compliance – On-time deliveries improved seven percentage points in July compared to a year ago, which gives you more predictable service. We continue to see improvement in August as our 7-day average has climbed another three percentage points.
First Mile / Last Mile – July came in at 92% compared to 79% in July 2018. This illustrates our commitment to delivering and picking up rail cars to/from customer facilities per our train schedule.
Car Dwell – Down to 24.1 hours in July, a 19% improvement from July 2018, the 7-day average has improved by 22%.
Car Velocity – Daily miles per day improved by 8% in July over last year, and our current 7-day average is 12% better than a year ago.
On Pace for Record Performance
More importantly, progress continues on our overall operating performance and we continue to build on the service improvements that we realized in July. This positive performance would not be possible without the collaboration of our customers to embrace new processes that focus on network fluidity and reliability. We appreciate your continued commitment in being prepared for service when our crews arrive at your facilities.
Executing the Transportation Plan Reduces Service Issues
We are also noticing a positive trend with the frequency of service issues you are experiencing. Year-over-year, our daily service issue count in July was down by 50 percent for manifest service – at the lowest levels in the last three years. For intermodal service, the daily service issue count was down 28 percent. With the rollout of the new Intermodal Terminal Reservation (ITR) system we announced earlier this month, we expect to see an improved intermodal service product to further reduce our intermodal service issues.
Looking Forward
As I said almost a year ago when we announced our new operating plan, I am excited for the future as we work towards providing an excellent customer experience. As we edge towards fall and close out summer strong, please know our commercial team is focused on helping you and your customers win in the marketplace.
We appreciate your business every day and will continue to keep you updated on our progress.
Sincerely,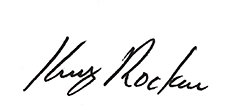 Kenny Rocker
Executive Vice President, Marketing & Sales