Leadership Update from Kenny Rocker, EVP, Marketing & Sales
Announcement Number: CN2019-65
Categories: General Announcements
Posted Date: September 27, 2019
To Our Customers,
Today we announced the following changes to our Marketing and Sales organization:
Kari Kirchhoefer to vice president Loup Logistics
Jacque Bendon to vice president, Industrial
Seana Fairchild to assistant vice president, Industrial
Elise Gosch to general director, Strategic Planning and Communications
These appointments will be instrumental in leading the Marketing and Sales organization forward as we continue our commitment to deliver innovative transportation solutions. The full news release can be found here.
Please contact your Union Pacific representative with any questions.
Sincerely,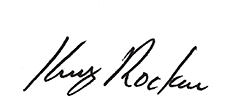 Kenny Rocker
Executive Vice President, Marketing & Sales