Status of the Railroad - A Message from Kenny Rocker, EVP, Marketing & Sales
Announcement Number: CN2020-15
Categories: General Announcements
Posted Date: May 21, 2020
To Our Customers,
I hope this letter finds you and your families safe and healthy. We continue to navigate challenging times and remain deeply committed to keeping you informed of our rail operations as we work together to keep supply chains moving.
Our network operations are fluid — car velocity is at record levels driven by improved train velocity and record car dwell. Our key operating metrics for April:
Freight Car Velocity (daily miles per day) – Compared to a year ago, car velocity has improved 13%.
Freight Car Terminal Dwell (the amount of time a rail car spends in a Union Pacific rail terminal/yard) – We have seen a 20% improvement compared to this time last year.
Car Trip Plan Compliance (on-time shipment delivery) – Intermodal Trip Plan Compliance improved by 20 points and Manifest/Auto Trip Plan Compliance improved by 19 points.
Although we continue to evaluate and adjust our resources to match current shipment levels, be assured that our resources are staged to respond quickly to meet demand as states begin to re-open. We ask that you keep an open dialogue with us so that we may understand your strategy to resume operations at the facility level. This will allow us to provide the service that you have come to expect from us.
Keeping Our Employees & Customers Safe
We continue to follow CDC guidelines to provide a safe workplace for our employees. As you prepare to resume operations, we will be equally vigilant with your safety. If rail crews need to interact directly with your plant or facility personnel, our crews will be maintaining six feet physical distance and/or wearing a face covering if unable to maintain physical distancing. Additionally, we will work together with you to understand local health and safety concerns, while maintaining safe and efficient rail service.
You can refer to additional
Coronavirus (COVID-19)
information for details on preventative steps our train crews are taking to keep you safe prior to arriving at your facilities.
Our employees who have the ability to work from home, continue to do so. We recently extended this work from home guidance until June 8, with a return-to-office phased approach after that time.
Business as Usual to Improve Your Experience
As supply chains ramp back up to meet demand, not only are we committed to provide a solid service product, but we continue to focus on tools that make it easier for you to do business with us. Our customers track approximately five million pieces of rail equipment each month on our rail network, so it's important to us that this frequently used tool is providing you the best experience possible. Over the past few months, we've made significant enhancements to the current system. The new tool, Track Shipments, will be available to customers by the first week of June.
We've incorporated feedback from you to ensure the new tool provides relevant and timely information to improve your supply chain visibility. Some key new features include:
Quickly sort your cars by load or empty status.
Easy-to-read format when tracking multiple pieces of equipment.
Simple filter feature allows you to watch cars that have potential issues or delays, allowing you to monitor closely.
Thank you for choosing Union Pacific as your rail transportation partner, we appreciate your business!
Sincerely,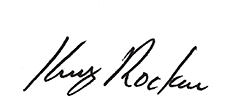 Kenny Rocker
Executive Vice President, Marketing & Sales